We have tested the Altus RD-M310 Rear Derailleur by Shimano in various ways. We put it through its paces on urban and hybrid bikes. Then we mounted it on a mountain bike to see how it fared on the trail, including technical sections. Here is our detailed review.
Our Verdict: Undoubtedly, one of the most affordable off-road rear derailleurs out there. Smooth gear shifting, enhanced durability, good aesthetics, and reduced wear and noise. Perfect for entry-level mountain biking as well as hybrid or city bikes.
| PROS | CONS |
| --- | --- |
| Highly affordable | Spring stiffness is not great leaving the chain prone to falling off on jumps. |
| Large tension and guide pulley leads to low noise and wear | Shifting quality seems to fall slightly over time |
| Reliable and smooth performance for beginners | Compatible only with Shimano shifters |
| Great durability, did not break even after multiple hard impacts | |
Shimano Altus RD-M310: Entry-level Off-Road Rear Derailleur
Shimano Altus RD-M310
Technical Specifications:
Ideal Use: MTB, city, hybrid bikes
Compatibility: 7-speed, 8-speed
Mount Type: Standard mount
Cage: Long cage (SGS)
Maximum Sprocket: 34 teeth
Total Capacity: 43 teeth
Pulleys: 13 teeth G-pulley, 15 teeth T-pulley
Weight: 326 grams
Clutch: No
Features that make it one of the best low-cost derailleurs for MTB beginners
1. Smooth and Reliable Performance
This unit is especially great for beginners because of three reasons. First of all, installation is not that complicated. It is perfectly compatible with any Shimano shift lever. Secondly, It is built for 7 or 8-speed drivetrains. These low gearing cassettes do not require you to put in too much effort, even when going up a slope. And finally, RD-M310 is quite reliable. Many low-cost derailleurs need frequent adjustments that an amateur might not be great at doing. We rarely faced any issues while riding for long periods of time.
When we first started using this rear derailleur, we were delightfully surprised by it. Whether on a city bike, a mountain bike, or even a hybrid bike, the shifting was always smooth and quick. It felt pretty much like using a high-end derailleur. The only thing we would say is that it will not serve you well for years if that's what you were hoping for. We tested it for a couple of months and by the end, we noticed that there was a slight decrease in the fluidity of shifting.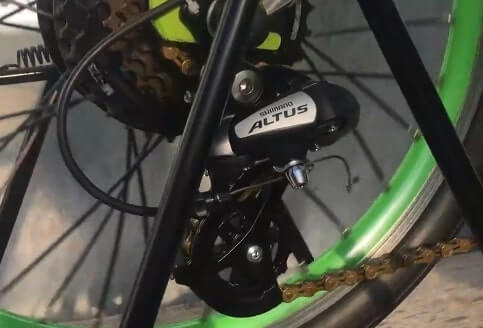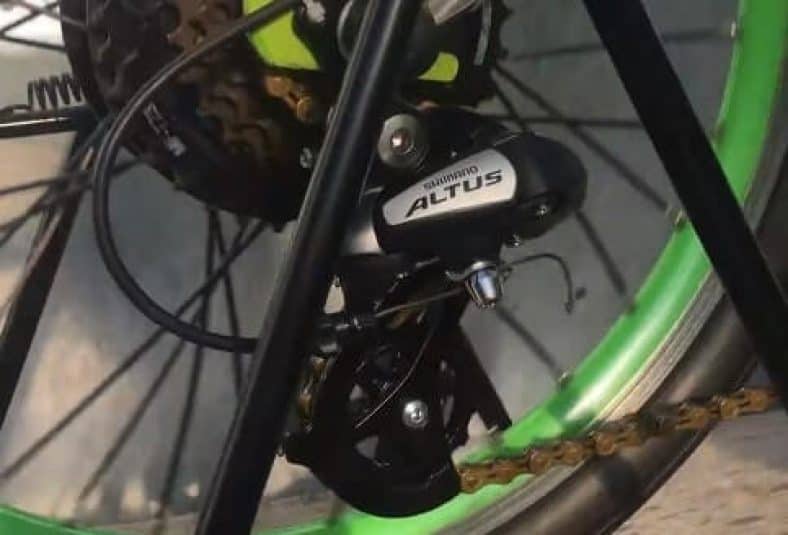 2. Superb Build Quality
Even though the derailleur worked great, we thought it might not be able to withstand many hits. Yet again, we were proved wrong. The metal body is actually quite sturdy and well built. During the trail rides, it experienced a few bumps here and there which it easily survived. As a final test, we intentionally dropped the bike on the derailleur and hit it with a rock multiple times. Even as the hanger got bent, the derailleur was fine. Only the surface got scratched up, that's it.
However, there is an issue with the return spring. Right out of the box, the spring felt a bit easy to extend by hand. Indeed during use on a mountain bike, the cage would bounce pretty easily when going over a rock or at the end of a small jump. Fortunately, the chain did not come off the sprocket as frequently as you would expect. Although, we recommend not using this rear mech for aggressive mountain biking. It is better to invest in a higher grade derailleur for pro MTB riders. It can get frustrating having to stop to fix the chain. Note that this won't be much of an issue for city or hybrid bikes.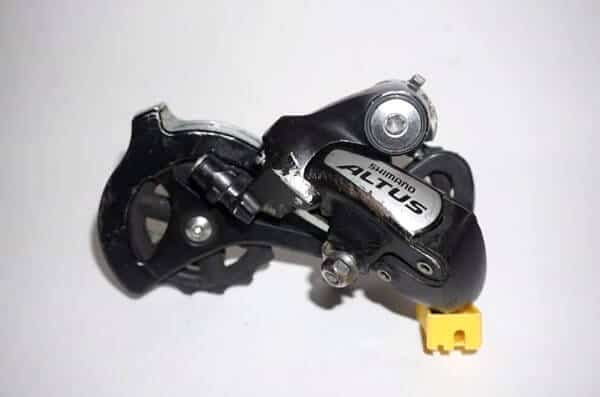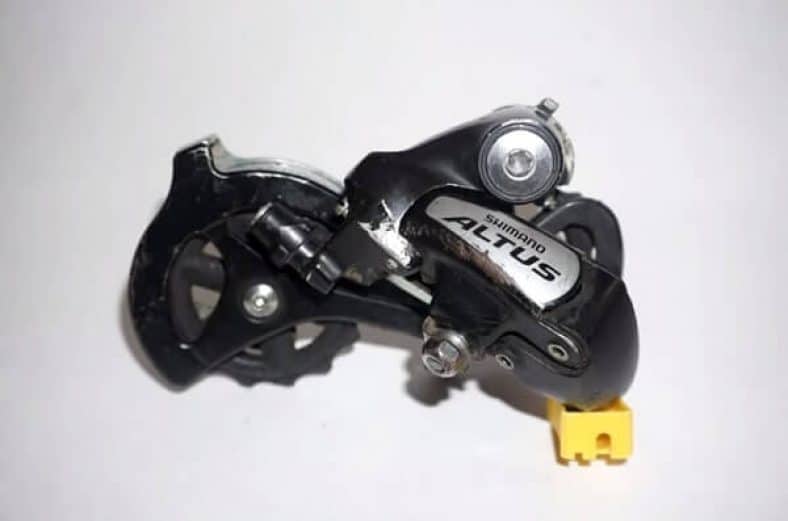 3. Low Wear and Noise
Another feature that we really liked about this product is the size of the pulleys. Normally OEM derailleurs have 11-teeth pulleys. However, in the RD-M310 the guide pulley (G-pulley) has 13 teeth and the tension pulley (T-pulley) has 15 teeth. This gives it a higher than average chain wrap capacity of 43 teeth. Consequently, the pulleys can rotate with reduced friction which leads to lower noise and wears. Other than that, there is another interesting property that arises from the larger pulleys. The difference is subtle, but there is a slight boost in speed. For example, while pedaling on the fourth gear, you can get the cadence you previously had with the third gear. Unless your current derailleur already has large pulleys, in which case you won't see any changes.
4. Great Value for Money
Finally, we want to say that this mech delivers a lot of bang for the buck. Many mountain bike derailleurs cost upwards of $200, while this one costs around 10 times less. This unit may not exactly be a typical MTB derailleur, but it does work for off-road use. The durability and performance are up there with some premium choices. We also think it looks pretty good on a bike. Novice riders wouldn't be too happy about spending a lot on their first derailleur anyway. So, if you are new to mountain biking, then you cannot go wrong with the Altus RD-M310.
Conclusion
Hopefully, you found this review useful. We tried to cover every aspect of this derailleur and give you completely accurate information. There are definitely some drawbacks to this product which we have mentioned. Hence, this is not for everyone, especially not advanced-level mountain bikers. Nevertheless, the Shimano Altus RD-M310 rear derailleur is an overall great unit for light off-road use at a great price.