A spin bike or an indoor cycle is always among the most preferred exercise machines for cardio workouts and losing weight. The reason being that they are just exceedingly easy to use and are quite joint-friendly. Additionally, having a spin bike at home allows you to work out anytime you're free, even during bad weather.
Many people prefer to have exercise equipment at home for convenience and to avoid expensive gym membership fees. That's why there is a high demand for good low-cost spin bikes. However, it is not easy at all to find a durable and long-lasting spin bike when you're on a budget. Well, this article will hopefully help you out. Here we have reviewed a selection of the top spin bikes on a budget that is currently available in the market.
After conducting extensive online research, we shortlisted a group of spin bikes. Then we tested them out in person and eventually came up with 12 products that performed the best. Even among these bikes, the CHAOKE Indoor Cycling Bike showed the best results and it comes with the best features. Hence, it has been chosen as the 'Overall Best Choice'.
A quick view of our list of the best budget spin bikes:
12 best budget spin bikes you can buy today
Bike
Preview
Dimensions (LxWxH)
Product Weight
(lbs)
Maximum Capacity
(lbs)
Flywheel Weight
(lbs)
Resistance Type
Drive System
Display Data
Score
Sunny Health & Fitness SF-B1203
42.5" × 24" × 49"
62.3
220
22
Friction
Chain drive
Speed, time distance, calories
75
Doufit EB-05
41" × 20" × 44"
62
264
20
Friction
Belt drive
Speed, time distance, calories
73
Pooboo A2
50.6" × 20.7" × 49.2"
66
280
13
Magnetic
Belt drive
Speed, time distance, calories
93
L NOW D600 Indoor Spin Bike
41" × 21" × 46"
77
280
35
Friction
Belt drive
Speed, distance, calories, time, heart rate
85
CHAOKE Indoor Spin Cycle
41.34" × 20.08" × 44.49"
79
300
37
Magnetic
Belt drive
Speed, distance, calories, time, heart rate
95
MaxKare Magnetic Spin Bike
41" × 21" × 49.6"
100
264
40
Magnetic
Belt drive
Speed, distance, calories, time, heart rate
87
Cyclace Spin Cycle
40.9" × 24.2" × 47.9"
86
330
36
Friction
Belt drive
Speed, time distance, calories
80
Yosuda Spin Bike
40" × 22" × 45"
69
270
35
Friction
Belt drive
Speed, time distance, calories
78
L NOW LD582
41" × 21" × 52"
77
350
35
Magnetic
Belt drive
Speed, time distance, calories
92
Joroto X2
42.9" × 19.7" × 42.5"
94
280
35
Magnetic
Belt drive
Speed, time distance, calories
88
Sunny Health & Fitness SF-B1805
48" × 23" × 45"
125.7
300
44
Magnetic
Belt drive
None
90
Schwinn IC3
48.7" × 21.2" × 49.8"
100
300
40
Magnetic
Belt drive
Speed, time, distance, calories, RPM, heart rate
86
1. Sunny Health & Fitness:
Low-priced, offers good quality, ideal for home workouts
The Sunny Health & Fitness SF-B1203 is a great spin bike for cardio workouts at home. It has a good solidly built steel frame. The 22 lbs flywheel is driven by a high-performance chain that provides quite a smooth pedaling experience. The resistance level is controlled by a simple turn of the dial. For safety, this dial can be pushed down to immediately stop the flywheel. The resistance itself is provided by a friction pad made of felt material. You may be looking for a belt drive or magnetic resistance, but the price of this bike and overall quality makes it worth it.
The seat has both height and fore/aft adjustability. Unfortunately, the handlebars are not adjustable and the bike is not large enough for very tall people. Both the handlebars and pedals are non-slip, with the pedals having toe cages for additional safety. Transport wheels allow for easy mobility, while frame stabilizers keep the bike level. You can also track your workout to check your progress and stay motivated. The LCD console displays speed, time, distance, and calories burned.
Sunny Health & Fitness SF-B1203
2. Doufit EB-05:
Highly affordable, adjustable, smooth, offers quiet home cardio sessions
The Doufit EB-05 delivers quite a lot for users considering that it is one of the most affordable spin bikes available in the market. The adjustable toe-caged pedals and 3 piece cranks drive a belt which in turn rotates the 20 lbs flywheel. This mechanism provides a smooth and silent workout. The steel frame can support 264 lbs and has multiple attached parts that will be convenient for you. These include the levelers to keep the machine vertical, a pair of front-mounted transport wheels for portability, and a bottle holder to keep water at hand.
The EB-05 is also quite customizable to accommodate different user heights and riding positions. The seat is 4-way adjustable and the handlebars are 2-way adjustable. The only problem is that the product is not large enough for tall users. Tracking your activity is not a problem. Thanks to the LCD console you can keep an eye on speed, time, distance, and amount of calories burned.
3. Pooboo A2:
Provides silent & smooth magnetic resistance, fully adjustable, consists of an LCD monitor
The Pooboo A2 is another low-cost spin bike suitable for home use. It has a flywheel at the rear instead of the front. It is driven by a belt that is quieter and smoother than a chain. It also features magnetic resistance which is longer lasting than friction-based resistance. A large dial moves the 10 magnets closer or further from the flywheel to vary the tension level. The dial can also be pulled down like a lever quick stopping if needed. The bike is portable thanks to the transport wheels on the front base.
On a slanted or uneven floor, you can adjust the four levelers to keep the bike upright. There is also a high degree of adjustability on this bike. It can accommodate both tall and short users thanks to the 4-way adjustable seat and 2-way adjustable handlebars. A digital console allows you to keep track of your workout to help you hit your goals. The LCD screen displays speed, time, distance, and calories. Moreover, you can place your phone or tablet on the integrated device holder.
4. L NOW D600:
Fitted w/ 35 lbs belt-driven flywheel, has an LCD monitor & tablet holder
The L NOW D600 proves itself to be a decent quality spin bike at under $300. It runs very smooth and quiet because of the belt-driven mechanism on an aluminum alloy reel and the 35 lbs flywheel. It utilizes a woolen felt friction pad to provide resistance. The resistance level is controlled by a dial which can also be pushed down for a quick stop. Not only can you adjust the height and fore/aft position of the seat, but you can also vertically adjust the handlebars for a perfect fit. The aluminum alloy pedals are also versatile having adjustable toe cages.
To keep track of your workout there is a digital monitor. Its LCD screen displays speed, time, distance, and calories burned. You can also view your heart rate thanks to the integrated pulse sensors on the handlebars. Place your tablet or phone on the device holder right below the console to get a more enjoyable workout. A bottle holder is also included to keep water at hand. You can place this spin bike anywhere in the house due to the transport wheels and the frame stabilizers.
5. CHAOKE:
Offers magnetic resistance, has a heavy flywheel, provides whisper-quiet performances, fitted w/an LCD monitor
|
Overall Best Choice
The CHAOKE Indoor Bike has all the necessary features you would need on a spin bike without the steep price. The sturdy steel frame is well built and has a user capacity of 300 lbs. The 37 lbs flywheel provides a smooth cycling experience while the belt drive keeps noise at a minimum. It also features magnetic resistance which lasts longer than friction-based resistance systems. At the base, you will find stabilizers and transport wheels. These help to keep the bike upright and also to move it from room to room.
Other features include the digital console. You can keep track of speed, time, distance, calories burned, and heart rate on its LCD screen. Information for heart rate is provided by the grip sensors attached to the handlebars. Speaking of which, the handlebars can be vertically adjusted for users of different heights. Moreover, the padded seat is 4-way adjustable. More convenience features like a device holder and a bottle holder are also included with the bike.
6. MaxKare:
Offers silent magnetic resistance, has a heavy flywheel
The MaxKare Exercise Bike is a spin bike that delivers excellent value for money. It features a heavy 40 lbs flywheel for the smoothest ride possible. A belt-driven mechanism makes the bike operate pretty much silently. The seat and handlebars can both be set to different heights and fore/aft positions. This lets you get the perfect customized fit, regardless of your height and personal preference. The steel tube frame can support up to 264 lbs. There are transport wheels and stabilizers for portability and maintaining an upright position.
If you want to track your progress while exercising, you can do so with the digital console. It has a simple LCD screen that shows heart rate, speed, distance, calories, time, and RPM. Pulse sensors can be found built into the handlebars. There are also a couple of accessory holders, namely a water bottle holder and a device holder for your smart devices. However, if you place something in the device holder it will cover up the console screen.
MaxKare Magnetic Exercise Bike
7. Cyclace:
Heavy-duty spin, equipped w/ LCD monitor
The Cyclace is a heavy-duty spin bike with a sturdy frame. The steel frame can withstand up to 330 lbs. It has a flywheel weighing 36 lbs and driven by a belt. This creates a smooth and silent pedaling experience. A felt brake pad provides the resistance by friction and is controlled by turning a dial. For an emergency stop, you can simply push down on the dial. An extra brake pad is provided for replacement when the first one wears down. This spin bike is easily transported using the front wheels, and stabilizers help to maintain a vertical position.
You can monitor different fitness parameters while working out on the LCD console. It displays speed, time, distance, and calories burned. Just about anyone can comfortably ride this bike. The padded seat is both vertically and horizontally adjustable. Moreover, the height of the handlebars can also be adjusted. For additional convenience, there are two holders. One for a device so you can stream videos or listen to music. The other is for carrying a water bottle.
8. Yosuda:
Features compact design, lightweight, has a device mount
The Yosuda Bike seems to be one of the most popular spin bikes in this price range. The reason being that it is a great machine for home cardio workouts. The mechanism of this bike features a quiet belt drive and a 35 lbs flywheel that ensures smooth cycling. The resistance level is regulated by a dial that presses pure wool felt pad against the flywheel. If this brake gets worn down, you can change it out for the extra one that comes with the bike. Two transport wheels and four levelers are built-in for using this bike anywhere around your home.
The bike can be customized at multiple points to make your workout as comfortable and safe as possible. The seat is 4-way adjustable, the height of the handlebars can be adjusted, and even the toe cages of the pedals are adjustable. A digital LCD console gives readouts for speed, time, distance, and calories burned. This lets you keep track of your workout. To add a bit of luxury, there are holders for both a water bottle and a phone/tablet.
9. L NOW LD582:
High weight capacity, silent running, magnetic resistance spin bike
The L NOW LD582 is truly one of the best budget spin bikes for those looking to build a home gym. It has a durable triangular steel tube frame that can support up to 350 lbs. The flywheel weighs 35 lbs and is connected to a belt drive system. Combining this with the dial-adjustable magnetic resistance, you get a smooth and near-silent spin bike. The dial can also be pressed down to immediately stop the flywheel if needed. This machine is also quite portable thanks to the transport wheels at the front base. You can also stabilize the bike using the four adjustable levelers.
Almost everyone can fit into this bike by adjusting the height and fore/aft position of the seat. The handlebars can also be adjusted vertically. The aluminum alloy pedals have adjustable toe cages to prevent slipping. To help you track your workout, a simple digital console is provided. Its LCD screen tells you the speed, time, distance and calories burned. This bike has space for both a water bottle and your mobile device. Both holders are integrated into one large holder at the front of the bike.
10. Joroto X2:
Fully adjustable, delivers whisper-quiet performance, features magnetic resistance
The X2 is a high-quality spin bike that is perfect for burning calories. Experience a smooth cycling experience thanks to the 35 lbs bidirectional flywheel. A belt drive mechanism turns the flywheel and the resistance is provided by 6 strong magnets. Because of this, the bike operates quite smoothly and without making sounds at all. So, anyone around you won't be disturbed while you are exercising. By turning the dial you can easily vary the resistance to any suitable level. You can also press down on the dial for an emergency stop.
The integrated digital console has an LCD screen that displays speed, time, distance, and calories burned. Right above the console is a large multi-use holder that can carry multiple items. You can keep a tablet or phone and up to two water bottles at the same time. To achieve the optimum workout position, both the handlebars and seat can be adjusted vertically and horizontally. The steel tube frame and adjustable steel toe-caged pedals have a solid build. The maximum user weight is 280 lbs. Transport wheels and levelers are also included.
11. Sunny Health & Fitness SF-B1805:
Offers magnetic resistance, has a heavy-duty flywheel, fully customizable 
The SF-B1805 is one of the top choices for a spin bike. This bike has a flywheel weighing 44 lbs to provide the smoothest motion possible. Simply turning the dial moves magnets further or closer to the flywheel to vary the resistance level. It also works as an emergency stop when you push it down. This and the belt drive mechanism gives a bike that operates virtually noise-free. The sturdy construction of the steel frame allows it to support up to 300 lbs. The bike can be moved and kept vertical using the transport wheels and levelers respectively.
You can vary the height and fore/aft position of both the seat and handlebars. They utilize easy-to-use levers instead of knobs and pins. Additionally, the anti-slip pedals come with adjustable toe-cages. Therefore, this machine can be used by nearly anyone. You will find a bottle holder to one side of the flywheel. A large device holder for placing your phone or tablet is attached to the handlebars. On the downside, the SF-B1805 does not include any console. You will have to rely on fitness apps to track your workout.
Sunny Health & Fitness SF-B1805
12. Schwinn:
Has fully adjustable feature, consists of a heavy flywheel, offers magnetic resistance, equipped w/ SPD pedals
The IC3 comes with the most features out of all the other spin bikes in this article. Cycling on this bike feels very smooth and the mechanism is pretty quiet as well. This is due to the 40 lbs flywheel and the belt-driven system. It also features magnetic resistance which can be continuously varied with a turn dial. Pushing down on the dial will stop the flywheel quickly. The sturdy steel frame is capable of supporting up to 300 lbs. A couple of wheels and four levelers are included for ease of transport and stability.
Customizability for different heights and riding positions is not an issue at all, since both the handlebars and the race-style seat are 4-way adjustable. The pedals of this bike are quite versatile. They give you the option to use with SPD clips as well as standard toe cages. A simple LCD console gives readouts for speed, time, distance, calories, and RPM. It is also compatible with 5kHz wireless pulse straps. However, you will have to buy the strap separately. Additionally, there is one large holder for both a water bottle and a device.
---
Buying Guide: Budget spin bikes
1. Flywheel Weight
In contrast with other types of stationary bikes, spin bikes typically have larger and heavier flywheels. This is done to ensure that the spin bike simulates as much as possible the feel of an actual road bike. These flywheels are normally weighted around the edges and their rotation maintains the forward momentum by storing energy. The pedaling motion will be smoother if the flywheel is heavier. The majority of home-use spin bikes are fitted with flywheels ranging from 15 to 35 lbs. A commercial spin bike's flywheel weighs approximately 50 lbs.
2. Drive System
The mechanism by which the movement of the pedals is transferred to the flywheel is the drive system. Two types exist; chain drives and belt drives. A chain drive, much like outdoor bikes, utilizes a metal chain and sprockets. These usually produce some noise and need maintenance more regularly. Consequently, these are found more commonly in older spin bikes.
A belt drive uses a belt made of rubber that wraps around a reel. Belt drives in spin bikes have now become the norm. This is due to the quiet operation and the need for almost zero maintenance. For commercial spin bikes, however, chain drives are still used more commonly. The reasoning for that is, after a certain amount of use, a belt will stretch/loosen and begin to slip. After a few years of use, even spin bikes at home will need a belt replacement.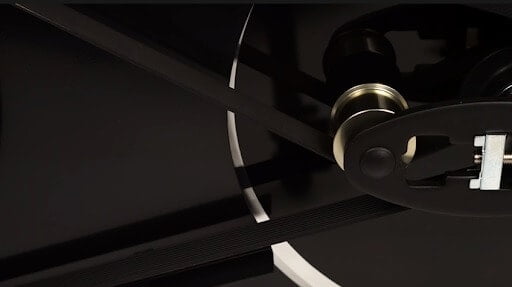 Image: Belt drive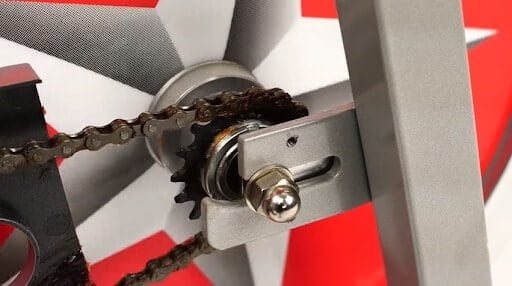 Image: Chain drive
3. Bike Adjustability
Every person has a particular preferred cycling position and a certain body size. Often, the same spin bike is also used by more than one individual. Stationary bikes should have enough adjustability with the seat and/or handlebars to accommodate this. Usually, spin bikes have much more customizability than upright or recumbent exercise bikes. Almost all of them have seats with adjustable height and fore/aft position. Handlebars have vertical adjustability at the very least. Only some have the option of sliding forward and backward. Also, there are some spin bikes with multi-grip handlebars for different riding positions.
4. Resistance Type
The resistance level on spin bikes is usually continuously adjustable and operated by a knob or dial. Resistance is applied using either magnet or using friction. In earlier models, friction-based resistance was the norm. They work by pressing a brake pad made of woolen felt material against the flywheel. In contrast, powerful magnets are pushed closer or farther from the flywheel in a magnetic resistance bike to adjust the degree of difficulty. The issue with friction resistance is that the brake pad inevitably wears down and needs to be replaced. The magnets never come into contact with the flywheel and are much more robust as a result. It is important to remember that magnetic resistance spin bikes are more costly than those with friction resistance.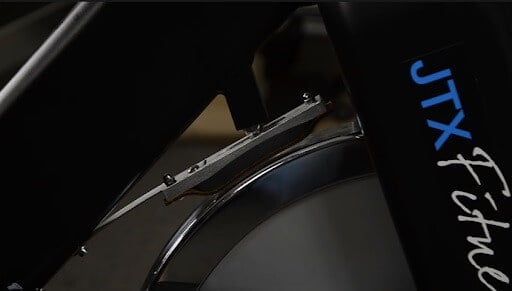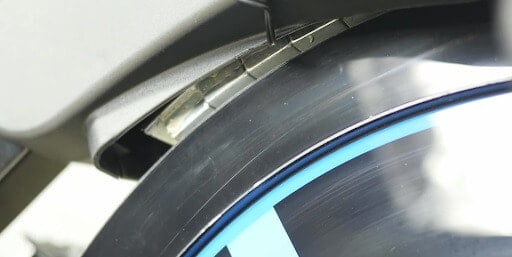 Image: Friction resistance and Magnetic resistance
5. Type of Pedals
The pedals on a spin bike almost always have toe cages and adjustable straps. This is so that you can lock your feet in place and not worry about slipping off. People often cycle at high speeds on a spin bike and so, this feature is a must. For more serious and advanced cyclists, some bikes have SPD pedals. These pedals are used with special cycling shoes and allow for better control and efficient pedaling. However, for most average users, the cage/straps are more than enough. Pedals can also be classified based on whether they are single or dual-sided.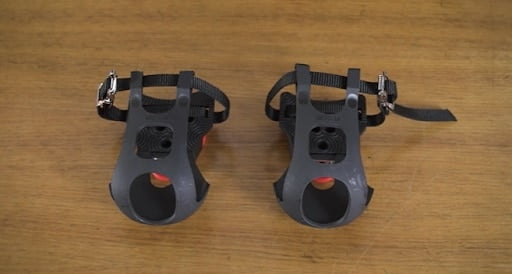 Image: Toe-cage pedals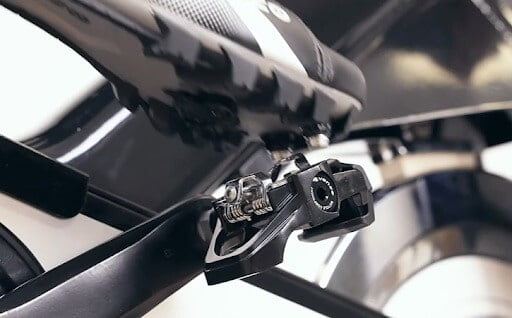 Image: SPD pedals
6. Weight Capacity
The maximum user weight is also something that should be taken into account. Particularly, if you are overweight. Spin bikes have a somewhat lower capacity than upright or recumbent bikes. Although, this isn't much of an issue because someone who is morbidly obese will find it difficult to use a spin bike anyway. A recumbent or upright bike would be better for them. Spin bike frames are most commonly made of steel tubes. The majority of them can withstand anywhere from 270 to 330 lbs of weight. However, that can be higher or lower depending on the material and price.
7. Q-Factor
Many people don't really know about this property of bikes. The Q factor is simply the distance between the feet while you are pedaling. Generally, a narrower Q factor is more comfortable, efficient, and lets you deliver more power. However, if it is too narrow, your legs will rub against the seat post. It could also hurt your lower body joints. If the Q factor is too wide, then workouts will be uncomfortable and potentially harmful. Ultimately, it depends on the gap between your knees.
8. Digital Console
Unlike other stationary bikes, spin bikes usually have fewer electronic features. Nonetheless, the ability to track your own workout might be very important to you. In that case, you should look for at least a basic LCD console that displays the distance, speed, time, and calories burned. Some bikes have pulse sensors integrated into the handlebars to measure heart rate. If you are looking to save money, then many cheap spin bikes do not have a console at all. On the other hand, high-end bikes have high-tech consoles with more large screens and backlighting. They may have more data readouts and greater functionality. But these will definitely cost more. You need to decide which features are crucial for you and which ones you can skip.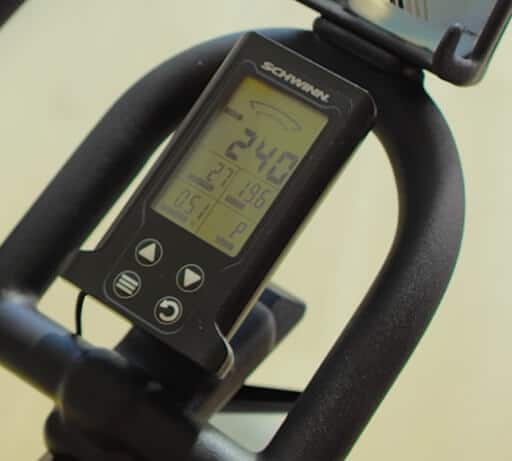 Image: Console
9. Transport Wheels and Stabilizers
Spin bikes are heavy pieces of equipment that can weigh between 70 and 130 lbs. Fortunately, virtually every spin bike comes with a set of transport wheels attached to the front base. With these, you can simply tilt up the bike and roll it away to move it. This is especially useful for those who want a spin bike for home use. Other important features that can be seen in most bikes are frame stabilizers or levelers. They are used to keep the spin bike perfectly vertical on uneven surfaces.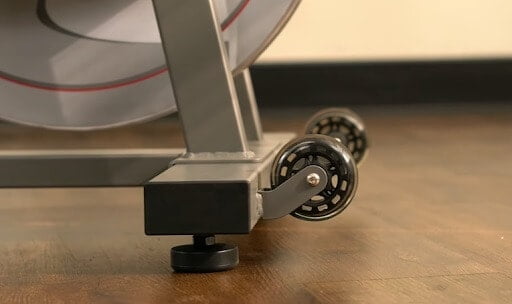 Image: Transport wheels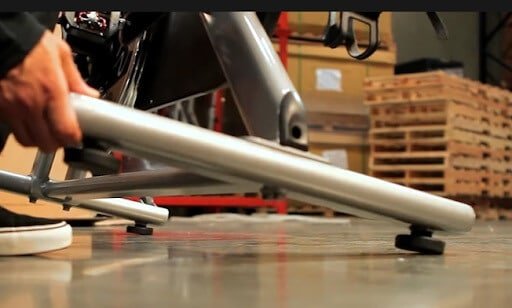 Image: Frame stabilizer
10. Accessories
There are a host of various accessories and features that can be found on different spin bike models. These are not really essential, but they make the workout experience a lot better. A bottle holder and device shelf are the most basic ones. You want to be able to listen to music, watch videos, and stay hydrated without having to get off. Other features include cooling fans, Bluetooth connectivity, speakers, etc.
11. Price and Warranty
Finally, your budget will determine which spin bike you can actually get. The price can range anywhere from $200 to $3000. However, most users are just not looking for something too fancy. For a home gym, you can find many great options at under $600. It is better to avoid bikes that are too cheap, as they could be of poor quality and breakdown easily. Speaking of that, make sure to check the warranty duration and conditions as well. Normally more expensive bikes have longer warranties.
F. A. Q.s
Q.1: Is it worth buying a spin bike?
Ans.: There are many reasons to buy a spin bike. First of all, most of us already know that cycling is simply one of the best forms of exercise for improving cardiovascular health without it having a high impact on the joints. Secondly, it holds some advantages over other exercise machines which are given below:-
A spin bike is a very compact machine.
They do not make much noise.
It requires very little maintenance and can last for decades.
There is almost no risk of injury.
Both beginners and advanced athletes can adjust the difficulty according to their level of fitness.
Prices are comparatively lower because of the simple design and fewer features.
Q.2: Is a spinning bike hard for beginners?
Ans.: The great thing about spin bikes is their versatility. The resistance of spin bikes typically has infinite levels of variation, ranging from very easy to extremely hard. You are also fully in control of the pace at which you pedal. Therefore, it really doesn't matter if you're a complete beginner or a veteran cyclist. The sample workout given below might be of use to you. The rate of perceived exertion (RPE) basically describes the level of difficulty on a scale of 1 to 10, with 10 being the highest difficulty.
| Time (minutes) | Intensity/Pace | RPE |
| --- | --- | --- |
| 5 | Keeping the resistance low, warm up at a comfortable pace. | 4 |
| 3 | Now increase the resistance a few levels up to a point where you feel that you are working, but are still able to hold a conversation. This is known as the baseline pace. | 5 |
| 2 | Increase the resistance and/or pace again until you are working harder than your baseline pace. | 5 to 6 |
| 3 | Decrease the resistance/pace back to the baseline level. | 5 |
| 2 | Increase the resistance and/or pace again until you are working harder than your baseline pace. | 5 to 6 |
| 5 | Finally cool down by going back down to the resistance/pace of the warm up. | 4 |
Q.3: Is spinning bad for your knees?
Ans.: Even though spinning is gentle on the joints, there are some instances of people developing knee pain from using spin bikes. Most experts agree that the main cause of knee pain from cycling is due to incorrect positioning and/or overexertion. These can be easily prevented. Eric Heiden M.D., the founder of Heiden Orthopedics and Olympic gold medalist, suggests making sure that the seat height, seat position, and foot placement are proper. It is also important to get enough rest and NOT increase the difficulty of your workouts too rapidly. Watch the following video to know how to properly set up a spin bike:-
Q.4: Is a spin bike good for weight loss?
Ans.: Weight loss is all about burning more calories than you consume throughout the day. There's a reason why spin bikes and spin classes are so popular nowadays. Indoor cycling can burn around 400 to 600 calories in a 45-minutes session. Moreover, it boosts your metabolism, meaning you will be burning more calories even while resting. Not to mention the improved strength and muscle toning of the lower body and core. Nonetheless, good exercise should always be supplemented with a healthy diet. Otherwise, your efforts will go to waste.
Conclusion
If you have decided to purchase a spin bike, then congratulations!. You are already on the path to a healthier and more active lifestyle. Furthermore, if you select from our list of products, we can guarantee that you won't be disappointed. We believe that money should not get in the way of your fitness. Hopefully, you found this article to be valuable. Thanks for reading and good luck!
Related Exercise Bikes
---
Useful Resources:
(Visited 44 times, 1 visits today)
Last update on 2020-11-25 at 12:00 / Affiliate links / Images from Amazon Product Advertising API
Close