Are you planning on exercising at home? If the answer is yes, then you should definitely consider buying a brand new spin bike. A spin bike will provide you the perfect workout by simulating the real-life road cycling experience while also making sure that you have a great time. However, choosing a new spin bike can be quite difficult due to the various choices available in the market. That is why we wrote this article for you.
In this article, we have provided a list of all the best magnetic resistance spin bikes that are available for you to buy right now. We have executed careful market research and tested the bikes ourselves in order to provide you with the most accurate information. We hope you will enjoy reading this article.
Out of our selected best magnetic resistance spin bikes, we found that the Keiser M3i Indoor Cycle Bundle is the best one due to its high quality, strong build, and Bluetooth technology. That is why we have picked this product as our "Overall Best Choice".
A quick view of our selected best magnetic resistance spinning bikes in the market:
10 best magnetic resistance spinning bikes you can buy today
To give you a small summary of our selected best magnetic resistance spinning bikes, we have made this comparison table. The comparison table consists of all the specifications of all the products.
Bike
Preview
Model
Material
Digital Monitor
Resistance Type
Pedal Type
Product Dimension
User Weight Capacity
Weight
Inseam Height
Bottle Holder
Keiser M3i Indoor Cycle
M3i
Steel Frame
8 Function Screen
Magnetic Resistance
Caged Pedals
51" x 26" x 49"
350 lbs
92 lbs
-
Yes
Sunny Health & Fitness Indoor Bike
SF-B1805
Steel Frame
No
Magnetic Resistance
Caged Pedals
48" x 23" x 45"
300 lbs
125.7 lbs
Min 28" / Max 38"
Yes
ECHANFIT Indoor Bike
CBK1901P
Steel Frame
6 Function Screen
Magnetic Resistance
Toe-Caged Pedals with Straps
41.34" x 21.30" x 48.03"
300 lbs
91.5 lbs
Min 34.65″ / Max 40.55″
Yes
JOROTO Indoor Bike
X2
Alloy Steel
5 Functions Screen
Magnetic Resistance
Toe-Caged Pedal
42.9" x 19.7" x 42.5"
280 lbs
108 lbs
Min 27.5" / Max 36.2"
Yes
MaxKare Indoor Bike
Magnetic Belt Drive Indoor Bike
Steel Frame
7 Function Screen
Magnetic Resistance
Caged Pedal
42.3" x 21" x 45.4"
264 lbs
90 lbs
Min 27.5″ / Max 36″
Yes
CHAOKE Indoor Bike
Magnetic Belt Drive Indoor Bike
Steel Frame
5 Function Screen
Magnetic Resistance
Cage Pedals
41.34" x 20.08" x 44.49"
300 lbs
82.4 lbs
-
Yes
Cyclace Exercise Bike
Indoor Cycling
Bike
Heavy Duty Steel Frame
6 Function Screen
Friction Resistance
Toe Cage Pedals
40.9" x 24.2" x 47.9"
330 lbs
86 lbs
Min 28″ / Max 39″
Yes
Schwinn Indoor Cycling Bike Series
IC4
Steel Frame

7-panel LCD display
Magnetic Resistance
Dual-sided with toe cage & SPD Clips
48.7" x 21.2" x 51.8"
330 lbs
106 lbs
-
Yes
EFITMENT Indoor Bike
IC031
Steel Frame
6 Function Screen
Magnetic Resistance
Caged
Pedal
50" x 22" x 50"
275 lbs
104 lbs
Min 28 / Max 33.5
No
OVICX Stationary Bike
XCycle Q200
Stainless Steel
4 Function Non Backlit LCD
Magnetic Resistance
Toe Cages with Safety Straps
40.6" x 22.4" x 51.6"
265 lbs
92 lbs
Min 33.1'' / Max 40.6''
No
1. Keiser M3i Indoor Cycle: Premium Spin Bike that comes with Bluetooth Technology and is Made in the USA

|

Overall Best Choice
The Keiser M3i Indoor Cycle is a high-end indoor spin bike. It is made in the USA and so it is built with high quality and premium materials. The spin bike is also very well-designed. The V Shape Frame will let you adjust both the handlebar and the seat so that you can set them up according to your own preference and height. This design allows the bike to fit riders with their height in the range of 4'10" to 7'. The rear flywheel is designed and positioned in such a way that it will not be affected by sweat and corrosion. As a result, this spin is very durable and does not require any extra maintenance. This spin bike has an 8 function display that will show you all the data related to your workout including power, cadence, calories, heart rate, time, odometer, gear, and distance covered. These performance metrics will help you improve and motivate you to work even harder. It also consists of Bluetooth technology which lets you connect to Keiser's M-Series app. This app will offer you even more advanced metrics of your workout than the digital display. You can also place your tablet or other devices on the tablet holder to enjoy watching your favorite videos while exercising.
This spin bike also comes with a great pair of pedals. They are wide enough to fit any type of footwear. It also provides a lot of other features that will make your spinning session as comfortable and convenient as possible. These features include a media tray, shifter, water bottle holder, adjustable seat, and handlebars. So if you are looking for a new spin bike, this one will be a fantastic choice!
2. Sunny Health & Fitness Indoor Bike:
Excellent Spin Bike with Great Fitting, a Heavy Flywheel & Micro-Adjustable Resistance
The Sunny Health & Fitness SF-B1805 Indoor Cycling Bike will definitely enhance your spinning experience. It consists of some fantastic features that will surely make spinning more exciting and comfortable at the same time. This spin bike consists of 4 way adjustable handlebars which you can adjust according to your height or any other position that will allow you to perform well. There is a device holder attached to the handlebar where you can put your electronic devices. So you can turn on the Sunny Health and Fitness app on your device and keep track of your fitness progress and exercise along with fitness videos, or listen to your workout playlist. Much like the handlebar, the seat can also be easily adjusted corresponding to your height and distance to the handlebar. The resistance system is also quite efficient and you can easily adjust the resistance level to suit the demand of your workout. The flywheel is quite heavy and weighs about 44 lbs. This allows the bike to pedal in a very quick and smooth manner. So you will not feel any difficulty or friction when you are spinning on this bike.
This spin bike also comes with an emergency stop brake just in case you are unable to or need to stop the pedals from turning. This package also includes a user manual, hardware & tools so that you can set up or repair the bike. If you are planning on buying an indoor spin bike that will keep you fit and healthy, then you should consider buying this one,
Sunny Health & Fitness Indoor Bike
3. ECHANFIT Indoor Bike:
Exceptional Spin Bike that features an Exclusive Design and is Highly Adjustable
The Echanfit Indoor Cycling Bike is built with a good quality steel frame which allows it to provide a stable performance. This is a very good looking spin bike and it is designed to optimize your spinning performance. Everything about this spin bike is adjustable in order to provide you the best experience. The anti-slip handlebar is adjustable in 4 different ways and will allow you to hold it with multiple hand positions when riding this bike. It also comes with a 4-way adjustable seat so that you can ride this bike properly no matter how short or tall you are. Furthermore, it comes with toe caged pedals with adjustable straps. Also, the seat features very soft cushioning that will allow you to ride it for a long time. This is because the cushioning is highly elastic, shock-absorbing, and breathable. This spin bike comes with a digital monitor so that you can see the time, distance, speed, pulse, and calories burned of your spinning sessions.
This bike has two transportation wheels that are located on the front base so that you can move it easily around your house. The wheels roll out smoothly and do not skid on the floor. So buy this spin bike to enhance your spinning sessions as soon as you can.
4. JOROTO Indoor Bike:
Fully Adjustable Spin Bike that comes with a Wide Seat and a Top-Notch Built
The JOROTO Belt Drive Indoor Cycling Bike is exactly what you need to start spinning. This bike is built with an AV type frame, a great quality flywheel weighing 35 lbs, and a 50 mm frame tube. It consists of 4 horizontal adjustment knobs located under the front and rear stabilizer. This keeps the bike stable on different types of surfaces, so the bike always offers comfortable and safe riding. This bike is also very adjustable as the seat and handlebar allow 4 ways of adjustments. The toe-caged pedals also come with adjustable straps and the resistance levels can be controlled using an adjustment knob. This bike features a wide and comfortable seat so that you can exercise on your bike for as long as you need to. The spin bike also has an emergency stop brake that you can press if you ever need to stop the bike instantly to avoid any injuries.
The 5 function display monitor shows your time, speed, distance, and calories burned to let you keep track of your progress. It also has two groove-holders and two triangle supports which can be used to hold your phone, tablet, or bottle. There are two transportation wheels on the front side of the bike's base you can use to move it without any difficulty.
5. MaxKare Magnetic Indoor Bike:
Customizable Spin Bike that has a Smooth Resistance System and requires very Low Maintenance
The MaxKare Magnetic Belt Drive Indoor Cycling Bike offers great value for money. It is made with high quality and durable steel, so it is very stable as it can accommodate users up to 264 lbs in weight. The bike consists of a manual magnetic resistance system that does not cause any friction. It also has a bidirectional flywheel so that you can pedal in both directions. This resistance system is very easy going so that you can workout efficiently in a quiet and calm environment. This spin bike can be adjusted to cater to your unique needs. Both the handlebars and saddle are 4 way adjustable so you set its position in such a way that it will suit your riding style. It's handlebars come with custom sweat-resistant grips so that your hands don't get tired. There is a 7 function LCD monitor on this bike that tracks and displays the speed, time, distance covered, calories, and total distance covered. This bike will keep you safe and secure with its emergency brake that you can activate whenever you feel like you are in a risky situation.
This bike also requires very low maintenance as it has a belt drive system and a magnetic resistance system that does not cause any drag. It does not require any type of lubrication or extra maintenance. You can buy this spin bike with full confidence due to its performance and warranty!
6. CHAOKE Indoor Bike:
Whisper Quiet Spin Bike featuring an Impeccable Design and Construction
The Chaoke Indoor Cycling Bike has been built with its users in mind and so it has all the features to meet all your spinning needs. Chaoke's spin bike is very stylish and great looking. The saddle is quite broad, wide, and well-cushioned. The thick and sturdy steel frame construction allows it to be stable and durable. The bike is equipped with magnetic resistance a flywheel that is quite heavy that offers highly efficient performance. It has a convenient and well-placed resistance knob under its handlebars which will allow you to switch in between resistance levels during your workouts. You can press on the resistance knob to apply the brakes and stop the bike immediately. It also consists of cage pedals and adjustable pedal straps that make sure your feet won't slip off the pedals during intense rides and give more stability while pedaling.
There is an LCD monitor that will show you all the data related to your spinning session so that you can learn and keep track of your workout. It also has smooth and easy transport wheels for you to move your bike around. So if you think this product is for you, don't wait around and get it right now!
7. Cyclace Stationary Exercise Bike:
Easy to Assemble Spin Bike that features a Durable Frame and provides a Personalized Experience
The Cyclace Stationary Exercise Bike is an excellent spin bike that provides a convenient, comfortable, and personalized experience to its users. It is built with high-quality steel, a triangular frame, a 36lbs flywheel, and a belt-driven system. You can set this bike up completely according to your style and needs. The saddle offers 8 adjustable positions which way more than that offered by other brands. The handlebar offers 5 positions and multiple grips for better for you to choose from. Also, the handlebar is very well made and does not easily deform. The saddle features an ergonomic design. It is very wide and is well cushioned in order to provide a comfortable platform. The spring of the saddle acts as a shock absorber that enhances your comfort and will allow you to ride the bike for as long as you want.
The fitness meter can be very handy. It can track and display time, distance covered, total distance covered, calories burned, and speed. The bike can be set up quite simply. The package comes with the necessary user manual and tools so you can set it up quickly and start riding!
Cyclace Stationary Exercise Bike
8. Schwinn Indoor Cycling Bike Series:
A Versatile Spin Bike that offers Superior Quality and A Personalized Riding Experience
The Schwinn IC4 is versatile and easy to use a spin bike that will provide you an experience tailored to your riding style and needs. It offers a lot of adjustability for its users. Starting with the handlebars which are 4 way adjustable and can be moved both vertically and horizontally. These are multi-grip handlebars which means you can hold them in any position you want while you exercise. The saddle can also be shifted in all directions to help you find the perfect seat position. The seat has a central cut-out section which removes any sort of discomfort in the perineum area and consists of internal cushioning which will allow you to sit comfortably during your long exercise sessions. The exercise console has an LCD screen that displays your time, speed, resistance level, distance, calories, and pulse. The tablet holder comes in really handy as you can also use some amazing fitness apps such as Zwift, Peloton, and World App to enhance your workout,
The pedals of this spin bike are very well-built. As mentioned before, they are dual-sided and come with both toe cages and SPD clips. A lot of indoor bikes are not SPD compatible and so this bike provides an added advantage. This package also includes an adaptor to power the console, a Bluetooth pulse band to get your heart rate, and a dumbbell set to workout your upper body muscles. So if you think this spin bike is perfect for you, what are you waiting for? Get it today!
Schwinn Indoor Cycling Bike Series
9. EFITMENT Indoor Bike:
Highly Comfortable and Secure Spin Bike that comes with Pulse Sensors
The Efitment IC031 Indoor Cycling Bike is a sturdy and secure exercise bike that will surely be a great addition to your home workout routine. This spin bike comes with a flywheel that weighs 40 lbs and is equipped with a belt drive system and adjustable magnetic resistance. These three features will allow you to pedal very smoothly and efficiently. The adjustable magnetic resistance will allow you to set the intensity of your workout. It also has an adjustable seat and handlebar. The handlebars can be moved up or down and have pulse sensors that will show your heart rate. The adjustable seat is quite large and well padded. You can set this seat exactly as you want to because you can move it upward, downward, forward, and also backward. The spin bike consists of an emergency brake which you press to stop the bike instantly.
The 5 functions digital monitor will record and display the time, distance, scan, speed, calories burned, and pulse of your workout sessions. It also comes with a device holder and bottle holder for your convenience. If you are looking for a new spin bike, this might be the right one for you!
10. OVICX Magnetic Stationary Bike:
Fantastic Spin Bike that has a stylish design and is Completely Adjustable
The OVICX XCycle Q200 is an excellent and high-quality spin bike that provides a smooth and quiet home workout. It is designed very well and made with 3.7 inches heavy-duty stainless steel frame and triangular structure. It is solid and durable while also exhibiting a stylish look. The seat and handlebars can be set according to real-life biking positions and so offers the utmost adjustability. This allows the bike to be used by a number of people instead of just one person. The belt drive and the magnetic resistance system combined with the 35 lbs flywheel provides a very smooth pedal motion that is both quiet and vibration-free. The resistance system is frictionless and therefore requires very low maintenance. The toe-cage pedals are built with aluminum alloy and have adjustable safety straps. Therefore, they will fit you very well and prevent your feet from slipping off. Also, the pedals fit different sizes and provide support while pedaling.
The LCD monitor will track your time, distance, calories, speed, and pulse while you ride your spin bike. This will allow you to keep an eye on your performance and help you optimize it. You can buy this bike with full confidence because of its long-term warranty.
OVICX Magnetic Stationary Bike
---
Factors to consider before buying a magnetic resistance spin bike
Spin bikes are quite different from other indoor cycles that are available in the market. These types of bikes are made to simulate real-life cycling to its users. They provide a very close replica of the actual outdoor cycling experience in the indoor cycling world.
There are many factors that make spin bikes what they are. So before purchasing a new spin bike you should learn more about them. That is why we have written this buying guide. To give you a brief overview of the different factors of a spin bike.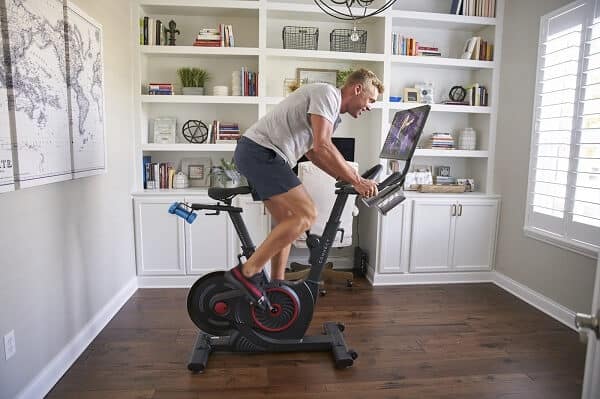 Image credit: Echelon
Factors to Consider Before Purchasing a Spin Bike
Type of Resistance System
There are two types of resistance systems that are available on a spin bike. Spin bikes either come with a friction resistance system or a magnetic resistance system. Friction resistance systems increase the resistance by applying pressure directly on the flywheel so that it slows down and gets harder to turn. This means that friction resistance systems are more susceptible to wear and tear. They also require a lot of maintenance. However, magnetic resistance systems increase the resistance by moving a powerful magnet closer to the wheel. Therefore, they require much less maintenance. With that being said, spin bikes with friction resistance are less expensive than those with magnetic resistance.
Weight of the Flywheel
The forward momentum of the bike's pedals is sustained by the rotation of the flywheel's weight. Resistance is applied by the friction or magnetic system, not by the flywheel. The weight of the flywheel only has an effect on the resistance of the bike during the first few revolutions that take place with zero resistance. The heavier the flywheel of the spin bike the better as it can recreate the experience of a road bike much more precisely. Typically the flywheel's weight is somewhere between 30 lbs to 44 lbs.
Drive Train Mechanism
There are two types of drive train mechanisms. Usually, when it comes to spin bikes the crank and the pedals are connected using a chain or a belt. Belt drive systems provide a smooth and quiet experience as they produce much less noise. This is why spin bikes made for home workouts mostly come with belt drive systems. However, spin bikes made for gyms or studios use a chain-driven system. This is because when overused belts begin to stretch and slide which provides a harsh riding experience.
Saddle Position
You should definitely consider how many positions are available on your saddle or at least how adjustable it really is before purchasing the bike. Finding a spin bike that provides the perfect saddle position will not only provide you a comfortable ride but also reduce the chances of injury. Your saddle should be able to move forward, backward, upward, and downward so that it can accommodate your side and height without any difficulty.
Handlebars
Another very important factor for spin bikes is the handlebar position. Your handlebar should be highly adjustable so that you can ride your indoor bike correctly and comfortably. Now, a lot of brands allow handlebar position adjustability in order to cater to people with long or short arms and bodies. So do not buy a spin bike without this feature. You should buy a spin bike that allows you to adjust the handlebar position both vertically and horizontally to get the most precise fit. It will enhance your overall riding experience. Also, you should check if your spin bike features multiple grips on the handlebar. This will allow you to get a proper grip and also ride in different positions, for example riding while sitting or even standing.
Pedals
Whether you are a beginner or a professional, you should pay attention to the type of pedals on your spin bike. If you are a beginner then the usual toe-pedals will be fine for you. The pedals should come with safety straps or any other method that keeps your feet securely on the pedals at all times. However, if you are a professional cyclist, you should make sure that the pedals of the spin bike are SPD compatible.
Portability
Spin Bikes are very heavy and they can be quite difficult to move around. That is why spin bikes are equipped with transportation wheels either at the front or rear of the bike. They are crucial for quick and easy movement, this is especially the case for spin bikes at home as there is limited space and the need to move them around from room to room. Most spin bikes have the transportation wheels located at the base of the bike. Therefore, you can just tilt the bike and push it forward or backward to move it to another place according to your convenience. Even though these wheels are available on almost all new spin bikes, you should check if the one you are planning to buy has it or not as it will be very difficult for you without them.
Device and Bottle Holder
When you are spinning you need to stay hydrated. Spinning takes a lot of energy and effort. If you do not drink enough water during your exercise sessions, you will not be able to workout efficiently and get tired or even pass out. Also, getting off your bike to drink water can be quite a hassle. So it is very important that your spin bike comes with a bottle holder so you can drink water while you are on the bike. It is also essential to keep in mind that the bottle holder should be located on the upper part and not the lower part of the bike. This is because it can be difficult to reach for the bottle while pedaling if it is on the lower part of the bike.
If you buy a spin bike with a built-in device holder, you can place your smartphone or tablet on it. This way not only will you be able to enjoy watching fun videos or listening to music while working out. But you will also be able to watch fitness videos that will help you improve your workout and make it more productive. To check if your spin bike has a device holder or not so that you can enjoy these benefits.
Benefits of Using Spinning Bikes
There are many benefits to spinning, starting with weight loss to better health. These benefits meet the needs of many types of users. Whether you are just a beginner trying to lose weight or a professional racer trying to improve performance gains, spinning may be the ideal form of exercise for you. So before you purchase your new bike, find out all the benefits that you will enjoy!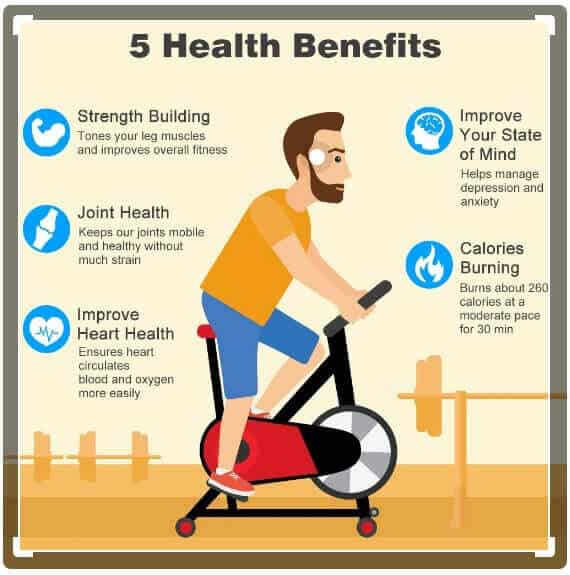 Image: Health benefits of using spinning bikes
Burn Calories
Spinning is an ideal way for burning calories. You can burn about 400 to 600 calories depending on the intensity and duration of your workout session. If you carry out these sessions 3 to 6 times per week then you will see satisfactory outcomes related to your weight loss. So if you are deciding to buy a spin bike to lose weight, you are in luck. Exercise sincerely and try to make time for it every week to see tremendous results of your hard work and dedication.
Cardiovascular Fitness
Spinning will definitely boost your cardiovascular health. You will be able to move around or stay active much more freely with improved cardiovascular health. Improving your cardiovascular fitness will also reduce your chances of getting any type of severe heart disease. The impact on cardiovascular fitness from spinning is quite similar to other types of cardio exercises, such as running, jumping rope, swimming, etc. It is perfect for people who want to improve their cardiovascular health without putting extra pressure on their joints.
Relieve Stress
All forms of exercise reduce stress and make you feel better. Spinning does the same, it allows you to concentrate on pedaling and makes you forget all the troubles of your life, at least for the duration of your spinning session. Therefore, spinning will motivate you, give you confidence, and relieve the stress that comes with your daily hectic life. Also, as spinning workouts can be quite challenging, it also builds up your mental strength and also makes you more resilient with an improved attitude.
Full-Body Workout
Spinning will have a great impact on your body and will workout all your muscle groups. These muscle areas include your core, upper body if you use additional dumbbells, back muscles, glutes, quadriceps, hamstrings, and lower leg muscles. So spinning regularly, will tone your muscles and make you super fit.
Also, training on a spin bike provides you the exercise you need to stay fit at all times. It provides a low impact workout for your body that puts less pressure on your joints and ultimately reduces the chances of injury. Spinning places less stress on your knees and your feet than other types of cardio exercises. As a result, it offers you a platform to exercise as much as you want without injuring your knees and feet. And so you can get positive results without the fear of potential injuries. You can learn how to workout on a spin bike by watching this video:
F. A. Q.s
Q1. How to take care of a magnetic spin bike?
Ans: Although magnetic spin bikes are super smooth and easy to use, they are not exactly maintenance-free. All magnetic spin bikes require some level of maintenance. Therefore, you should grease the brake mechanism on a regular basis. Also, you may get sweating on your spin bike during your workout session, so you should clean it after every spinning session to maintain its durability and quality. You can watch the following video to learn more about this:
Q2. How much should I workout on the spin bike to lose weight?
Ans: A typical spinning session will burn anywhere between 400 to 600 calories. So if you exercise 3 times a week, you will burn around 1200 to 1800 calories a week. So it all depends on how much weight you want to shed and you should fix your workout schedule according to that.
Q3. Do I have to be fit to start spinning?
Ans: Anyone can start spinning any time they want. You can spin at your own pace by controlling the resistance level on your spin bike. So it does not matter if you are fit or not, you can start spinning and accomplish your fitness goals.
Q4. Can I use a spin bike if my weight is higher than the weight limit?
Ans: All spin bikes come with a designated weight limit. Although it is not a major issue if your weight exceeds the weight limit, you should buy one with a higher weight limit. This is because a spin bike with a higher weight limit will be able to provide more stable performance and will also last for a longer time.
Q5. How soon will I be able to see the outcomes of my exercise?
Ans: If you exercise about 3 to 4 times every week, you will be able to see positive results after a couple of weeks of spinning.
Q6. What should I wear for my spin workouts?
Ans: You will sweat a lot while spinning. We suggest you wear your workout clothes which means short-sleeved or sleeveless t-shirts, shorts, and leggings.
Conclusion
We wrote this article to give our amazing readers an idea about the best magnetic resistance spin bikes available in the market right now. We hope that you found this our product selection and buying guide useful. Our goal is to not just help you buy a new spin bike but also to give you a better understanding of how they work and what you should look for. So good luck to you on your new fitness journey. Thank you for reading this article. Stay healthy and stay fit!
Related Exercise Bikes
---
Useful Resources:
(Visited 725 times, 1 visits today)
Last update on 2020-11-27 at 01:30 / Affiliate links / Images from Amazon Product Advertising API
Close