You may already know that SPD stands for "Shimano Pedal Dynamics". When it comes to the designing of professional bike pedals, 'Shimano' is the name that pops into our minds. It is a reputed company founded in Japan that has been leading the pedal industry for decades.
When you want to select a pair of pedals for mountain biking, you need to find those pedals that can push it to the limit. Mountain bike pedals need to be built in such a way that they can withstand the extreme pressure for aggressive cycling, at the same time they should be able to provide support and comfort.
After relentless hours of researching and testing, we were able to come to the conclusion of making a list of the best SPD pedals that will be favorable to any rider. Our selection was based on the surface area, the release mechanism, the cleats, the seals, and other crucial parts. We have found that the Shimano Saint PD-M820 has what it takes to be the perfect set of pedals for any rider under any circumstance. That's why we have selected it as our "Overall Best Choice".
In the following table, we've listed the best SPD pedals for different types of mountain bikes:
10 best SPD pedals you can buy today for your mountain bikes
The pedals that we have chosen in our list can provide not only power for efficient pedaling but also the ease of control for rolling the crank arms smoothly.
Like most of our articles, we have sketched out a comparison table so that you can easily get a quick overview of all the pedals from our selection. And as usual, we highly suggest you read the whole post for your own benefit.
| Pedal | Preview | Type | Spindle Diameter | Platform Dimension | Weight (Pair) | Body Material | Axle Material | Bearing Type |
| --- | --- | --- | --- | --- | --- | --- | --- | --- |
| Shimano Saint PD-M820 | | Multi-Purpose (SPD/Flat) | 9/16" | 6" x 5" x 3" | 1.25 lbs | Alloy | Chrome-moly | Sealed Cartridge |
| Shimano PD-M530 | | Multi-Purpose (SPD/Flat) | 9/16" | 0.6" x 0.6" x 0.4" | 1 lbs | Aluminum | Chrome-moly | Sealed Cartridge |
| Shimano XT PD-M8120 | | Multi-Purpose (SPD/Flat) | 9/16" | 9" x 5" x 3" | 0.96 lbs | Aluminum | Chrome-moly | Sealed Cartridge |
| Shimano PD-M520 | | Multi-Purpose (SPD/Flat) | 9/16" | 4.6" x 4.1" x 3.9" | 0.84 lbs | Alloy | Chrome-moly | Sealed Cartridge |
| Shimano PD-M540 | | Multi-Purpose (SPD/Flat) | 9/16" | 6.3" x 4.9" x 2.2" | 0.776 lbs | Aluminum | Chrome-moly | Sealed Cartridge |
| Shimano XT PD-M8020 | | Multi-Purpose (SPD/Flat) | 9/16" | 7.9" X 3.2" X 1.6" | 0.899 lbs | Alloy | Chrome-moly | Sealed Cartridge |
| Shimano XT PD-M8000 | | Multi-Purpose (SPD/Flat) | 9/16" | 7.9" X 3.2" X 1.6" | 0.756 lbs | Aluminum | Chrome-moly | Sealed Cartridge |
| Shimano PD-M647 | | Multi-Purpose (SPD/Flat) | 9/16" | 5.2" x 4.2" x 3.2" | 1.25 lbs | Aluminum | Chrome-moly | Sealed Cartridge |
| Shimano XTR PD-M9020 | | Multi-Purpose (SPD/Flat) | 9/16" | 9" x 5" x 2" | 0.379 lbs | Aluminum | Chrome-moly | Sealed Cartridge |
| Shimano XTR PD-M9100 | | Multi-Purpose (SPD/Flat) | 9/16" | 6.3" x 4.3" x 2" | 0.68 lbs | Aluminum | Chrome-moly | Sealed Cartridge |
[1] Shimano Saint PD-M820: Innovative system with better control & performance |

Overall Best Choice
The Shimano M820 Saint SPD pedals remain hefty when they come straight out of the box. They are wider pedals yet they are slim where you can measure 19mm in the center. These pedals let you adjust the height according to your comfort with 4 adjustable traction pins where two of them are situated at the front and two are at the back on each side.
The rigid Chrome-moly Steel made axles of these pedals are supported with dual cup and cone bearings. The engagement may seem pretty similar to the Shimano XT M8120 model.
These are solid constructed products with machine tuned bodies and come with gold anodized lock bushes for an elegant appearance.
[2] Shimano PD-M530:
Great for Enduro
Shimano presented these budget-friendly yet brilliant PD-M530 pedals for those who enjoy riding with less cage support. These pedals have an innovative design for not letting you get stuck on rocks and for flushing out mud and debris when you step your foot into them. They offer a large surface area for more stability and adjustable tension release for more versatility when you ride from trails to tarmac.
Almost all SPD compatible shoes work very well with these pedals and we barely found any shoes that don't adopt them. These pedals include SM-SH51 cleats as most Shimano SPD pedals and you can also use SM-SH56 cleats with them. For their rigid structure, they can ensure minimum loss of power while pedaling. They can maintain the expected acceleration and speed if you switch to different terrain.
[3] Shimano XT PD-M8120:
Wide Pedal Surface with Integrated Cage
The Shimano DEORE XT PD-M8120 pedals allow you to ride aggressively on rough trails for their improved durability and firmness. They offer wide platform surfaces that lead to extensive contact zones for maximum power transfer while pedaling and for improving cycling control. Their integrated cages act like shields for protecting the binding mechanism. The cages also allow you to engage and disengage the pedals easily.
These pedals are excellent for the trail, enduro, and all-mountain cycling. These pedals are equipped with the standard SM-SH51 cleats and if you want, you can use the optional SM-SH56 cleats. Like all DEORE XT series pedals, these pedals have gone through some trail-tests in order to prove their reliability, durability, and performance. The legacy of DEORE XT has proved to be important for serious mountain bikers nearly for decades.
[4] Shimano PD-M520:
Excellent Pedals for Trail/XC
The Shimano M520 pedals are for those who are willing to start riding with clipless pedals or for those who are seasoned veterans looking for some quality pedals that are also budget-friendly. These are great performance pedals featuring durable steel axles, compact shape, sealed bearings, and open, mud-shedding design.
These pedals can be used with SM-SH51 cleats as they initially come with the package. But you can also use the SM-SH56 cleats as they intend to be used with most SPD pedals. They might be a little heavy for some users, but they can offer extra support for their faux bear trap alloy cage. If you are looking for a high-end pedal for mountain biking at an entry-level price, these pedals will do the job.
[5] Shimano PD-M540:
Lighter than the M520 model
The Shimano PD-M540 SPD pedals were mainly introduced for off-road and cross-country cycling. Yet this has also made them also very reliable for mountain cycling. These pedals were designed in such a way that they can easily get rid of muds and debris while you are cycling on off-roads. For this purpose, these pedals better beat others in their class. The dual-sided platform allows them to be used either as normal pedals or as clipless pedals.
The open binding mechanism of these pedals has the ability to attach your feet automatically. The binding claws are coated with fluorine and they ensure the right positioning of your feet during the whole ride. Like most SPD pedals, the SM-SH51 cleats are included with these pedals. Then again, you have the option to use the optional SM-SH56 cleats as well.
[6] Shimano XT PD-M8020:
Excellent build quality with Lightweight & high performance
The Shimano XT PD-M8020 pedals are outstanding choices from the DEORE XT M8000 series. These pedals are ultra-durable yet light, offer strong build quality, improve control and stability. All these features make these pedals a great value product. Watch this video below as it shows important aspects of these pedals in details –
A pair of SM-SH51 cleats come with the package and as usual, you can also use the SM-SH56 cleats as alternatives. These pedals have a low and sleek design that lowers the stack height of the cleats for improved stability. These are well-designed pedals made for the trail, all-mountain, and enduro bikes. In the SPD mechanism, the platforms are equipped with alloy cages.
[7] Shimano XT PD-M8000 XC:
Strong, Durable Adamant Design
When you are willing to get an edge on the competition, the DEORE XC race pedals are the exceptional choices clearly. And among all the models, the Shimano XT PD-M8000 XC pedals can set the standard for MTB performance to another level as it is equipped with the new XT components. Shimano describes these pedals and the M520 pedals in this video and we have found this very helpful, especially when you want to compare them –
Maintaining its reliability and durability, the XT PD-M8000 XC pedal comes with several improvements compared to its previous M780 model. Because these pedals offer 7.7% more contact between the shoes and themselves and shorten the stack height to 0.5 mm more power transfer and pedaling stability. The standard SM-SH51 cleats come with these pedals and they can also be used with the optional SM-SH56 cleats.
[8] Shimano PD-M647:
Innovative, Better control, High performance
The Shimano PD-M647 is the right set of pedals for extreme conditions and tough competitions. They were designed for enduring the rigors of extreme riding and BMX racing. You can enjoy the SPD or SPD-SL feature on both sides of these pedals. What is unique about these pedals is the pop-up mechanism, it tilts the binding at a 12.5° angle that is great for easy and smooth entry and exit.
Aside from the pop-up mechanism, these pedals are equipped with swivel cages for accelerating and facilitating access to the pedals. Moreover, they have an open binding mud-shedding design that clears a significant amount of mud and debris when you step in. This makes them an excellent choice for off-road or BMX cycling. Although the SM-SH51 cleats are included when you purchase these pedals, you certainly use the optional SM-SH56 cleats without any issue.
[9] Shimano XTR PD-M9020:
Improved Stability & Extremely Wide Platforms
The Shimano XTR PD-M9020 pedals from the PD-M9020 series are some of the top-of-the-line products of the company. These pedals can offer unified power transfer and control for enduro, rough terrain, or all-mountain type cycling. These pedals were built keeping in mind that they will be able to tackle single track and technical descents confidently with control.
Their slim and hollow spindle axles are equipped with two sets of angular contact bearings and they are placed keeping a wide space between them. Unlike ordinary Shimano bike pedals where standard 24 bearings are used, these XTR pedals use 22 highly polished Steel bearings. Shimano declares that these are assembled by the hands of highly skilled technicians in Japan.
[10] Shimano PD-M9100 XTR:
Lightweight with Perfect fit & grip 
The XTR M9000 series pedals are the most advanced pedals for mountain biking form Shimano. Equipped with the high-end components, you can find these pedals for trail and race. And you can consider the PD-M9100 XTR as the flagship model of this series for the next generation of cycling. These are the gold standard pedals that are perfect for the XC, CX, and gravel riders. Shimano has really pushed its engineering leadership for inventing these top-grade mountain bike pedals.
With an intuitive and seamless interface, these pedals have enhanced the pedaling efficiency to a great extent. These pedals offer 2 different length options for the spindle axle. You can either choose the 52mm or the 55mm axle that dials in your fit. These pedals are the benchmarks of better traction control and predictable steering, which make them the weapon of choice for the World Championship around the world.
---
What should you look for when purchasing pedals for mountain biking
When you are going to buy pedals not just only for mountain biking but also for any type of cycling, several questions may pop-out into your mind. These questions can be pretty straight forward yet their answers aren't so predictable. For this reason, we want to discuss with you the solutions to the questions that you really need to ask yourself when purchasing mountain bike pedals.
What is the appropriate size of the pedals?
You might be wondering what size should fit you the best while you are looking for a pair of pedals. This question is obvious and it is reasonable to ask yourself as you will the one who is going to ride with them. Well, there are different sizes of pedals. Some pedals may be larger than the other while some may be smaller. Okay now let us break it down for you by categorizing the pedals into three sizes, they are – large pedals, medium pedals, and small pedals.
Let's start with the large size pedals. Nukeproof Horizon CL, HT X2, Crank Brothers Mallet DH, DMR V-Twin are some of the big pedals that you can either find available in the local store or online. Because of their large surfaces, they can provide more support under your feet. As a result, you will make efficient strokes for pedaling for the unified transmit of power. Whether you are clipped in or not, these pedals your feet security by not allowing them to slide off. Most of the time, these pedals are heavy and they are suggested for those who started riding with clipless pedals or for the gravity riders.
When it comes to the small pedals, we can mention Crank Brothers Candy or Shimano PD-M530 pedals as references. They do provide an adequate contact area as the front and rear portion of the cage is now optimized. However, there are some 'skeleton' and 'lollipop' style pedals that can be considered in this category. They are the Crank Brothers Eggbeaters that have skeleton type design and Speedplay Zero pedals that look more like lollipops. They offer no platform protection and for those who are more professional riding with clipless pedals. And you need to have compatible stiff shoes in order to use them.
After describing the large and small pedals, now it's time to discuss the moderate or medium size platform pedals. These are also called the 'enduro' size pedals. These pedals are smaller than the larger pedals and bigger than the smaller ones. Although they use moderate size platforms, they include grip pins. So, you can use them even if you are unclipped. They have placed themselves in the latest category of pedals and are recommended for any type of user with various aspects. Shimano 9120 XTR/8100 XT, HT HT1, Nukeproof Horizon CS, and Crank Brothers Mallet E can be some of the great examples of these pedals.
What functionalities are you specifically looking for?
Different pedals offer different functionalities. The functionalities they offer also depends on their brands. Some pedals are specifically built for specific purposes yet some have special designs in order to perform well for that purpose.
Aside from the platform, weight, and price; some riders go for the same pedals again and again for their particular sets of functionalities. Shimano pedals have been leading the industry for decades. These pedals are much similar when it comes to their functionalities. They have similar build qualities, adjustable tension mechanism, bearing type, axle units, and most of the time; they can be used with similar type cleats. Although the action for clipping-in and out may vary, you can not adjust the height between the pedal and shoe. In other words, the stack height is fixed.
Other popular brands such as Crank Brothers and Time use a hoop-based mechanism that provides a smooth and quiet riding experience. This is also better for mud clearance and ensures a hassle-free engagement and disengagement. Crank Brothers pedals do not offer spring tension settings. However, you can tune the gap between your shoe and the pedal with shims. For accomplishing the same job, DMR uses different shims and rubber bumper heights.
On the contrary, H2 pedals fit mostly in the BMX background. As BMX cycling is aggressive and requires sudden jumps and movements, they make sure a secure feel with their double-sprung mechanism. Although loose foot connection requires less strain to unclip your shoes from the pedals, the genuine racing professionals might prefer a fixed foot connection. The float may vary depending on the pedal. But you can alter it from 0 to 20° by switching a different pair of cleats.
How much are you willing to invest in the pedals?
Your budget is also another major fact. It has a great influence on your choice. This significant factor raises in our minds first before we buy something. As for pedals, the choices do not always in line with the investment. However, you will get more options if your investment is higher.
Cheaper pedals do not offer any special features, they can be compared with the most regular ones. As the price increases, the quality and features also increase. You can expect to get adjustable pins, spring-tension system, wider pedal surface, open binding mechanism if you are willing to spend more.
Some pedals use different types of coating in order to increase their longevity so that they can carry on providing service for a long time. Some fancy pedals use different materials such as Titanium or forged Steel in the axle unit. This not only just gives a premium vibe but also improves the performance potential.
That being said, it doesn't mean that you can always expect to get a more reliable product if the product is expensive. Today, the reputed manufacturers built quality pedals in such a way that they remain budget-friendly so that people from all classes can buy them. They follow a brilliant principle, that is – to make performance pedals available to every class of people at an entry-level price. The Shimano's SPD and XTR series pedals are the prime examples of this. These pedals are smartly built in such a way that you will hardly notice any difference between them and the expensive ones.
So, are you going to spend a whole lot of cash under a pair of pedals, or you would buy something decent that suits your budget? We let you decide that for yourself.
Professional tips for Pedal and Cleat setup
It is hard to deny that professional cyclists spend most of their time on bikes and there is just about no one who spends more time on their bikes like them. So, it is no surprise that they are the ones who know cleats better than anyone and they know how to set them up in the proper way.
It's a common problem to disengage the cleats from the pedals when you are using them. Then how do the professionals deal with this problem? Well, many professional riders use different color cleats when they are on their track. But we will get back to this fact after giving you some advice to set up your cleats properly.
Step-by-step guide for setting up your cleats:
Start pedaling without the cleats:
Start to pedal only with your shoes. This time, do not attach any cleat under your shoe-sole. If you have already attached cleats, remove them immediately. Perhaps this can be an opportunity for you to replace new cleats with the old ones. Try to tighten your shoes as normal and don't forget to wear normal socks.
Locate the ball of your foot wearing shoes:
While you are putting on your regular cycling shoes, try to locate the ball of your foot by pressing with your thumb on the inside edge of the shoe. This should be easy to figure out as this is a bony part sticking out sideways at the bottom of your toe.
Mark the ball:
Mark on the side of your shoe where the center of the ball is situated. Here you need to be as accurate as possible. You can ask one of your friends to help you out with this. Repeat the same procedure for the other foot.
Draw a line under the sole according to the mark:
Now take your shoes off and put them on a flat surface. Against the mark on your shoe, place a straight edge. Draw a line with a pencil or marker straight under the sole along the edge of the mark. Check if the mark is visible by turning over the sole.
Line up the ink with the mark:
Place a cleat on the line aligning with the mark and make sure it stays on the point where the center of the pedal axle will be. In order to indicate the center of the pedal axle, many cleats have marks on their sides and this is usually done by a notch or line. So, we assume you will not face any difficulty here.
Fore and aft set up for cleats:
Now, this is important as it can be a little difficult to understand; especially if you are new. To find out if your foot sits closely at the center of the pedal axle, you need to move the cleat side-to-side. Move the cleats inwards in order to move your foot outwards if you like to ride spreading your knees. If you like to ride keeping your knees narrow, then move the cleats inwards and your foot outwards. This setup can be described more specifically with Q-factor. Perhaps this image can give you a better idea –
Adjust float and tension:
Tension sets the difficulty for the entry and release of your feet from the pedals. Most pedals do offer spring tension systems to adjust the rigor and constriction of their feet when they are clipped-in. In the beginning, it is wise to go for the lightest settings. When you think you are natural with this setting, you can go for the next stage. This picture may guide you to adjust the tension –
As for the float adjustment, try out different cleats and judge which one suits you better. If you like to have your feet close-bodied with the pedals, you can go cleats that have 0° float. If you like to freely move your feet, you can choose the cleats that have 6° float. Again, the cleats with 2° float can offer a little bit of comfort and performance.
Some like a close-fitting so that they can get ultimate performance while some might like a relaxed fitting to move their feet more freely and these types of cleats also help them to get an easy release.
Shimano offers 3 different colors of cleats with three different float adjustments. This picture of Shimano cleats will give you a broad idea about their float –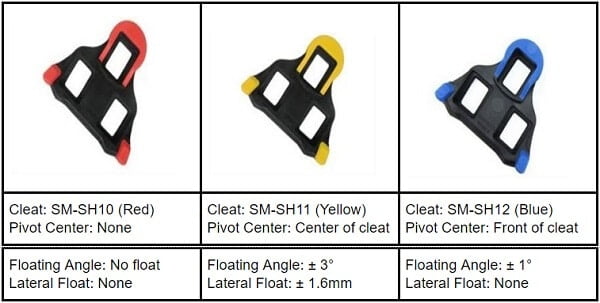 Again Look also provides pretty much the same offering but here the colors of the cleats are different. Take a look at this picture for details –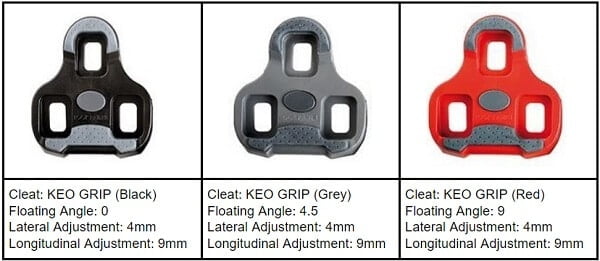 This video from GCN (Global Cycling Network) will show you that different colored cleats are used by various professionals for their sprint. They will also tell you about the float angles and how much tension they have set to make pedaling efficient at the same time comfortable. So take a look –
Conclusion
At the bottom of this discussion, making the right decision is very important when it comes to the selection of the right pair of pedals. No matter what type of pedal you choose, do it wisely. Making the right decision is very important when it comes to the selection of the right pair of pedals. We suggest you buy any of these pedals as they have proven to be some of the best you can find in the market without any doubt. You can already get an idea about the qualities of these pedals if you have taken their features into your account. We always try to present the features of each product so that you can make a fair decision for your choice. We hope that reading this article, you have already come to a position for buying the right set of pedals that suit you the most. We appreciated a lot if you have read this article taking your precious time and hope this was beneficial to you even if it's a little.
Related Readings
---
Helpful Resources
(Visited 3,394 times, 1 visits today)
Last update on 2020-11-27 at 00:00 / Affiliate links / Images from Amazon Product Advertising API
Close