When you are track cycling, the most important part of your entire bicycle is the wheel. A good wheelset can make or break the deal for you. And what better way than to invest in a hub to upgrade your wheelset? A hub is the middle part of a wheel, to which the inside ends of the spokes attach. A hub consists of an axle, which attaches to the fork ends; a shell, to which the spokes attach. And bearings to connect the axle to the shell, permitting the shell to revolve around the axle. In the case of a rear hub, the shell would also have a provision for attaching the rear sprocket.
Naturally, several types of hubs respond to various environments differently. Track riding requires short exclusive efforts and is very tactical. They need a heavy focus on positioning. Some track racing events are longer and require sustained hard efforts. While sheer speed is vital, the technique is also key in this riding as riders must get off the line quickly from a standing start. They need to rapidly get into a tight and efficient formation, and race as close together as possible to maximize drafting. Hence you need a hub that provides you with the best ability to transform smoothly.
Buyer's Guide for track hubs
Track cycling is all about speed and so the best track bicycle wheels need to be aerodynamic, stiff, and built to withstand some major forces. The hubs are an integral part of your bike's wheel; both front and rear hubs are equally important with specific purpose and usage. The hub is connected to the wheel's rim through the spokes and axle which is fitted. Thus enabling the wheels to spin freely on two sets of bearings. Don't get intimidated with so many options and specifications. There are many areas you should check to ensure a new hub is compatible with your setup.
Track cycling hubs are available as single-side fixed gear hubs or double-sided fixed gear hubs. In a single-sided fixed hub, only one side of the hub has a thread for mounting a sprocket. In a double-sided fixed gear hub, both sides of the hub have a thread for mounting a sprocket and they are sometimes referred to as a flip flop hub.
You should avoid sources that claim that only one hub is suitable for all types of riding. Our team of experts and professional researchers understand your plight and thus have come up with this guide to assist you. We have compiled this buyer's guide so that you know everything about buying a track bicycle hub.
1. Threaded axle
A very interesting detail in the case of the fixed-gear hubs is that they generally tend to consist of threaded axles & superior quality threaded axle-nuts. As for the quick-release ones that you'll find within the conventional road bicycles. Mostly because, a majority of the fixed gears consists of feature, such as horizontal dropouts within the frame. This is exactly what makes chain-tensioning plausible. But they also don't necessarily require locking the rear-end wheel within one given position. Moreover, the threaded axle & the nuts wouldn't necessarily prevent the wheels from varying positions under an additional torque on the rear-end wheels & the drivetrain in case of fixed-gear riding.
2. Hub weight
On bicycles with suspension, the weight contributes to unsprung mass, a system that will always benefit from decreasing hub weight as much as possible. On track bikes, decreasing hub weight often affects ride quality and steering characteristics.
3. Type of Bearings
Bearings for the wheels make sure that the hub rotates properly within the axle of the wheel. These hubs either consist of cartridge bearings or cone & cup bearings. Nowadays, cartridge bearings hubs are gainings more popularity mostly, because, of their effortless installation. Furthermore, they require nearly no maintenance at all. On the other hand, cone & cup bearings can be quite easy to service. Although, for ensuring sufficient friction, it'd require you to make adjustments to them, precisely. You can also look for ceramic bearings for optimal performance. Among all the bearings available, they are quite smooth & round as well.
However, sealed cartridge bearings are undoubtedly the new standard. Ball bearings tend to be sealed within a ring cartridge. The whole cartridge is driven within the hub. The sealed construction guards the bearings against dampness & dust. Because of its self-sustaining cartridge, any form for potential damage is neglect & can be considerably restricted to the bearing itself & it doesn't end up damaging the hub. These generally do not need definite adjustments. It consists of cartridges having a wide range of styles. Therefore, it's very much possible to replace the default bearings within your hub with ones that are sealed better or the ones that consist of lesser drag. However, this cartridge comes along with its individual disadvantages. They tend to be extra pricey compared to the loose balls ones. But these can be quite hard to find. Moreover, these require specific instruments for pressing & extraction.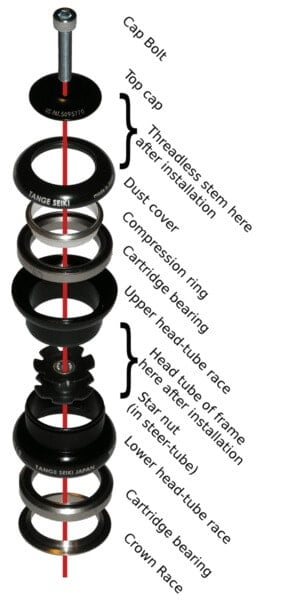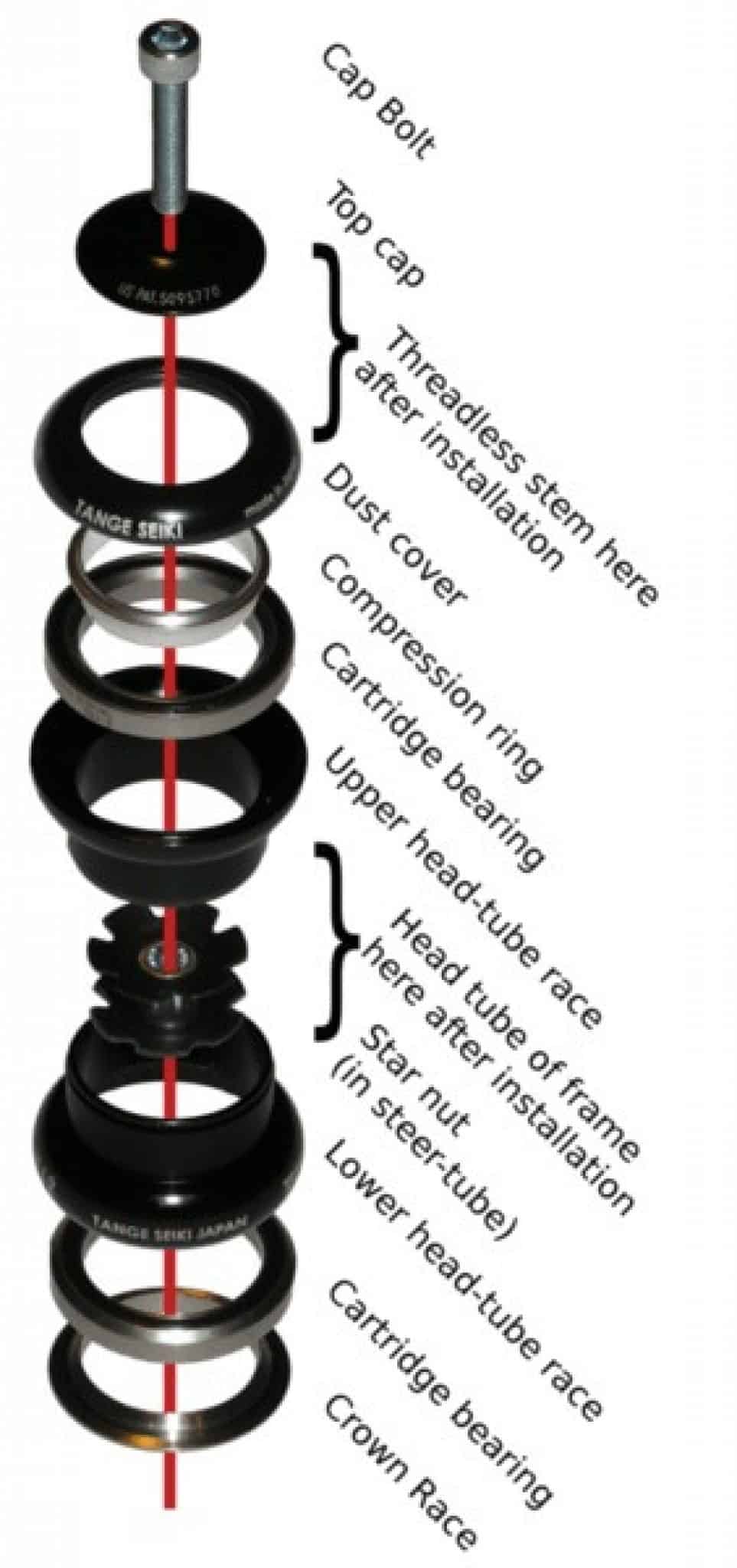 Image Source: commons.wikimedia.org
4. Materials of Bearings
There tend to be two generic segments on a bearing. One of these being the contact surfaces, otherwise known as races. Whereas, the other one is called elements. This is the roll in-between them. Mostly, balls, however; sometimes consist of needles or rollers.
Races & steel balls can be excellent material in case of usage. They are quite durable & are also smooth, but this is based on the property of the steel material itself.
Ceramic-made balls and races tend to be quite smooth & hard compared to steel, this can be great for having a reduced rolling-resistance. They require much lesser lubrication compared to steel. They won't rust, and if used in proper conditions. Furthermore, these can be quite long-lasting as well.
Ceramic hybrid materials make use of steel-made races & ceramic-made balls. They offer lesser rolling-resistance compared to full steel & are generally more affordable if you compare them to full ceramic bearings. But in terms of durability, they are not as good as either. However, impacts can result in imprints on the harder ceramic-made balls into the more delicate steel-made races. Hence, it can result in the bearings turning gritty or notchy. Therefore, you should try & avoid these at any cost. You also need to replace ceramic hybrid bearings more frequently so it's not worth it in the end.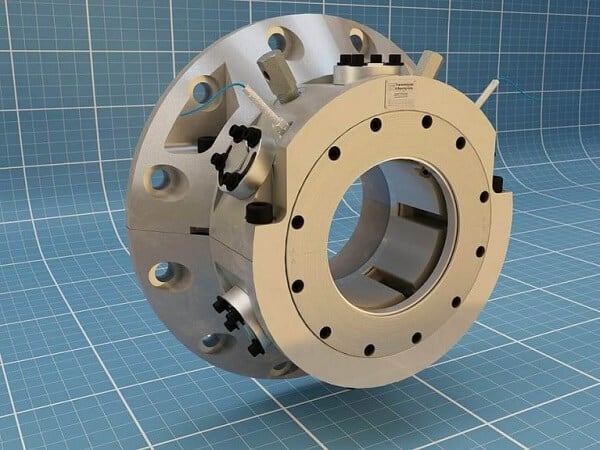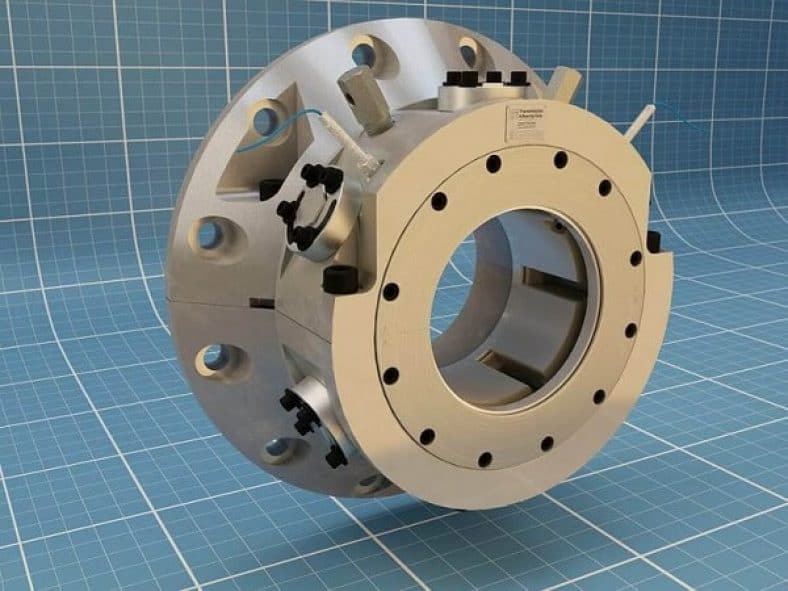 Image Source: pxfuel.com
5. Spokes
Spokes are needed for providing necessary support into the rim & for evenly distributing the pressure across the structure of your bike's wheels. These are either aero, bladed, or round in form. These spokes are quickly turning out to be a standard trait on wheels having a range of prices. An aerodynamic benefit is offered by them as well as retaining rigidity of the standard circular spokes. The spokes tend to be kept while maintaining sufficient tension. However, on a majority of the high-end wheels, smaller nuts are used, these are known as nipples.
Most hubs use J bend spokes. These spokes have a 90° bend at the head to allow them to go through a standard hub flange. Their advantages are that they are standard for Track cycles and also easy to find. Wheels can be built with these spokes in a variety of lace patterns. However, the bend is the weakest point in the spoke. Hence eliminating them will give you a stronger wheel.
Some track hubs are designed to use straight-pull spokes. These spokes do not have a bend at the head. They are exactly as their name suggests – straight. Only a few hubs are available in this style. It can be quite difficult to find straight-pull spokes. Without the bend holding them in place, spokes can spin or twist in the wheel. Hubs can only be built with the lacing pattern they were designed for.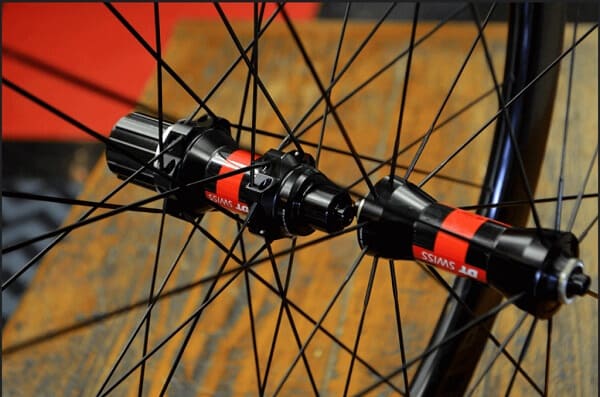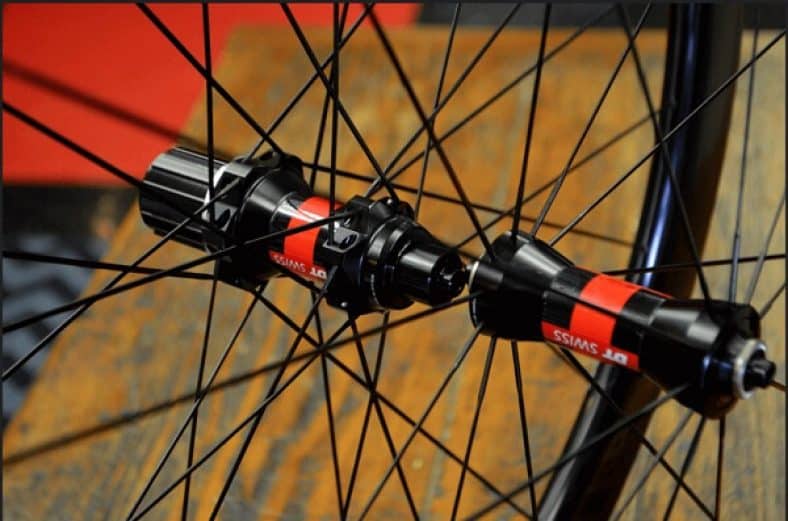 Fig 1: Straight pull spokes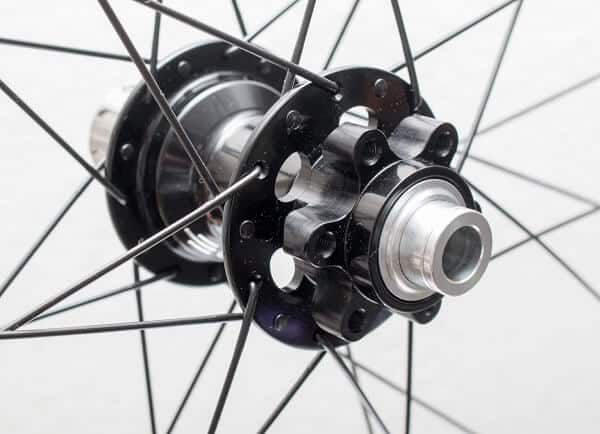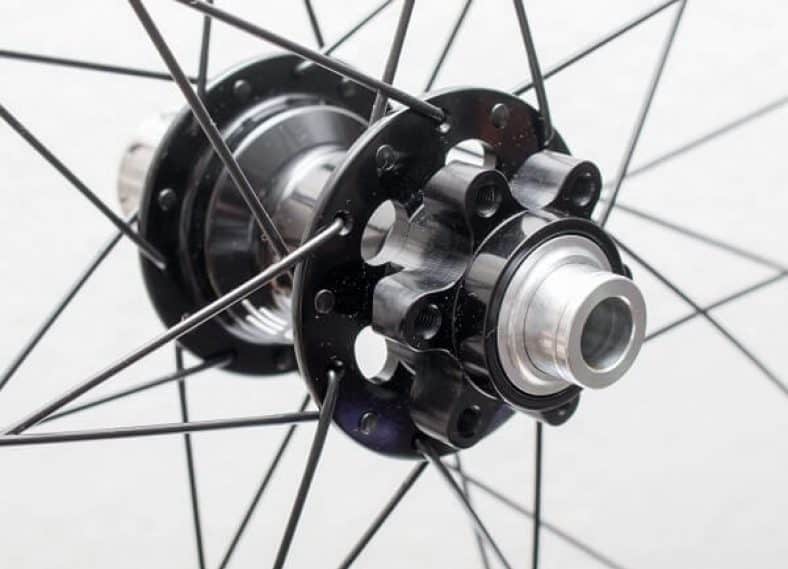 Fig 2: J bend spoke
6. Brake type compatibility
If your bike consists of rim brakes, then, you won't be needing rotor attachments. Though it is possible to use a disc rotor hub with a rim brake wheel, it is not very common. However, be careful about axle-types & rear hub spacing if you are interested in doing this. If your bicycle has disc brakes, then you'll be needing a hub that is specifically designed for a rotor. There are mainly two widely used attachments for rotors standards. These are: (i) Centerlock & (ii) 6-bolt.
Centerlock: This makes use of a splined-interface & a lockring. They are also more versatile. (ii) 6-bolt: This is an open-standard for attaching the rotor into the hub. There are mainly Centerlock & 6-bolt rotor options in case of almost every brakes that are currently available. Deciding between the two is entirely dependent on preference. Centerlock is easier to install compared to 6 bolts. However, more manufacturers in the industry are producing hubs and rotors in 6 bolt.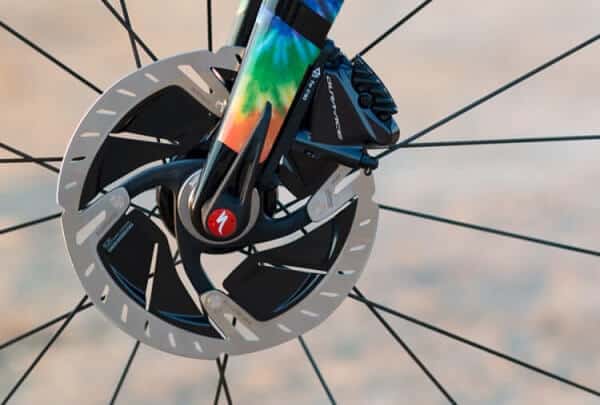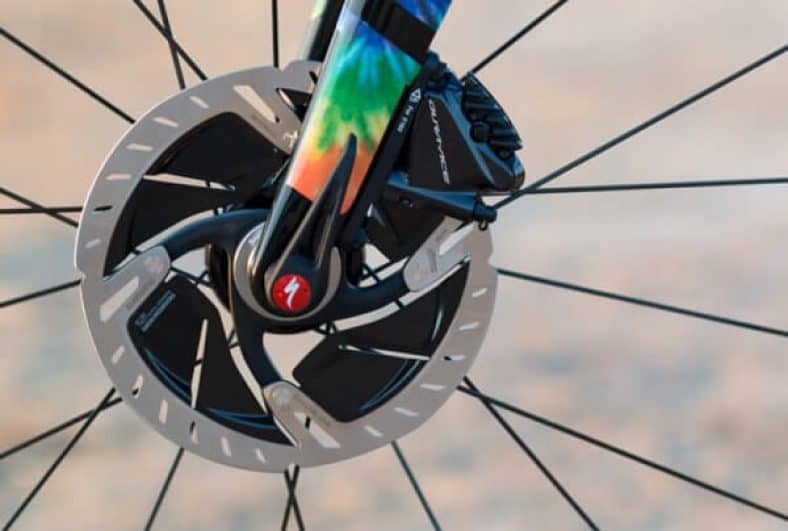 Image Source: cxmagazine.com
An example of Centerlock
7. Hub shell material
The majority of manufacturers use a high-strength alloy to produce a hub. You may think that this is a smart idea. The harder the alloy the better. But this is not the actual case. In reality, the softer alloy will more easily deform, providing better support for the spoke in the flange. High strength is a less important factor compared to ductility and corrosion resistance. The spokes exert concentrated and variable forces at the holes in the hub flanges.
8. Nipples
Nipples tension the spokes and they are usually made from brass due to the properties of strength. Aluminum can also be used to save weight. This helps in losing rotating mass.
Our Top Pick
Hours of brainstorming has resulted in this explicit research. With such a choice of hubs, it is easy to become confused. Each hub is different and they are designed for different riders and different purposes. We have highlighted the key differences in each hub to provide a little insight. All the hubs that we have picked are great in their own unique way. But out of all these, we have chosen DT Swiss 370 Front Track Hub with their proven Swiss bearing technology for Track racing as the "Overall best choice".
No products found.
Here is a quick view of the best hubs that we have selected for track cyclists:
| Track Hub | Weight | Our rating |
| --- | --- | --- |
| DT Swiss 370 | 280g | 95 |
| SHIMANO Dura-Ace Front Track Bicycle Hub | 241g | 89 |
| SHIMANO Dura-Ace | 298g | 89 |
| Formula Rear Track/Freewheel TH31 Hub | 322g | 88 |
| Formula Rear Track/Track TH32 | 309g | 88 |
| Virtue Bicycle Rear Track Hub | 399g | 80 |
| Joytech Sealed 32H Black | 499g | 75 |
| Dia-Compe Gran Compe Front Track Hub | 176g | 85 |
| Paul Components High Flange 32H | 217g | 94 |
| Phil Wood Track HF | 396g | 78 |
How our selected track bike (Fixed Gear) hubs compare
| Hubs | Preview | Hole count | Axle | Spacing | Weight | Spoke interface |
| --- | --- | --- | --- | --- | --- | --- |
| DT Swiss 370 | No products found. | 20 | Bolt-on | 100mm | 280g | J-Bend |
| SHIMANO Dura-Ace HB-7600 | | 28 | Bolt-on | 100mm | 241g | Straight pull spoke |
| SHIMANO Dura-Ace HB-7710 | | 28 | Nutted F/R | 120mm | 298g | J-Bend |
| Formula Rear Track TH31 | | 36 | Thru axle | 120mm | 322g | Straight pull spoke |
| Formula Rear Track TH32 | | 36 | Thru axle | 120mm | 309g | Straight pull spoke |
| Virtue Bicycle Rear | No products found. | 32 | Bolt-on | 120mm | 399g | J-Bend |
| Joytech Sealed 32H | | 32 | Bolt-on | 100mm | 499g | J-Bend |
| Dia-Compe Gran Compe | | 32 | Bolt-on | 100mm | 176g | J-Bend |
| Paul Components High Flange | | 32 | Bolt-on | 100mm | 217g | J-Bend |
| Phil Wood Track HF | | 20 | Bolt-on | 120mm | 396g | J-Bend |
10 hubs that you can buy today for your track bike (fixed gear)
1. DT Swiss 370
Comes w/ proven DT Swiss bearing technology | Overall best choice

No products found.
DT Swiss is renowned for its development of some of the finest and most durable bike components around the world. When it comes to hubs, you will not find a better combination of strength and affordability than the DT Swiss 370 Series track hubs. Our team of hard-working and honest researchers has voted this one of the best for track hubs after hours of testing and exploration.
It is next to impossible to beat its price from a weight standpoint. The manufacturers believe in the art of engineering and strive for sophistication during the product development process. They are readily available for track cycling. They are lighter and easier to maintain – the strength of the 370 front track hubs are further enhanced by their threaded axles and DT Swiss bearing technology. They will allow you to build great wheels with a rock-solid performance.
The ultra-reliable freehub system transfers the highest pedaling loads resulting in indirect power transmission. The smooth running Swiss bearings is the reason behind the extremely low rolling resistance. You also have the liberty to upgrade it; you can change their axle anytime.
"DT Swiss 370 front track hub – the ultimate in lightweight, affordability and reliability"
No products found.
DT Swiss 370 Front Track Hub
2. Shimano Dura-Ace
Superior design w/ a high polished finish
SHIMANO Dura-Ace Hub for Front-end
Specifications:
Hole count:

28 / 32 / 36

Axle:

Bolt-on track

Spacing:

100mm

Weight:

241g

Spoke Interface:

Straight pull spokes

Brake compatibility:

Rim brake
Features we liked about this product:
High precision bearing races:

This reduces rotational friction and supports radial and axial loads. 
Includes NJS lockring, track nuts:

This allows more consistent torque value.
Ultra-lightweight:

The wheels of the bicycle can achieve greater speed in a less amount of time due to lightness.

Corrosion-proof stainless steel balls:

They offer lower friction resistance and don't get damaged frequently. 

Anodised aluminum hub body:

Superior design with a high polished finish

Angular contact bearing for smooth rotation and longer durability.
What we did not like:
The quality of their bearing can be improved.
SHIMANO Dura-Ace Front Track Bicycle Hub – HB-7600 is one of the best hubs for track cycling. Sealed bearings for long-lasting performance, these powerful hubs are suitable for use in any fixed gear wheel for Track. Investing in this hub will mean no more frequent maintenance or instant changing after cycling. They don't create much noise and work in silence.
In recent years, the market has flooded with many front track bicycle hubs. But it's always safe to invest in the ones which are recommended by professionals such as this one. Track cycling requires a lot of strength, both for the rider and the bicycle. So it's obvious you want a trustworthy wheelset that will provide you with their valuable service through thick and thin. The gaps between the gears are reasonably evenly spaced.
You don't need to waste a lot of energy behind pedaling because of their high precision bearing races Maintaining a lightweight, they did not compromise with their quality. The axle dimensions are also suitable for that needed strength and stiffness. This is a good solid hub with standard features.
SHIMANO Dura-Ace Front Track Bicycle Hub
3. SHIMANO Dura-Ace
Durable axle & the high-quality bearings provide smooth running characteristics
SHIMANO Dura-Ace Rear Track Bicycle Hub
Specifications:
Hole count:

28

Axle:

Nutted F/R

Spacing:

120mm

Weight:

298 g

Spoke Interface:

J-bend

Brake compatibility:

Centerlock
Features we liked about this product:
Light:

The light aluminum hub body saves weight so that it is possible for you to have better performance wheels.

Race:

This SHIMANO Dura-Ace Rear Track Bicycle Hub features race-proven performance for adventurous riders.

Easy serviceability:

You can serve them almost anywhere without bothering much.

Smooth running:

The durable axle and high-quality bearings provide smooth running characteristics.

Long durability:

The axles are made of steel and the quality of the bearings combines to form a long-lasting hub.

Reliable:

The hub is equipped with one thread for track sprockets including locknuts and lockring.

Good design:

The simple design makes this hub a great choice for a daily rider.

It doesn't require frequent adjustments compared to other robust hubs in the market.
What we did not like:
The hub must be precisely adjusted or else there is a possibility of a preload or excessive play.
SHIMANO Dura-Ace rear track bicycle hubs are accurate and high-performance hubs that are built to last a lifetime. System engineering is at its peak during the manufacturing process. Each of the components magnifies its qualities for an unparalleled level of performance. The manufacturers are successful in optimizing input to maximize output. And that is the reason how they achieved supremacy over other products in the market.
The freehub body is speed-ready and turns your wheels into a beast on the track. The hubs feature an understated standard to them, this causes them to be very quiet. This is exactly what many cyclists prefer using. They are supplied with gorgeous locknuts and lockrings. It also comes at a great price of quality Shimano Dura-Ace hubs. The hub body is light and prevents the cassette from jamming on. The enhanced freehub body design is excellent for a swift pawl action for having an instantaneous power transmission. The increased torsional & lateral rigidity of the nutted axle prevent the axis from flexing when compressed upon quick-release. This increases the stability of rotations as well as smoothness. The dust cap sealing, low-friction helps in effectively sealing efficiently shutting out water, dirt & mud without altering the rotational sleekness. CBN polished bearing races with a super mirror finishing helps in reducing the friction by ensuring silky smooth & accurate rotation of the bearings.
The hub shell combines with the alloy axle for keeping the weight of the wheel at a bare minimum. Swift and simple assembly bearing maintenance is a dream for every rider which is made possible in this hub.
SHIMANO Dura-Ace Rear Track Bicycle Hub
4. Formula Rear Track/Freewheel TH31
Sealed mechanism prevents mud & grime to get inside
Formula Rear Track/Freewheel TH31 Hub
Specifications:
Hole count:

36

Axle:

Thru-axle

Spacing:

120 mm

Weight:

322g

Spoke Interface:

Straight pull

Brake compatibility:

Disc
Features we liked about this product:
Attractive:

Their sleek design will improve the overall look of your wheelset making you more confident while riding it.

Durable:

The material that is used to manufacture the hub makes it hard-wearing and long-lasting. 

Reasonably priced:

They are friendly to your pocket and within an affordable budget.

No mud can get in:

The sealed mechanism prevents mud and grime to get inside; thus saving you the trouble of cleaning them.

Quick engagement:

The freewheel body makes it quicker to engage compared to other hubs in the market within the same price range.

The hubs feature solid axles and cartridge bearings.
What we did not like:
The loose ball bearings can give you a tough time while changing them.
Have you ever fancied of a fixed gear rear hub that makes your Track cycling extremely smooth without you putting more force while pedaling? Well the Formula Freewheel TH31 Hub is built to let you do just that. They will make your wheel wider, lighter, stiffer, more aerodynamic, and resistant to a huge impact. You will feel the difference as soon as you upgrade them to your wheelset. There are several rims and even several bikes that have good hubs. So be wise in choosing the right one like this one which we have selected for you after vigorous research. Always remember that there is going to be no other option than to scrap your wheels if the hubs are shot. So don't take chances by buying any random cheap hubs that you find in the market.
You must be thinking that despite there being good and well-designed hubs out there, why did we suggest you this particular one. Well for starters their fixed gear high flange makes them reliable and trustworthy. They have maintained their standard against all odds.
This Formula TH31 hub can be reused if you ever decide to rebuild your wheelset. A hub of good quality will make a difference between a wheelset which is worth driving, and a hub that is best forgotten.
Formula Rear Track/Freewheel TH31 Hub
5. Formula Rear Track/Track TH32
Straight pull spoke interface & thru-axle enables them to be strong
Formula Rear Track/Track TH32 Hub
Specifications:
Hole count:

36

Axle:

Thru-axle

Spacing:

120 mm

Weight:

309 g

Spoke Interface:

Straight pull

Brake compatibility:

Disc
Features we liked about this product:
No internal friction mechanism:

The manufacturer improves its quality with each upcoming model and modifies them for a better Track cycling experience.

Affordable:

This provides excellent value for your hard-earned money.

Smooth rotation:

With 120 mm spacing, they help the wheels to rotate quite smoothly without any frictional resistance.

Accommodating:

The fixed hub design means you can sometimes use a cog in place of the freewheel and the fixed side will accommodate either with lockring if you go with a cog.

Strong:

Their straight pull spoke interface and thru-axle enables them to be strong and endure large forces.

This hub is also quite easy to assemble and disassemble.
What we did not like:
While maintaining their standard, they had to compromise with the weight. It's a bit heavy in contrast to other models in the industry.
Formula Rear Track TH32 Hub has many other competitors in the industry. They all equally possess the potential to last through seasons of hard riding and many sets of the rim. But what sets them apart from their competitors is engagement. Engagement simply means how many clicks you listen to when the rear wheel travels. The cassette of your bicycle is placed on a freehub on top of the hub, which applies a technique that allows the bottom and the wheel to continue to turn freely if you do not pedal.
There are many different approaches that manufacturers can take to increase hub engagement. But Formula owners have gained this through spring-loaded pawls. The pawls are small arms that move over the ridges machined within the hub. As the hub spins, the ridges pass over the back of the pawls smoothly. These are the clicks you hear when you pedal and the pawls hop and bite to shift power.
These classic hubs offer famously long-lasting performance and that too without facing any issues. The thru-axles make it easy to change wheels with just your bare fingers. The high flange fixed-gears are evenly spaced. The weight and ration gaps make it best suited for Track cycling.
Formula Rear Track/Track TH32 Hub
6. Virtue Rear Hub
Spins pretty smoothly giving you an edge over other riders
No products found.
Virtue Bicycle Hub for Rear-end consists of 32 holes, the high-flange is a long-lasting and affordable choice for using in the track, it features fixed-gear. Also, it consists of a single-speed wheel build. On one side you will find that it has a flip-flop design having dual threading for its fixed-gear cog. Whereas, on the opposite side, it has a freewheel. This will enable you to flip the wheel around for switching in-between the two.
Flange to flange spacing is 62 mm, which is 31 mm center to either side. Virtue hubs solve a big problem with a regular flip flop and fixed hubs. Instead of taking out your wheel, all you need to do is simply push and turn the clever outer ring on the hub to engage or disengage the fixed option. This makes the job complete within a few seconds instead of several minutes. We know with your busy schedule you are reluctant to do that sort of job and that's why we came up with this hub which is among the best in the market.
And since the ring, which is the size of a disc rotor, is away from the sprocket and chain, your hands won't become dirty too. The bearing is fully sealed and has stayed smooth and free spinning. The clutch mechanism and disc switch do add weight but it's worth it.
No products found.
Virtue Bicycle Hub for Rear-end
7. Joytech Fixed Rear-end Hub
W/ precision Japanese sealed cartridge bearings
Joytech Sealed Fixed Hub for Rear Track
Specifications:
Hole count:

32

Axle:

Bolt-on 

Spacing:

100mm

Weight:

499g

Spoke Interface:

J-bend

Brake compatibility:

Disc
Features we liked about this product:
Superior design:

The alloy shell hub material with a high polished finish, will give your wheels a revamp.

Low friction rolling resistance:

All credit goes to precision Japanese sealed cartridge bearings that will make your bicycle riding efficient.

Durable and strong:

The large flange and the bolts on nuts which are hollow and the diameter is 10mm, make the hub long-lasting, well built, and powerful.

Smooth riding:

The freewheel (sometimes known as dual fixed-gears will provide you the liberty to choose which one to use and when so that you can have a smooth ride under all circumstances.

Instant engagement:

This feature allows technical riding ability, especially during Track racing.

It comes with a 16T and 17T cog that you can use as well as lockrings.
What we did not like:
The mass is quite large which can affect the speed of your Track riding if you are racing.
In terms of performance, Joytech sealed fixed hub (for rear track) has made a special place in our hearts. It's smoother, has a higher quality feel, and looks to be robust enough to go for years. There is a certain beauty about fixed gear hubs. They might be heavier but they are easier to live with nature. This hub is successful in making us impressed. But it is so much more than just being smoother and quieter.
Shifting is buttery and it feels like each gear is delivered with a rounded edge rather than a definite clunk. Under heavy pedal load, the mechanism shifts and does a very good job. Its robust stature makes them perfect for Track cycling with their precision Japanese sealed cartridge bearings that will make your bicycle riding efficient. The hub comes with the option of fixed gear or freewheel and is worth every penny. With its price and performance ratio, this hub deserves to be invested in.
Joytech Sealed Fixed Hub for Rear Track
8. Dia-Compe Gran Compe
Ensure maximum safety w/ optimum performance
Dia-Compe Gran Compe Front Track Hub
Specifications:
Hole count:

32

Axle:

Bolt-on

Spacing:

100 mm

Weight:

176 g

Spoke Interface:

J-bend

Brake compatibility:

Disc
Features we liked about this product:
Affordable:

Without compromising with their quality, this hub comes at a very affordable price.

Looks:

The Gran-Compe front track hub has a beautifully finished, machined, and polished alloy body.

Ultra-light:

With the only 176g, these hubs are a gem that shouldn't be let go.

Safety:

The manufactures ensure maximum safety with optimum performance.

More control:

The j-bend spoke interface gives more control so that you can use the pedal pressure to slow down or speed up during Track racing. 

Low friction:

The bearings cause low resistance so that you have the ultimate experience without giving much effort.
What we did not like:
Sometimes it can make noise which will distract you.
The Dia-Compe Gran Compe Front Track Hub is the ultimate upgrade accessory and they generally outlast your wheelset. The bearings are one of the finest quality that we have come across, that will make your Track racing silky smooth. The excellent sealing is another great feature that is likely to stay for a long period of time. We assure you, other hubs in the industry won't be able to beat their price to weight ratio. The position of the bearings is also carefully done to minimize drag.
This outstanding track hub offers an impressive range and low maintenance for your ultimate Track racing experience. The 100 mm spacing along with the j-bend spoke, makes them reliable, and also an excellent choice for a light hub that is also reasonably priced. Hence we suggest to look no more and buy these to improve your bicycle.
Dia-Compe Gran Compe Fr
9. Paul Components High Flange 32H
Features an additional thrust bearing behind the clutch
Paul Components High Flange 32H Front Hub
Specifications:
Hole count: 32
Axle: Bolt-on
Spacing: 100 mm
Weight: 217 g
Spoke Interface: J-bend
Brake compatibility: Rim brake
Features we liked about this product:
Lightweight: The super duty stainless steel, keeps the weight at a minimum level.
Maximum strength: 6061 aluminum hub shell gives it the utmost strength so that you can be successful in your Track racing.
Reduce drag: These hubs also consist of an additional thrust supporting behind-the clutch needle for usage. This especially causes the bearings for reducing drag as you're pedaling.
Fast engagement: The high flange track hubs are put through four different machining processes before finishing which helps them to have a quick engagement.
Easy riding: Its low mass helps to maintain a quality wheelset for ease in riding.
Simple design: You can repair it on your own without any trouble.
It will make your bicycle very easy to paddle without giving your all strength.
What we did not like:
J bend spokes create a weak spot prone to fatigue.
Paul High Flange is certainly an impressive hub consisting of stylish and has a pleasing thickness. These flanges flash gracefully right into the body. Moreover, the metal features a lustrous & glossy black finish. The manufacturers guarantee that it won't come off, even after the usage for a very long duration. Furthermore, the shields seem impervious. Whereas, the exploded diagrams make sure that the bearings are properly tucked out, from harm's way. The hub consists of a QR spindle that's hollow & has a modern fitting of the bolt. This makes sure in serving the most potent & firm fit. This is because there isn't any room for risks, that making necessary adjustments on one side will result in it being transmitted along the spindle for affecting the other.
The spacing is also enough on the bolt hub. These bolts have been made from heavy-duty steel. Also, it has been threaded along the course of their length & the washers that are mounted. It consists of thick brass affairs having deep knurlings for gripping on the dropouts. There are machined projections for carrying these bolts throughout the slots. The lockring is also designed using stainless steel. It is sufficiently stocky for matching with the hubs. These are tough, you'll notice this as is the case for any other hubs.
These hubs are destined to be used for Track cycling. They are quick & responsive, at the same time able to handle the tracks in a controlled manner. The combination of big flanges and string rims makes for great maneuverability and keeps your wheels compliant enough to cope with sudden changes.
The bearings of this hub will take hundreds of miles to wear in fully. You will see as soon as you unbox it, the hubs are as smooth as butter. So enjoy your ride with them.
Paul Components High Flange 32H Front Hub
10. Phil-Wood HF Rear-end Hub
Enhanced tensile-strength axle bolts consisting of stainless steel-made bolts
Sale
Phil-Wood HF Rear-end Hub
Specifications:
Hole count: 32
Axle: Bolt-on
Spacing: 120 mm
Weight: 396 g
Spoke Interface: J-Bend
Brake compatibility: Rim brake.
Features we liked about this product:
Smooth performance: The sealed bearings are perfect for long-lasting smooth running performance for Track cycling.
High tensile-strength: High tensile-strength of axle bolts & washers that are made from stainless steel.
Versatility: Provides a regular, individual & solid gear, individual freewheel, or singularly attached & freewheel configuration.
Stiffer: Traditional high flange hubs for track consists of cog threads having 1.370X24 TPI & lock-rings that are Campy compatible, ensuring that the wheels a stiffer vibe.
Easy to assemble: You can upgrade your wheelset quite easily with this hub.
The hubs are supplied with a Phil stainless-steel made lock-ring.
What we did not like:
Due to maintaining high quality, the manufacturers had to compromise with the weight; thus making it heavy.
Legendary hand made quality from Phil Wood, the only choice if you want to build the best stiff, responsive, and high-quality Track Cycling wheel. The sealed bearings are perfect for long-lasting smooth running performance, suitable for performance on any fixed gear wheel for Track.
The track hubs come equipped with lightweight internal components, beautifully machined round hole window flanges, and low drag Carbonyte bearings. These model hubs are intended for all-out performance with exotic materials used for weight optimization. These high flange track hubs feature a classic 3″ flange design with flanges canted toward the rim for optimal spoke alignment.
Phil Woods has is renowned for its superior quality & that this track-hub is the basis of its reputation. The front hub comes with an aluminum axle, aluminum-made end-caps & washers, RLR-flanges, titanium-made bolts & their low-drag carbohydrate consisting bearings. These hubs tend to be as smooth as you'll find any other ones out there. While the best thing about them is the fact that, they'll remain smooth even after years. If you're someone, who's on the lookout for a hub, that would last for a lifetime, then there's no further that you should be looking. Because this is undoubtedly one of the best. There is also a front-wheel hub available here. You can invest in them for a complete upgrade of your wheelset and a more professional vibe.
Phil Wood Track HF Rear Hub
---
Frequently Asked Questions
Q1. How do I convert my bicycle to fixed gear?
Ans.: There are several ways with which you can achieve this. You can make use of a flip-flop hub, cassette hub, track-hub, or even a freewheel hub.
Track hub: A new rear wheel with either a track hub or a flip flop hub is the perfect configuration set up for fixed gear. Track hubs consist of a stepped-thread. This thread consists of a reverse thread, it also has a unique lockring that screws right into it. Once you proceed with screwing the sprocket in a normal manner & proceed with tightening it down securely. The lockring screws down making sure that it gets pressed against the outermost surface of the sprocket. But, provided that the sprocket starts to loosen up, you should then proceed with turning the lock ring in a counterclockwise direction. But ultimately this ends up tightening the lockring. Therefore, you won't be able to remove the sprocket by unscrewing it from the chain, irrespective of how hard you keep on fighting the pedals.
Flip-flop hubs: Flip flop, otherwise known as double-sided hubs tends to be threaded on both sides. However, one of these sides consists of track-type threading that has a lockring. Whereas, the other side features a thread having a single-speed approved freewheel. The conventional method of using a flip flop hub is by following the method of having fixed gear on one of the sides while having a single-speed freewheel on the other. Having the freewheel to be a bit larger than that of the fixed sprocket, results in you being able to use a lower gear as you start using the freewheel. Provided that you plan on using a flip-flop hub along with a freewheel, then, you need to make sure that there are two brakes within your bicycle.
Freewheel hubs: One of the most affordable processes of converting a multiple-speed bicycle to that of a fixed gear, is for you to use the original rear-end hub. A sprocket that is fixed will tend to drift towards the right. However, there should not be any provision for threading on the left-hand side of the lockring. Although you'll be able to simply screw into the sprocket and proceed with putting everything together. But chances are, the chain line might end up being incorrect. In that case, you would be required to make rearrangements to the spacers within the axle for making corrections into the chain-line.
Cassette hubs: You need an adaptor that replaces the freehub body with a rigid aluminum block that is threaded for a fixed sprocket and lockring.
You can also see the video below for a more clear understanding –
Q2. Is fixed gear dangerous?
Ans.: If you have brakes, then a firm gear is not dangerous at all. It is almost the same as a single speed once you get accustomed to not being able to coast. Simply put, on rigid gear, if the bike is moving you must be pedaling. Take it easy at first and you will adapt to this quickly. It is recommended to spend a bit of time where there are no other pedestrians or bikers when you are riding fixed gear for the first time.
Start with a flip flop rear wheel with fixed gear on of the sides & freewheel on another. And carry a 15 mm wrench so you can flip it. As you start on solid gear, it can be more taxing on your legs than you might expect at first. In such situations change to freewheels to give your legs a rest.
Another important reminder is avoiding emergency turns. Since the pedals are always turning you need to make sure that your crank doesn't strike the ground while cornering. Getting in and out of them is tricky at first with the fact that the pedal is always spinning. It gets easier with practice. You can run front and rear brakes until you can fully control your speed with a pedal pace. When you realize you are never grabbing the brake livers, you can ditch the rear-end wheel.
Q3. How do you brake on a fixed-gear bicycle?
Ans.: For road use, you should use the brake livers just like on any other bike. Since the front brake is capable of stopping the bicycle from a short distance, you should always equip any road-going bike with an effective front brake for safety. This also gives you two independent braking systems. If the chain falls off, you have no rear brake. Without a working brake on the front wheel, this would leave you with no brakes at all.
A rear hand brake on a fixed gear is optional since you can use your legs to resist the motion of the pedals. Track bikes used on closed velodromes circuits typically don't have a hand brake. A smaller gear is much easier to brake than a long gear.
4. How fast can a fixed gear bike go?
Answer: There are lots of things that affect speed. Riding in a group makes a huge difference. Apart from that, riding on-road bike tires will reduce rolling resistance relative to mountain bike tires. On flat ground, with no wind, your bicycle can have a cruising speed of 18 mph at 90 rpm cadence. Most people don't put much thought into the components that make a bicycle move. Things like chains and chainrings play a vital road in inducing your speed.
Related: Top Mountain Bike (MTB) Hubs Reviews
5. Are fixed gears worth it?
Answer: The plainness of a fixed gear drivetrain can make for truly beautiful bicycles and they can be cheap to run too. There aren't many parts to wear so they are perfect for commuting and winter riding. They are pretty tough and super low maintenance. It also makes your pedal stroke smoother.
6. Can I pedal backward on a fixed gear?
Answer: On a fixed gear bike, if you pedal forward, the bike moves forward. And if you pedal backward, the bike moves backwards.
Conclusion
Fixed-gear bikes are derived from the machines used for track racing on velodromes. Their key feature is that they have no freewheel mechanism, so if you are moving you have to pedal. Choosing a hub for a fixed-gear bicycle can be quite a challenging task. That's why we have tried to explain everything in detail so that you don't face any difficulty when buying hubs for Track racing.
With no freewheel, a fixed gear bike forces you to pedal all the time. This can help you stay fit during the winter and develop a fast fluid pedaling action.
With track racing not being the most popular type of cycling, so, the majority of manufacturers do not tend to pay too much thought to it. As a result, unfortunately, the vast majority of the commodities aren't upgraded. However, with the progression of time, fresh requirements for the latest bikes have come along.
This is exactly why the newest track hubs make use of all the progress which the latest technologies have produced for becoming lightweight, increasingly durable &  a lot easier to do maintenance. Moreover, their appearances should also be an ideal match for the latest carbon & aluminum-made machines for racing.
All fixed gear hub manufacturers allow their individual preload tuning systems. For making adjustments to the preload, you'll only be required to unfasten the diminutive bolt. Next up, you'll have to tighten the not for making adjustments using your fingers so this will cause it to clamp to the bolt. You won't be required any additional tools. Furthermore, it won't even be necessary for you to take off your bike's wheel either.