You may have bought a brand new Peloton for home use. Or you might have seen one at your gym and want to try it out. Either way, you might have seen that Pelotons have clipless pedals and that many users wear cycling shoes while using one. The good news is that you can ride a Peloton with regular shoes as well. Not everyone has or even wants to use cycling shoes and cleats. Here, we will discuss the different ways you can pedal on a Peloton without having to use expensive Peloton branded shoes. We will also talk about the benefits of using cycling shoes over regular shoes and you might see why more people opt for the former.
Shoes Required for Riding Peloton
Spin classes have now become one of the most popular ways to workout. Since their introduction in 2014, Peloton bikes have brought spin classes to our homes. Peloton bikes come with clipless pedals that are compatible with Delta cleats by Look or SPD-SL cleats by Shimano. These are 3-bolt cleats and therefore, you will need to use cycling shoes that are compatible with them. You could use Peloton shoes, however, just about any cycling shoe with a 3-screw hole setup should do the trick. Other than indoor-specific cycling shoes, such shoes also include road and triathlon cycling shoes. Although, there are some that can be used with both 3-bolt and 2-bolt cleats.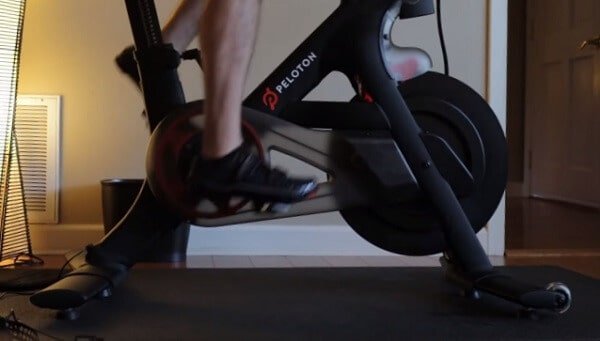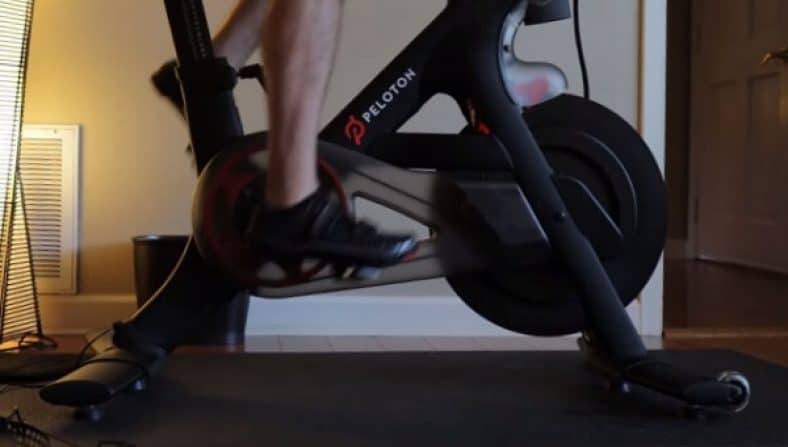 Peloton bike
Compatible Shoes for Peloton
The good news is that you do not have to be limited to 3-bolt cleat compatible shoes. If you already have cycling shoes with a 2-hole setup, it is possible to replace the pedals of the Peloton bike with ones that are compatible with 2-bolt cleats. Peloton pedals use a 9/16 inch thread, so make sure the new pedals have the same thread. Of course, you can also choose to just use regular sneakers. However, it is recommended to use toe cages to avoid inefficient pedaling and accidental slipping. Again, you would have to change pedals. Alternatively, you can buy compatible toe cages and simply attach these to the built-in pedals.
➥ Read more: Compatible with peloton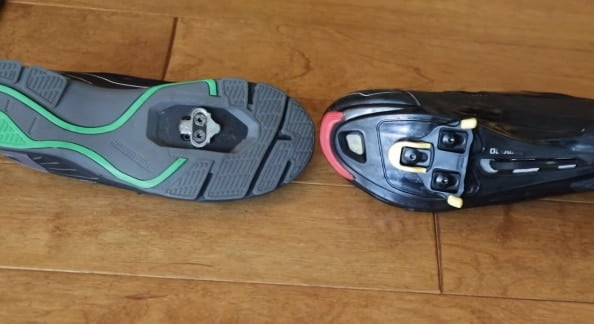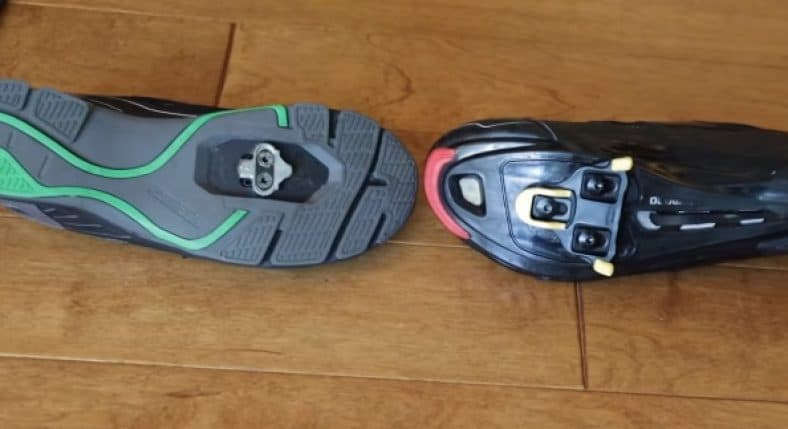 2 bolt cleats vs 3 bolt cleats
Indoor Cycling Shoes
Indoor cycling shoes, also known as spin shoes, are a subcategory of cycling shoes. These shoes have screw holes that can be used to attach cleats. You can then clip the shoes in place onto clipless pedals. The name 'clipless' is sort of contradictory but it originated to distinguish from an older design of pedals. Using this combination of cycling shoes, cleats and clipless pedals provides efficient pedaling and maximum transfer of power. This is because the feet stay attached to the pedals throughout the entire rotation of the pedal crank arms. Cleats are easily released by twisting the heels away from the bike.
Spin shoes are stiffer than normal sneakers and usually have a closer fitting. This ensures optimum power and efficiency for pedaling. There are two types of cleats used for indoor cycling shoes – 2-bolt cleats and 3-bolt cleats. SPD cleats by Shimano are the most commonly used 2-bolt cleats while Look Delta and Shimano SPD-SL are the dominant 3-bolt cleats found on the market. Note that cleats are not sold with cycling shoes and must be bought separately. Whichever one you use, make sure that the shoes, cleats, and pedals are all compatible, otherwise, they won't work.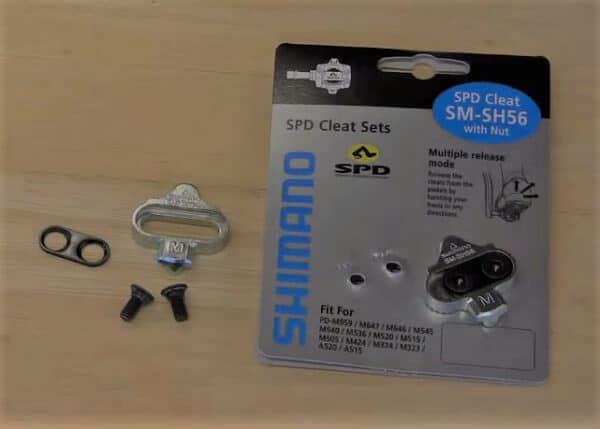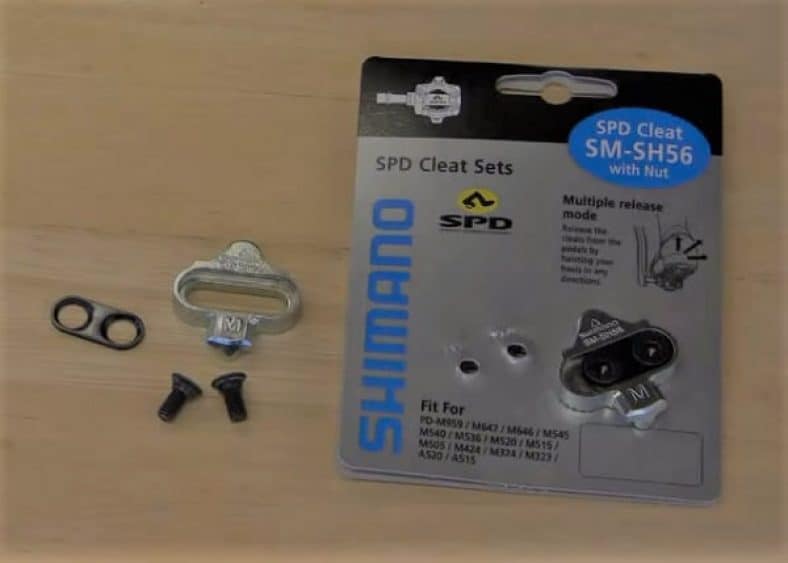 SPD cleats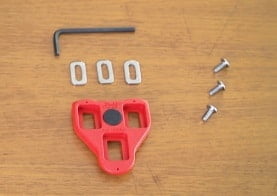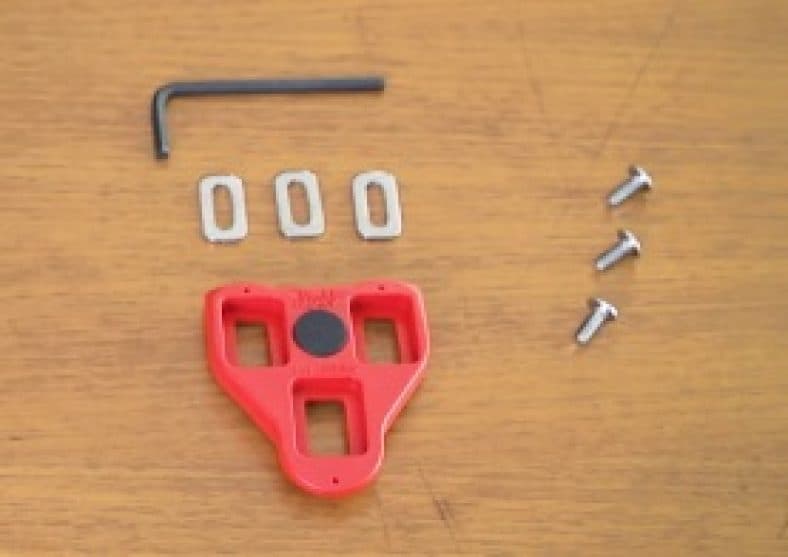 Look Delta cleats
Benefits of Cycling Shoes
When cycling with regular trainers, you have to push down on the pedals with one leg at a time. Cycling shoes allow you to simultaneously push the pedal down on one side and pull up on the other side. This leads to a more all-around activation of the lower body muscles. The glutes, quads, and calves work while pushing and the hamstrings, hip flexors, and anterior tibialis work to pull. Also, since the foot stays in place, the pedaling motion is a lot smoother which translates to a lower risk of a knee injury. Finally, the stiffness of cycling shoes offer a very efficient transfer of power and prevents numbness in your feet. Hence, you can pedal for longer and deliver your best possible performance.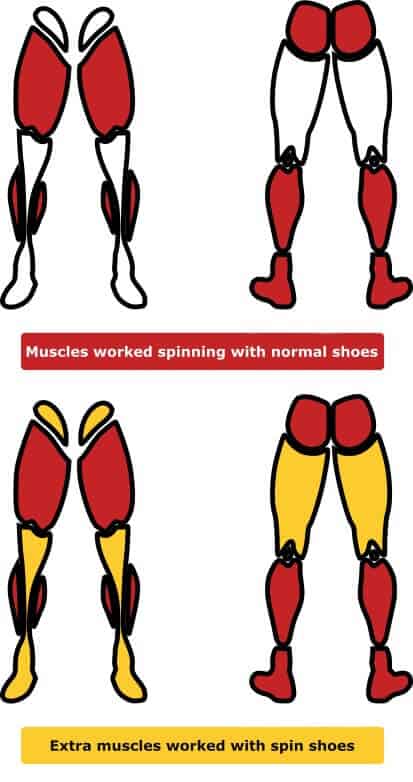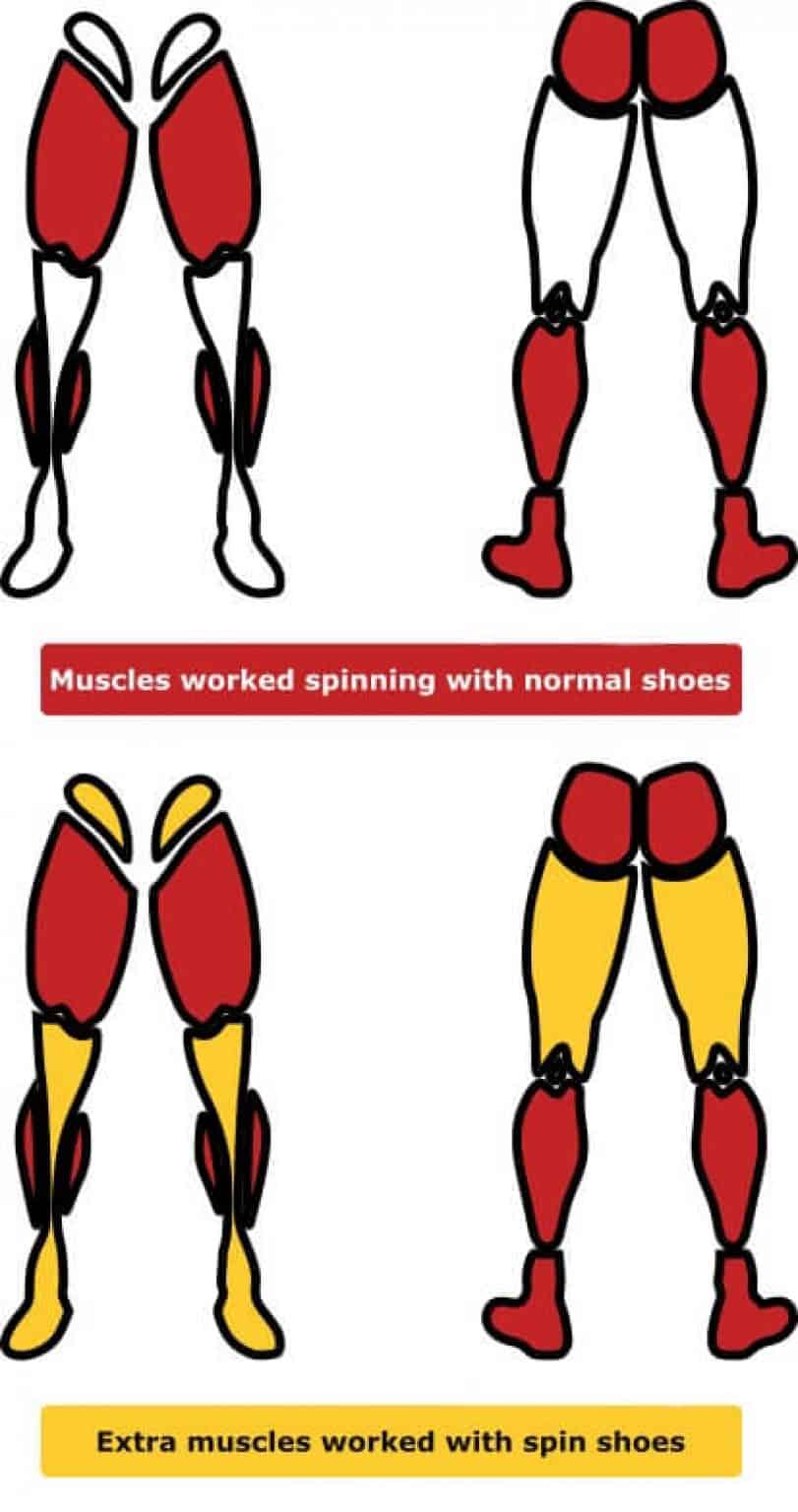 Muscles worked with normal shoes vs spinning shoes | Credit: caloriesburnedhq.com
Finding the Right Shoes for Indoor Cycling
If you have decided to go with cycling shoes, it is now time to carefully select one. Picking the right shoes actually involves three components – the pedals, the cleats, and the shoes themselves. All three pieces come together to deliver the best possible experience while spinning. Consider each part in the order given below:-
1. Check the Pedals
Before buying shoes for a Peloton or any spin bike for that matter, always check the type of pedals on the machine that you will be using. Most spin bikes you'll encounter will have dual pedals where one side is like a regular pedal with toe cages and the other side acts as a clipless pedal. Typically the clipless side will be compatible with 2-bolt cleats. However, the pedals of Peloton bikes are designed for 3-bolt cleats. You will have to buy shoes and cleats accordingly. If it's your home spin bike, you have the option to change pedals to match your shoes.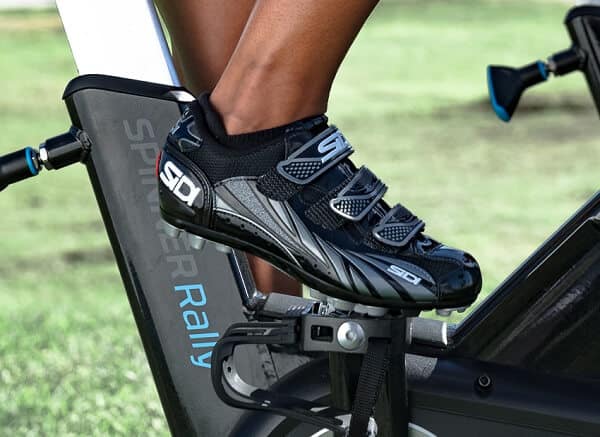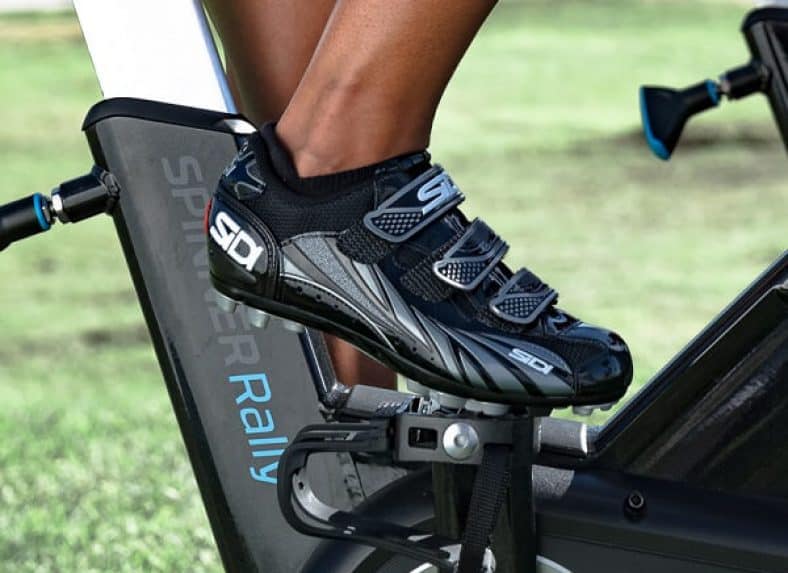 Dual-sided pedal | Credit: spinning.com
2. Find the Right Shoes
Next, you have to pick out some shoes. There are 3 main types to choose from. Mountain bike shoes can be used for both indoor and outdoor biking. These have 2 holes for fitting 2-bolt cleats, and the cleats stay recessed into the sole. So, you can walk around in these shoes as well without any hassle. Road cycling shoes make use of 3-bolt cleats that stick out of the sole. They are also quite stiff, making them hard to walk with. While you can use road shoes for spinning, they are designed for the outdoors and some may not find them to be the best option. The third type of shoe has holes for both a 2-bolt and a 3-bolt cleat. This is the best choice if you want to keep your options open.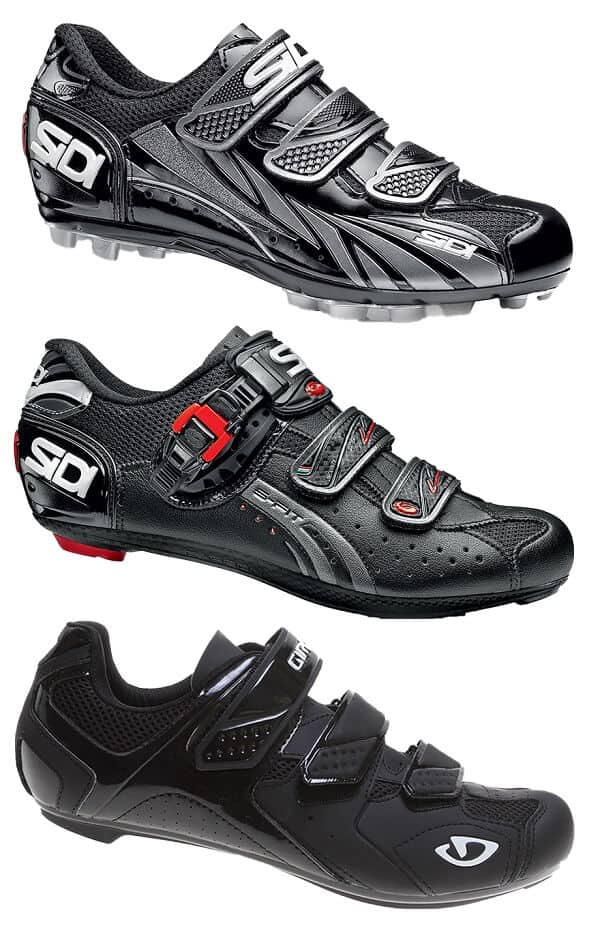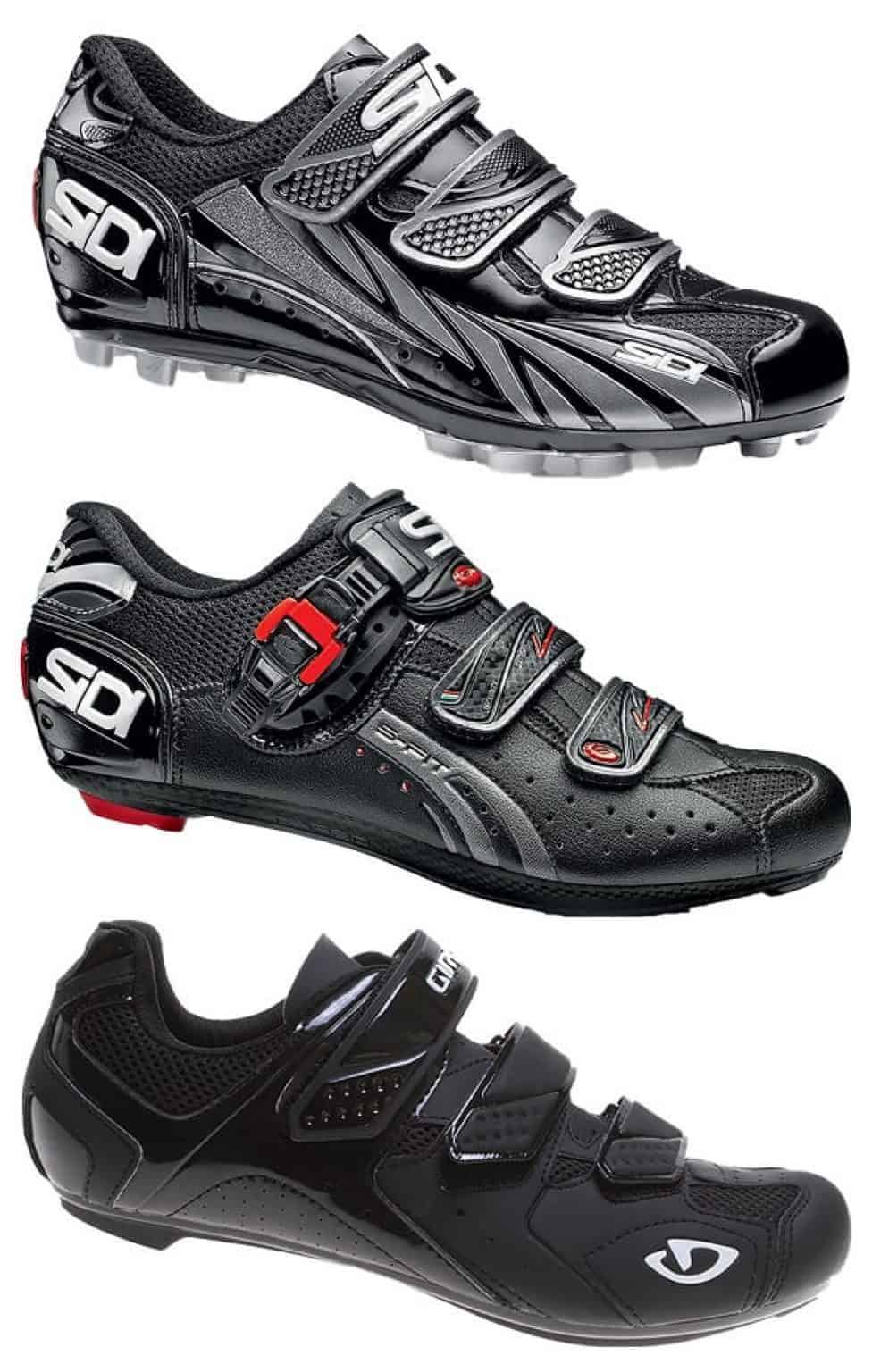 3 types of shoes | Credit: spinning.com
3. Buy Compatible Cleats
Finally, you have to purchase a suitable set of cleats. This bit is a lot easier than shopping for shoes as it can take some time to find a pair of shoes that feel just right. Spin bike pedals work with Shimano SPD cleats for a 2-hole setup. For a 3-hole setup, you will have to go for either Shimano SPD-SL cleats or the more popular option, which are Look Delta cleats. Once the cleats are bought, you are good to go.
Frequently Asked Questions
Q1. Do I require Peloton-specific shoes for riding?
Ans.: No, you don't. Peloton does make its own branded cycling shoes, but you can use any pair of shoes that are compatible. Peloton bikes have clipless pedals that work with Look Delta or SPD-SL cleats. It is also possible to switch out the original pedals with SPD pedals. In this case, you will be able to use 2-bolt cleats.
Q2. Do I need to have spin shoes for riding a Peloton?
Ans.: Spin shoes are not mandatory for riding a Peloton. You can simply attach toe cages to the pedals and use any of your sneakers. Without toe cages, pedaling won't be impossible, but the quality of your workout will significantly decrease as you will often find your feet slipping off the pedals.
Q3. Why Do You Need Cycling Shoes for Peloton?
Ans.: As we have already discussed, cycling shoes are not a must for riding on a Peloton bike. Nonetheless, it would be better for you to use them. Cycling shoes will go a long way to enhance your riding experience. You will be able to pedal with more power and less effort without slipping off, and the motion itself will be fluid. This is great for your metrics such as cadence and power. Your performance on the leaderboards of the Peloton software will definitely improve.
Conclusion
The bottom line is that you can ride a Peloton with regular shoes but we recommend using indoor cycling shoes to get the most out of the expensive machine. If you have a Peloton bike at home, you have full freedom to use whatever kind of shoes you want. If you're going to use A Peloton at the gym, it should have both a clipless side and toe cage side. Just be sure to check if your shoes are compatible.