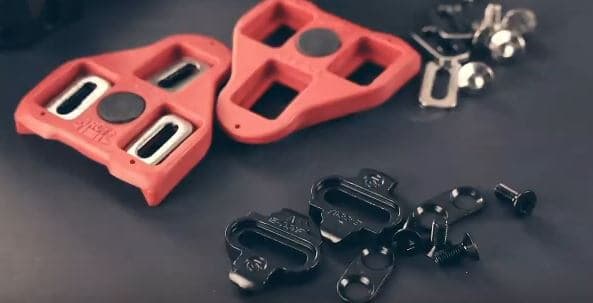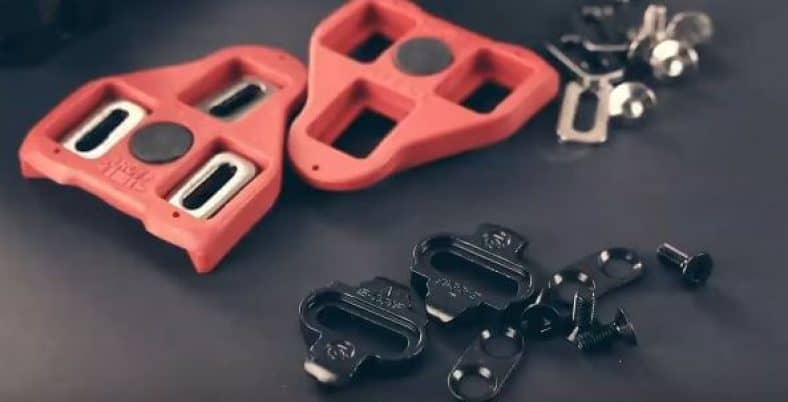 With the rise in popularity of Peloton bikes over the last few years, you may have just purchased this great exercise equipment – or tried one out at the spin class you attend. With a closer look, you will find that Peloton bikes come with clipless pedals, and cycling shoes are usually used to exercise on a Peloton bike. Peloton bike shoes vary when compared to shoes used for indoor cycling because they are compatible with Look delta cleat, which has 3 holes for the cleat of the soles to be attached to the pedals. Not all delta compatible shoes can be used on a Peloton bike. Additionally, regular shoes can be used on Peleton bikes too so that you can avail the benefits of this fitness equipment without buying an expensive shoe from the Brand itself. Over the course of this article, we will go through the types of cycling shoes that you can use on Peloton bikes, as well as the factors that we have to keep in mind whenever going for a purchase. The FAQs include a few questions that may come up during the process. A guide to clipping into and out of a Peloton bike pedal has been included too.
Compatible shoes with Peloton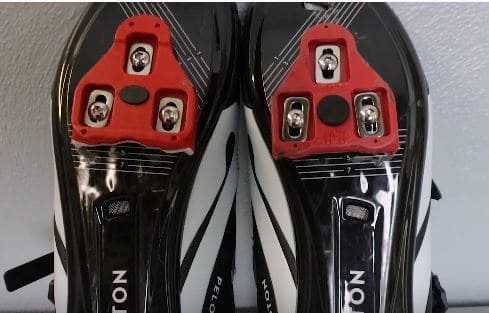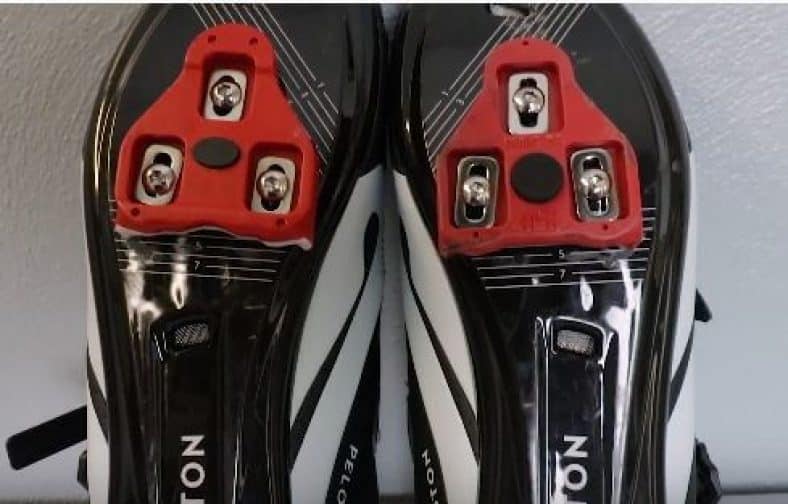 Ideally, Peloton bikes use shoes that you can use for standard cycling activities too. This is great because you will have a wide range of products to choose from. Peloton shoes have cleats that are affixed to the sole via bolts. As these cleats will allow you to get fixated with the pedal – you can see 2 different patterns of bolts:
Two Hole pattern

They are common on cycling shoes used for city touring, mountain biking, or with traditional spin bikes. The tread is grippier on this shoe type so that walking is convenient. Even though they can be used for riding a spin or Echelon bike – they cannot be used with the 3 hole pattern used by Peloton bikes specifically.


Three Hole pattern

This pattern is found in shoes used for road bikes – with the compromise of the shoe tread. The three holes for the cleat are a must for any cycling shoe used for Peloton biking. They offer a neat combination of low weight and enhanced ability to transfer power from the pedals.

You can also go for the following:
Sneakers with toe cages

You can use sneakers too, but with toe cages so that you can pedal efficiently and without any slippage. Compatible toe cages can be bought and attached easily to the Peloton pedals while some are built-in too. With the flat and narrower structure of Peloton pedals, cages will keep you planted in case you want to do some pedaling standing up.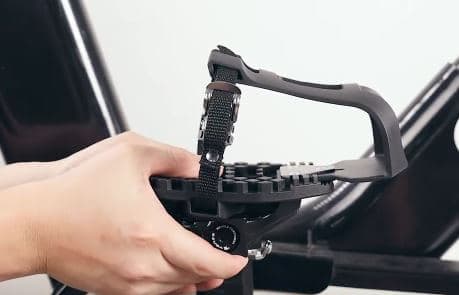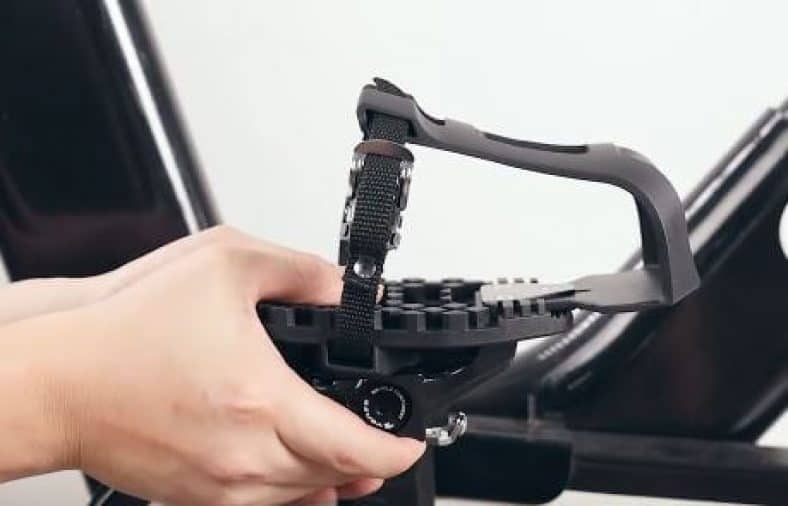 How to use toe clips on Peloton bikes
Get a cleat upgrade

This feature means that you will be able to use cycling shoes that have a 2 hole cleat setup on Peloton bikes too, just by replacing the stock pedals on your Peleton. The pedals used here utilize a thread that measures at 9/16 inches. So you will just need to ensure that your replacement pedal uses the exact thread.
Cleats for Peloton Shoes
The 3 cleat patterns on soles of Peloton bike shoes are available as varying styles for cleats today. These bikes are fitted with Look delta cleats initially, and you have the option of exchanging it with another pedal that has the same pattern for the cleat, like the SPD SL.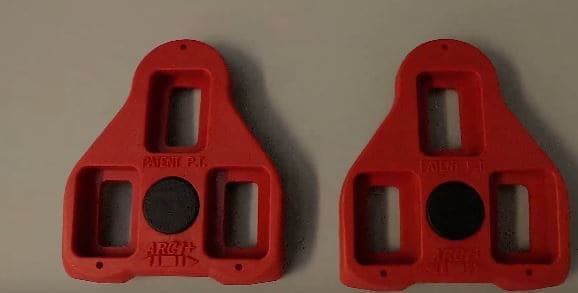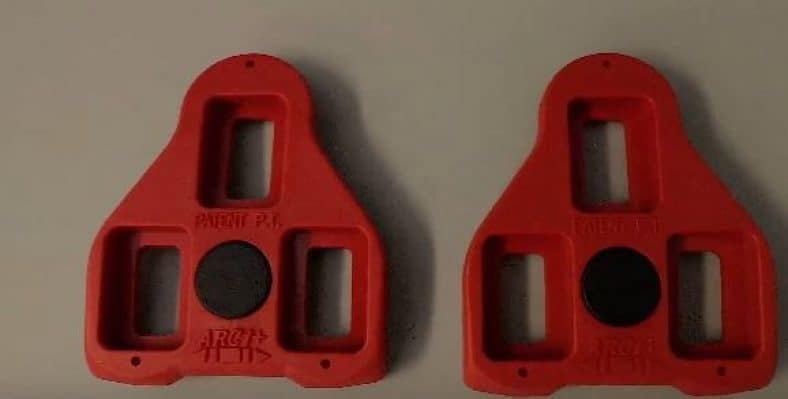 Picture: Look Delta cleats for Peloton shoes
Plastic Look delta cleats come with a much wider foot base. The red cleats will attach to your shoe's bottom via 3 small bolts, and adjustments can be made in all 4 directions very easily. This is also known as the float – which is a measurement of the side-to-side clearance that is available to your foot as your shoe hooks to the cleat.
Look delta cleat type:
Black

Floats offered by these cleats are 0 degrees. Designed for more experienced riders who know their foot position for maximum power efficacy and reduced risk of a knee injury.

Grey

Movement is free within 4.5 degrees – which is divided into 2.25-degree movement on either pedal side. Offers the best combination of comfort and speed.

Red

By moving your feet by 4.5 degrees on both the pedal sides, a total float of 9 degrees is available. Suits entry-level riders who are less familiar with cleats. Offers more comfort for the knees.
Since you can customize Peloton bikes, you can replace the pedal that came with your Peloton bike for SPD-SL one so that SPD-SL cleats can work on Peleton. Their larger geometry facilitates easy clip in-out. They are available in the following types:
Red

0 float degree that suits pro athletes better. Allows maximum power use.

Blue

You canan move by 1-degree angles side to side for a total 2-degree float. Even with this minimal movement, you can deliver  maximum power.

Yellow

They offer more knee comfort by allowing 6 degrees of float overall.
You should be able to easily install a new cleat pair. This is an acceptable compromise to getting another cycling shoe pair with built-in cleats. Use the wrench that will most likely be offered with your Peloton bike. Make sure that your cleat fit is perfect, as an ill-fit may lead to accidents. A good cycling shoe can help you avoid this, even though your cycling shoe has been narrow and less wide than the cleat itself. Your cleats are surely going to last you longer. Tips: After you have finished each session on your Peloton bike, walk around for some time before taking the shoes off. Try to avoid balancing your body weight on your cleats continuously so that you do not damage cleat plastic. This will make them more susceptible to damage. A good cleat design is helpful for your balance.
Attach cleats to Peloton shoes
Choosing Peloton Cycling shoes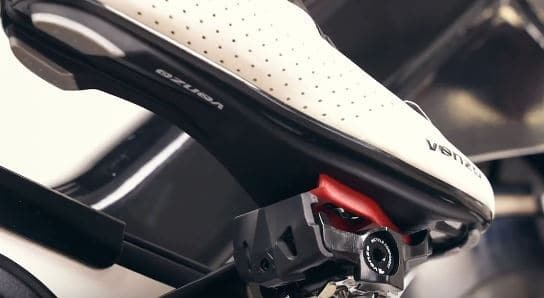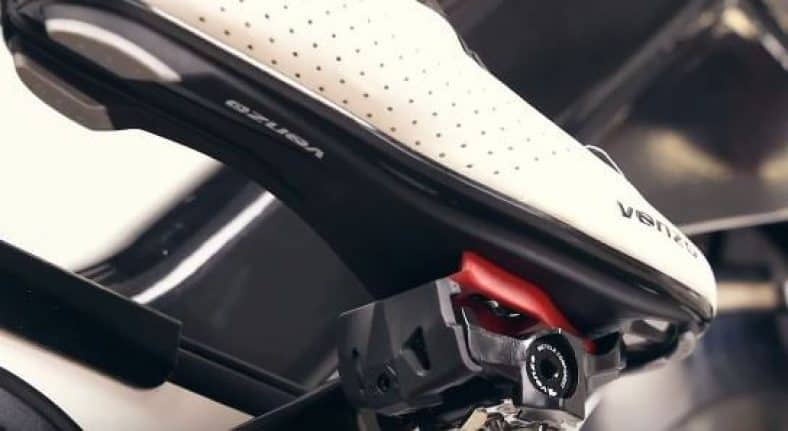 Size

With standard-sized feet, you are more likely to get the best fit. However, if your feet are really large – go down by either a half or full size. With narrower feet, you will still be uncomfortable. Peloton shoes are available for half sizes too. Since you do not necessarily have to use shoes from the brand Peloton itself – try to get a pair of good-sized shoes. With wider feet, you will be under even more dilemma – yet there has been an increase in popularity of Peleton compatible wide shoes recently.

➥ Here, you can take a look at what sizes are available for Peloton Bike Shoes

Budget

Similar to cycling shoes you use for other exercise bikes or riding activities, how much you should spend on your Peloton shoes comes down to individual preference. You will be glad that around the $100 range you will be able to get a decent pair of shoes that can be used on your Peloton bike. Since the aspects of design that are otherwise maintained on typical cycling shoes like weather-resistant abilities are skipped fully on Peloton shoes, they are priced reasonably. Saying so, many models are priced above $150.

Design

The 30 + minutes on your Peloton bike will keep you active on your feet throughout. So the design of shoes you have on will play a key part if you want to make it through the sessions successfully. Go for ample ventilation through the meshed upper sections of the shoe. Dotted holes throughout the shoe structure that allow airflow will better serve the purpose. A narrower profile will help you clip in and out of the flat pedal structure of your Peloton bike better. Evenly shaped sole lugs can help you make quick transitions on and off the Peloton bike without straining your feet in any way. You will be surprised by how normal walking with these lugged shoes feels. The shoe fit should not be too narrow too. Finally, settle for a lightweight pair.

Sole of the shoe

For Peloton bikes, the sole will determine how much pedal power you are putting into each pedal stroke and the efficiency by which this wattage is being transferred. To protect against heat, your shoe sole should be both stiff and tough. Soles that have been reinforced with fiberglass are stiffness, transfer power efficiently, and will not leave you exhausted. You will be able to use the Peloton bike longer with synthetic soles too.

Breathable Mesh

To address the buildup of heat and sweat during intense sessions on the Peloton, manufacturers have looked to incorporate regulating mechanisms in the design of the shoes. Breathable mesh is the most popular and effective means to get rid of heat from the inside of your Peloton shoe. Thanks to the enhanced breathability, your feet will remain dry. Smelly feet are now a thing of the past with meshed Peloton designs.

Anti-slip heel lining

You want to avoid slipping on your Peloton shoes, even though it is very likely that you will be pedaling quickly and fast during your Peloton workout sessions. This is why shoes compatible with Peloton bikes use a lining that has non-slip properties along the heel. In addition to keeping you planted, incorporation of this feature indoors will boost your confidence.

Choosing shoes based on gender

With standard and semi-narrow feet size, you may have to go up or down by size for your Peloton bike. Men and women cyclists can use different Peloton shoes as men will use larger and wider designs  in comparison to one being used by a woman. The aesthetics are unique for both genders too. See the typical shoe sizes in the chart below.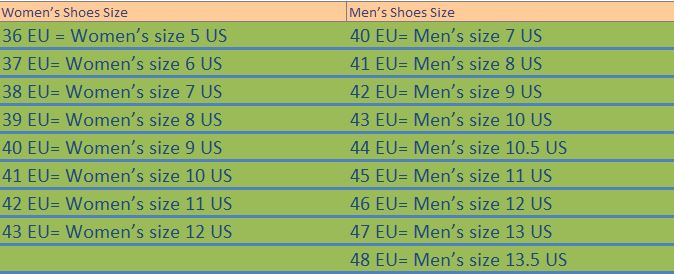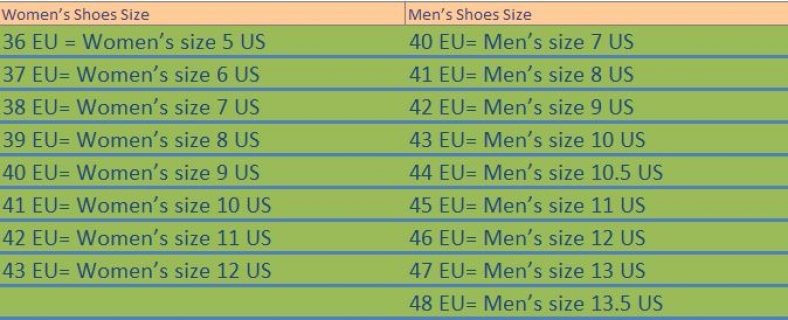 Picture: Peloton shoes Sizing Chart
Closure system

Get a Peloton shoe that uses a good option for closure. These usually involve straps/buckles. Either design is absolutely crucial for entry-level riders so that they can get a sense of security while using the Peloton bike. The great thing is cycling shoes that are designed for special spin cycling like Peloton have updated closure systems so that they can engage in performance level workouts.
Benefits of cycling shoes
Regular trainers have you pushing the pedal downwards one after another. On the other hand, indoor cycling shoes have a pushdown pedal on one of the sides while the pedal on the other side is pulled up. Your lower body muscles are better engaged during this activity. Additionally, as your feet are locked in place, a smoother motion will minimize knee injury chances. The added stiffness of shoes designed for cycling will transfer pedal power efficiently while preventing feet numbness. You can pedal longer and deliver optimal performance.
Frequently Asked Questions
Q1. Can you tell me more about the sole in peloton shoes?
Ans.: As we know, the sole of any cycling shoe will come in the closest proximity to the pedal. This is why your choice of the sole material is even more important for Peloton soles. Also, it requires durability and stability so that they can be used for many years. The shoe soles are made of two types of material – carbon and Nylon. For peloton bikes, the carbon soles are perfect. They are firm and lightweight on designs that both men and women can easily adapt to.
Q2. What is the major difference between delta & SPD clips?
Ans.: These clip types are quite distinctive of each other. SPD clips use a two-hole pattern while Look delta clips come with three-hole patterns. As per the type of your shoe, you have to select your cleat type. Compatibility is very important if you want to be comfortable while riding.
SPD cleats and pedals are widely available in the market today, especially on bikes designed for triathlon and road bikes. The 2 bolt cleats will attach to shoes that use similar bolt patterns. While you may feel more attached to the pedal, power transfer is slightly less efficient here in comparison to 3 bolt systems. Yet, you will be able to walk on them easily while getting in and out of them with much more convenient. It is considered as a universal cleat compatible with variable pedals on bikes used for spin classes, mountain biking, and other cycles.
Look pedals use the classic 3 bolts where the cleats are attached to the shoe using 3 contact points on a wide platform. These cleats can be used with many of the best road cycling shoes. They offer a degree of float that allows the user to move sideways even when they are fully clipped to the pedals. This exerts less pressure on their knees as a natural motion range is favored with the stroke of the pedal. The 3 bolt Look delta design has used a triangular structure that is made out of plastic. Your every pedal stroke will transfer power more efficiently thanks to the stiffness.
Q3. Which closure system suits peloton shoes better?
Ans.: The affordable choice of closure systems for Peloton shoes would be Velcro straps. It is very easy to put on Peloton shoes and take them off with this mechanism while they do a great job of keeping your feet secured on the pedal of your Peloton bike. Other methods like boa system, laces, and ratchets are commonly used too. Velcro is however the most user-friendly.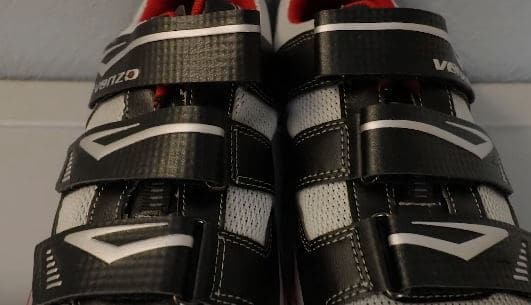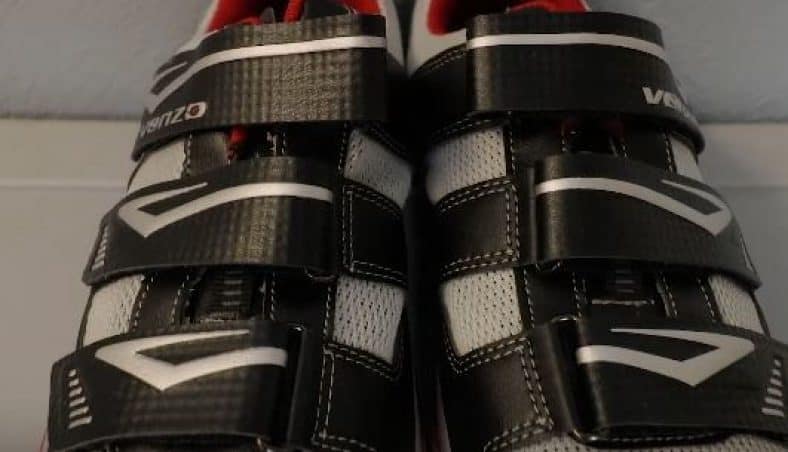 Picture: Velcro straps for Peloton Shoes
Q4. Should I size up or down for peloton shoes?
Ans.: With Peloton shoes, you will find that the true sizes can only accommodate those with semi – narrow or standard feet sizes. Many cyclists have complained that the shoes they acquired for Peloton biking feel small while the sizes were large for others. The ideal practice would be to size up by half an inch for larger and wider feet. This is why Peloton bikes offer the options of other brand shoes to be used with Peloton bikes too.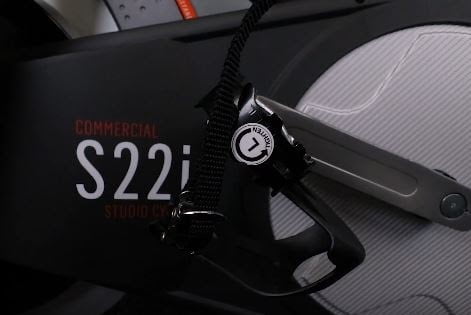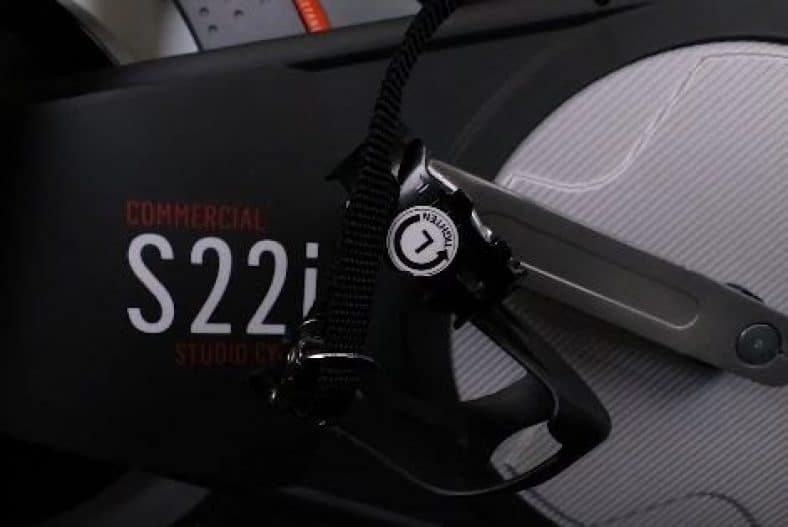 Q5. What is float and why is it important?
Ans: When we are referring to float, this is the degree of rotation that is available for your foot when the shoes you have on are clipped on the pedals of your spin or road bike. They are built-in and the sideways movement on them is measured in degrees. Remember that while you do so, your feet are held securely on the pedal all along. Your natural pedal strokes will be safer and more effective while you are both seated and standing. Remember that a snug fit  is very important for this to happen. If you feel that there is some to and fro twisting of your feet – you have not been clipped in properly. Make sure that your cleats have been screwed in well.
Q6. How can you clip into and out of the pedals of a Peloton bike?
Ans: Below we have outlined how you can clip in and out using your shoes on the Peloton bike:
At first, stand upright so that you can straddle the Peloton bike.
Use one foot and place it in such a way that the foot's nose is facing in towards the pedal that has an upward tilt.
Push your Peloton to bike shoe so that the cleat clips or clicks into the pedal's concave portion.
Follow the same procedure with the other shoe too.
Clipping out of the pedal with your Peloton bike shoe will be different from the clipping in the mechanism. As you are seated on the saddle, keep pushing the knob( that adjusts the resistance of the Peloton bike ) downwards until you can rotate one of your shoes with some heel lift to unclip out of the bike's frame. Let go of the knob, place your unclipped foot in the ground, and follow the same procedure for the other shoe.
Clip-in and out of Peloton shoes
Conclusion
Irrespective of whether you are just getting started with Peloton or you are a long-time rider looking for an upgrade – getting the perfect Peloton shoe will drastically improve your workout experience! Ensure that the fit is correct, materials that are being used are of the highest quality – along with modern closure systems to keep safe, motivated, and comfortable throughout the time you will spend on it.