Riders are required to wear the proper shoes for spinning and cycling to have a productive and comfortable experience. Fortunately, peloton bike shoes come in a wide range of sizes, and therefore covers a broad range of riders. So in this article, we will take a look at how peloton bike shoe sizing works, what sizes are available, how they fit, and what you should look for when buying a new pair. So let's get right to it.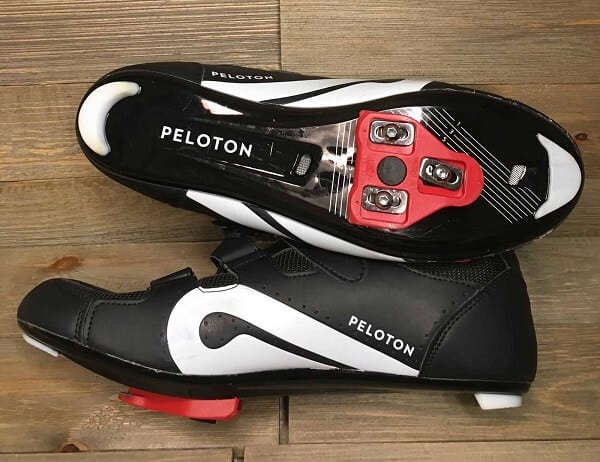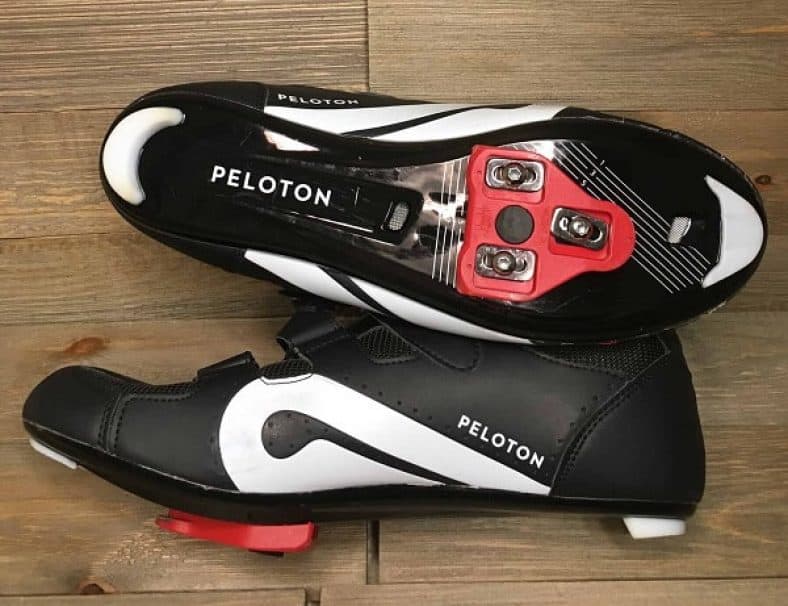 Peloton Shoes Running True To Sizes
Peloton shoes are available in a variety of sizes that are suitable for men, women, and also children. The size and shape of feet are different for everyone and peloton shoes are known to meet everyone's unique needs. Such shoes are made to fit you well but it cannot be too tight for you. They cannot be too loose either. You should keep some important factors in your mind to make sure that your peloton shoes are true to your size.
1. Length
For cycling shoes, you do not require additional space at the front of your toes like that with regular shoes. This is usually the case with running shoes as you need extra space to prevent yourself from getting injured. It is good enough just to have a few millimeters between the inner surface of the cycling shoe and the front of your largest toe.
2. Width
The width of the cycling shoe depends on the widest part of the foot. It can differ from one person to another. For a lot of riders, the widest part of their foot is the base of their toes. For some, it is the tip of their toes. The perfect cycling shoe size is the one that puts absolutely no pressure on the widest part of your foot.
When you test out cycling shoes, make sure to get on your Peloton bike and go for a ride. If the shoes do not put any pressure on your feet' sides, then it is the right one.
3. Accommodation
You should also make sure that you can wear them properly. Your new peloton shoes should not feel too tight on your feet after you have fastened them. They should make you feel comfortable and stay on your feet during your whole cycling session. Also, the rear end of the peloton shoes must securely fit in with your heels. This will enable the shoe to also prevent any kind of heel injuries.
Size chart for Peloton Shoes
Getting the right size is crucial for your overall cycling performance. That is why, to help you in finding the perfect size for you, we have provided a small size chart for peloton shoes down below:
| Men | Women |
| --- | --- |
| 7 US / 40 EU | 5 US / 36 EU |
| 8 US / 41 EU | 6 US / 37 EU |
| 9 US / 42 EU | 7 US / 38 EU |
| 10 US / 43 EU | 8 US / 39 EU |
| 10.5 US / 44 EU | 9 US / 40 EU |
| 11 US / 45 EU | 10 US / 41 EU |
| 12 US / 46 EU | 11 US / 42 EU |
| 13 US / 47 EU | 12 US / 43 EU |
| 13.5 US / 48 EU | |
Fit For Peloton Shoes
A lot of riders have very wide feet and they worry about whether peloton shoes will fit their feet properly. Well, we are here to put your mind at ease because peloton shoes will fit you flawlessly. They will be completely snugly and if the shoes come with straps will enable them to fit your high arches.
If you are someone who usually goes for a half size, we would like to suggest you go just one size above. This is because a lot of riders have stated that peloton shoes actually run smaller than their actual size. Although some people have said that their size was totally true, it is safer to order one that is a size up.
Peloton Shoes Being Different
The best part about riding a Peloton bike is that you can do it while wearing the typical cycling shoes. Therefore, there are a lot of different options for you to choose from. However, not just any shoe will do. But don't worry we are here to guide you.
First of all, you should know that all types of cycling shoes utilize some kind of cleat. These cleats actually click onto your bike's pedals. They are connected to the shoe's sole using bolts. Cycling shoes can be categorized into two types depending on their cleats. They can be either a two-hole pattern shoe or a three-hole pattern shoe.
1. Two-Hole Pattern
Two-hole pattern cycling shoes are mostly used by urban riders, mountain bikers, and riders in spinning classes. These shoes consist of more tread and therefore allow you to walk around more easily. However, the downside is that if you want to use it for your Peloton bike you have to install a different set of pedals on it as these will not function properly as peloton shoes.
2. Three-Hole Pattern
Cycling shoes that consist of the three-hole pattern do not have much tread compared to the two-hole pattern shoes. Also, they are not comfortable to walk in and will make a lot of noise when you do. However, they are much lighter and compact.
The three-hole pattern shoes are ideal and the only choice for peloton bikes. These shoes are not only lighter, but they also offer superior power transfer. These shoes will also ensure that your knee is aligned at all times and that too in a much more consistent manner.
Replacing Peloton Shoes
Peloton shoes are known to be quite durable. However, some signs will indicate they need to be replaced. If your peloton shoes are wearing out and need to change, you will feel that your feet are aching after your cycling session. It will not matter if you ride for a short or long time. And afterward, the sides of your feet will hurt as well. So when you start to feel discomfort and pain after riding with your peloton shoes, it is time to buy a new pair.
Tip for finding comfortable peloton shoes
So here are some tips for you, if you are currently searching for comfortable peloton shoes:
1. Insole Upgrade
You should upgrade your peloton shoes' insole to increase comfort. When cycling shoes are manufactured, they are usually provided with a basic insole. Upgrading it to a slimmer or thicker insole can help you feel more comfortable while pedaling.
2. Velcro Straps
You should buy cycling shoes that come with velcro straps. These are great for fastening and allow you to make very smooth adjustments. Therefore, you can get the perfect fit and stay comfortable at the same time.
3. Do not make them too tight
You should not tighten your shoes too much as it can wrinkle the middle part of your shoe. This can lead to too much pressure being applied and cause injuries. If you find that the wrinkles are not gone, even after applying the correct amount of tension, then it is not the right size for you.
4. Stiff Soles
You should ensure that your cycling shoes have stiff soles. This is because they will not only keep its shape intact but also they will improve your riding performance. It also helps to make the shoes more durable and comfortable. However, make sure that the sole is stiff for only the harder sections of the feet. The softer parts of your feet should be cushioned well.
Fitting cleats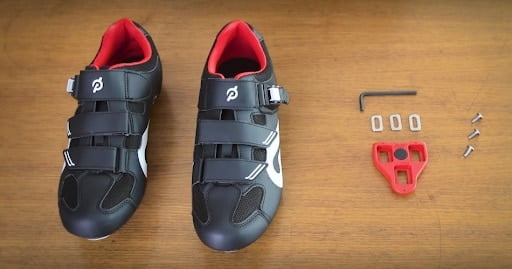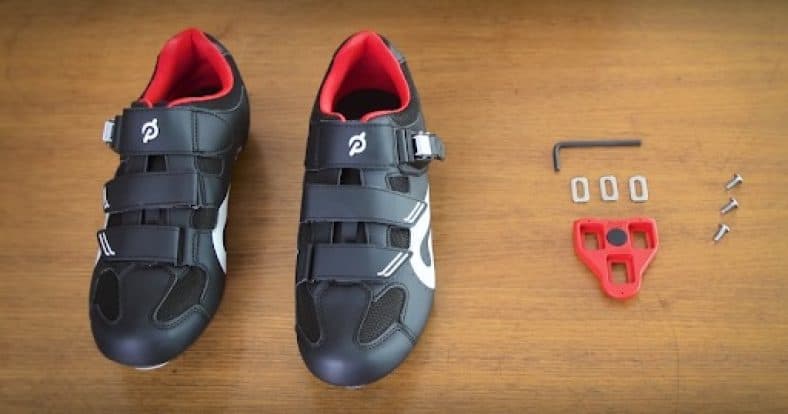 You need to know how to properly fit cleats onto your cycling shoes. Firstly, you need to place each of the cleats over the 2 screw holes located on your shoe's bottom part. Then put the washers onto the cleats. Set the screws in place and tighten them. It is suggested that you position the cleats aligned and faced forward along with your toes. Ensure that the mid-part of the cleat is set across your foot's ball on the shoe. You should note that the cleat must be set close to the shoe's inner part, especially close to the arch. Then tighten the screws so that the cleats are attached securely to the shoes. Test them out by pedaling on your bike. If you feel any type of discomfort, you should check if the cleats are set straight. You can watch the video linked below to get a better idea of how to do this properly:
Frequently Asked Questions
Q1. How tight are my peloton shoes supposed to fit?
Ans.: Peloton shoes should fit you perfectly and wrap around your foot. They should not be too loose and they definitely should not be too tight. This can lead to discomfort or even in some special cases injuries. You should definitely ensure that there is a little bit of space so that you can wiggle your arch and toes in your shoes.
Q2. Are my toes supposed to touch the end of the shoes?
Ans.: No, your toes are not supposed to touch the end of your shoes. We would like to suggest that keep a minimum amount of about half an inch of space at the end of your toes. This will allow you to feel comfortable and also keep your nails safe and free from any type of pressure.
Q3. What am I supposed to do if I've already bought either a bigger or wider pair of shoes?
Ans.: If you have already bought a larger or wider pair of cycling shoes, then the best option would be to wear a pair of socks that are quite thick. This will help you to reduce the issue as the thick sock can take up the extra space. And if budget is not an issue, buying a new pair of peloton shoes will get rid of the problem entirely.
Q4. Should I size up on peloton shoes?
Ans.: You can actually check if you need to size up or down on your peloton shoes. First, place your finger between the shoe and your foot's heel. If there is some space, then you should get a pair of shoes that are half a size down. And if you cannot put your finger inside due to lack of space, then you should definitely increase it either by half a size or even a full size.
Conclusion
The perfect peloton shoe size completely depends on you. The most important thing is that you can ride your peloton bike while having your feet superbly comfortable during the entire cycling session. Purchasing a pair of cycling shoes that fits you completely, offers stability, and also spares a good amount of breathing space will improve your performance and serve you well. Take care and have fun!