When it comes to footwear, Giro's shoes are the result of the combination of precision fit and comfort. Considering every aspect of fitness such as lasts, upper, outsole, footbed, half-size grading; Giro's shoes are developed separately for men and women. Footwear designers, biomechanical experts, last makers and professional riders work as a multi-disciplinary team to produce a full range of sizes for a single shoe-design. These traditional shoes are refined with the support of modern footbeds to make cycling and walking a little more comfortable under any circumstances.
No matter what brand of shoes you buy online, if you are not aware of the size chart, you will be fighting for the right size. To get the exact fit of any cycling shoe with your foot is not the same as any casual everyday shoe fit. Ultimately, if you first get the chance to try out the shoes before buying; that will be better. Sadly, this won't always be the case, especially when buying a pair of shoes online. If Grio is your favorite manufacturer and you are determined to buy a pair of cycling shoes from Giro, then you need to know about the size chart of their shoes. Take a look at the size chart below, it is the official chart from Giro-
Giro's men's cycling shoe size chart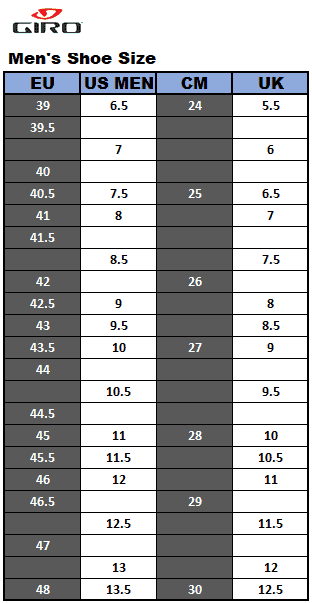 Giro's women's cycling shoe size chart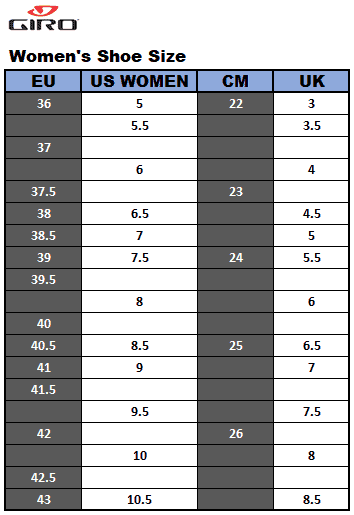 From the chart, you can see that men and women have different measurements when it comes to the sizes of shoes. And for different regions, this measurement works differently with different units. If you get an idea about the sizes of the shoes, then take a look at the size chart of the footbed, which Giro had kindly made for their customers. Like shoes, the sizes of the footbeds are different for men and women.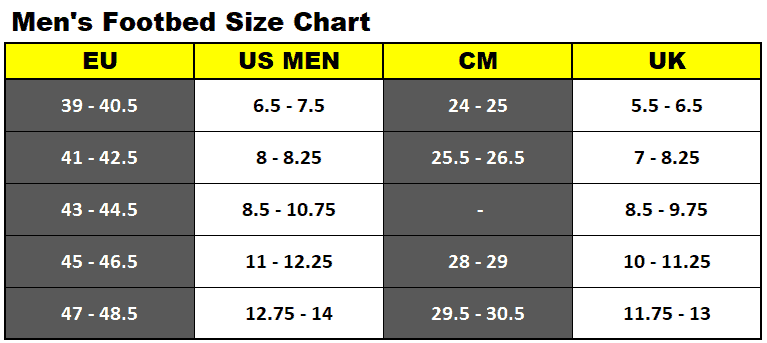 As for the socks, the size is similar for both men and women. Unlike the shoe and footbed charts, this chart is the same for males and females. So, take a look at the unisex sock size chart if you are also planning to get a pair of socks from Giro –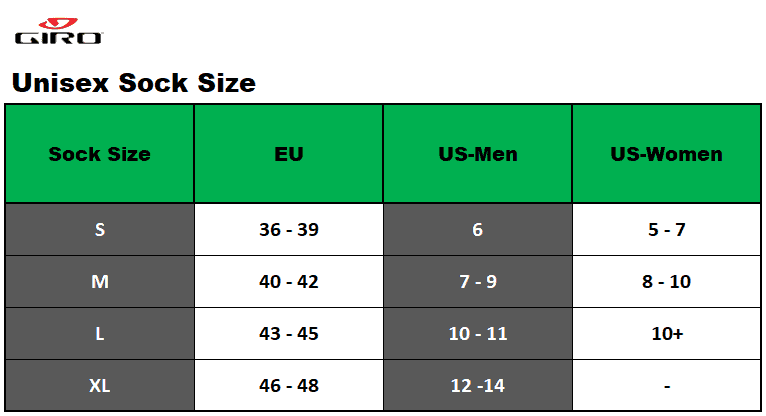 How will you measure your appropriate shoe size
So even if you know about the shoe size chart of Giro by now, you need to know about the exact measurements of your feet. We have listed a few steps below that will help you to get the measurements of your feet. By measuring your feet size, you will find the exact size of the shoe in no time.
# Step -1: Take the measurements of your feet length
First, take a white A4 size paper and place it on the floor and against the wall. Place one of your feet on the paper ensuring the heel is properly leaned against the vertical wall.
Draw a line that defines your foot mark by lining at the edges of your foot. Now with a centimeter scale, measure the length of your foot.
Add 5 millimeters of space to the length of your foot that you have just measured if you like to have some breathing room for your foot. So the equation goes like below –
Remember, this extra length is only to ease your walking and cycling experience. However, some people may want to have a tight-fitting. So, adding an extra 5mm of length might not be a good idea. But a bit more space than the exact size is always welcome for those who want to walk and ride with relaxation. 
Use this similar process with your other feet as sometimes, they may vary in sizes with each other. Once you have done with everything, take the full measurement in centimeters.
# Step – 2: Take the measurement of your feet width  
Just to be clear, you should also measure the width of your feet. You can use a sewing tape to find out the width of your foot. Roll the tape around the widest part of your foot to get the appropriate measurement.  Actually, the length of the shoe indicates whether it is for a narrow foot, medium foot, or wide foot. Once you have measured the width of your foot, check the matching shoe size from the size chart or the online page of that particular shoe. With the exception of the extra 5mm of length, the length of the shoe that matches the size of your foot will be right for you in terms of width.
Suppose you have wide feet, then it is wise not to go for the shoe that has a narrow design. Again, the shoes that are wider will not match if your feet are too narrow. Wearing such shoes will bring nothing but distress and pain as they won't make either walking or riding comfortably.
# Step – 3: Find the shoe size according to your foot's measurement  
This step is related to step 2. Find the right shoe size that matches overall length, which is the sum of your foot length and additional length. If you notice the shoe size is described in the EU, then compare it according to centimeters by looking at the shoe size chart.
EU or UK sizes of shoes may differ depending on various brands. You may find several measurements in the EU or UK shoe sizes that you have measured in centimeters. Just take a look at the size chart and compare, that's it. If you have done everything perfectly, you should have known the perfect size of your desired shoes.
# Step – 4: Get your shoes with cleats
If you have determined to buy a particular pair of shoes and measured all the necessary calculations, then go buy the shoes from any local retail shop or buy online. If the shoes work with clipless pedals, then it is better to buy the corresponding cleats as well. Sometimes, cleats will come with the shoes. It is a good offer especially for the novices as you don't have to spend extra money on cleats. But if the shoes that you are going to buy don't come with cleats, then you have to buy them additionally and you have to pay extra money for that.  
A brief history of Giro
'Giro' is located in a unique place, which is Santa Cruz; California where mountains and sea intersect each other. Giro has earned its reputation for producing top-grade outdoor accessories around the world. Grio has been supplying various quality products to millions of outdoor enthusiasts such as cyclists, riders, skiers, snowboarders, and many other outdoor sports lovers. However, this reputation didn't come within a short period of time; Giro has been trying since 1985 in order to maintain the quality of their goods. Grio is mainly popular for its helmets. They say Grio's helmets are the choices of the world championship winners.
Giro has been providing equal value to both science and soul for over 30 years. Whenever you think of doing something new, see the world in a different way, try to live the world in a different way; Giro thinks exactly the same way when it makes its products. Therefore, Giro is undoubtedly energy, a compulsion that shares similar ideas and thoughts as you do. Giro has been continuously desiring to make your cycling experience better by offering you all types of fervor it possibly can.
---
FAQs
Q1. Do cycling shoes remain honest with their sizes?
Ans: Yes, cycling shoes always remain honest with their sizes. Unfortunately, some dishonest seller may hand over a pair of mismatched shoes to you or you may end up buying the wrong sizes of shoes as you may literally have any knowledge about cycling shoe size. Sometimes even the manufacturers may misconduct with the exact size. So, before buying a pair of shoes, research as much as you can and try them out if it is possible.  
Q2. How to know the appropriate size of my cycling shoes?
Ans: Get the proper measurements of your feet first and then, check the size chart. The size of the shoes that match your foot's length without considering any additional length, will be the appropriate size for you. However, it is better if you get the chance to try out the shoes first, before buying. And a piece of advice – don't buy shoes from online or any retailer that doesn't offer a return policy.
Q3. Do I have to buy cycling shoes?
Ans: If you are an avid cyclist or a type of person who hauls around with his bike daily challenging trails or downhill, then cycling shoes are a must for you. With their attachment to cleats, they will provide the ultimate performance that you have always hoped for. Unlike regular type shoes, they have an outstanding build quality and they can shred off muds and debris very easily. Cycling shoes usually last longer than any normal shoes and they were made to endure aggressive cycling.    
Q4. Is the Giro shoe size chart accurate?
Ans: Yes, the Grio shoe size chart is accurate if you are planning to buy a pair of shoes from Giro. Different cycling shoe manufacturers may use different size charts. But they all are pretty much the same and they were made based on the measurements of the average person's feet. But if you know about Giro's size chart, then it is better to buy shoes from Giro and not buy any shoes from other brands without knowing the specific shoe size chart.   
Q5. Do I need cleats if they don't come with the shoes?
Ans: It is true that most popular brands don't offer cleats with their cycling shoes. The additional cost in order to buy a pair of cleats can be a burden to some people. The good news is – good quality shoes can work with or without cleats. So, it is not mandatory to buy a pair of cleats. However, cleats tend to last longer than shoes and pedals. So, take your time and save money, then you can buy cleats for your shoes.
Conclusion
Giro shoes are the first choices for many professional riders. With years of proven quality and performance, Giro has never failed to satisfy its customers. We hope reading this article helped you a lot if you were uncertain about the size chart of Giro. If you have read this article, you should at least get an idea about how the sizes work in different regions by now. In this article, we have chalked out not only the size charts of the shoes but also the size charts of the footbeds and socks. Therefore, you should have an overall idea about the sizes of Grio's footwear. We wish you the best of luck in finding your desired shoes and we thank you for reading this article.
Related Readings
---
Helpful Resources: www.mantel.com
(Visited 90 times, 4 visits today)
Close