Identifying a shoe, wearing which you'll feel comfortable while cycling can be quite a tedious task. More so, if you have wider feet. Whereas; if your selected shoe doesn't fit you well, then chances of having foot pain would increase, this, in turn, can be quite excruciating. Some common issues include numbness and hot spots. So; this is where Shimano's line of wide cycling shoes comes into play. Furthermore; in any case, if you haven't ever tried out a wide cycling shoe, we'd recommend you try one out. Because it is wise of you to ensure that the shoe fits you perfectly.
Therefore; after months of rigorous testing and research in order to understand which of Shimano's shoes would be ideal for your wide foot. So; a unanimous decision led us to conclude that Shimano SH-RC701 LSG is the ideal pick for our Editor's overall best choice. Additionally; we have also selected a list of supporting casts, which we believe would serve you well for accommodating your wide set of feet.
In the following table, we've listed Shimano's best wide cycling shoes:
After months of grueling sessions and testing out these pairs of shoes by our professional testing panel, on our bike. So; they came to decide that the Shimano SH-RC701 LSG performed exceedingly well and set a benchmark very high when it came to wide cycling shoes. Moreover; its attributes such as excellent tension adjustment, the right amount of ventilation, durability, stiff sole, and comparative lightweight design, sets it apart from other wide cycling shoes. However; this doesn't necessarily mean the other wide design shoes aren't worth buying. Therefore; we strongly believe choosing any one of Shimano's shoes, which shall be discussed shortly, would optimize your overall biking experience.   
12 best Shimano's wide cycling shoes that you can buy today
We have chosen Shimano's top-notch wide cycling shoes, according to various features and criteria, upon testing they performed outstandingly while using these on our bikes. Therefore; we shall be reviewing these shoes in detail, along the course of our writeup. We hope this would facilitate choosing the ideal shoe for your needs.
The table below makes a comparison of the specifications related to a selection of Shimano's wide cycling shoes.
Shoe
Preview
Type
Best For
Gender
Weight (Pair)
Upper body material
Midsole
Outsole
Stiffness Index
Footwear Closure
Accepted Cleat Mount
Shimano SH-RC701 LSG
Road-bike Cycling
Reduces energy & brake loss
Men & Women
1.87lbs
Synthetic leather
Carbon fiber
Carbon fiber
10/12
Two Boa® L6 dials
3-bolt
Shimano SH-RC9 S-Phyre
Road-bike Cycling
Stiff sole for lesser energy loss
Men & Women
2.5olbs
Teijin Avail microfiber synthetic leather
Carbon fiber
Carbon fiber
11/12
Two BOA-IP1 dials
3-bolt
Shimano SH-RP9
Mountain-bike
Cycling
Optimal for long-ride stiffness
Men & Women
1.12lbs
Microfiber synthetic leather
Carbon fiber
Carbon fiber
11/12
BOA, hook-and-loop strap
3-bolt
Shimano SH-XC7
Mountain-bike
Cycling
Good grip, durable, flexible and high traction
Men & Women
1.60lbs
Synthetic leather
Carbon fiber
Michelin rubber
9/12
BOA-IP1 dial and one Velcro strap
2-bolt
Shimano SH-MT301
Mountain-bike
Cycling
Good pedaling performance and walking comfort
Men & Women
1.56lbs
Mesh, Synthetic leather
EVA, rubber
EVA, rubber
N/A
Lace-up
2-bolt
Shimano SH-MT501
Mountain-bike
Cycling
Lightweight, fast and easy fit
Men & Women
1.54lbs
One-piece
EVA, rubber
Rubber
N/A
Lace-up
2-bolt
Shimano SH-AM701
SPD Clipless
Enduro, Trail, Downhill
Men
1.8 lbs
Perforated Synthetic Mesh
Standard Flat
Rubber
6
1 Strap + Shoe Lace
2-bolt SPD
Shimano SH-AM501
SPD Clipless
All-Mountain, Off-Road, Trail, Downhill
Men
1.98 lbs
Synthetic Leather
Standard Flat
Rubber
5
Shoe Lace
2-bolt SPD
Shimano SH-GR7
Flat Pedal Shoes
Enduro, Trail, Downhill
Men/Women
1.75 lbs
Imitation leather/Textile Mesh
Standard Flat
Michelin Rubber
3
Shoe Lace
N/A
Shimano SH-GR9
Flat Pedal Shoe
Enduro, Freeride, Downhill
Men
1.6 lbs
Imitation leather/Textile Mesh
Standard Flat
Michelin Rubber
3
Shoe Lace
N/A
Shimano SH-RP1
SPD/SPD-SL Clipless
Road Cycling
Men
1.12 lbs
Synthetic Leather/Mesh
Standard Flat
Nylon Fiberglass
6
2 Hook & Loop Strap
2-bolt (SPD), 3-bolt (Delta)
Shimano Men's CT50
SPD / CLICK'R Optimized
Road, City Touring
Men/Women
1.5 lbs
Synthetic Suede Leather/Mesh
CT Insole
Rubber/EVA/Nylon
2
Shoe Lace
2-bolt SPD
# Wide shoes for Road Cycling
1. Shimano SH-RC701 LSG:
Lightweight sole

| Editor's overall best choice

Shimano's RC701 offers you an incredibly user-friendly and is designed to give you comfort. So; its sole is constructed from lightweight carbon-fiber material. Moreover; its bumpers are carefully placed to securely accommodate your toes and heels. The upper portion of the RC701 has a rather traditional construction. So; it is made from synthetic leather, which would be very comfortable for your feet. Also; the padded tongue would help accommodate your feet better. Furthermore; they are many small perforations all over the top portion, above the toes and sides of the shoe. The tongue consists of bigger perforations, it also has smaller mesh panels, and the sole consists of mesh-covered vents. Therefore; the ventilation which you'll be getting is sufficient to keep your feet feeling comfortable. 

The heel cup is very supportive and has the right amount of padding. So; the heel security is great and would be easy on your feet. Additionally; there are a pair of BOA® L6 dials on this shoe, where one of these controls the forefoot volume, and the other one takes care of the tightness of the wide ankle strap. Also; if you require additional tension then there is a Powerzone wire guide at the forefoot. The carved footbed matches the sole. However; they are of just standard thickness and also don't have replaceable arch support. Moreover; the spacious toe-box of this shoe would be able to accommodate your wider feet. Lastly; you'll have to pay a premium in order to get your hands on a pair of these. However; it would perform outstandingly if you plan on going for climbing, sprinting, or using it for riding your bike. Its stiff sole does an amazing job
2. Shimano SH-RC9 S-Phyre:
Twin micro-adjustable lace & Lopsided control
The RC9 S-Phyre is capable of fitting a wide range of foot shapes. Thus; it would secure your foot very well and offer breathability. Moreover; this shoe has a well ventilated upper portion. So; the perforation on this shoe is the reason why it gives better breathability. Also; with fluctuation in temperatures, your foot will remain comfortable. The RC9 S-Phyre is slightly smaller design compared to many other models and brands. Therefore; you may want to go for a size bigger than your actual foot size. Moreover; as we've already mentioned previously, it'd fit you very well, making you feel comfortable at all times. Furthermore; even if you wear these shoes for long hours, while traveling, you won't feel any numbness or have any tight spots on your foot. We tested this shoe out in various conditions and it performed very well.

Also; the material at the end of the shoe would allow a good grip around your ankle. The well designed BOA® cabling system will ensure that your foot remains secure while pedaling. However; when it comes to weight, this shoe, by no means is the lightest shoe out there. So; the manufacturer may have a point that losing a bit of weight may have an adverse effect on this shoe's performance. Now that actually makes sense as it performs really well, irrespective of the weather condition. One of the best things about this shoe is, its upper-most portion is designed very well. As they would allow you to attain a good mixture of comfort and stiffness. Also; the sole on this shoe is very stiff and sturdy, scoring a stiffness index of 12.
3. Shimano SH-RP9:
Carbon composite soles
In SH-RP9 you'll be getting yourself a pair of premium quality cycling shoes. So; Shimano focuses on endurance and offers you with good road performance especially if you happen to be a sporty rider. Therefore; on buying a pair of these, they'd offer you efficiency and comfort which you look for in a cycling shoe. Shimano's RP(road performance) shoes are quite different from what we typically know as grassed-up road shoes. So; these RP shoes would be able to offer you comfort on traveling long-distances.  While at the same time, it won't compromise on performance.

For this new model of SH-RP9, Shimano has used a single BOA® and surrounds the upper portion with a conventional tongue. Moreover; the fit on this shoe is a bit combative, compared to its previous models, more so, due to the accommodation of the new heel-cups. These heel-cups consist of a substantial-lip. Hence, it would make your foot fit as though it would into a suction-cup. Therefore; the level of comfort this shoe offers has a lot to do with the heel-cup on this shoe. Thus; the BOA® would require minimal tension, as your heel would remain strapped in and secured. In fact; one of SH-RP9's best features is its heel-cup suction, it performs admirably in securing your heel at all times, it won't allow your foot to come off easily. Although; it may be a bit harder to get on and off these shoes.    
Whereas; the heel-cup may be a bit truculent but both the toe-box and the forefoot is quite spacious. So; upon wearing this shoe, you may think that this is a very high-performance race shoe due to the locked-in feeling of the heel. Otherwise; the rest of the shoe is pretty relaxed to say the least. So; this shoe will provide you a good solution for cycling shoes. However; it won't be as rigid as typical racing shoes. Also; this shoe would be quite easy on your joints. The well designed carbon-made sole has a stiffness index of 10/12, according to Shimano's scale. Thus; you cannot make this shoe flex too easily. Shimano has gotten rid of the heat-mould panels in the top section and from arch support as well. This is mainly due to the fact that not everyone used this feature and it also added unnecessary weight on the shoes. Also; it made the upper portion less flexible. There are interchangeable foams for the insoles.

The foam-arch would provide support and additional room for your foot, along the middle of the shoe. So; weighing in at 1.12 lbs for a pair of these shoes makes it quite lightweight. Also' thanks to the perforated upper section, it is able to provide good ventilation for your foot. Hence you won't have to worry about your feet being overheated while cycling.  
# Wide Shoes for Mountain Bikes
4. Shimano SH-XC7:
Carbon composite soles & Pedaling efficiency
Shimano's SH-XC7 cycling shoes have been designed to be ready to race. The midsole on this shoe is made from carbon-composite material. Thus; it is capable of withstanding quite a lot of weight and enhances your overall pedaling efficiency. As for the stiffness index, Shimano has given the XC7's outsole a score of 9 out of 12. Therefore; the outsole's performance is very commendable. Hence if you're not into professional cycling or racing then a stiffness score of 9 would do the job very well for you. Also; in case of outdoor exploits such as; running over steep surfaces or uneven rocky beds, this shoe performs very well.

Furthermore; the lugs on the SH-XC7 are superior to many other models of Shimano's cycling shoes. Therefore; if you're into hiking or barrier hopping then this shoe would suit you very well. Also; the rubberized outsole contains toe-spikes, this would especially help if you travel through muddy surfaces. The outsole is made by Michelin rubber, Michelin uses two different types of durometers along the sole. Hence this would allow different sorts of durability and grip based on how the lugs at the bottom of your shoe initiates contact with the ground.

The last on this shoe is built from a distinctive Dynalast construction. Therefore; this would enhance your pedaling efficiency with every stroke. You'd get an idea regarding pedaling efficiency while traveling long distances. Moreover; dynalast helps in lowering toe-springs and also the heel-section in relation to the arch and metatarsal of your foot. Thus; in the process, create an optimal pedaling angle on either side. Furthermore; the top portion of the shoe is secured with twin BOA® L6 dials. This allows you to dial in the fit in micro-tension according to your required levels of comfort. So; what it does is, it wraps around your foot, rather than just strapping down. Hence in the process, creates uniform support.                        
5. Shimano SH-MT301:
Performance as well as the Comfort
Shimano's SH-MT301 shoes for your mountain bikes are compatible for multi-usage. So; you can use these for touring and also as recreational usage, both on and off-road cycling. The footwear-closure on this shoe consists of conventional lace-up design. Thus; you'd have optimal pedaling efficiency as well as comfort while pedaling. Also; the shank plate is made from glass-fiber. Thus; it is able to offer an amazingly rigid sole, whereas; the midsole is made from EVA. Lastly, the outsole is designed from rubber. Hence, it'll be quite efficient while pedaling. Shimano has designed SH-MT301's uppermost section from a one-piece rubber. Therefore; it would guarantee you a secure fit, enhanced durability, and a pretty lightweight mountain biking shoe.
6. Shimano SH-MT501:
Satisfactory for outdoors or walking or light hiking sessions
Shimano's SH-MT501 mountain biking shoes are designed to perform superbly for combative outdoor cycling. Also; these shoes should work equally well while you're walking or hiking. Moreover; you'll have a very secure fit and enhanced durability. Furthermore; thanks to its lightweight one-piece synthetic upper material, your foot won't be under too much stress, while you're walking or cycling. The midsole is made from EVA. Whereas; the outsole is designed using rubber. Hence you'll have amazing pedaling efficiency and overall comfort while using these. Lastly; the traditional fast lace-up design would allow you quick and seamless adjustments. Thus; allowing you an easy and good fit on your feet.         
7. Shimano SH-AM701:
Ultimate Shoes for Trail, Downhill and Enduro
The Shimano SH-AM701 shoes are relatively new model shoes introduced in 2018. The name may sound familiar because there was a model named the AM 700 previously. Those shoes were made for flat pedals. Shimano cleverly decided to bring the newer AM701 model that is capable of working well not only on flat pedals but also on clipless pedals. Unlike the SH-GR900 shoes, these shoes ditch the armored shield for laces in order to increase airflow. They thought this would also increase the aesthetic of the shoe.
AM Footwear Technology®:
The shoes that feature the AM technology were designed and engineered from the ground up to meet the demands of gravity riding. They were programmed to provide maximum protection, comfort, and confidence especially for downhill, freeride, and all-mountain type cycling. And these shoes have proven to be successful to do that. The shoes with AM technology basically offer the following features – 
Expanded Cleat Adjustment Range

Optimized Shank Plate

EVA Foam Constructed Midsole

Reinforced Sidewall Protection

Special Rubber for Gravity Rides

Stable Pedal Channel

High Traction Tread Pattern
8. Shimano SH-AM501:
Great LSG Series Shoes for Mountain Biking
The Shimano SH-AM501 is the perfect pair of shoes for the downhill, enduro, all-mountain, and gravity riders who are seeking a competitive edge. This shoe comes from the Shimano's new AM family with the morals of both the flat-friendly AM7 and the high-end AM9. Offering a number of downhill features, these AM501 shoes mainly focus on meeting the demands of gravity riding at the end of the scale. 
The stiffness of the sole is just proper to blend, neither too hard nor too soft. They are just perfect for not only providing efficient power transfer but also for providing enough flex so that you can move your feet freely. Although some may want more heel hold and arch support for hiking, these shoes can still manage to do the job. The closure system includes laces for accurate fit and the package includes a pair of spare laces. In order to get the ultimate support and performance, Shimano suggests you use these shoes with the PD-M424 pedals.
9. Shimano SH-GR7:
Versatile Shoes with Super Grip and Walkability
The Shimano SH-GR7 are great platform shoes with outstanding grip, which has made them an obvious choice for the people who are looking for a pair of pedals for both walking and mountain biking. The Michelin outsoles will provide the necessary grip for aggressive types of mountain biking such as downhill, trail, and enduro. On the other hand, their breathable design and padded collar will bring ease while you are walking. The ankle shaft has a joint construction with the shoe itself and it will come in handy for keeping dirt and pebbles out of the shoe. Moreover, with a fast-drying architecture; these shoes will dry faster than other mountain shoes and they don't absorb much water. Surprisingly, you will find these shoes to be more stable, lighter, and easy to clean than most flat pedal shoes. And with such an affordable price range, it will be hard to get something as worthy as these shoes. Women's versions of these shoes are also available, which are the Shimano SH-GR700W shoes.
GR Footwear Technology®:
Complementing the AM series footwear, the GR series shoes are specifically designed to meet the requirements of gravity-assisted riding. Such type of riding requires more interface between the pedal and shoe while riding. Shimano has systematically engineered these shoes from the ground up so that they can be competent for such type of riding. Therefore, GR Footwear Technology® was invented. The major improvements of this technology are molded toe caps and optimized sole patterns.
10. Shimano SH-GR9:
Excellent Shoes with Armored Lace Shield
With the combined effort of Michelin and Shimano, the Shimano SH-GR9 shoes were invented and these shoes are gripper than most of the mountain shoes you have ever tried. Whether you are on the ground or on your bike, these shoes will guarantee to offer a superior grip for both conditions. An interesting part of this shoe is the armored lace shield, which will protect the laces if they get mud or debris on them. Now, this is something unique and we can bet you haven't seen anything like this before. Also, don't get worried about fastening the laces. You will get a fast and secure adjustment of them for the Speed Lacing system. The shaped toe caps are molded enough for adding extra protection to your toe and the padded ankle collars are asymmetrically raised to protect the inner ankle. When you have the right pair of shoes, you know your performance will get better. And the SH-GR9 are exactly the right pair of mountain bike shoes you are looking for. Shimano says these shoes work best with the PD-M828 pedals. 
Michelin Outsole:
Gravity-assisted riding requires extreme demands. Therefore, Michelin cooperated with Shimnao to produce something that can fulfill this. This outsole can be distinguished by two zones, which are quite different for their density. And there are optimized knob patterns strategically for providing better grip and at the same time, will not compromise pedaling efficiency.
# Wide shoes for Indoor Cycling
11. Shimano SH-RP1:
Awesome Indoor Cycling Friendly Shoes for Studio Bikes
With the Shimano SH-RP1 Cycling Shoes, you will enjoy cycling wherever the road wants to take you. These jockeys are specially made for men and these promise to make your ride enjoyable whenever you are willing to make long-distance tours. They are not just awesome for their all-around performance but also for providing immense comfort. And offering a secure fit and design, these shoes are the best matches for PD-R550, PD-RS500, or PD-ES600 combinations of pedals.    
These shoes work with most SPD type cleats. But in order to attach 2-hole SPD cleats on their outsoles, you will need to have an additional SM-SH40 adapter. Of course, these shoes are meant for road cycling, but that doesn't mean they can't be used for indoor cycling. In fact, these are some of the indoor-friendly cycling shoes that are compatible with most studio bikes. And if you can use the 3-bolt Look Delta cleats, these shoes will also work for Peloton bikes. These shoes signify quality, performance, and comfort as they are blessed with Shimano Dynalast®.
# Wide Casual Cycling Shoes
12. Shimano Men's CT500:
Great Looking Casual Cycling Shoes
The Shimano SH-CT500 Shoes hold the disguise of a typical pair of urban sneakers. But they are undoubtedly more than that. They double the versatility by adopting various types of cycling. With a very easy cleat installation process, these shoes can transfer a satisfactory amount of power with their inner shanks, which remains hidden. You will find very few shoes in the market that are comfortable and ready to walk when you are off the saddle. And these shoes are one of them. PD-ED500 and PD-T421 pedals will be the best match for these shoes and it is suggested by Shimano.  
The Shimano CT5 men's bike shoes are disguised very cleverly because, at first glance, you might think they are some normal urban sneakers. Whether you want a pair of cycling shoes for recreational riding or for commuting, these shoes will fill the requirements for both. With the advantage of cleat attachment, these shoes are perfect for most types of rides and will make your everyday cycling life much more feasible. These are also available in women's variants which are called the Shimano SH-CT5W. So, ladies – this will be a great option for you to get a pair of these shoes for making your everyday ride more pleasant and comfy.
---
Buying guide: Choosing the right size of shoe for you
If you happen to have a wider, then buying the right-sized shoes can be quite a challenge. Therefore; we'd advise you to keep a few things in mind while contemplating buying a cycling shoe for your wider feet.
Make sure the shoe you choose is stiff. Since this would aid you in transferring the power required from your feet to your pedals.
Also; ensure that you don't feel uncomfortable while wearing these shoes, this being a sign that the shoes aren't a fit for you. Moreover; your arch should be comfortable.  
Moreover; while you're standing up, if your toes touch the end of the shoe, then you should know that these shoes are too small for your feet.  
On the other hand, upon lifting your heel, if you notice that there is a gap between your foot and the shoe, then know that the shoes are too big for your feet. 
However; if you want enough room within the toe-box to wiggle your toes, then a space of 5mm should be sufficient. 
Generally, women's feet have different shapes for men. Therefore; you're advised to check the size guide before buying a shoe.     

The differences in type of biking shoes
We have tried to explain the differences in types of biking shoes. So; hopefully, this would aid you to understand the factors while shopping for a biking shoe.
Road-cycling shoes: If you require optimal pedaling efficiency, then you can go for road-cycling shoes. Moreover; these shoes tend to have very stiff soles. Also; they have 3-hole protruded cleats, which would connect your shoes to the clipless pedals. Lastly; these aren't exactly designed for walking, as they have very little tread.      
Mountain-bike shoes: Shoes of these types have grippy soles which you provide you with additional traction while you venture through rugged terrains. Also; there are generally two different categories for you to choose from: shoes that would clip into your clipless pedals, having 2-hole cleats, that are sunken in the soles of your shoe. Thus; making the process of walking easier for you. On the other hand, there are shoes that have sticky rubber soles, but no cleats, these would work well with your flat pedals.
Casual-bike shoes: These types of shoes generally look like sneakers and are quite a good choice if you happen to be a recreational rider who'd prefer having some of the features of biking shoes, while at the same time have a stylish and comfortable pair of sneakers. Moreover; casual biking shoes are compatible with clipless pedals. So; these shoes have cleats deep-set into the soles of the shoe, hence making the process of walking easier for you.              
Bike-shoe fit: So; you should always consider going for a pair of shoes that would fit you well and be comfortable for you, right from the very beginning. Moreover; your arch should be comfortable and accommodating. Also; it is vital to ensure that your heel doesn't slide up and down while pedaling.    
Bike-shoe features: Some of the key features of biking shoes include: varying footwear closure; this includes dials, laces, loop-and-hook straps, and lastly notched-cam straps with buckles. 
Comparison between different styles of biking shoe
Road-Bike Shoes
Mountain-Bike Shoes
Casual-Bike Shoes
Outsole
Smooth
Grippy base
(for enhanced traction)
Smooth- rubber outsole (similar to sneakers)
Sole
Very rigid
Rigid
Soft
Cleat-style
Pokes out from sole
Sunken into sole
Sunken into sole
Pedal-style
Generally 3-hole
(SPD-SL, Time & Look)
Clipless or flat
(for clipless, 2-hole; SPD, Crankbrothers, Time)
Clipless or flat
(for clipless, 2-hole; SPD, Crankbrothers, Time)
2-hole cleat: So; there are some road-shoes that use 2-hole cleats. These generally pair with pedals from manufacturers such as Shimano(SPD), Time, or Crankbrothers. Hence you should match these shoes with pedals that are compatible.  
Pedal compatibility between 2-hole & 3-hole cleats
3-hole cleat: Shoes for road-bikes mostly have 3-holes sunken into the sole. So; these are generally compatible with cleats and pedals manufactured by Shimano(SPD-SL), Look & Time. Additionally; a 3-hole cleat system means it'd provide you with enhanced stability and also allow you to transfer greater amounts of energy while you're riding. Moreover; the larger cleats mean, the force that you'd be applying to the pedal can be spread over a wider set of areas. Thus; this would reduce the pressure into the connection points. Hence allow you a secure connection, while you pedal hard. 
Consider the type of road-cycling you'll be doing, while buying a pair of shoes
If you take up a significant amount of time, getting on and off your bike: For example, you are into bike touring. Then we'd recommend you to go for a 2-hole cleat mountain bike shoe. However; if you want to walk easily, then you should go to city cycling shoes.
In case you want maximum efficiency and pedaling power: If you're a road cyclist who'd choose performance. Then we'd advise you to go for shoes having stiff soles and the ones that are lightweight in nature. Moreover; shoes made from carbon fiber material should do well. Since these have lesser weight and increased sole firmness. Thus; it would be able to offer you a solid performance. However; you'll have to pay a premium for it.
Cycling shoe accessories and features
So; cycling shoes are equipped with various kinds of shoe closures, these includes:
Lace: This would offer you greater comfort and the most tailored fit-out of all the other options in hand. Although; note that these tend to get dirty in atrocious weather conditions. Also; while you're using a shoe that has laces, make sure both ends are short enough when tied or securely tucked away so that they don't get caught in the chain of your bike.     
Loop-and-hook-strap: It would offer you a fast footwear closure while at the same time remain usable in wet and muddy conditions. Moreover; keep in mind that straps tend to stretch less compared to laces. Also; it will remain fastened. Furthermore; a majority of cycling shoes have either 2 or 3 straps. So; the greater the number of straps, the easier you can make adjustments to the fit.        
Dials/ratcheting cable-lace: Shoes having BOA with a dial mechanism, which aids in tightening a system, consisting of cable laces. So; all you need to do is turn a knob for adjusting the fit. Moreover; these dials usually have a fast-release system that would undo your laces.    
Notched cam-strap with buckle: Out of all the shoe closure options, this would be able to offer you the greatest amount of security and fastening-power. However; these are usually more expensive.   
Covers to choose for your shoes and toes
Bike-shoe covers: If you're venturing through wet or cold weather then it would help you a great deal if you use a pair of shoe covers over your cycling shoes. So; these covers are generally made from neoprene or laminated using rubber. Thus; this would be able to provide you with sufficient insulation and resistance from the water. Also; there are cutaways on the soles for accommodating cleats. Note that these shoe covers are only to be used while you're riding, you should immediately take these off, while you're walking. Since it wasn't designed for that purpose.           
Toe-covers: Suppose you're driving through chilly conditions, then you'd be better off if your toes remain covered. Furthermore; these would offer you a simpler solution to that of shoe covers. Also; keep your feet warm at the same time.
Outsole stiffness for various models of Shimano's shoes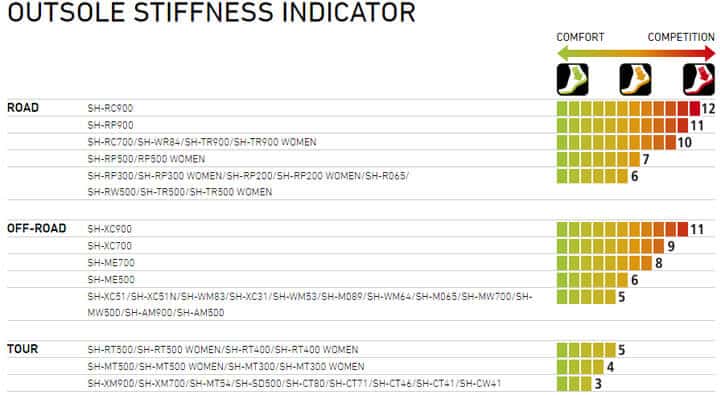 Shimano Footwear Size Chart
| | | Men's | | |
| --- | --- | --- | --- | --- |
| EU Shoe Size | US Shoe Size | UK Shoe Size | cm | Foot Length (mm) |
| 33 | 1.8 | | | 205 |
| 34 | 2.3 | | | 212 |
| 35 | 3.2 | | | 218 |
| 36 | 3.7 | 2.7 | 22.5 cm | 225 |
| 36.5 | 4.2 | 3.2 | 23 cm | 230 |
| 37 | 4.5 | 3.5 | 23.2 cm | 232 |
| 37.5 | 4.8 | 3.8 | 23.8 cm | 238 |
| 38 | 5.2 | 4.2 | 24.2 cm | 242 |
| 38.5 | 5.5 | 4.5 | 24.5 cm | 245 |
| 39 | 5.8 | 4.8 | 24.8 cm | 248 |
| 39.5 | 6.2 | 5.2 | 25.2 cm | 252 |
| 40 | 6.7 | 5.7 | 25.5 cm | 255 |
| 40.5 | 7.2 | 6.2 | 25.5 cm | 255 |
| 41 | 7.6 | 6.6 | 25.8 cm | 258 |
| 41.5 | 8 | 7 | 26.2 cm | 262 |
| 42 | 8.3 | 7.3 | 26.5 cm | 265 |
| 42.5 | 8.7 | 7.7 | 26.8 cm | 268 |
| 43 | 8.9 | 7.9 | 27.2 cm | 272 |
| 43.5 | 9.3 | 8.3 | 27.5 cm | 275 |
| 44 | 9.7 | 8.7 | 27.8 cm | 278 |
| 44.5 | 10.2 | 9.2 | 28.2 cm | 282 |
| 45 | 10.5 | 9.5 | 28.5 cm | 285 |
| 45.5 | 10.9 | 9.9 | 28.8 cm | 288 |
| 46 | 11.2 | 10.2 | 29.2 cm | 292 |
| 46.5 | 11.5 | 10.5 | 29.5 cm | 295 |
| 47 | 11.8 | 10.8 | 29.8 cm | 298 |
| 47.5 | 12 | 11 | 30.2 cm | 302 |
| 48 | 12.3 | 11.3 | 30.5 cm | 305 |
| 49 | 13.2 | 12.2 | 31.2 cm | 312 |
| 50 | 14.2 | 13.2 | 31.8 cm | 318 |
| 51 | 15.2 | 14.2 | 32.5 cm | 325 |
| 52 | 16.2 | 15.2 | 33.1 cm | 331 |
| | | Women's | | |
| --- | --- | --- | --- | --- |
| EU Shoe Size | US Shoe Size | UK Shoe Size | cm | Foot Length (mm) |
| 33 | 2.5 | | | 205 |
| 34 | 3.3 | | | 212 |
| 35 | 4.1 | | | 217 |
| 36 | 4.8 | | | 224 |
| 36.5 | 5.2 | 3.2 | 22.5 cm | 228 |
| 37 | 5.5 | 3.5 | 23.2 cm | 231 |
| 37.5 | 6 | 4 | 23.5 cm | 235 |
| 38 | 6.5 | 4.5 | 23.8 cm | 238 |
| 38.5 | 6.9 | 4.9 | 24.2 cm | 242 |
| 39 | 7.2 | 5.2 | 24.5 cm | 245 |
| 39.5 | 7.5 | 5.5 | 24.8 cm | 248 |
| 40 | 7.8 | 5.8 | 25.2 cm | 252 |
| 40.5 | 8.2 | 6.2 | 25.5 cm | 255 |
| 41 | 8.5 | 6.5 | 25.8 cm | 258 |
| 41.5 | 9 | 7 | 26.2 cm | 262 |
| 42 | 9.5 | 7.5 | 26.5 cm | 265 |
| 42.5 | 10 | 8 | 26.8 cm | 268 |
| 43 | 10.4 | 8.4 | 27.2 cm | 272 |
| 43.5 | 10.8 | 8.8 | 27.5 cm | 275 |
| 44 | 11.2 | 9.2 | 27.8 cm | 278 |
FAQs
Q1. Why do I need wide cycling shoes?
Ans: Wide shoes can provide large rooms for the bones of your feet so that they can move freely. You can also move your feet dynamically under extreme situations. Moreover, a larger surface will maintain frequent shoe-to-pedal contacts for improving handle and stability. That is why wide cycling shoes are obvious if you are looking for something that can make both cycling and walking comfortable.
Q2. Where to find wide cycling shoes from Shimano?
Ans: Shimano shoes are popular worldwide and you can find them in almost any local retailer shop. Moreover, there are lots of online sites that sell high-performance shoes like Shimano, Giro, Northwave, Adidas, Peral iZUMi, Ride Concepts, Fi'zi:k, and other popular shoes from many reputed brands. This will reduce a lot of your hard work as you can buy a pair of shoes from a huge range of selection sitting in your home. But you should go for the trusted authority sites when buying something online as some of the online shops are fraud and you can fall into the trap of cheating. Going physically to local shops and buying items allow you to try them out before buying. So, that is a great option. However, you may not find your desired model for the scarcity of selection.
Q3. What does the stiffness index stand for?
Ans: The stiffness index from Shimano works as an indicator to give the customers a hint of the outsoles of the shoes. Usually what this index does is to let you know how stiff and rigid the outsole of the shoe is. The lesser the stiffness number, the more comfortable the shoe will become. Hence, if you want something more competitive; you should choose a pair of shoes with a higher stiffness number. Generally, the road shoes hold the top position in the stiffness indicator while the indoor shoes remain at the bottom. Take a look at the stiffness indicator chart to get an overall idea by yourself –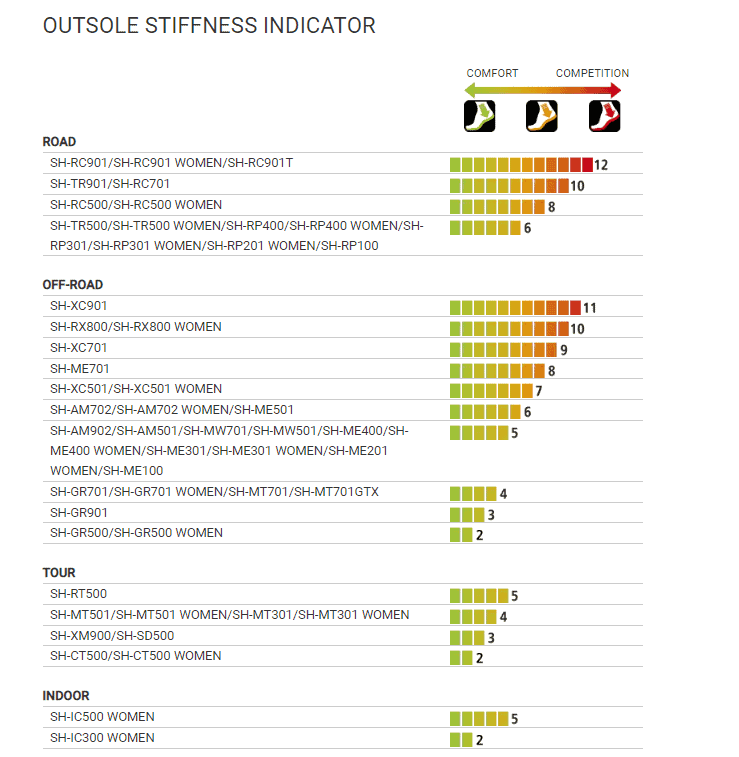 Q4. How do I know the appropriate shoe size?
Ans: Shimano never hesitates to tell you the exact size of the shoe. Their shoes are very nice and their size number is clearly written on the sole. In different regions, people use different types of units to measure shoes. As a result, some people may get confused about it. To eliminate this confusion, Shimano has presented a size chart for you. Below is this size chart from Shimano has given so that you can find the right shoe size for yourself –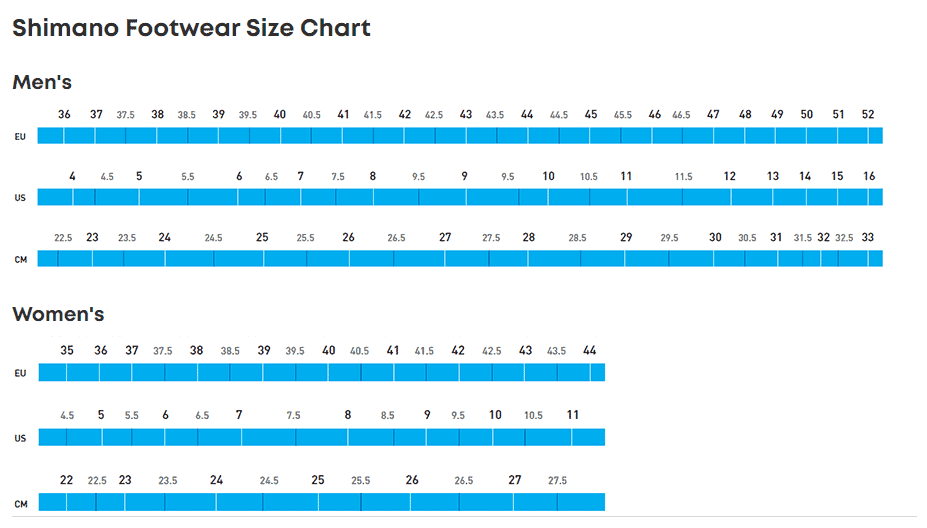 Q5. What is the expanded cleat adjustment feature?
Ans: With the expanded cleat adjustment feature, you will be able to get the benefit of a combined fore and aft cleat adjustment. The combination offers 22mm of total adjustment where you can adjust 11mm from the cleat and another 11mm form the outsole. This feature offers you the opportunity to find the best position of the cleat you can possibly find. This picture below demonstrates this feature for various types of Shimano shoes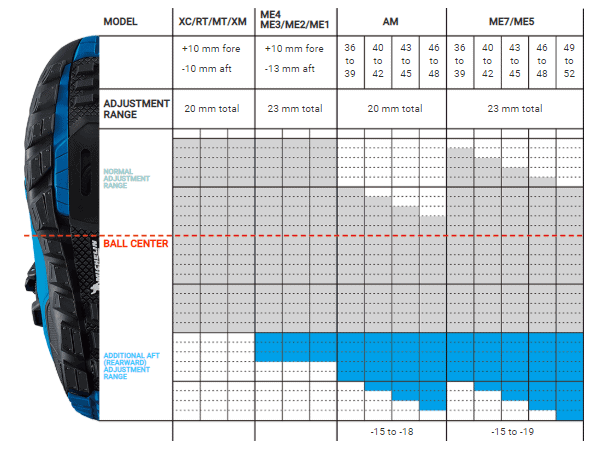 Conclusion
Perhaps, this article presents you with a list of the best wide cycling shoes that Shimano can offer. If you read the article completely, you will get an idea of this by now. These are some of the great shoes that will offer a wide surface for both cycling and walking. And if you are a fan of Shimano, then go ahead and buy one of these shoes keeping your eyes blindfolded. All of these shoes are unparalleled to each other in terms of purpose and we can assure you that you will not be regretted with your purchase. 
Although we do not consider these shoes to be inferior in any way, people may still have their own preferences. But before you buy, we recommend you to do hard research about the product by reading a lot of online forums and articles. You can also try your particular choice of shoes in the local shops before buying them. And advice from the experts will always be helpful for purchasing almost anything. Hope this article was beneficial to you even for a little and thanks a lot for reading it spending your valuable time.
Related Readings
---
Helpful Resources:
(Visited 1,688 times, 3 visits today)
Last update on 2020-11-30 at 02:40 / Affiliate links / Images from Amazon Product Advertising API
Close