Identifying and going for the ideal exercise bike can be quite hectic and a challenging task. If you cannot decide upon it properly, then chances are you will end up having a type of exercise bike that doesn't serve your purpose. So, you are advised to make a choice only when you get to understand the specifications of these bikes in detail. A Spin bike and Exercise bike consists of many advantages. While at the same time both these bikes also have a few disadvantages as well, if you take into consideration, their features and the intensity of workout sessions.
The major difference between a spin bike and an exercise bike is how the flywheel system works. On a Spin bike, the flywheel is comparatively heavier and it is attached to the pedals of the bike with the help of a chain. In order to move this heavy flywheel, you will be required to put more work in, while pedaling. However, inertia will cause the pedals on this bike to keep on rotating even when you're done pedaling. This is quite similar to the resistance control that you will find in conventional outdoor bikes. So, overall it will provide you with a greater ' 'pedaling cadence' and ensure that you have an efficient workout session.
Spin bikes
Spin bikes nearly simulate the motion of a conventional everyday outdoor bike. If you compare these bikes to the regular upright bikes, you'll see that these bikes are capable of supporting a number of different exercise routines. It will also permit you to pedal while you maintain a standing posture, much like a traditional everyday outdoor bicycle. Pedals that are installed within these bikes are specially designed so that you can maintain a number of exercising positions. Spin bikes have in general a flywheel that is comparatively large in stature. These wheels are generally positioned at the forefront of the bike and are autonomous from the pedals. The flywheels weigh approximately 16 kgs. Thanks to this distinct setup of flywheels, it'll make sure that you have potent work out sessions. For a smooth and quiet workout session, the required weight of the flywheel should be about 9 kgs.
➥ Side Note: If you intend to save space in your home gym, you can take a look at our recently reviewed spin bikes that are best for home users.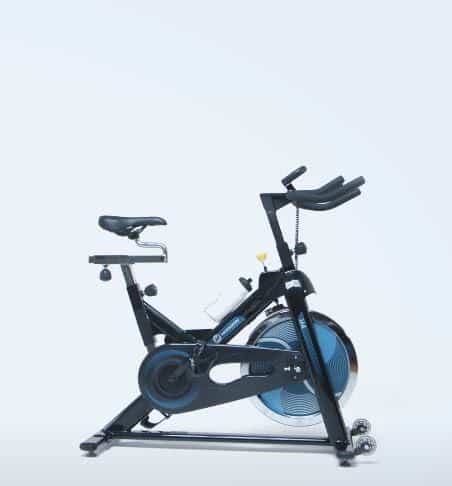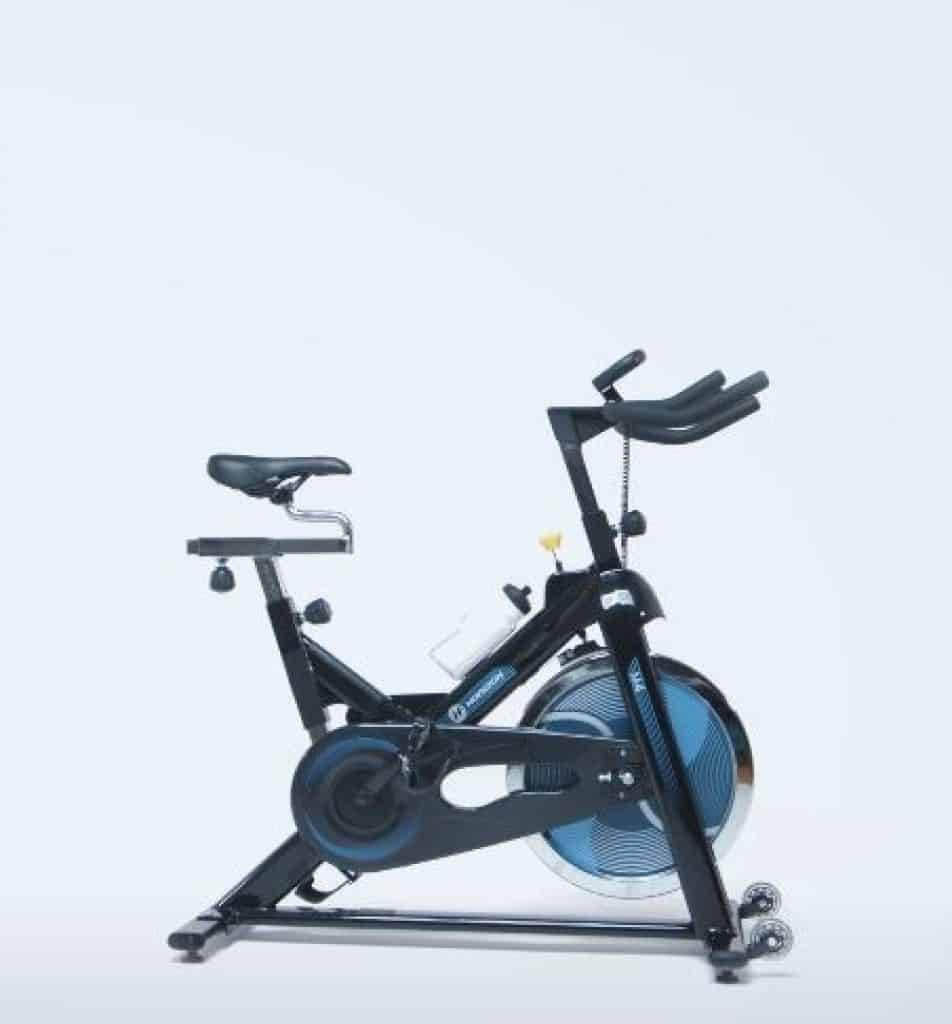 Image: Spin Bike
Benefits of using Spin Bikes
The anchored wheels on these bikes will aid you to master your pedaling routine.
These bikes are manufactured and assembled using premium quality hardware.
You will be able to make adjustments to the heights of both the saddle and handlebars.
You can effortlessly compose your body structure in a spin bike.
The levels of resistance on this bike can be altered much easily.
You would be able to stand on the pedals of these bikes whenever you want.
Spin bikes are the perfect solution to your high-intensity interval-training, HIIT.
It will help you to maintain a similar posture and simulate a regular outdoor bike.
Spin bikes consist of fixed-gears, even if you do not apply force into the pedals, these gears will keep on revolving and ensure work is done on your leg muscles.
Spin Bikes are ideal for usage if you want an intensive workout session.
➥ Side Note: Though magnetic resistance based spin bikes are costlier than regular spin bikes, we shall suggest you choose magnetic resistance based spin bikes for a wide range of resistance levels, smooth operations, and durability.
➥ Side Note: Spin bikes are not so costly. Even you can pick a quality spin bike for under $500.
Drawbacks of using Spin Bikes
Your upper body gets less amount of work out.
Improper posture may cause back pain for a few users.
Initially, the seats on spin bikes may feel a bit uncomfortable.
The diagram below shows the top 10 benefits of Spin Cycling.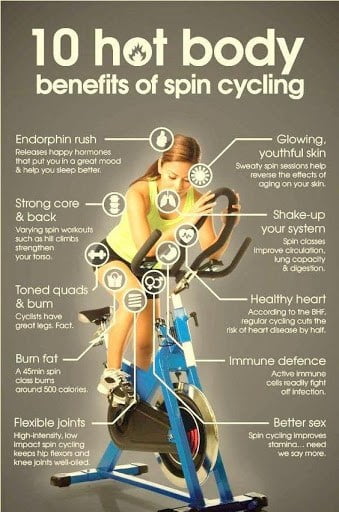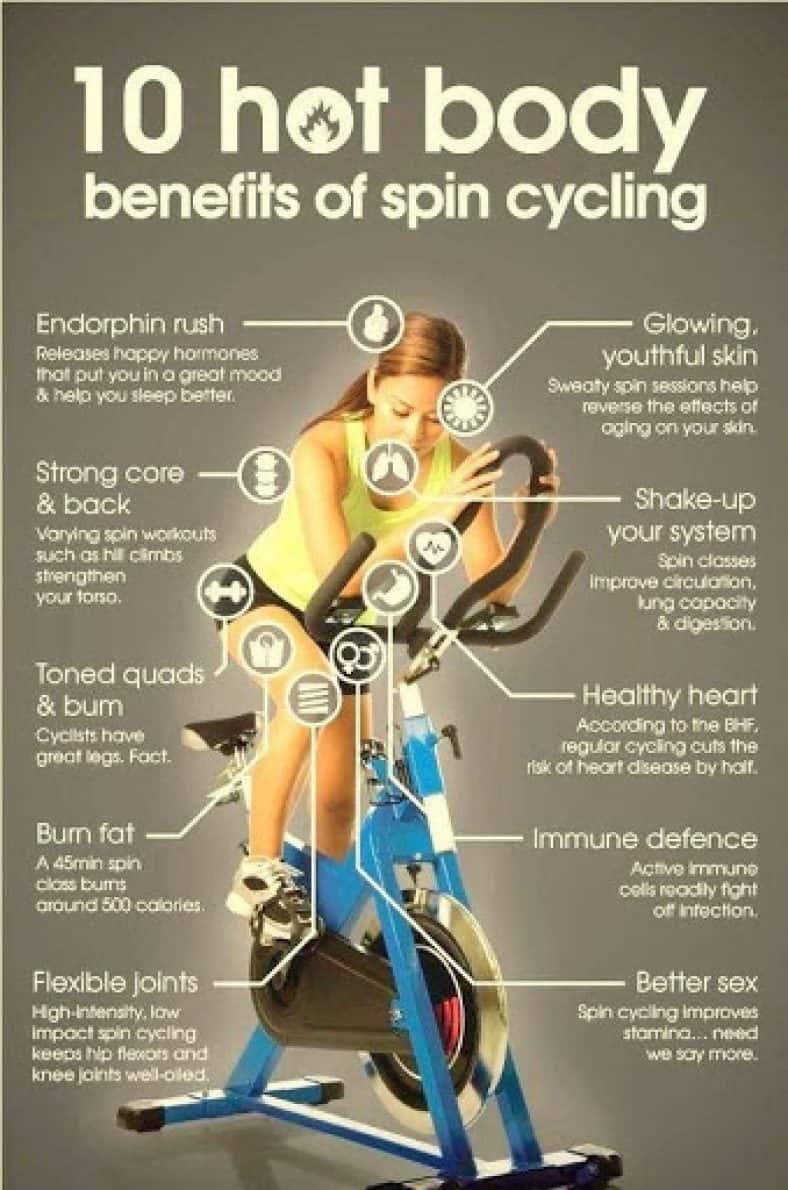 Exercise bikes
When it comes to the question of exercise bikes, it can either mean an Upright bike or a Recumbent bike. Both Upright and Recumbent bikes can be quite comfortable, so it will ensure that you have a pleasant experience during your workouts. Conventional exercise bikes mimic regular outdoor bicycles, except, these bikes don't have tires on them. These bikes usually have a sturdy base, where the handlebars, pedals, and the seat of the bicycle are connected. This prevents the bike from moving forward as you are pedaling. Most manufacturers consider comfort as of utmost importance when designing these bikes. These types of bikes consist of well-padded, adjustable seats, these seats tend to be wider compared to conventional bike seats. So you can choose to either stand in an upright posture or remain in a recumbent position while you're using these bikes. If you pedal while in an upright position then more emphasis will be put on your legs and glutes compared to other portions of your body. This can be of help if you suffer from back issues. A number of exercise bikes are equipped with either an electronic watch digital display or an LED display that will aid you in monitoring your speed, total calories burned, heart rate, customized programs, and even music control. This is what makes exercise bikes a very renowned choice among most people. Also, you can buy one of these bikes at a very modest price. If you consider having indoor cycles for cardio sessions at home then exercise bikes are a very good option for you.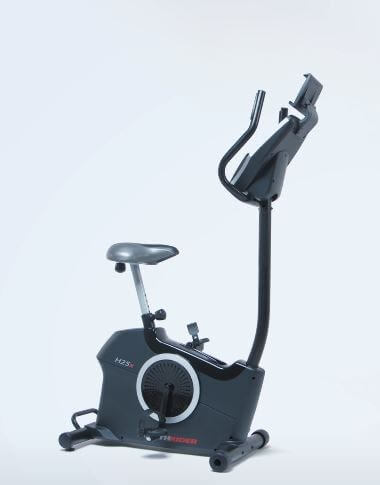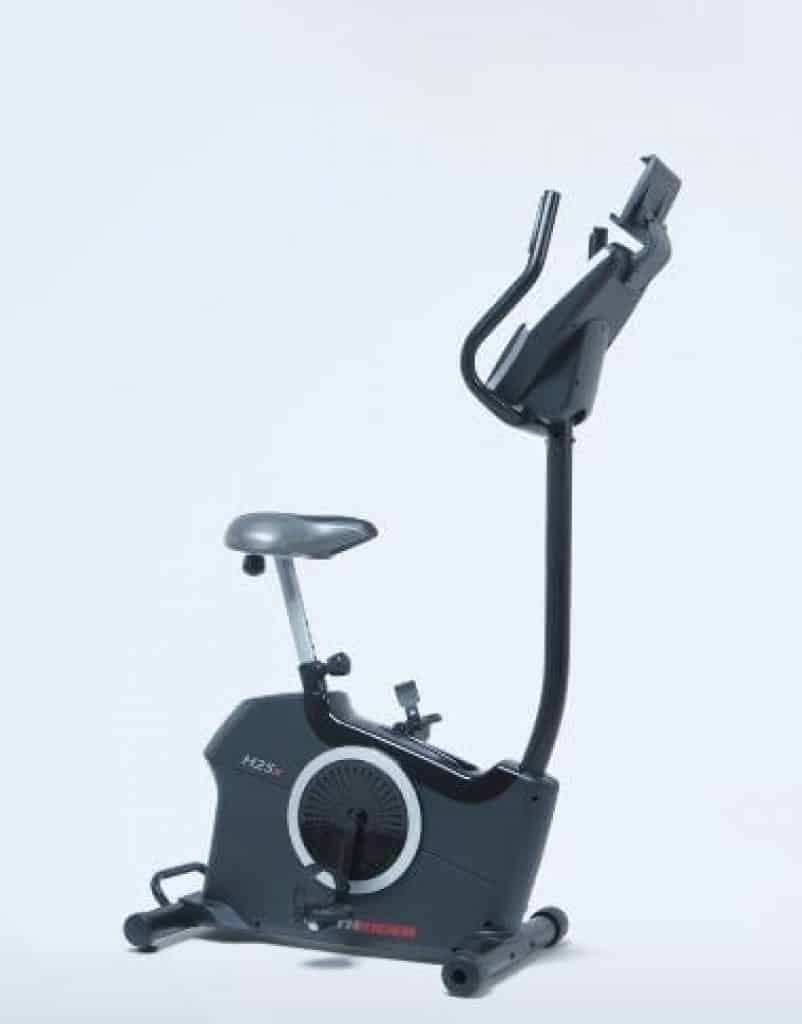 Image: Upright Bike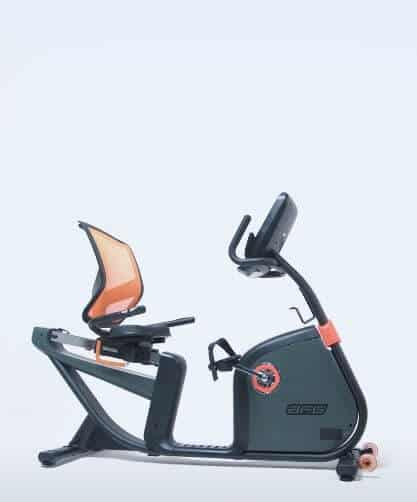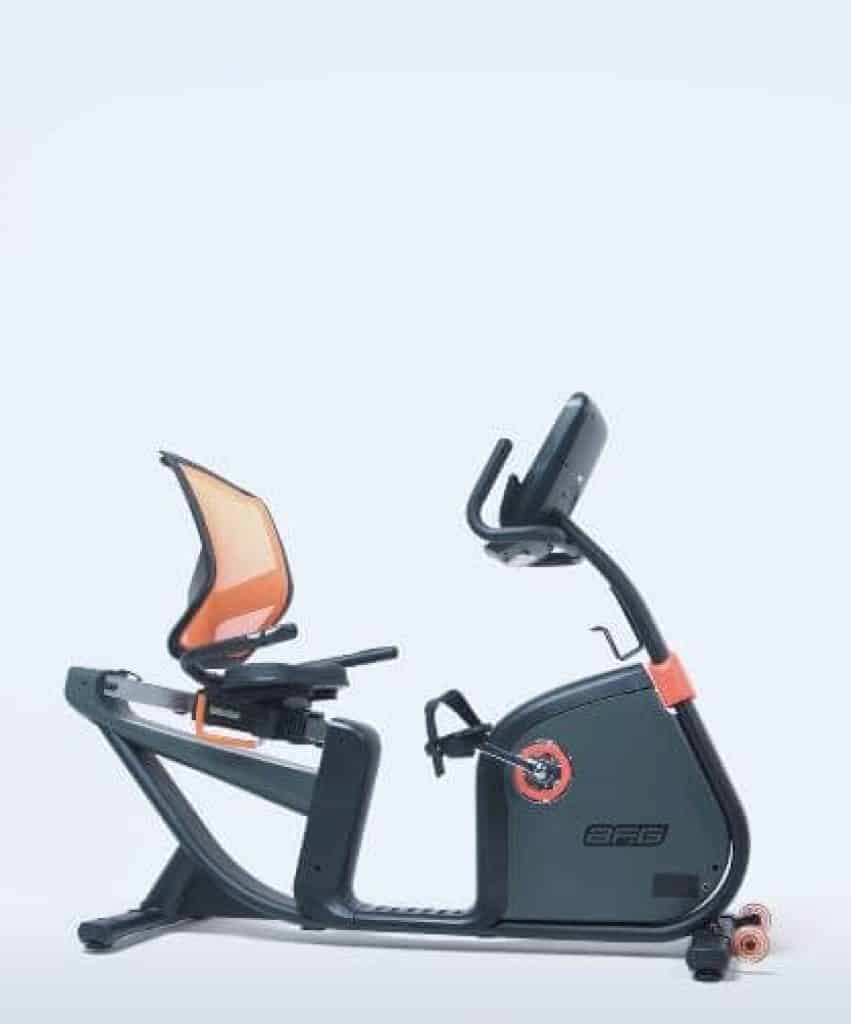 Image: Recumbent Bike
Benefits of using Exercise Bikes
Exercise bikes are more economic and require less space to be accommodated.
For a majority of exercise bikes, you can easily fold these up when it is not being used.
Upright bikes have handlebars that are a lot straighter and higher up so you will need to keep your back straight, maintaining proper posture as you sit and pedal on these bikes.
In most cases, exercise bikes are equipped with a bigger console, having information related to your speed, during your workout, heart rate, and total calories burned.
On exercise bikes, you will be able to perform a wide range of workouts, from beginner level all the way to advanced level.
Many exercise bikes are able to accommodate your music players, smartphones, and also consist of a built-in sound system and compartment to hold your water bottles.
Exercise bikes target a number of different muscles on your body, such as your quads, calves, glute, hamstrings, it also does a lot of work on your core as you keep your body upright. At the same time, it works on your upper body, your shoulders, and biceps.
Drawbacks of using Exercise Bikes
It can turn out to be a bit monotonous, in time.
It works on only a specific set of muscles in your body.
You cannot get in touch with nature while cycling indoors.
Comparison between Spin bike & Exercise bike
| | Spin bike | Upright bike | Recumbent bike |
| --- | --- | --- | --- |
| Seat | Wide but has limited padding | Narrow with bit of padding | Consists of a backrest to support your back, has a bit of padding |
| Handlebars | Hunched; Inclined horizontally | Slightly hunched | Positioned comfortably, parallel to the backrest |
| Pedals | Under the body | Under the body | Front of body |
| Console | Yes, Electronic watch display in most cases | Yes, Electronic watch display or LED display | Yes, Electronic watch display or LED display |
| Muscles worked on | Core, Quads, Triceps, Hamstrings, Back, Calves, Biceps, Shoulders | Calves, Quads, Hamstrings, Glutes | Calves, Quads, Hamstrings, Glutes |
| Target group | Almost all users without any joint problem, any age group | Almost all users without any joint problem, any age group | Users with joint issues, such as knees, ankles and hips |
| Burn of Calories | Burns more calories as more muscle groups are targeted | Calories burned is less as only a few muscle group is targeted | Calories burned is less as only a few muscle group is targeted |
| Resistance | Offers frictional-resistance, Operated using rotating knob or electronically | Serves Electro-magnetic resistance, Operated manually, Offers better simulation | Serves Electro-magnetic resistance, Operated manually, Offers better simulation |
| Safety | Solid | Solid | Very solid |
| Weight Loss | Significantly more than exercise bikes | A lot less than spin bikes | A lot less than spin bikes |
| Riding position | Mimics road-racing bikes, caused you to lean forward | Upright position, keeps your spine straight | Having a reclined body position, with your spine flat and parallel to the backrest |
| Price | Expensive | Economic | Economic |
The table below represents the amount of work done by different forms of exercise compared to indoor biking.


Frequently Asked Questions
Q1: What are the basic differences between a spin bike and an upright bike?
Ans.: The usual upright bike consists of a freely revolving magnetic-freewheel. The pedals on this bike instantly stop moving as you are done pedaling. Also, an upright bike consists of features that include programs, a wide-size; cozy seat, and a console. On the other hand, spin bikes are manufactured to imitate road-bikes. The pedals on this bike rotate, as long as the flywheel on this bike rotates. Spin bikes are specially designed for more advanced riders to carry out training sessions and simulations for outdoor races or for high-magnitude spin sessions. The other major difference between an upright bike and a recumbent bike is that a recumbent bike is fitted with a backrest and its pedals are positioned further away from the body.
The diagrams below show the anatomy of a Spin bike, Upright bike, and Recumbent Bike.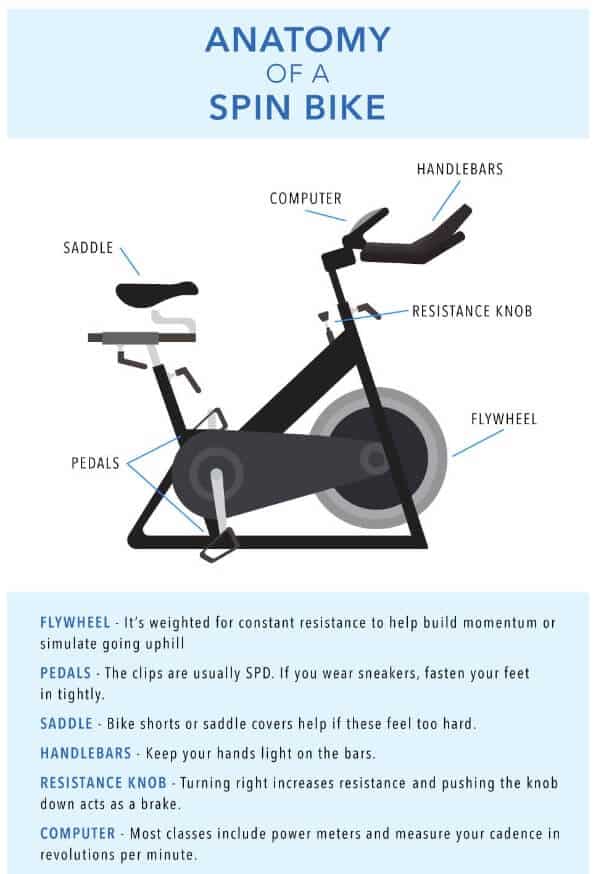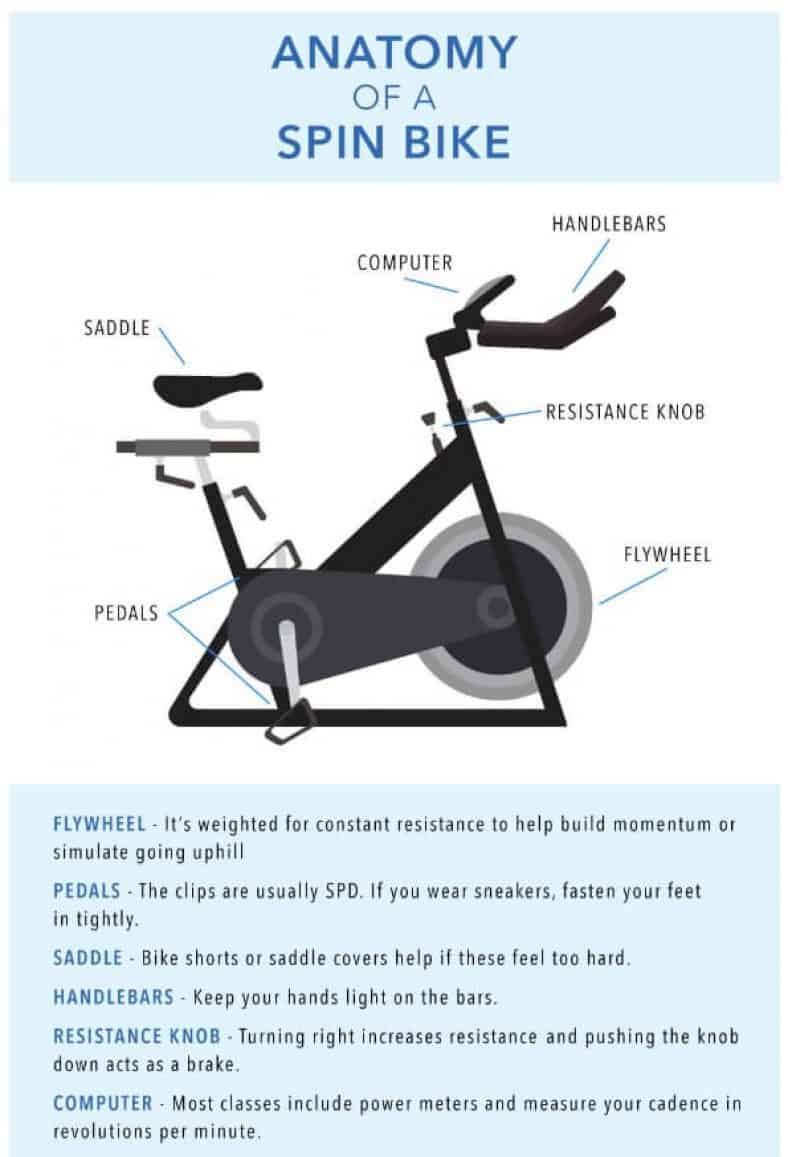 Source: blog.mapmyrun.com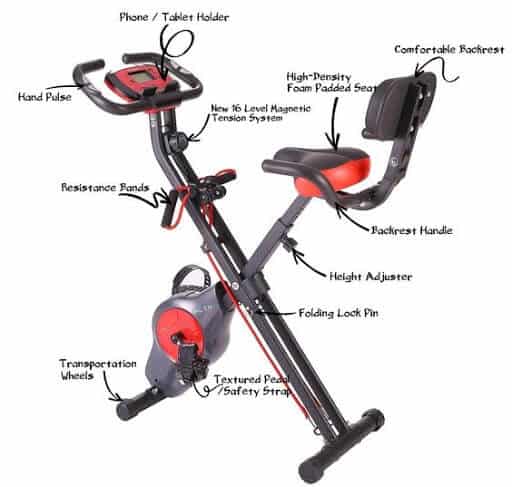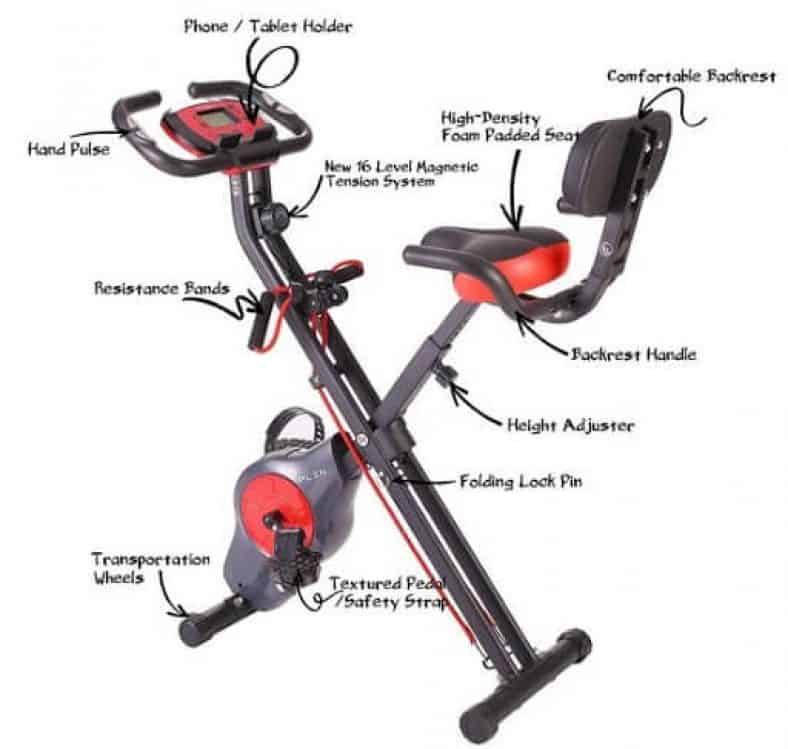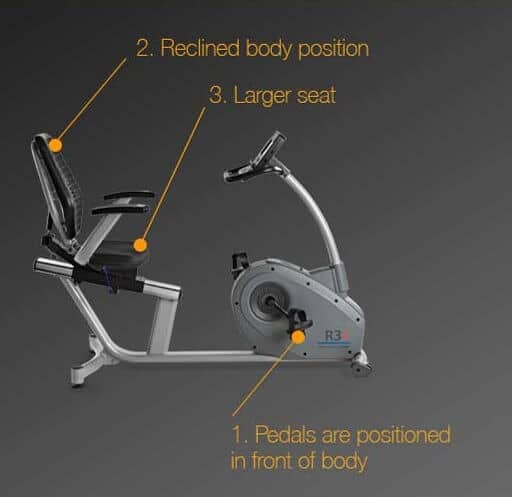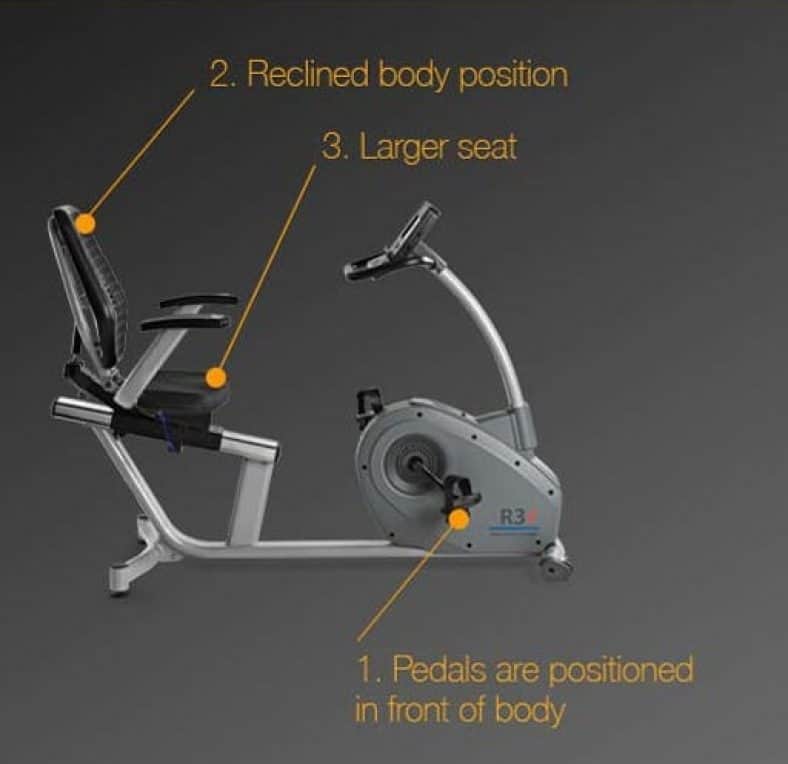 Source: lifespanfitness.com
The video below will demonstrate how you can set up your bike by yourself after you've bought it.
Q2: How much do I have to pay for an exercise bike?
Ans.: The price of an exercise bike depends on the number of features you're looking for in a bike. You can choose between Economic, Intermediate-Range, or High-priced exercise bikes.
Economic exercise bikes: If you go for this option then you'll not be having too many features equipped to the bike. Also, these bikes may be required to be powered up manually. If you are new to indoor biking, then getting yourself a cheaper exercise bike can turn out to be a very shrewd investment.
Intermediate-range exercise bikes: If you're someone who has been using a spin or exercise bike for a while, in the gym. Now you may contemplate getting yourself an indoor bike for your house, for using it regularly. However, you do not want to spend over the top, in such a scenario, you can opt for an intermediate-range indoor bike. You should be able to power up this bike electronically, it would also be able to offer you a greater resistance-level training session. Also, it should be equipped with features such as tracking your heart rate, pulse levels, and the number of calories you burn during your workout sessions.
High-priced exercise bikes: Provided you want to spend a significant amount of your time indoors, staying in shape and you are a veteran at using indoor bikes. Then you can definitely go for an expensive exercise bike. Having a high-end exercise bike means you will be able to sync your smartphone or other gadgets using Bluetooth, this will enable you to track your workouts on your gadgets as well. You can also opt for a Spin or Peloton exercise bike. These bikes have large colored-screens, you will be able to watch fitness videos online while you're cycling.
Q3: In order to accommodate my indoor bikes, how much space is required?
Ans.: The amount of space required depends on the type of exercise bike you use and if this bike can be folded. If you go for an upright bike then it would not take up too much space, inside your house. These bikes generally have a dimension of 1 m x 0.5 m (l x w). You should think of having half a meter of space around your bike, in the room that you want to set up your bike. Whereas, if you get yourself a recumbent bike, this will require you to cycle in a reclined position. So, compared to upright bikes, this will need more space. Recumbent bikes usually have lengths between 1.6 m to 2 m. The spin bike requires almost a similar amount of space as an upright bike.
Q4: Which muscles in your body does exercise bikes target?
Ans.: If you use indoor bikes, it will tone your buttocks, legs, thighs as well as abdominal and back muscles. Also, if you further increase the resistance on your exercise bike then your muscle groups will be targets further. If you are comparatively new to cycling or indoor cycling, then we suggest you initially start with a low resistance level. This will help you to warm up and increase your endurance. As you get used to this, you can move into increased levels of resistance, this will help you to gain more muscle mass. Some of the muscles that are targeted for different regions of your body are as follows:
Lower body: Calves, Glute, Quads, and Hamstrings
Core: Back and Abdomen
Upper Body: Biceps and Triceps
The diagram below shows a representation of this: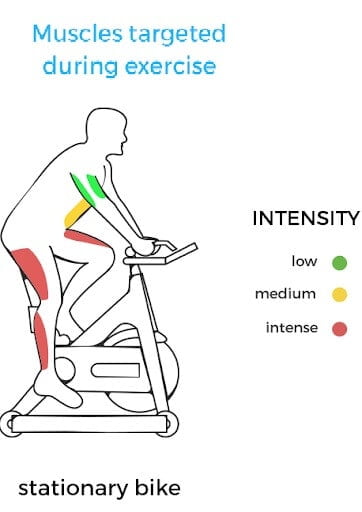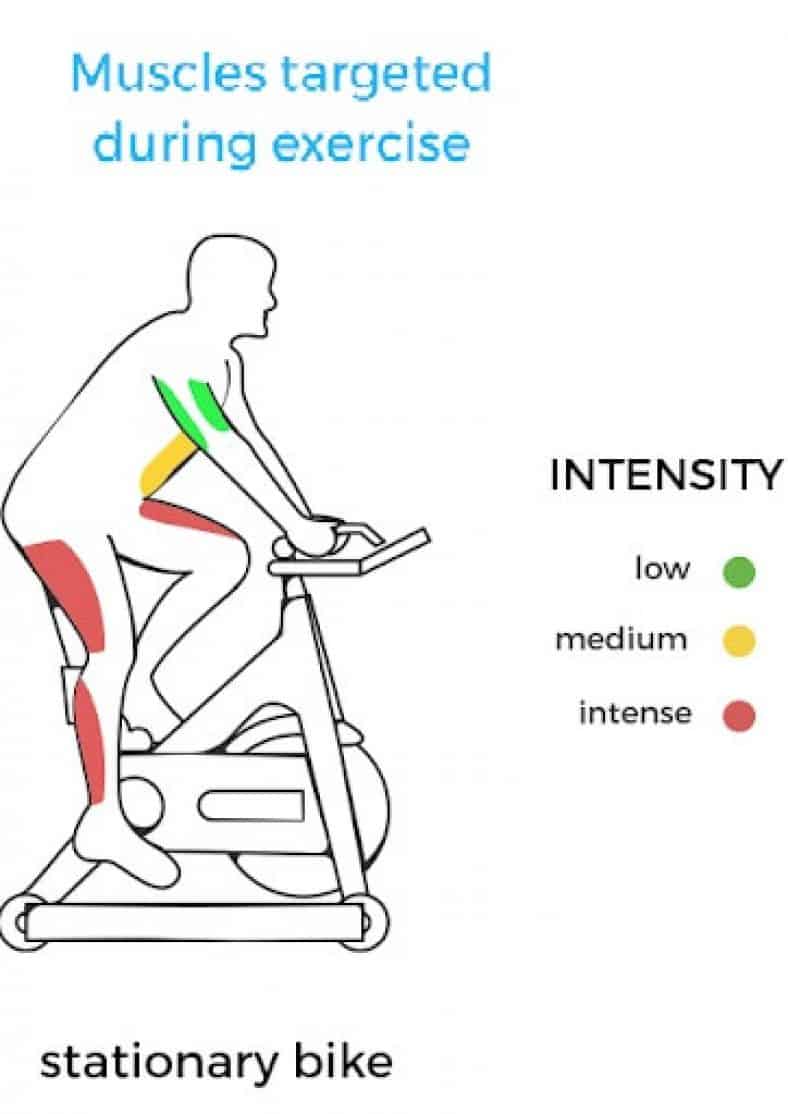 Source: res.cloudinary.com
The following video will give you a summary of the benefits of using exercise bikes.
Q5: What are some of the advantages of using an indoor bike for losing weight?
Ans.: If weight loss is your ultimate goal, then Spin bikes and Exercise bikes will do a really good job. These bikes will help you to burn your calories effectively. The greater the intensity of your workouts, the more calories will you end up burning in the process. But as you enhance the intensity of your workouts, the more difficult you will find it to keep ongoing. We advise you to switch between cardio sessions and intensity workouts. You should go for cardio every one or two days a week and high-intensity workouts at least once a week.
The table below represents the number of calories you burn upon carrying out different types of activities.
➥ If you've set your sights on shedding some pounds, then, you should definitely have a look at the range of exercise bikes for losing weight.


Q6: Which category of bike will be best suited to be used by senior citizens?
Ans.: Out of all the types of indoor bikes that we have discussed, within this article, recumbent bikes will be best suited for the aged group of people. This is also applicable to people who have any forms of backaches or joint pain. You can effortlessly get up and off these bikes. Recumbent bikes are also designed with a back-support, this will make sure that you do not suffer from any strain on your back. You can sit in a comfortable position and carry on without exercises while your back remains properly supported.
➥ Many manufacturers design exercise bikes ideally designed for seniors. So, if you're planning on getting one, then have a look at the series of recumbent exercise bikes for the elderly.
Conclusion
The usage of an indoor bicycle can be a great alternative method of cranking up your fitness at the safety of your home. The choice of your indoor bike, be it a Spin Bike, Upright Bike or a Recumbent Bike comes down to your preference, goals, and fitness routines. Each of these bikes will help you to increase your endurance, keep your cardiovascular health in check, and especially help you to lose fat in and around your core. However, if you want a bike for high-intensity workout sessions, one that will target a wide range of muscle groups throughout your body, then a Spin Bike will be perfect for you. This bike will ensure that you have a fast yet efficient workout session. Although you happen to be comparatively new to cycling, then we recommend you to go for an upright bike. Lastly, if you have a back problem but want to lose weight, then a recumbent bike should be perfect for you.