If you are a beginner level cyclist who just started indoor cycling, then cycling shoes are not mandatory. Normal sneakers for regular use will just do fine for a while. That being said, if you have already become attached to an indoor cycling habit and you are thinking you might continue this habit for a long time, then you definitely need some competent pair of cycling shoes.
As there can be a huge selection of indoor spin shoes, one can easily get confused about choosing the right one that fills his requirements. And as for clipless pedals, compatible shoes are obviously required. Because these types of shoes can offer many stable platforms for constant efficient pedaling. So, to put an end to your worries and make your job easier; We have brought you a list of 12 suitable shoes. We are sure that these shoes will be very useful to you in one way or another.
After exclusive research for prolonged hours, we have finally come up with a list of the best indoor cycling shoes that are best for women. We found the Pearl iZUMi Women's Select Road V5 somehow fascinating and it beats other shoes compared to feature, build quality, versatility, and adjustability. That is why we have entitled this pair of shoes as our "Overall Best Choice".
In the following table, we've listed the best indoor specific cycling shoes for women:
12 best indoor cycling shoes women you can order today
Our list of the best indoor women cycling shoes includes the following shoes. Take a look at what we have selected for you.
As usual, we have chalked out a comparison table for you so that you can easily get a quick overview of all the products in case you don't have much time to read the entire post. Although this comparison table may help you to compare the products and make it easy for you to choose the shoes of your choice, please try to read the whole article if you want to get in-depth details for all the shoes.   
| Shoe | Preview | Type | Weight (Pair) | Upper Body Material | Midsole | Outsole | Footbed | Closure | Cleat Included | Acceptable Cleat Mount |
| --- | --- | --- | --- | --- | --- | --- | --- | --- | --- | --- |
| TIEM Slipstream | | Indoor Cycling / Cycling | 1lbs | Mesh | EVA | Rubber | EVA | 1 Velcro Strap | No | 2-bolt |
| Gavin Indoor Fitness Cycling Shoes | | Indoor Cycling / Mountain Biking | 1.5 lbs | Mesh / Microfiber Leather | Nylon Fiberglass | Nylon Fiberglass | EVA | 3 Velcro Strap | No | 2-bolt |
| Tommaso Pista 100 | | Spinning / Road Cycling | 0.899 lbs | Synthetic Leather | EVA | Polyamide | EVA | 3 Velcro Strap | Yes | 2-bolt, 3-bolt |
| Louis Garneau Women's Multi Air Flex II | | Spinning / Cycling | 0.55 lbs | Synthetic Leather/Mesh | EVA | Multi Air Flex Nylon/Fiberglass | EVA | 3 Velcro Strap | No | 2-bolt |
| Venzo MX Cycling Shoes for Women | | Mountain Biking / Spinning / Excercise | 0.96 lbs | Synthetic Leather/Mesh | EVA | Nylon Fiberglass | EVA | 3 Velcro Strap | Yes | 3-bolt |
| Pearl iZUMi Women's Select Road V5 | | Spinning / Cycling | 1 lbs | Composite (Rubber / Plastic / Nylon) | EVA | Nylon / EVA / Steel / Rubber | EVA | 3 Velcro Strap | No | 2-bolt, 3-bolt (SPD) |
| Tommaso Terra 100 | | Indoor Cycling | 2.35lbs | Mesh | EVA | Rubber | EVA | 3 Velcro Straps | No | 2-bolt |
| Louis Garneau Actifly | | Indoor Cycling | 1.9lbs | Mesh | EVA | Nylon Fiberglass | EVA | 3 Velcro Straps | No | 2-bolt |
| Tommaso Strada 100 | | Indoor Cycling | 2.15lbs | Mesh | EVA | Rubber | EVA | 3 Velcro Straps | Yes | 2-bolt & 3-bolt |
| Venzo | | Indoor Cycling | 1.41lbs | Mesh | EVA | Nylon Fiberglass | EVA | 3 Velcro Straps | No | 3-bolt |
| Venzo with laces | | Indoor Cycling | 2.8lbs | Mesh | EVA | Rubber | EVA | Lace-up | Yes | 3-bolt |
| Santic | | Indoor Cycling | N/A | PU | EVA | TPR | EVA | 3 Velcro Straps | No | 2-bolt |
1. TIEM Slipstream:
Best for Indoor Cycling or Spinning
The TIEM Slipstream just might be the most comfortable shoes you will ever wear when you are taking spinning classes. This is a stylish pair of sneakers that deny sacrificing performance and comfort. Get hours of comfort while taking indoor cycling classes for its slip-on construction, breathable mesh toe box, and single strap closure engagement. These Slipstream shoes offer a ride-ready twist all the time and they are compatible with the SPD system.
These shoes are remarkable for their innovative design as anyone would barely notice them as spin shoes unless they are flipped over. The recessed SPD cleat assembly is the feature that makes them a total game-changer. This feature lets your feet have a decent engagement with the pedal as these shoes will not stick to the pedals. You will feel like you are wearing a normal pair of sneakers. However, the cleats don't come with these shoes; you have to buy them separately. 
2. Gavin Indoor Fitness Cycling Shoes:
For Both Men & Women with Mountain Bike Mesh
The Gavin Indoor Fitness Cycling Shoes are very ergonomic in design that also makes them very comfortable for use. These shoes are blessed with state-of-the-art technology and they can provide maximum power transfer for efficient pedaling. The design allows your feet to breathe and keeps them cool. Therefore, your feet will stay comfortable not compromising the performance. The design also provides excellent traction for an excellent cycling experience. This video gives a short introduction about these shoes – 
These shoes are made of synthetic microfiber leather that makes them durable and the breathable mesh panels are very functional for providing ease to your feet. Thanks to their stout-lugged and fiberglass-injected nylon soles, these shoes have somehow become useful for trail challenges. Yet they will look very stylish on your feet. All these features have made these shoes an excellent choice for spinning and they come at an affordable price.
Gavin Indoor Fitness Cycling Shoes
3. Tommaso Pista 100:
Spin Class Ready Shoes for Women
The Tommaso Pista 100 is an entry-level women's shoe that was built for spin classes. You will experience the best spin classes of your life with these shoes as the stiff fiberglass reinforced polyamide soles are capable of maximum power transfer and push your potential to reach its maximum limit. You will get an excellent engagement with these shoes for their 3-strap closure system. So ladies choose your favorite colors, clip-in with compatible cleats, and get ready to exceed your personal bests with these shoes.
Get an incredible power for every pedal stroke with these shoes as they promote the design to have a perfect segway for clipless riding. These are dual compatible shoes, which means they work flawlessly for both SPD and SPD-SL cleats. The Pista 100 is a perfect shoe for you no matter if you are an avid indoor spinning goer, an experienced road racer, or potentially new to clipless cycling.
4. Louis Garneau Women's Multi Air Flex II:
Indoor Cycling Shoes with Multi Air Flex
If you are looking for some sort of shoes that can fulfill all your cycling needs, then the Louis Garneau Women's Multi Air Flex II shoes will be the most suitable choice. These best-selling Garneau shoes are appropriate for any type of cycling such as training, recreational cycling on weekends, commuting, and for spring classes. Furthermore, you can get them very easily as they are pretty affordable under anyone's budget. 
They not just only provide comfort for cycling but also provide excellent toe flexion for walking. These shoes will prevent your feet from overheating with a combination of Multi Air Flex outsoles and ventilated EVA insoles. This ventilation will allow air to pass through every corner inside the shoe. Inside the cup, your heels will remain firmly in place for the HRS-80 retention and they will get better adjustment as well as support for the hook-and-loop fastener straps.  
Louis Garneau Women's Multi Air Flex II Bike Shoes
5. Venzo MX Cycling Shoes for Women:

Compatible with Peloton Bike, Dedicated for the Ladies
If you are a female who is looking for a pair of shoes that works completely for both convenient cycling and with Peloton bikes, then the Venzo MX Cycling Shoes for Women shoes will be the most suitable choice for you. Their 3-strap closure system will hold your feet tightly with the pedals and transfer more power for effortless and efficient pedaling.
These are skate-style shoes that can be used with cleats. As a result, they can be used for flexible walking as well as clipless cycling. Some of the awesome shoes available in the market which allow you to use them as a go-to shoe while your bike is parked and allow you to walk getting off your bike when you will be riding around the town.
Venzo MX Cycling Shoes for Women
6. Pearl iZUMi Women's Select Road V5:

To endure the challenging environment of indoor cycling

|
Overall best choice
The Pearl iZUMi Women's Select Road V5 shoes were inspired by the design of the top-of-the-line P.R.O. Leader v4 and they came re-engineering their upper part for ensuring instant comfort with a fully bonded construction. These shoes are equipped with improved nylon plates for increasing stiffness and boosting power transfer for quick acceleration. So while your feet are on the saddles with these shoes, you can enjoy full-day support.
The bonded upper also helps to minimize hot spots that eventually lead to the elimination of any kind of pressure coming from the instep. In order to endure the challenging environment of indoor cycling, Pearl Izumi has amplified the construction and materials. Inspired by the company's best selling road product, these shoes offer a clean and modern aesthetic look. These shoes were specifically engineered to work well under hot and humid conditions.
Pearl iZUMi Women's Select Road V5
7. Tommaso Terra 100 women's indoor shoes:
Comfortable & increase pedaling power
Tommaso has made this pair of beautiful looking shoes from high-quality material. So; Terra 100 Women's indoor biking shoes are very sturdy and dependable. Thus; you can be sure about the fact that you'd be able to ride with confidence and provide you the efficiency that you require. Moreover; these shoes have been designed with a lugged-rubber sole and recessed cleat attachment sections. Hence, you'd be getting yourself a versatile pair of indoor cycling walking shoes. Furthermore; these seem to have just the right amount of padding necessary in the heels and tongue sections of the shoe, so; you'd be served with an appropriate amount of comfort. Lastly; these shoes are equipped with a good hook and loop Velcro straps for a well-fitting throughout the course of its usage.   
Tommaso Terra 100 women's indoor shoes
8. Louis Garneau Actifly women's indoor shoes:
Breathable & flexible design
Louis Garneau and Reebok have partnered to develop a very well-designed indoor cycling shoe to meet your needs. So; one of the major differences, if you cycle indoors or outdoors, is, the amount of sweat you end up producing during the process of pedaling. Therefore; Actifly has been designed with its main focus on moisture-wicking and breathability. Moreover; the outsole on this shoe is designed using stiff nylon/fiberglass, so; there will be sufficient ventilation as well. Thus; this would aid you to give effortless and efficient pedaling strokes without requiring you to waste too much energy. Also; there are several air-channels placed throughout the outsole of the shoe. Hence, this would ensure a constant amount of airflow. Furthermore; moisture is also allowed to move out from the top since many sections of the Actifly are covered with mesh materials. Moreover; Louis Garneau used their most breathable insole for maximizing the airflow in Actifly. Additionally; the lining on the inside and ventilated insoles have antibacterial features for preventing odor for your feet after and keep moisture away after your workout. Finally, it is designed with reinforcement at specific places that would enable you to provide good and solid strokes, while pedaling. Lastly; the loop and hook fasteners and the rear straps would allow you to effortlessly put on these shoes and start your workout, instantly. These shoes are made to be compatible with a majority of road and SPD cleats.
Louis Garneau Women's Multi Air Flex II Bike Shoes
9. Tommaso Strada 100 women's indoor shoes:
Designed for spin class & it's ventilated mesh portions help to cool feet
Tommaso has specifically designed the Strada 100 for your spin class sessions. So; these would be able to offer you outstanding performance for the peloton and spin cycling. Moreover; the selection of cleats included has been designed to fit into any standard style of spin pedals. Also; the paddings on the inside of the shoe make sure that you're able to attain a high-level of comfort even along with the most gruesome spin cycling sessions.
So; these shoes would aid you in obtaining exactly what you need in terms of training and overall performance.  These have been designed to deliver you with the maximum amount of power transfer and also the comfort that you deserve. Also; assuring you with riding efficiency. Strada 100 is an entry-level dual cleat(SPD and SPD-SL) compatible indoor biking shoe.
Tommaso Strada 100 women's indoor shoes
10. Venzo women's indoor shoes:
Ease of gearing in. Breathable design + Ultralight
Venzo women's indoor bike cycling shoes are designed using the most advanced technology. Also; it has got hot-seal straps which would look more tempting, rather than the bland regular-sewing ones. Furthermore; the materials used for these products aren't recycled, rather they are totally raw and brand new, this would ensure, if you use it for long durations, there won't be any foul odor from these shoes. Additionally; these shoes also happen to be pretty stiff, this ensures that there aren't any losses in energy while you're riding. Moreover; the soles on these shoes have heat-insulating capability. So; these are the perfect shoes for your indoor spin classes. Also; these shoes happen to be one of the most versatile shoes you'll find out there.
11. Venzo with laces women's indoor shoes:
Comfortable. High-quality cleat plates
Venzo has designed these pairs of indoor cycling shoes to form the highest quality microfiber and durable nylon-mesh. Also; these pairs of shoes would be able to offer you outstanding air-circulation. The breathable insole ensures that you attain optimal comfort. So; with the right amount of mixture between performance and comfort, Venzo has designed a very well functioning cycling shoe, which also happens to be very versatile. Hence this is ideal for your indoor spin classes. Furthermore; the cleat holding section is compatible with SPD,  SPD-SL, Look Delta, and a majority of cleat types out there.  Additionally; these shoes are very lightweight compared to many of its competitors. Thus; it won't end up putting too much stress on your foot. These shoes won't wear out too easily, since Venzo has used top-quality material while designing these shoes. Last but not least, you'll be getting a 2-years manufacturers warranty for this product.    
Venzo with laces women's indoor shoes
12. Santic  women's indoor shoes:
Durable & Velcro straps ensures the safety
Santic has designed these shoes from microfiber and highly breathable mesh fabric. Also; you can be assured about the fact that these shoes are very durable and ideal for your spin classes. 
Moreover; the microfiber PU material and top mesh fabric material means these shoes are very lightweight and permeable as well. On top of that, the three adjustable Velcro-straps means you can position your foot however you feel would suit you best.  Additionally; the 3-hole pedal locking design ensures that you can cycle efficiently. Lastly; Santic has designed this shoe for it to be compatible with all types of pedals and cleats. Therefore; irrespective of the type of pedal that you may use, this show would offer the perfect platform. Therefore; this shoe would be for your spinning lessons.
---
What features to look for in spin class or exercise shoes
You might be an expert spinner or you might be a beginner who is willing to start indoor clipless cycling, there are some particular features that you need to look forward to when purchasing a pair of shoes that are convenient for spin classes. So, we are going to discuss these particular features below so that you can measure up against the next pair of shoes you buy for your spin class.
Comfort and Size
When you are spinning, you are putting an incredible amount of pressure on your feet. So, you need to confirm the pair of shoes that you are going to buy are comfortable enough to keep your feet protected from any unnecessary injuries. Please make sure that your arches get adequate support while you are exercising and the shoes are properly ventilated for allowing air to pass through so that your feet remain cool and restrain from overheating. Also, make sure they are moderately tight to adjust your feet properly so that you don't slip or slide off the pedals. However, a tighter fit can bring suffocation to your feet and you may lose interest in indoor cycling. 
Size also matters a lot when it comes to comfort. You sure don't want something that continuously brings suffocation to your feet. This will ruin the overall performance when you are spinning. You cannot spin for longer periods as you will barely find any comfort. So, please be sure you buy a pair of shoes that matches your feet perfectly. In different regions, shoe sizes are defined in various ways. Take a look at this size chart to get a basic idea about the shoe-size for different regions: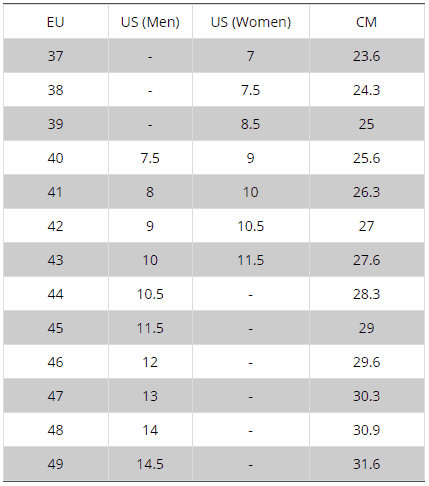 Durability
Spin classes are some of the intense sessions that usually last for an hour or an hour and a half. No matter what the duration is, these classes will keep your heart beating and you will be sweating a lot. For this particular reason, you should look for some durable and long-lasting shoes that are capable of continuous spinning until you reach your heart's content. As spin or exercise shoes tend to be pricier than casual walking shoes, the manufacturers give importance to their durability and longevity. To avid indoor spinning goers, durability is the most important factor whereas other factors such as style and fashion can be ignored.
Outsole
Different types of shoes come with different types of outsoles. Some of them are stiff while some of them can be soft. Depending on the surface where you will be riding, these bottom parts of the shoes vary a lot. For instance, you can find some of the spin shoes very versatile for almost any type of cycling. On the other hand, some spin shoes are designed for a specific purpose. 
If you are looking for performance while cycling, then road shoes offer the perfect outsoles. Hence, they are not good for walking or something similar. They may provide an excellent grip for aggressive and constant cycling, but you will struggle a lot in the gym if you exercise with them.
Mountain bike shoes can offer sufficient grip while they can be more trainer like shoes. Mountain bikers normally go for these shoes for their robust and durable construction. Although they may work well for spinning or exercising, they weigh more than the average trainer shoes that can hamper your spin class performance a lot.
Therefore, we recommend the spin shoes that are made particularly for beginners. The outsoles of these shoes obtain the characteristics of both road and mountain bike shoes. And the cleats secure a convenient engagement between the spin machine and yourself.
Straps and Laces
For a variety of reasons, laces are very effective for fastening your feet tightly with shoes. They secure your feet on the trainer and they are relatively easy to take them on and off. Traditional type laces that are normally used on regular gym shoes, you will often need to tighten them that will cause much strain on your feet. Therefore, more advanced Boa Laces were introduced. They offer relatively faster fastening while maintaining additional support for your feet. Depending on the shoe-model, there can be seen a lot of different boa lacing setups. Some use hooks and loops for tightening while some use Velcro.
That being said, Velcro straps can be great alternatives if you don't like laces. They allow you an easy and quick wear-on and off setup, even when you are exercising on your spin machine.
FAQs
Q. Why do I need to buy cycling shoes?
Ans: So; if you're comparatively new to indoor cycling then, it is not mandatory for you to have cycling shoes. Therefore; you would do well upon the usage of sneakers for a while. However; if you've gotten yourself addicted to spin sessions and plan on sticking with it for a while. Then we'd recommend you invest in a pair of cycling shoes.
Bike compatible shoes, the ones that are equipped with cleats would offer you a steady and efficient platform for pedaling. Therefore; this would mean a large number of your muscle groups would get engaged, meaning you'll have an overall better workout. Furthermore; this would mean your legs and ankles are in proper alignment. Thus; reducing your chances of injury. Also; preventing you from accidentally slipping off your pedals.
Q. Why should I own indoor cycling shoes?
For your feet to feel comfortable, first and foremost the shoe needs to fit. So; if you're thinking about renting shoes, chances are they aren't going to fit you properly. Because the number printed on the tongue would ideally be the same as that of your regular street shoes. This mainly is due to the fact that all shoes tend to go through a duration of breaking-in. Thus; during this period, a new shoe usually gets used to the shape of your foot, resulting in an ideal fit. Let's imagine, you're using a shoe that has been broken in by people having various shapes of feet. Whereas; this fit might be okay if you plan on going for a casual night out. Although; the same cannot be said if you're into a performance sport like indoor cycling. 
Wearing someone's shoes always poses the risk of unwanted hygiene-related issues. So; imagine wearing someone else's shoe, where the person was sweating profusely throughout the entirety of the time. Moreover; you'd be hugely mistaken if you believed, just using disinfectant sprays would result in complete cleaning of these shoes. Furthermore; imagine the number of bacteria, fungi, and warts causing viruses that you're potentially exposing yourself to simply by wearing a pair of shoes that many other people have worn, beforehand. Therefore; if you think about it that way, then it'd save your from a lot of trouble and medical bills and hence investing on a pair of good bike shoe would seem like the right thing to do  
One of the biggest benefits of using cycling shoes instead of regular athletic shoes is the difference in the amount of power transfer. So; athletic shoes are specially designed for these shoes to flex. Since you're using them for competitive sports. Moreover; you won't necessarily be doing too much walking using a pair of cycling shoes. Therefore; it'd be okay if the soles are a bit sturdy so that power transfer from your feet to these pedals would be much more efficient. So; when you're clipped in, cycling shoes would allow you to push as well as pull while you're pedaling. Hence providing you with enhanced power and a greater amount of energy. Lastly; cycling shoes also equip additional safety components, so that your foot can be prevented from slipping off the pedals.
Usage on another type of bikes
So; one of the best things about cycling shoes for spinning sessions is, they can also be used for your everyday bikes as well. Thus; more the reason to go for a shoe that is made for indoor cycling.
We'd recommend you to buy the right kind of pedals for your bike. 
2- holes for mountain bike pedals

3-holes for road bike pedals 
  So; you can use these shoes at the gym, on the trail, or on the road.
Q. What exactly does SPD cleat compatibility mean? 
Ans: SPD, otherwise known as Shimano pedaling dynamics, is a form of clipless bike pedals, which features a large plastic cleat. So; this attaches itself to your show using 3-bolts. Furthermore; this mechanism is one-sided. Hence, you will have to ensure that the pedal is facing in the right direction while clipping them in. Moreover; shoes that are SPD compatible possess the ability to work seamlessly with any SPD pedals.
Q. Is it true that SPD pedals are more efficient?  
 Ans: SPD pedals are more efficient. Because; if you're using them, it'd make you get better and increase your pedaling efficiency. Also; it'll get better, the more you use it. Although; SPD pedals are placed right underneath the balls of your feet. Thus; this would allow far more strength. Additionally; they'd allow you to pull up instead of only pushing down. Resulting in more usage of your muscles, so providing more efficiency in the process.
Q. What are the major advantages of clip-on pedals?
Ans: There exist a number of benefits. One being, you'll have a secure connection between your shoe and pedal. Thus; there would be a lesser chance of your foot slipping.
  Also; you begin to feel as though you and your spin bike are a single entity. So; allowing you to pedal efficiently, causing you less fatigue. Lastly; as you'd be able to pull up on these pedals, so the power transfer would be even better with each of your strokes while maintaining greater momentum at the same time. 
Q. Is it possible for me to walk in clipless shoes?
Ans: Clipless shoes have recesses for the pedals. Therefore; the sole will feel flatter. Similar to what you'd feel in a regular shoe. Thus; walking won't be too much of an issue. 
Q. How would you describe clipless shoes? 
Ans: These are shoes that have cleats recessed into them. Therefore; these would clip in perfectly into your bike's pedals.
Q. Would spin classes help with my overall cycling?
Ans: It will undoubtedly improve your overall cycling. Since you'll be getting a 360° pedal stroke. While at the same time, you can also get to improve your range of motion and efficiency. Additionally; you'll be able to improve on your leg strength and increase your endurance. So; this would be ideal for your cycling, in general.      
Q. What are some of the tips for choosing an indoor cycling shoe for women?
Being certain about the fact that the shoes that you'll be using for spin classes are compatible with the pedals you own or intend to use. So; as we already mentioned previously, there is a wide variety of cleats that you can choose from for your spinning shoe. Hence, we'd advise you to take your time in choosing the right one. Since, doing for a wrong one would mean, you won't be able to clip in properly.

Still, soles connected to your pedals will increase your comfort and efficiency as well. So; this would aid you in making your movements much easier. Also; in the process allowing your body to make movements more naturally without being too forceful.
Q. What type of cleats would I require for my cycling shoes?
Ans: The type of cleat that you'd require, depends on your pedal type and also on the shoe you're using. So; a certain category of shoes and pedals can be compatible with more than one type of cleat. Whereas; others may only be compatible with a single type. For example; there are some pedals that support SPD shoes on one side and on the other it supports Look/Delta. On the other hand, others only work with SPD or Look/Delta cleats. Therefore, narrowing down the most suitable cleat for indoor cycling can be quite a confusing task. More so, if you're comparatively new to indoor cycling. So; we have summarized the most renowned types of cleats, along with their usual usage, for most cleat types.
SPD cleats feature a 2-hole design and are usually found in road and mountain biking shoes. Moreover; these are hugely popular for their versatility.

SPD-SL cleats have a 3-hole design and have been designed for racing and road-riding.

Look/Delta cleats also have a 3-hole design and are generally more popular among cycling studios.
Conclusion
So at this point, you've probably gone through our reviews and read about the suggested shoes for your indoor cycling session. Which one of these do you feel would suit your needs and be ideal for your workout? So; as we've personally tested out each of these shoes and also conducted surveys by collaborating with professional indoor cyclists, this is why we believe the products that we have chosen won't disappoint you. However; what matters the most is the shoe of your choice meets your demands while you're cycling indoors.
Different athletes have a unique set of skills, preferences, and different body types. Hence, we sincerely hope this guide will aid you in making the right choice, irrespective of the bike shoe that you end up choosing. Good luck!
Related Readings
(Visited 196 times, 1 visits today)
Last update on 2020-11-30 at 02:40 / Affiliate links / Images from Amazon Product Advertising API
Close