When you are looking for pedals for a triathlon, clipless pedals directly strike into our minds. These types of pedals are modern, they are sport dependent, and most of all, they provide a way more power for pedaling than the regular pedals. What actually happens with these types of pedals is that a cleat attaches to your shoe-sole for keeping your foot securely on the pedal. Of course, it is not possible if you are wearing regular shoes. You will need some cleat compatible shoes in order to use such pedals. Although there are some ups and downs with some models, most manufacturers follow the same mechanism and materials for building these pedals. This can make it difficult for choosing the right set of pedals that one is looking for.
After exclusive research for relentless hours, we have come up with a list of the top pedals that we believe to be perfect for triathlon type cycling. Our list is entirely based on user intents and our pedals are the righteous choice for different aspects. We like to designate the Shimano Ultegra PD R8000 as our "Overall Best Choice" among all the pedals because we really think it fulfills the requirements to be the perfect triathlon pedal.
In the following table, we've listed the best pedals in the market for triathlon bikes:
10 best pedals you can buy today for triathlon bikes
Based on various user intents, we have classified different pedals in different categories. Our list includes the following pedals.
Like always, we have prepared a comparison table of all the pedals that have been selected on our list especially for those who are limited with their time. But we highly recommend you to go through the whole post for getting an in-depth detail for each product.
| Pedal | Preview | Type | Spindle Diameter | Platform Dimension (inch) | Weight (Pair) | Body Material | Axle Material | Road Clearance | Bearing Type |
| --- | --- | --- | --- | --- | --- | --- | --- | --- | --- |
| SHIMANO Ultegra PD R8000 | | Multi-Purpose (SPD/Flat) | 9/16" | 8.7" x 4.7" x 2.4" | 0.55 lbs | Carbon Composite | Chromoly Steel | 33° | 3 Sealed Cartridge |
| Shimano 105 PD R7000 | | Multi-Purpose (SPD/Flat) | 9/16" | 6.7" x 5.9" x 2" | 0..58 lbs | Carbon Composite | Chromoly Steel | 31° | Sealed Cartridge |
| SHIMANO Ultegra PD-6800 | | Multi-Purpose (SPD/Flat) | 9/16" | 8.5" x 4.5" x 2.5" | 0.62 lbs | Carbon & Aluminum | Chromoly Steel | 32° | Sealed Cartridge |
| SHIMANO PD R-540 | | Multi-Purpose (SPD/Flat) | 9/16" | 6.6" x 6.3" x 1.9" | 0.727 lbs | Aluminum | Chromoly Steel | 34° | Sealed Cartridge |
| SHIMANO Dura-Ace PD-9000 | | Multi-Purpose (SPD/Flat) | 9/16" | 7.9" x 3.2" x 1.6" | 0.55 lbs | Carbon | Chromoly Steel | 35° | 2 (Ball) + 1 (Roller) |
| Speedplay Zero | | Double-Sided Clipless | 9/16" | 6.2" x 6.3" x 2" | 0.48 lbs | Chrome-Moly/Stainless/Titanium | Chrome-Moly/Stainless/Titanium | - | Sealed Cartridge |
| LOOK KEO 2 Max | | Single-Sided Clipless | 9/16" | 0.33" x 2.36" | 0.57 lbs | Composite | Chromoly + | - | 2 (Ball) + 1 (Roller) |
| Time Xpresso 4 | | Single-Sided Clipless | 9/16" - 20" | 7.5" x 5.2" x 2.5" | 0.507 lbs | Glass-Filled & Stainless Steel | Hollow Steel | 15° | Steel |
| SHIMANO PD-M540 | | Multi-Purpose (SPD/Flat) | 9/16" | 6.3" x 4.9" x 2.2" | 0.776 lbs | Aluminum | Chromoly | - | Sealed Cartridge |
| SHIMANO PD-A530 | | Multi-Purpose (SPD/Flat) | 9/16" | 0.55" x 0.55" x 0.35" | 0.844 lbs | Aluminum | Steel (Cr-Mo) | - | Sealed Cartridge |
# Shimano Pedals (Clipless SPD-SL)
1. SHIMANO Ultegra PD R8000:
Pro performance

|

Overall Best Choice

The Ultegra PD R8000 is a pedal that has all the great features that you can expect from a high-quality Shimano pedal. The aesthetic has also been updated to match the new 6811-speed group. These pedals are for professional cyclists or ultimate cycling enthusiasts. Each pedal is extremely light yet strong for long-lasting service. Also, the bearings are sealed and lubricated for a smooth feeling while pedaling. Check out this video for a quick overview and installation of these pedals –

The height from the axle center to the cleat contact area is around 10 mm. The build quality of these pedals offers a notable road clearance which is 33° and 6° float SPD-SL cleats allow you to freely move your feet on the pedals. SM-SH11 cleats are included with these pedals and you can install either SM-SH10 or SM-SH12 cleats as alternatives. This set of pedals is the true successor of the flagship model which is the Shimano Dura-Ace PD-9100.
2. Shimano 105 PD R7000 SPD:
Wide & Light carbon body
The Shimano 105 PD-R7000 pedals were engineered in such a way that they could cope up with the 105 11-speed groups. These pedals will promise you to provide a balanced ride with their large shoe-contact areas and binding mechanisms yet they maintain a low profile design. While you are cycling with the pedals, you can input pressure not just only in the contact area in the center. These pedals have wide surface areas that distribute the load to every corner, not just in the center.
There are 3 different options for these pedals. The SM-SH11 are the cleats that come with the package itself. You can also go for the SM-SH10 and SM-SH12 cleats if you feel like trying out a different set of cleats. No matter which cleats you choose, they all offer 3° float in all directions. Also, utilize clear cornering as these pedals have 31° of road clearance. These pedals are paired with wide sealed cartridge axles, which need low maintenance.
3. SHIMANO Ultegra PD-6800 SPD SL:
Extra-wide platform
The Ultegra PD-6800 is at the pinnacle of lightweight pedals for their high-end carbon body and the added steel plates increase the durability to the next level. These plates protect the pedals from any flex and bodywear. So, these pedals will look good as new after using them for decades. This guy in the video gives a crystal clear overview of this product. So take a look-
These SPD-SL designed pedals were successful enough to prove their versatility and durability in various Pro Tour racing. A low profile pedal where the distance from the axle to the shoe-sole remains 14.5 mm. These sleek pedals offer smoothness while cornering with their 32° road clearance and you can move your feet freely as the SPD-SL cleats offer a 3° float. Like most Shimano pedals, they engage with your feet with the SM-S11 cleats.
4. SHIMANO PD R-540:
Large binding target for rapid engagement
The Shimano PD-R540 pedals are the entry-level road pedals and part of the successful and long-running Shimano Tiagra 4700 series. The pedals from this series are all proven to be of high-quality through intensive race-courses. That also goes the same for this pedal. Except for the lighter, exotic material; these pedals work exactly in the same way as the company's pricier models and it is proven to be true by Shimano's ethos.
You can make excellent cornering with these pedals as they offer a road clearance of 34° and they come with 3-hole designed SPD-SL cleats that offer a 5° float for better foot adjustment. So, these pedals are great options where you will be able to get the same dynamics as the pro-level Shimano pedals.
5. SHIMANO Dura-Ace PD-9000 SPD-SL:
Extra-wide platform with Carbon composite body
The Shimano Dura-Ace PD-9000 pedals are undoubtedly some of the top-of-the-line performance pedals available in the market today. When you are looking for nothing but absolute performance, these are just the right pedals that you can pick with blindfolded eyes. Thanks to its high build quality and wide surface, you will get enough power for pedaling as you have wished for. The platform surface is so wide that you don't have to look down and locate the pedal. This ensures better engagement between the pedal and your foot.
These are SPD-SL LS road pedals where LS stands for "Long Spindle". As a result, they come with the spindle axles that are longer than 4 mm axles. This for those who want a wider Q-factor. However, you can certainly switch to a standard 4 mm spindle axle as they are available for these pedals. These pedals offer 35° of road clearance for better traction and the cleats offer 1° float.
# Speedplay pedal for triathlon
6. Speedplay Zero:
Dual Sided Entry with Zero Locking Mechanism
For every aspiring and entry-level cyclist, the Speedplay Zero pedals offer a professional level of comfort for pedaling while maintaining optimum strength and durability. These pedals can be adjusted according to your own preferences. One major advantage of these pedals is the 0-15 of float. While cycling, you will feel no strain on your knees as the float of these pedals can be fine-tuned. These pedals are phenomenal lightweight. The economical version of these pedals can be selected in three different spindle materials and all of their weights are very close –
Chrome-Moly pedal pair- 216 gm / each – 108 gm
Stainless steel pedal pair – 206 gm / each – 103 gm
Titanium pedal pair – 168 gm / each – 82 gm
"These pedals come with Zero Aero walkable cleats, which are not compatible with Speedplay Ultra Light Action and X-series cleats, but compatible with Speedplay Zero pedals."
Process for Combining Cleats with Pedals:
After aligning the inside of the pedals, apply pressure to the outside.
Then apply pressure on the side to ensure their adjustments.
It is not appropriate to apply pressure from top to bottom of the cleats.
Make sure the stack height is 11.5 mm for 3-hole mounting and 8.5 mm for 4-hole mounting.
# Look pedal for triathlon
7. LOOK KEO 2 Max:
Adjustable spring tension release for better engagement of feet
The Keo 2 Max from LOOK is an excellent example of their expertise. These pedals offer a symbolic design for their recognition to anyone when they look at them. With a wide 500 mm² contact area, these pedals can supply efficient power for stress-free pedaling. These pedals were developed in such a way that the total weight of the combination of a pedal and cleat remains incredibly light. Preserving a strong line of LOOK history, these pedals hold strong states for the art of technology.
There are 3 types of cleats available for these pedals and each of these cleats has a different color. Not only that but each cleat also has a different float. For example, the float of the Black cleat is 0°, the float of the Gray cleat is 4.5° while the float of the Red cleat is 9°. All of these cleats are designed in such a way that they can fit compatible cycling shoes. These cleats also assure the engagement and disengagement with your feet is easy and comfortable.
# Time Pedal for triathlon
8. Time Xpresso 4:
Allow natural movements
TIME claims that Xpresso 4 is a perfect pedal for training. However, these pedals are outstanding choices for not only training but also for time trials and triathlon. You can not separate performance and biomechanics for these pedals. When you set up these pedals on your bike, the distance between the crank arm and the spindle remains 63 mm. Although this video is not particularly for the Xpresso 4, this can show you the detailed features of the cleats –
"With many exclusive features, these pedals have three carbon blades with 3 different settings of tension, they are – security, ergonomics, and performance."
These pedals have the body components that are mainly glass-filled and include stainless steel plates. And TIME has its own patented Iclic concept where the cleats open automatically when they are worn. This state-of-the-art technology enables fast and easy clipping in. The Xpresso 4 pedals come with Free foot Iclic cleats where the angular float is (+/-5°) and lateral float is (2.5 mm). These pedals have a release angle of 15° for better traction.
# For beginner triathlon (Clipless SPD pedals)
9. SHIMANO PD-M540 SPD:
Smooth performance and long life
Shimano introduced the PD-M540 SPD pedals mainly for off-road and cross-country cycling. These pedals are ideal for off-road cycling as they were designed in an open pattern for shedding mud and debris. In this case, they are usually better than any other pedals in their class. They can either be used as an SPD pedal where you will get the benefits of classic SPD cleats or normal flat pedals for recreational riding with normal walking shoes.
These pedals feature an open binding mechanism where the Fluorine-coated binding claws strictly attach to your feet and at the same time, offer easy entry and release. Usually, they come with SM-SH51 cleats but they can also be used with SM-SH56 cleats. They have standard spindle axles that require less servicing.
10. SHIMANO PD-A5300:
Attractive look with Multipurpose Use
The Shimano PD-A530 is a kind of pedal that can deliver performance for outrageous cycling and comfort for commuting. So, these pedals are the ideal ones for multipurpose usage. They can provide a gentle pedaling opportunity for casual cycling at the same time, they don't compromise anything for performance cycling. They will look great on any type of bicycle for their attractive design and they come in 2 different colors, which are Black and Silver.
They offer a simple installation process and for the complete process, some tools are required. For installing the cleats, you will need a 4 mm wrench. For installing the pedals to your bike's axle, a 15 mm spanner is required. And for adjusting the spring tension, a 3 mm Allen wrench is needed. Like most Shimano pedals, a pair of SM-SH51 cleats will come in the package and you can go for the SM-SH56 cleats as an alternative.
---
What to look for in cleats
Depending on the pedals, cleats can be found in various designs. In general, most cleats come with either three or four mounting holes. So, popular types of cleats usually adjust with 3 or 4-bolt design cleat compatible shoes. But between these two designs of cleats, most people tend to fasten the 3-bolt design cleats under their shoe-soles.
Aside from that, there are three particular facts that you need to keep an eye out while purchasing any kind of cleat. They are – cleat's float, release tension, and stack height. Now, we are briefly going to discuss these facts below.
Float
Float is the measurement of your foot's movement while it is being attached to the pedal and it is usually measured in degree. In other words, the definition of the float can be said like – how much can you move your foot left or right while it is clipped into the pedal.
Float determines the natural and free movement of your feet. It is there to reduce knee-stress and to keep your feet in a very comfortable position while pedaling. If your cleats are not placed perfectly, you may have to deal with a lot of stress for pedaling. The wrong position of the cleats can also make it hard to clip-in and clip-out. Please be noted that the more float your cleats have, the more difficult it will become to release your feet from the pedals as you will need to twist your feet more.
Some cleats are fixed (Speedplay Zero Cleat) where you will have limited movements of your feet to release them from the pedals. These types of cleats need to be positioned very carefully in the right place otherwise, you will face serious knee pain. However, most cleats generally offer a range of floats that is between 3° – 9°. You don't have to worry if you are uncertain about the amount of float you need for comfortable pedaling. The clipless pedals that you have or you buy in the future will not lock you up with just one setting. You will always have the option to experiment with other cleats with different adjustments and settings.
Release Tension
Release tension means the amount of force you require in order to disengage your foot from the pedal. If you are new with clipless pedals or a beginner, it is better to start with such pedals that have a low tension as they let you release your feet easily. If it is easier to release your feet from the pedals, then it will also become easier to clip into the pedals.
After riding with these types of cleats, you can increase the tension when you think you are confident enough to ride with clipless pedals. Increasing the tension will give you an adamantine connection between your foot and the pedal. Many clipless pedals offer a spring system (SPD clipless system) for more adjustable release tension.
Some have trouble figuring the right settings for the perfect release tension. Well, it depends on you and the type of cycling you do. A quick suggestion is that – continue to increase the release tension by twisting in 1/8 part until you are able to unintentionally release your legs from the cleats. And if you feel like you're having trouble at certain points, roll back the tension a little bit. This will probably give you an optimal setting for release tension. We have found this video very useful as it demonstrates tension mechanisms for various types of cleats –
Stack Height
This is the height from the center of the axle to your shoe-sole when you are clipped in. Every clipless pedal has a different stack height and you may have to adjust this height when you switch to a different pair of pedals. However, lower stack height is better as it can keep your feet close-bodied with the axles if you are looking for the best option for efficient pedaling. Don't forget to set up a suitable stack height as this height also relates to the Q-factor and your bike's axles. If this height is not properly adjusted, you may have to stress your legs more for pedaling that can lead to some serious painful and exhausting situations.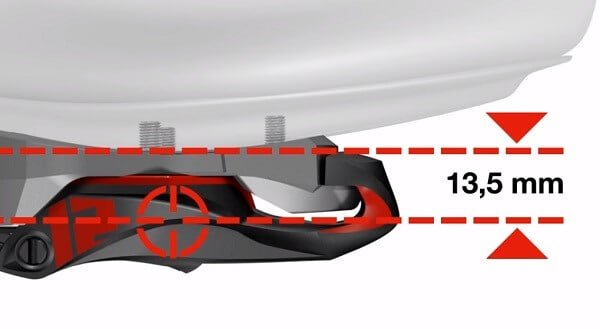 Stack Height for a TIME Xpresso Pedal
Different cleats from different brands
Different brand's cleats have different bolt options and one particular type of cleat may not suit all types of pedals. Some cleats have a 2-bolt pattern, some have a 3-bolt pattern while some have a 4-bolt pattern. Although 2-bolt pattern cleats can be easily clipped-in, your feet may detach from the pedals frequently when you are using them. Again, it can be much harder to engage your feet into the pedals with 4-bolt cleats. But 4-bolt pattern cleats provide much better power transfer for efficient pedaling as they keep your feet always closely attached to the pedals. Therefore, it recommended going for the 3-bolt pattern cleats as they are moderate to clip-in and clip-out and they can provide better engagement and disengagement of your feet to the pedals especially when you are a beginner.
The table below will give you a hint about the different brand's cleats and how these cleats work –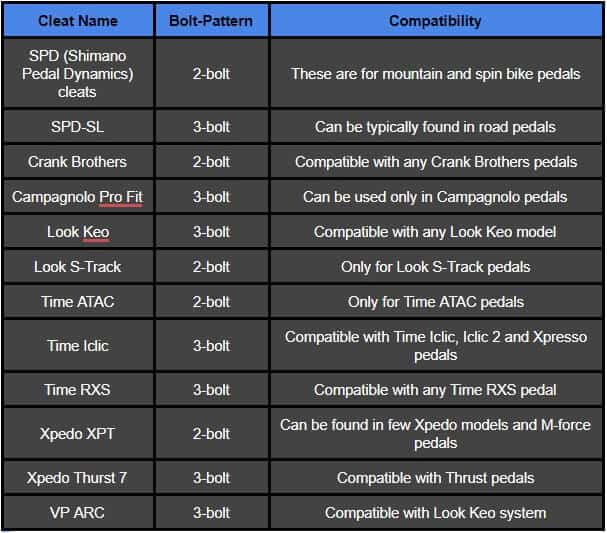 Conclusion
At the end of our discussion, we would like to suggest you buy a high-end pair of pedals as triathlon cycling requires absolute performance and efficient power transfer for effortless pedal stroke. There are a variety of these pedals in the market and you can also use economical pedals that are cheap quality. But we are sure that you don't want something that is easily breakable. You need to purchase such pedals that have better longevity and can serve you for a long time. You may find French-made pedals such as TIME or LOOK much attractive for their athletic and vigorous attitudes, but you just can not ignore the Japan-made Shimano pedals. In fact, they are more popular choices for triathlon cycling than the French-made pedals. Anyways, if you purchase any of the pedals from our list depending on what intent suits you the most; you won't be disappointed. We can confirm that any expert would tell you to buy a paddle that is on our list. Thanks for reading this article, even if you have read it for a little. We hope after reading our article you have already decided to buy a pair of triathlon paddles.
Related Readings
(Visited 150 times, 1 visits today)
Last update on 2020-10-25 at 22:51 / Affiliate links / Images from Amazon Product Advertising API
Close