There are multiple reasons that make the Honda CR-V a great car amongst cyclists. Its great flexibility when it comes to carrying your coveted bikes around with you wherever you go is only the tip of the iceberg.
But that is exactly what we are going to be discussing today.
With the CR-V's great carriage space you will be able to fit your bike, or bikes, inside the trunk. Or utilize other wide arrays of bike racks available in the market.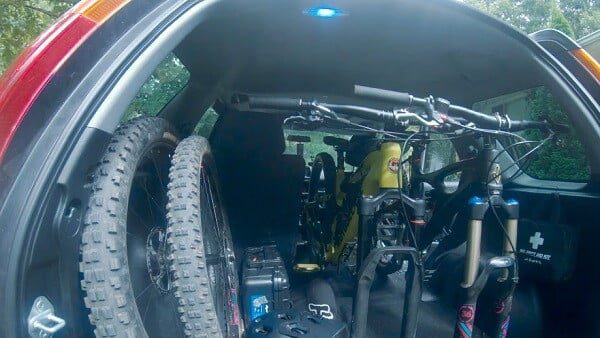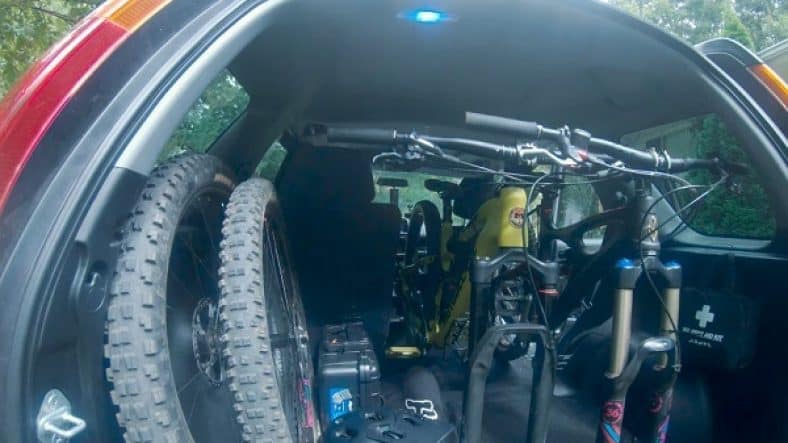 And to answer the question of many…
Yes, you can fit your bike in a Honda CR-V. However, there is a catch. No matter which type of bike you are rocking, you have to remove the front wheel to accommodate it in the cargo space of the CR-V.
➥ Honda CRV is a good vehicle, and it supports racks for transporting bikes from one place to another. Check out our some of the Best Bike Racks specially for Honda CRV.
We will be discussing the best 'hows' to this method of transportation, along with other alternatives in the form of the best bike rack types available to your sport utility vehicle.
Fitting a Bike Inside the Honda CR-V
Any self-respecting SUV will boast a great cargo space. The Honda CR-V is no slouch in that regard. But transporting a bike inside the trunk is not what most manufacturers have in mind during the design phase.
Let us see what the cargo space dimensions look like:
Cargo Dimensions
| | |
| --- | --- |
| Internal Height: | 39 inches |
| Internal Width (side to side): | 41 inches |
| Internal Length (back to front, seat up): | 36 inches |
| Internal Length (back to front, seat down): | 72 inches |
*These are approximate values taken from a 2020 model of the Honda CR-V EX
As we can see, while the CR-V has great dimensions for any general cargo, it is not really suitable to carry a whole bike upright. Bicycle dimensions are obviously different from boxes and bags, they rely on height and length with the wheels on.
But that doesn't mean that you can't transport your bike inside the trunk, you just have to follow one of the few procedures available to you.
Slide it in and lay it on the side
Use a Fork Mount
Either way, you have to remove the front wheel to make enough space.
1. Slide It In
The simplest and the most budget friendly option out there. You only have to follow a few simple steps to get your bike stored in the trunk of your CR-V:
Remove the front wheel and secure the axle. This helps retain the fork's integrity and shape.
Slide the bike in and lay it flat on the side.
Make sure the handlebar and the gear cage is on top, we don't want to put pressure on them or damage them.
Cover the bike up with a soft blanket, a foam blanket or soft cardboards. We want as much cushioning on the bike as possible. This also adds weight to the bike, preventing it from moving around.
Place the front wheel on the top of the cushioning. This will prevent scratches on the bike frame. If you have a disc brake rotor on your front wheel, make sure that it is facing up to avoid damage.
And we are good to go!
2. Using A Fork Mount
If you are familiar with using a rooftop bike rack, this works in a similar way, but way cheaper.
All you need is:
A bike fork mount (easily available on Amazon for under $40) for each bike.
A strap for security (a bungee strap will do just fine, or you can just utilize the back seat belts of the vehicle.
A wooden board running the width of your cargo space. The bike fork mount will be installed on it.
Since drilling is involved, we'd like to avoid drilling into the car itself. You can still do it if you want a more permanent setup.
We'd also like to suggest that you install the mount to one side, so that you can keep a back seat free to use even if you are transporting a bike.
When you are ready to transport your bike, simply remove the front wheel and mount your bike to the fork mount that you have just installed. This allows you to carry the bike upright, saving a lot of cargo space for your other goods and the front wheel.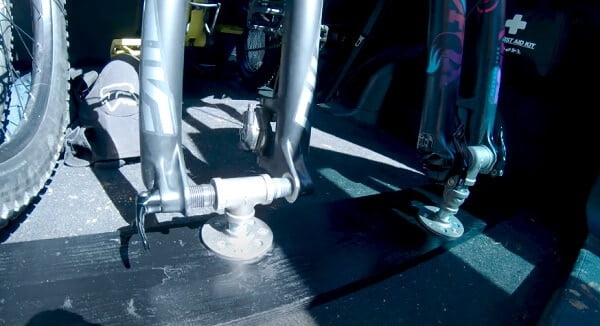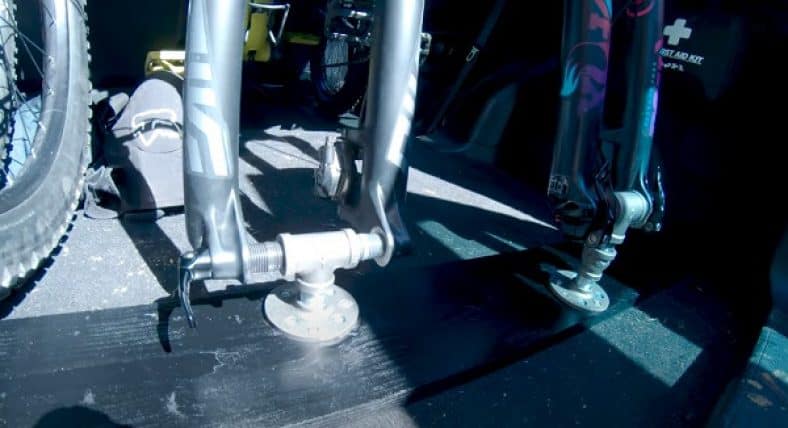 Here's a video that you might find helpful to get yourself started:
If you are an avid cyclist and are planning to travel long distances, this is the perfect method for you.
However, if you are still finding it difficult to accommodate (if your bike frame is of the larger size, XL/XXL), you can always install the fork mount diagonally.
On the other hand, if you are willing to invest in a bike rack, things are going to be much easier for you.
Bike Racks: The Alternative
Using bike racks is the more traditional way to carry your bike, and also if you are not a big fan of taking off the front wheel of your bike. If you are unwilling to use your CR-V's cargo space to carry your bike or are planning to haul luggage and need some extra carriage space, this is the simplest alternative.
We have three types of options available. Let us take a look at each one:
1. Trunk-Mounted
When it comes to safely carrying your bikes, the trunk mounted bike rack is a great solution. Especially if you are travelling short distances or if using a bike rack is not a regular occurrence.
These are light and having a great SUV like the CR-V, you can also get some added stability that you can't get on a regular sedan with the trunk rack.
Pros:
+ They are very budget friendly.
+ They are light and installation is very easy.
+ They are versatile. Can be used on multiple vehicles.
+ Very easy to load and unload your bikes.
Cons
– Safety and Security issues.
– It will limit access to the trunk/hatch of the vehicle.
2. Hitch-Mounted
For longer and regular travels the hitch mounted bike rack is our favorite. They only require the presence of a hitch/tow to be installed.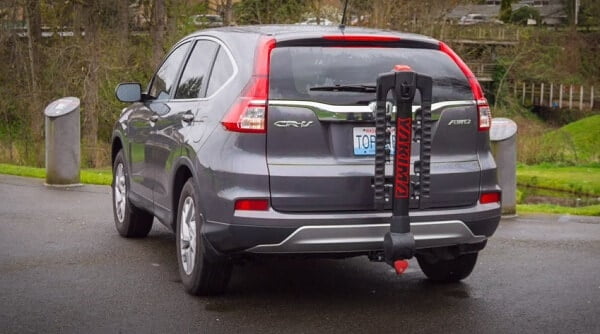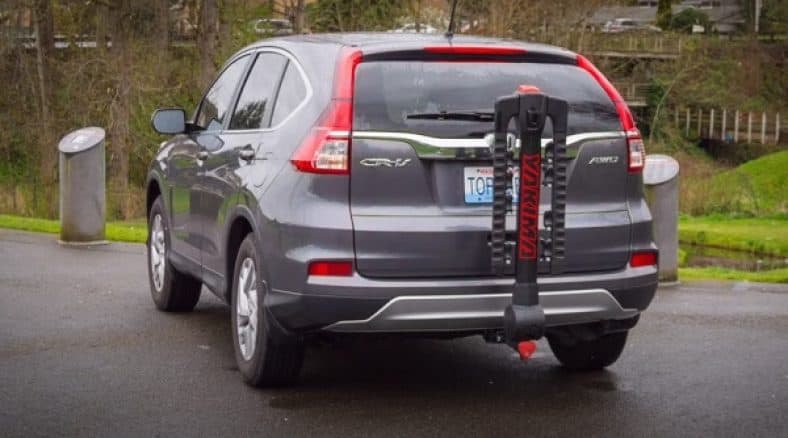 These are chock full of features and perform well with any type of bike.
Pros:
+ Simple to install. Only requires that your vehicle has a hitch/tow.
+ Offers a lot of features. Can be a hanging style or a tray style rack.
+ Great security. Higher end models have multiple locks and stabilizers
+ Easy to load and unload your bikes.
+ Many models can be folded to give access to the trunk.
+ Can carry more than two bikes, with extensions.
Cons:
– Can be expensive, especially the ones with multiple features.
– The rack itself can be heavy.
3. Roof Mounted
While roof mounted bike racks are favored by many cyclists, using these can be an absolute nightmare when it comes to large vehicles like an SUV.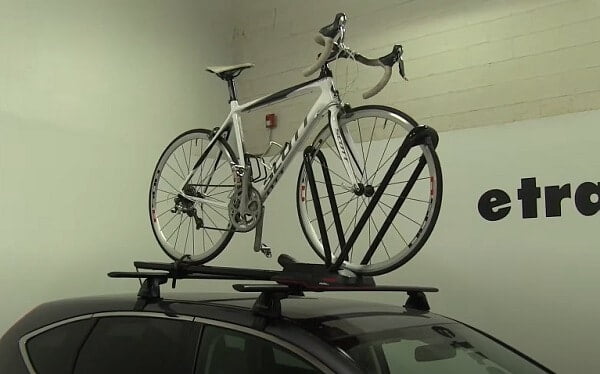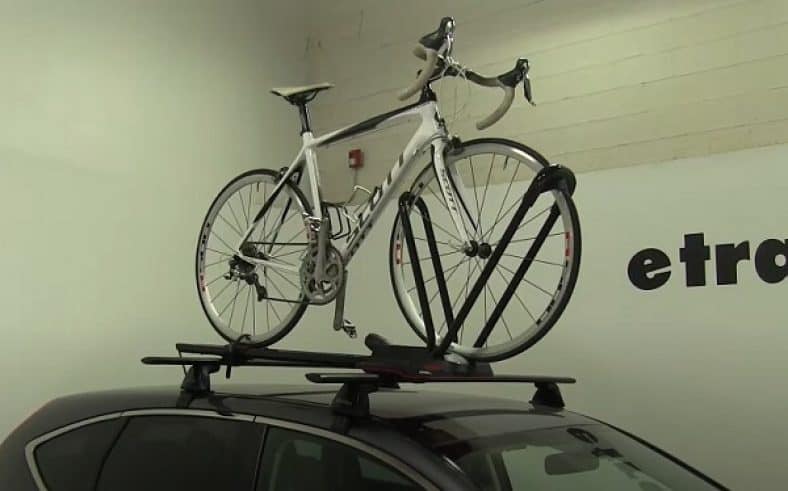 The rooftop rack always had a loading and unloading issue due to its height, this is further amplified by the CR-V.
If you are not the tallest person in the room, you might need the assistance of a foot ladder to get your bike loaded on to this rack, making this our least favorite method among all we have discussed today.
Other than that glaring disadvantage, you can make full use of the roof mounted bike rack on the CR-V as it offers most of the advantages of the fork-mounted cargo storage method we have discussed in the beginning of the article..
Frequently Asked Questions
Q1) Can I fit multiple bikes inside my Honda CR-V?
Ans.: Yes. You can fit up to four bikes inside the CR-V, but under certain conditions:
You must remove the front wheel.
They must be transported upright, with the use of fork mounts.
You cannot use the back seat.
If it still doesn't fit, you might have to consider removing the rear wheel as well.
Q2) Will a spin bike fit in a SUV?
And.: No, not necessarily. It all depends on how you are transporting it.
If you are looking to transport your spin bike upright, then no. Even with the tallest SUV, the handlebars of your spin bike might get stuck and damage the roof of the cargo space.
The only way you can carry your spin bike inside an SUV is to fold down the back seats and perhaps lay it on its side. Even then the exercise machine might not fit properly on top of that, it might also damage your rear seats.
Final Words
With all said and done, having an amazing vehicle like the Honda CR-V should ease a lot of problems faced by many travelling cyclists.
The CR-V, along with many other SUVs, is a great car with a lot of options which can be utilized to carry your bike. Whether inside or outside, it has got you covered.
We have tried our best to provide you with all of the methods available, again with their respective highs and lows, hoping that you will now be able to choose the best for your abilities.
Happy Riding!