The main task of a helmet is to protect the rider's head. However, helmet manufacturing companies constantly try to innovate and build the best product. This leads to more features such as more comfort, better aerodynamics, and ventilation. As a result, we are seeing brands come up with excellent products every year. One such product is the Bell Formula MIPS road cycling helmet. We have tested and researched the Bell Formula MIPS road cycling helmet and here is our review.
Our Verdict: The Bell Formula MIPS road cycling helmet is a great looking helmet that offers tremendous fitting and excellent breathability for a very reasonable price. Also, they are quite lightweight yet sturdy enough to provide superior protection from impacts.

| Pros | Cons |
| --- | --- |
| 1. Great build quality and finishing. | 1. No reflective surface. |
| 2. Superior Ventilation. | 2. Sweat Guide Padding absorbs sweat and other moisture. |
| 3. Great Fit & Comfort. | 3. No Visor. |
| 4. Aerodynamic Shape. | |
| 5. Ultimate Protection. | |
Bell Formula MIPS
Bell Formula MIPS
Technical Specifications:
Gender: Unisex
Materials: Fusion In-mold Polycarbonate Shell
Best For: Road Cycling
No. of Vents: 19 Air Vents
Interior Liner: Sweat Guide Pads
Fit System: Float Fit System with Rubber Over-molded Adjustment Dial
Certifications: CPSC Bicycle Safety Standards and CE EN1078 Certification
Weight: 285 grams (Size M)
The company Bell Helmets was established in 1954 in California, the USA to cater to the local racing community. They build various types of products for auto racing, motorcycling, and especially for bicycling. They are very well known in the bicycle community for their high quality and reliable products. With about 66 years of experience in the industry, it is safe to say that one can buy Bell Helmets with absolute confidence, trust. And he or she can expect top-notch performance and durability. The Bell Formula MIPS is one of the best road cycling helmets that the company has ever produced. This helmet is equipped with the same technologies that are available in Bell's premium models. So for a considerably less amount of money, you are getting the overall performance of a premium helmet.
The Bell Formula MIPS is one of the best road cycling helmets out there and it will definitely worth your money. This helmet offers better performance than other helmets that exceed its price range. It provides a great fit due to its high-quality fit system. Thanks to its 19 air ventilation, you will get optimum breathability and superior protection from direct impacts due to its advanced MIPS Technology.
Features that make it one of the best helmets for road cycling: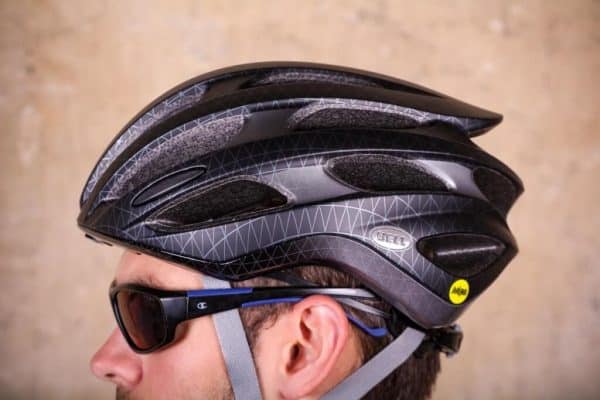 Image Source: road.cc
1. Optimum Ventilation:
This helmet provides the best ventilation due to the 19 air vents positioned at perfect points on the helmet. Air flows in and out of the helmet with ease and this allows the helmet to keep the rider's head cool when riding. This is perfect for the summer weather and this helmet will not let the excessive heat hinder your performance. Also, it is ideal for road bikers who enjoy long-distance riding. Due to the superior airflow, you can ride for hours without the risk of getting your head overheated underneath the helmet.
2. Size Range of the Helmet:
The Bell Formula MIPS is available in three sizes within the range of 52 cm to 62 cm. This is a really good size range offered by Bell Helmets as it fits most male and female adult riders. To give you a better idea we have included a small size chart below:
| Size | In Centimeters | In Inches |
| --- | --- | --- |
| Small | 52 – 56 | 20.0 – 22.0 |
| Medium | 55 – 59 | 21.6 – 23.2 |
| Large | 58 – 62 | 22.8 – 24.4 |
3. MIPS Technology:
The Multi-directional Impact Protection System or MIPS technology is used by many companies that consist of a layer with less friction. It reduces rotational effects by allowing the impact-absorbing foam liner to rotate slightly during an accident. The cradle of this helmet is equipped with this advanced MIPS Technology. Normally you would expect to find such a feature on a very high-end helmet. However, Bell has managed to include it in this reasonably priced helmet. It is widely known that rotational forces can cause severe injuries to the brain. The integrated MIPS in this helmet allows it to slide from 10 mm to 15 mm in all directions. As a result, it can reduce the effect of force on the brain during an impact.
4. Fit System:
The Bell Formula MIPS allows great adjustability and flexibility to the rider. The helmet is equipped with Bell's very own Float Fit System. It is quite similar to other bicycle helmet retention systems that consist of an adjustment dial at the backside that allows the rider to tighten or loosen the helmet. However, it is a bit different from other retention systems as the fit system is not connected to the bottom of the helmet except for a Velcro tab on the front side behind the padding. This is what makes the Formula MIPS somehow unique as the rider can tighten or loosen the helmet. This allows a perfect fit on his or her head. The helmet also consists of No-Twist Tri-Glides, which are adjustable fasteners that aid in keeping the straps in place and are very easy to use. The rubber over-molded adjustment dial is also quite smooth and it is very easy to rotate.
5. Helmet Construction:
This helmet is built with a fusion in-mold polycarbonate shell. While making helmets, most manufacturing companies put the EPS foam liner uncovered at the base of the helmet. However, Bell has a different approach to this. They enclose the uncovered EPS foam liner with another plastic shell. This process has been developed by this company and it provides the helmet with improved protection due to the added sturdiness. Also, the helmet gets a much better look.
6. Helmet Protection:
The Bell Formula MIPS offers the ultimate protection for road cycling. MIPS technology provides impeccable protection from brain damage in the case of a heavy impact. Along with this technology, there is an additional plastic shell used to cover the EPS foam liner. Therefore, it just enhances the overall protection capability of the helmet. The construction of the helmet is of great quality and holds the helmet together on impact. It is very high in strength and it is also certified by both CPSC Bicycle Safety Standards and CE EN1078 certification. This proofs the helmet's strength and its ability to provide safe rides to its riders.
7. Comfort:
This helmet is very comfortable and will allow the rider to enjoy riding his or her bike very freely. It consists of 19 well-placed air vents that allow air to flow freely through them. This way, the helmet stays cool at all times. So it does not matter how hot or cold the weather is, the rider can wear this helmet with absolute comfort. Also, the inner liner consists of a sweat-guide pad that helps remove sweat or other moisture away. This allows the rider to carry on without facing any type of irritation. The sweat guide pads prevent moisture from trickling down the face or get in the way of the rider's eyes or eyewear. This means that you can stay completely focused on the road without any irritations or disturbances.
8. Lightweight and Aerodynamic:
The medium size of this helmet weighs just about 285 grams that is incredibly light. The helmet has a stylish, smooth, and aerodynamic shape which are the exact features required in a road cycling helmet. Therefore, the combination of lightweight and streamlined shape allows the rider to ride with maximum speed and reach his or her riding goals.
9. Color & Warranty:
The Bell Formula MIPS is available in a variety of colors including Matte/Glossy Black/Gray, Matte/Glossy Gray/Infrared, Matte Gray, Matte/Glossy Green, Matte/Glossy Hi-Viz/Blue, Matte/Glossy Black/Leaden & Virago Matte/Glossy Garnet Slate/Sand.
Another perk of buying a helmet from Bell is that the company offers a one-year warranty. Therefore, you can buy this helmet without any hesitation as you can get it fixed or replaced if you find any issues.
---
Is this the best road biking helmet you can buy?
Like every other product out there, the Bell Formula MIPS also has some minor flaws:
The helmet has no reflective surface on the rear. This reduces the visibility of the rider, especially at night time. Therefore, the lack of a reflective surface at the rear of the helmet leaves the rider vulnerable to accidents as others may not be able to detect the rider at night.
The helmet does not include a visor. This means that the helmet will not be able to keep the wind out of your face. Also, it will not be able to help you improve your visibility during bad weather conditions such as rain. This will be a bigger problem for you if you are used to the visor.
The Sweat Guide pads on the inner liner absorb the sweat or other moisture instead of wicking it away. So if you take off your helmet after a long exhausting ride and then you put it back on again, you may find your helmet still wet. This is quite annoying and unhygienic.
This helmet offers great ventilation due to its high number of air vents. However, that may be an issue for some riders as the 19 air vents allow more sunlight to enter the helmet. With that being said, this was not an issue for us when we tested this helmet.
Conclusion: An Overall Amazing Road Bike Helmet
The Bell Formula MIPS Helmet meets all the demands of a great road cycling helmet. It has a sleek, stylish, and aerodynamic shape that allows it to help the rider reach maximum speed. It is comfortable to wear and consists of an adequate fit system to have the perfect fit for a smooth ride. And last but not least, the helmet can provide ultimate protection to the rider in the event of an impact with its high-end MIPS technology. Also, the helmet has earned dual certification for meeting noteworthy safety standards. Therefore, you can wear this helmet on your next race with absolute confidence. We hope you enjoyed reading this article and acquired a better understanding of the Bell Formula MIPS. Thank you for taking the time to read this article. Follow the rules of riding and ride safely.