Bike helmets are undoubtedly the most important safety feature to equip yourself with while riding a bike. Whether you are a professional cyclist or just a casual rider, wearing a helmet is a practice that should not be overlooked by anyone. However, a helmet can only offer proper protection if it fits perfectly on your head. After all, there is no point in having a helmet on while riding only to have it fall off at the moment of impact. That defeats the whole purpose of helmets! In this article, we will guide you through the best way to find the right fit for adults, teenagers, and even children.
The best way to guarantee that a bike helmet will fit is by trying them on. Be prepared to spend a lot of time doing this, since finding a helmet that fits perfectly and feels comfortable is not that easy. Unfortunately, this is not always possible. You might be shopping online or trying to find one to give to someone else as a gift. In any case, we have provided a size chart below that you can use to know which size is suitable for which age.
➥ Here, you will get to know, the usual size for a women's bike helmet. 
Bike helmet size chart for different ages
Helmet sizes are based on the circumference of the head. All size charts show different sizes according to head circumference measured in either centimeters or inches. Use the table below to find the different bike helmet sizes according to age:-
Age Range
Circumference (cm)
Circumference (inches)
Toddler
(2-5 years old)
45 - 50
18 - 19.5
Child
(6-12 years old)
50 - 55
20 - 21.5
Youth
(13-16 years old)
52 - 58
20.5 - 22.5
Adult
54 - 61
21 - 24
Women
50 - 57
20 - 22.5
Extra Large
58 - 65
22.5 - 25.5
Note that the size chart given above may not match up exactly with different brands, since each of them set their sizes according to their own standards. Instead, the chart should only be used as a general guideline. Before buying any helmet it is highly recommended to follow the steps below to ensure that it will provide proper protection.
➥ Have a look, if you're wondering, as to how your child's bike helmet should fit.
Achieving the right fit for your bike helmet: A step-by-step guide
Step 1: Measuring the Head Circumference
Wrap a string around your head, placing it about an inch above the eyebrows, or use the widest part of the head. Then measure the length of the string using a ruler; you could also get a measurement directly using a tape measure if you have one.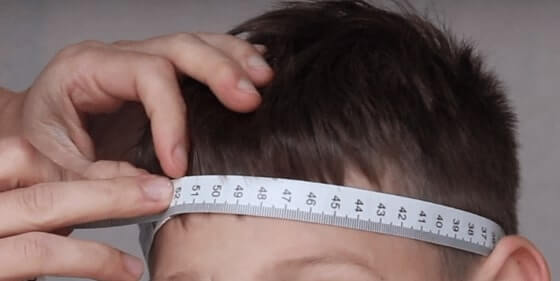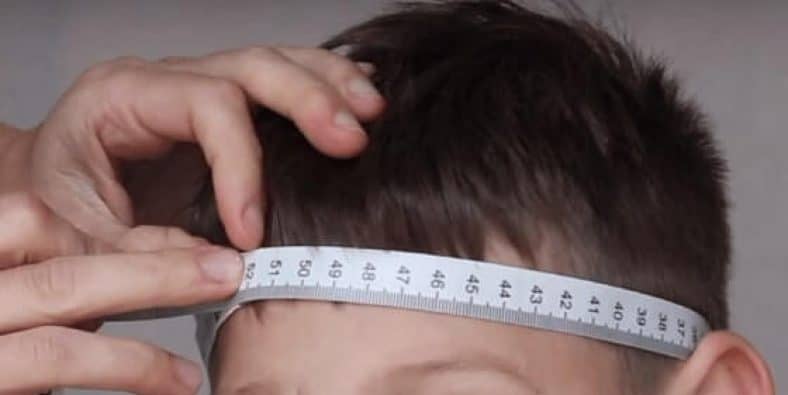 Step 2: Positioning the Helmet
If the helmet is too far back, your forehead and face will not be protected. If it is too far forward, your vision might be obscured and the back of the head will be exposed. The gap between your helmet and your eyebrows should be the width of about two fingers.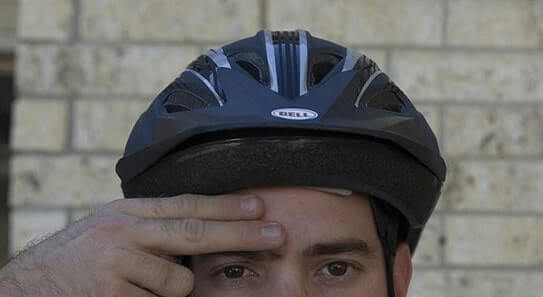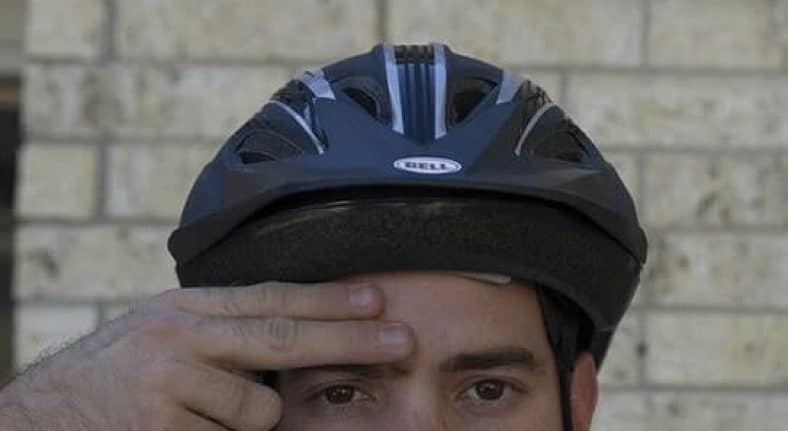 Step 3: Adjust the Tightness
Most helmets will have a rear adjustment dial that can be used to either tighten or loosen the helmet. Turn the dial until you have a snug fit but not so tight that it becomes uncomfortable. In case your helmet does not come with a dial system, it should have padding with various widths that can be used to adjust the space inside the helmet. The helmet should fit your head properly in such a way that even without securing the straps, it does not move side-to-side or back-and-forth while moving your head.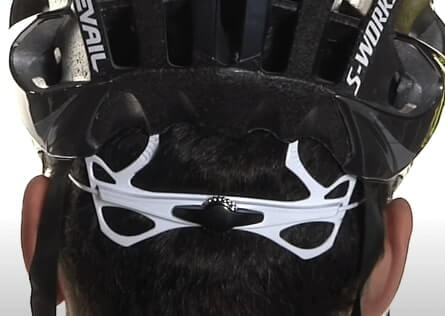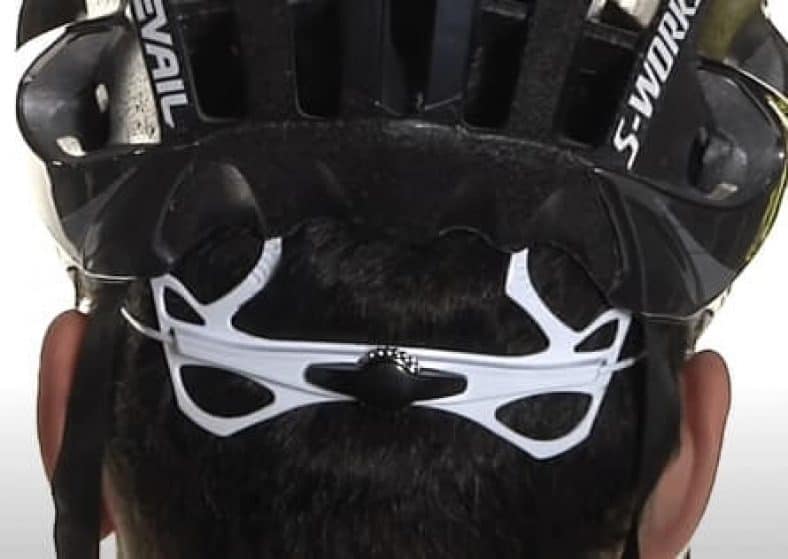 Step 4: Adjust the Side Straps
The side straps will help to keep the helmet centered on the head. Adjust the sliders on the side straps until they form a V at the base of the ear. While some sliders lock into place, the rest can easily slide up and down. Therefore, it is important to check them regularly.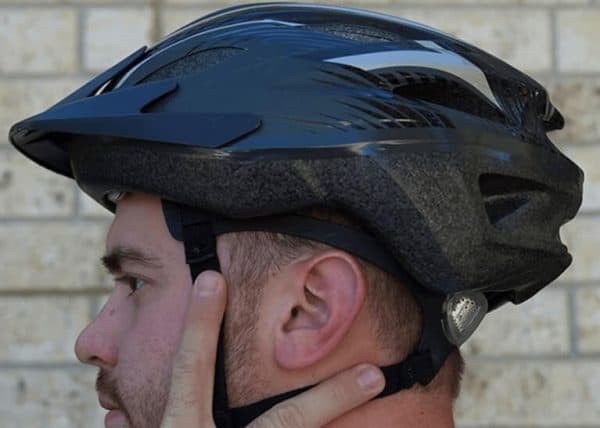 Step 5: Secure the Chin Strap
The chin strap is the final part that keeps the helmet securely on your head. It should be tight enough so that two fingers can be inserted between the chin and the strap, but loose enough that it doesn't start to hurt.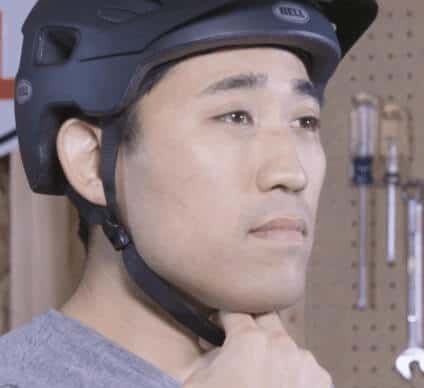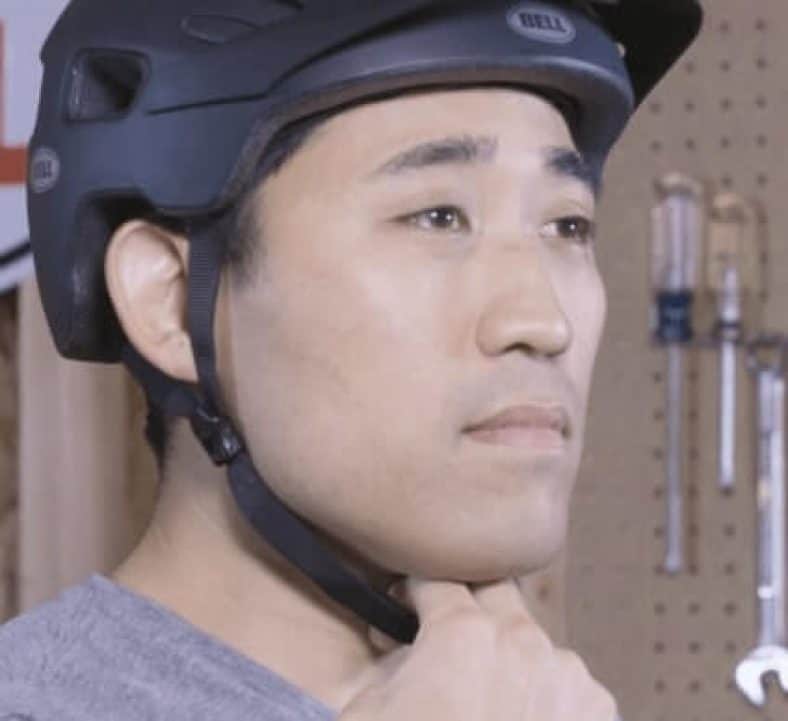 Finally, you can carry out two tests to determine whether or not you are ready to go:-
Open your mouth and you should feel the helmet press down on the top of your head

Try shaking your head side-to-side and back-and-forth and see if the helmet moves at all
Step 6: Check Regularly!
Continuous use of a helmet might nudge the settings a bit over time. Or in the case of a child, the previous configuration might become too tight as they grow. So make sure to repeat steps 3 to 5 to recalibrate. Get a new one for your kid if they have fully outgrown the helmet and it cannot be adjusted further.
Additional Advice
Now that you know how to correctly fit a helmet, here are some tips that you should follow:-
Never buy a larger helmet for kids thinking that they will grow into it:

 Bike helmets should always be bought according to the current circumference of the head. Most helmets come with adjustable dials and straps and are meant to be used for a long time.

It's a good idea to check if a helmet can protect against rotational forces: There are a few technologies that are available for this. However, the most common one is called MIPS technology. These helmets might be more expensive, but they offer superior protection.
Replace a helmet after an accident, even if there are no visible signs of damage:

 The inner padding might become slightly damaged, even though it seems fine. This will lead to less than optimal shock absorption. Moreover, be sure to take care while handling a helmet and avoid dropping it onto hard surfaces.

Find a helmet that suits your type of cycling: There are various kinds of helmets available for different forms of riding. Mountain bikers, triathlon/time trial cyclists, and commuters should have distinct helmets that are specifically suited to that application.
Keep your helmet clean, Use water and mild soap to clean a helmet:

 Avoid soaking the helmet or using very hot water. This will affect the padding.

Do not compromise on comfort:

 If your helmet is not comfortable then that will take away from the enjoyment that you get during riding and you will find yourself constantly fiddling with it.
Conclusion
Although wearing a helmet on a bike is not usually enforced by law in most places (except for a few countries), it should never be taken for granted. Even then, selecting the right helmet size could be the deciding factor in saving lives. We hope that this article gave you a better understanding of bike helmet sizes and their importance. Thank you for taking your time in reading this article and best of luck in finding your desired helmet.