Cycling is undoubtedly a fun sport especially when you are young and energetic. You can move to different locations breathing clean air, again you are enjoying the infinite and almost unbridled freedom. This is one kind of common exercise too.
But as our ages grow we lose the energy and our muscles aren't that strong anymore. It is especially hard to sit continuously onto something firm. It is hard to find the right saddle that meets senior people's physical capabilities.
To solve this complication we have made this content of 6 best bike saddles and a seat cover that is best for senior riders. We have put "Bikeroo Comfortable Saddle for Seniors" as our top choice based on senior people's comfort.
Factors to consider while choosing saddles for senior riders
"I am a senior citizen and I love cycling. But I am confused about saddle selection. What type of saddle should I choose?" This question will bother you and may halt your cycling career. If you select one of the saddles that we have mentioned in this article and just follow these considerations below, then hopefully you will find an answer to your question.
– The width
A wide saddle is well qualified for senior riders. Narrow seats will bring nothing but sorrow and older people just cannot adapt these narrow seats because of their physical abilities. Elder people like to ride in a very relaxing mode, they don't want to go for mountain cycling, triathlon, racing, or other types of aggressive cycling. So the weight of the saddle should not be a consideration. Rather they should be wider cause comfort is our main concern here. A wide seat with a considerably large sitting area will help to adjust the bottom of a senior rider perfectly.
– Padding
A wide saddle is unable to bring pleasure for a senior rider if it is not well padded. Try to buy a saddle with at least a minimum amount of padding despite that it is not appropriate. If you think that your sit bones have gotten very weak (mostly for women), then consider a saddle with a sufficient amount of padding, or I should just say- buy a cushy saddle. Padding material is not important, the quantity is important. Go for a gel or foam padded seat like general people do as they are available at a reasonable price.
– Durability
When you are old, you do not want to go to the market and buy a saddle again and again. That will be awkward and it will eventually eliminate your passion for cycling. So buy a strong and durable saddle so that you don't have to buy a new saddle whenever the current one breaks.
Focus on the rails and cover material. The cover should be able to carry your weight pressure. It is better to look for a saddle that includes leather or synthetic material cover. Foam is also good but they tend to wear out faster.
Most of the saddle comes with Steel rails. They should do fine but you need to be careful about checking the purity of the material. Usually, the rails that a cheap saddle contains may not build properly. So they might bend easily more than usual.
– Consider a backrest
When you are at a higher age, it will be hard for you to maintain your riding angle. Your backbone will not be able to hold you straight or hold your riding angle for a long time. Rather you want to lay you back onto something. That is why a saddle with a padded backrest will be good for you and it will reduce your backbone as well as your sit bone pain. But an additional backrest that comes with saddle increases the overall weight of the saddle to a great extent.
Our Top Pick
Bikeroo Comfortable Bike Seat for Seniors
Bikeroo Comfortable Seat for Seniors is an outstanding saddle for providing support and comfort to older riders. It is unbelievably soft with a wide sitting area. The elastomer dampers are absolute for absorbing pain and shocks. The company provides necessary equipment with the saddle, as a result, you don't have to look for additional support if you are a senior rider.
L x W (mm): 259 x 259 x 177, Weight: 997 grams
How our selected comfortable bicycle seats and covers for seniors compare
We have made this chart for you guys so that you can get a basic overview of our selections.
Saddle
Editor's Pick
Bikeroo Comfortable Seat for Seniors
Flying Horse Bicycle Seat with Backrest
Preview
Dimensions (mm)
Seat- 241 x 292, Backrest- 203 x 228
Special Feature
Features both indoor and outdoor variant
Features an indoor variant (C10)
Designed for ladies anatomy
Dual density foam padding
ISM patent nose-less design
Editor's Pick
Saddle
Bikeroo Comfortable Seat for Seniors
Preview
Special Feature
Features both indoor and outdoor variant
Preview
Special Feature
Features an indoor variant (C10)
Preview
Special Feature
Designed for ladies anatomy
Preview
Special Feature
Dual density foam padding
Preview
Special Feature
ISM patent nose-less design
Saddle
Flying Horse Bicycle Seat with Backrest
Preview
Dimensions (mm)
Seat- 241 x 292, Backrest- 203 x 228
7 comfortable bicycle seats and covers for seniors/older riders
1) Bikeroo's Seniors Specific Seat
For outdoor recreational/cruiser
Bikeroo Comfortable Seat for Seniors
Weight (gm): 997
Dimensions (mm): 259 x 259 x 177
Color: Black
Cover: Quality Faux Leather
Positives
Extremely soft padding seat does a great job in relieving prostate and back bone pain.
The shock absorbers will reduce pain for senior riders making a longer ride comfortable.
The design is engineered to distribute all of your weight equally on the seat so that your tailbone remains free from pain.
Comes in both outdoor and indoor variant.
The package includes a waterproof seat cover, mounting tools, a clamp adapter, and a video mounting instruction.
You will also get an eBook that is filled with sufficient information that will cover your thirst for cycling knowledge.
A great investment for replacing your local bicycle saddle.
The company offers 60-days money-back guarantee.
Negatives
The saddle squeaks whenever you hit a bump.
Cheap plastic below so the springs might come off the saddle.
Some user complains that the saddle isn't wide as it looks.
"Bikeroo" trying their best for presenting the most comfortable bike seat in the market. They want you to love their saddles. For user comfort and needs, they make saddles specific for different types of people like- seniors, men, women, and oversize people. This saddle is specially made for senior riders. You may find a few saddles in the market that has a specific tag- "For Seniors" but this one beats all of them. There is also an indoor variant of this saddle which you can find here if you are thinking of indoor cycling.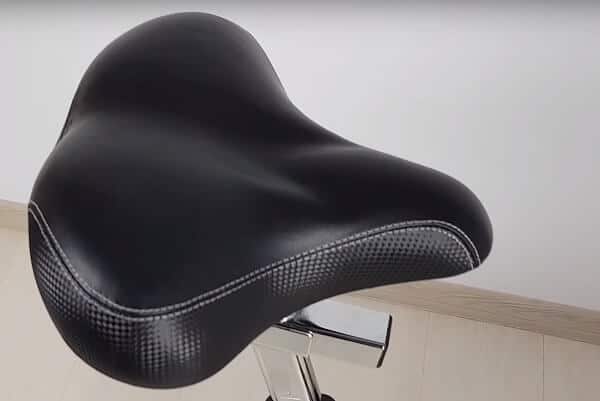 2) DAWAY C99 saddle
For outdoor riding (with taillight)
Sale
DAWAY C99
Weight (gm): 680
Dimensions (mm): 269 x 220
Color: Black
Cover: PVC
Positives
There is wear-resistant PVC material on the top of the saddle, makes it very durable.
It is very durable at the same time it is soft and comfortable because of the thick padding of memory foam.
Hollow breathable design with center cut-out will keep your private parts cool.
The cover is elastic and non-slip so you won't slide off the saddle easily.
Enables free movement of your thighs for the narrow front.
There is also dual spring rubber ball suspension which absorbs painful shocks making it stronger on a bumpy road.
There is an outdoor as well as an indoor variant of this saddle.
The outdoor variant comes with a tail light so that you feel safe when you are cycling at night.
There are 3 lighting modes for your choice.
Weaknesses:
The cover of the tail light might come off if it is screwed loose.
Plastic material holding the springs which are cheap.
The rail material can be reckless and becomes rusty over time.
The seat tends to tilt back and forward losing its angle.
The DAWAY C99 is a saddle that you can rely on and you should give it a try. Enjoy a safe ride at night for the tail light that comes with the saddle. The battery will be provided for the tail light. Because of the universal design, it will fit almost any bike seat posts. An ISO certified saddle made for riders of all ages and genders. The indoor variant of this model is called DAWAY C10 which does not include a tail light.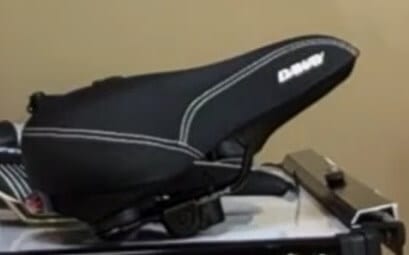 3) Cloud 9 Ladies Saddle
For senior women
Cloud 9 Ladies Saddle
Weight (gm): 453
Dimensions (mm): 254 x 203 x132
Color: Black
Cover: Lycra
Positives
The best part of this saddle is that it has multi-stage memory foam which provides superior comfort.
This saddle is ergonomic at the same time supple, made for comforting women's prostate.
The shock-absorbing elastomer suspension guarantees comfort on rough pavement or bumpy roads.
The seat utilizes anatomic relief channels for alleviating pain and numbness from sciatic and perineum nerves.
Comes with strong Steel rails.
Has achieved its trust with 7000 positive ratings.
Weaknesses:
The quality of the construction of this saddle is poor, not long-lasting.
It is not so gel-like which can make the seat hard for some users.
Levels you a few inches higher than your regular position.
This particular saddle promotes three variants, which are- Black Emerald, Tri-Color Emerald, and Tri-Color Lycra. Although each of these variants is much similar in characteristics, the company leaves an option for the female riders to give a taste according to their judgment. So go ahead and buy or try-out this saddle if you are a senior female who loves cycling.
4) Sunlite C9 seat
Best for Padding
Cloud-9
Weight (gm): 1450
Dimensions (mm): 242x242x160
Color: Black
Cover: Lycra
Positives
The dual density of padding of this saddle provides immense comfort for both male and female riders.
Ditch the soreness while cycling on uneven roads with Chrome coil spring suspension.
Weatherproof seat cover, so keep on cycling in any weather.
The saddle will last countless rides as it was proven by rigorous testing.
Universal design suitable for almost any bike post.
Weaknesses:
Too wide rails-as a result this saddle may not fit some bicycles.
The suspension springs do not provide evident movement on bumpy roads, rather they remain firm and rigid.
Raises you up than your normal sitting position for the padding.
The Sunlite Cloud-9 saddle is a remarkable choice for senior riders who are still thinking of starting cycling. Helps to reduce muscle pain for older people as the saddle will mold over time and enable prolonged cycling. Between the two layers, the top one is soft whereas the bottom one is stiffer for absorbing shocks.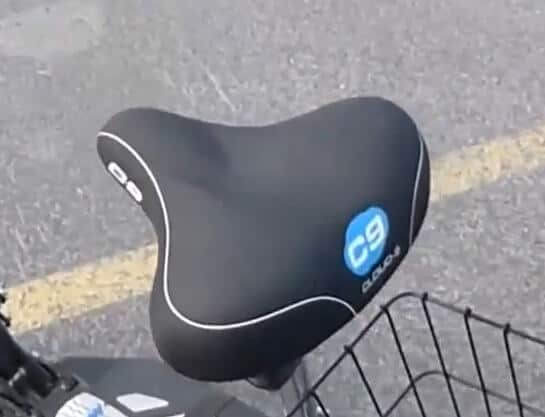 5) ISM-Berkley saddle
Best for Riding in an Upright Position
Sale
ISM Berkley
Weight (gm): 385
Dimensions (mm): 220 x 250
Color: Black/White edge
Cover: Synthetic Leather
Positives
A unique design saddle with moderate amount of padding which suits all types of body structure perfectly.
A great saddle for riding in a more upright position.
Padded with 60-series foam which adds extra support for senior people's sit bones.
Like all ISM saddles, this one is also nose-less which protects your soft tissues on the perineum area.
By ensuring maximum blood flow this saddle reduces genital numbness.
The narrower profile of this saddle also makes it ideal for spin or exercise bikes.
Features satin Steel rails which are quite strong.
Weaknesses:
Would be better if it were cushier.
For senior riders, the nose-less design may not be that charming.
The seat is rated for 300 lbs but 250 lbs is ideal otherwise it may not last long.
The ISM Berkley was first introduced in 2014 inspired by the Cruise model but a narrower front for enhancing performance in spinning, exercising, cruising, or indoor cycling. Perform better and longer when you are riding in an upright position with this saddle.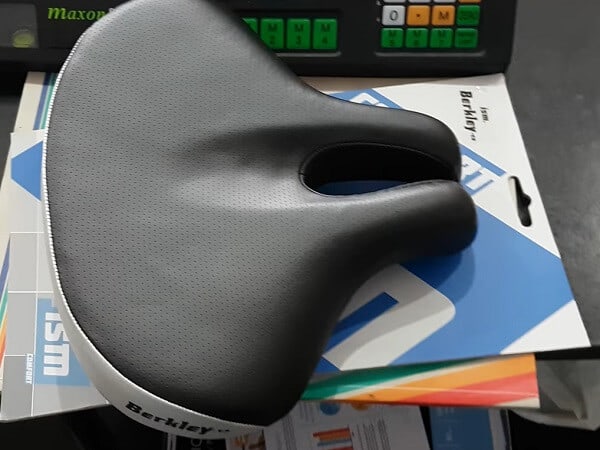 6) Flying Horse Seat with Backrest
Wide bicycle seat
Flying Horse Seat with Backrest
Weight (gm): 2258
Dimensions (mm): Seat- 241 x 292, Backrest- 203 x 228
Color: Black, Brown
Cover: PVC
Positives
This saddle comes with backrest so it supports your back when you want to lean back.
The installment of this saddle is simple as breeze.
An oversize saddle with a generous amount of padding.
Features an Aluminum frame which makes it lighter and stronger.
The stitching of the cover is in line and it is very enduring.
A great replacement for your usual saddle when you are looking for a backrest.
Heavily padded in both sitting area and backrest.
Weaknesses:
Two rods holding the backrest will spread apart for carrying extreme weight.
The position of the backrest is too far for some users.
The back and forth adjustment of this saddle is not standard.
Abundantly heavy saddle.
If you like to lean your back while prolonged hours of cycling, the Flying Horse Seat with backrest is the saddle you will definitely need. It has concurrently a wide sitting area with modest padding and a backrest. All these are enough to make your ride comfortable as you have imagined. That is why we highly suggest this saddle for senior riders as they like to lean their backs on the saddle.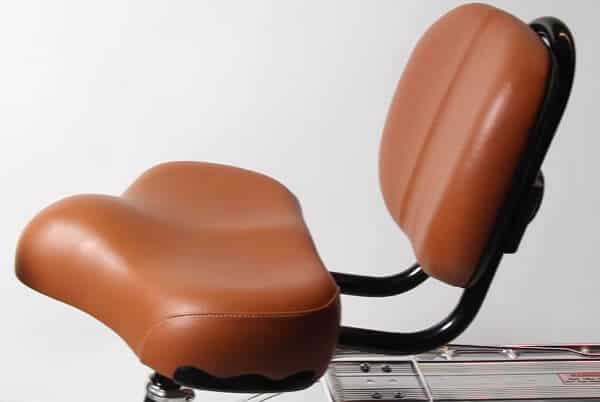 7) Zacro Oversize Cover
Comfortable seat cover for seniors
Sale
Zacro Oversize Seat Cover
Weight(gm): 358
Dimensions(mm): 277×252
Color: Black, Red, Purple
Positives
Densely padded cover with large sitting area for reducing soreness.
The gel pads at the sitting area help to alleviate acute shocks on the jiggle surface.
The drawstring-fastening system keeps the cover in position.
Less movement on aggressive cycling thanks to its non-slip bottom.
You will get a water and dust resistant cover with the saddle.
An optimum investment for maximum comfort.
There are options to select from multiple colors.
Weaknesses:
Don't buy this cover if you want an over padded one.
Not suited for narrow seats.
Zarco is a popular brand for making comfortable saddles and saddle covers. This brand focuses on gel padding in its products and they are very good at this. If you like your ordinary bike seat and do not want to change it for some reason but still it isn't very comfortable for you, then buying this cover will be worthwhile.