The narrow area which goes through the scrotum from the anus is called the perineum. If we compare cycling with other types of sports, we realize cycling is actually safe and there is less risk of getting injured from cycling. But there are certain parts of a cycle such as a saddle, the handlebar, and the pedal which can cause injuries.
Most of the cyclists complain about 'Sore Bum' which they experience after prolonged hours of cycling. This is actually the perineum that falls victim to pressure leading to trauma. The perineum contains blood vessels, so it is very sensitive. To avoid getting a perineal injury, you should be careful and get proper knowledge first before you are going to buy a new saddle. According to your bike and your riding posture on it, we have created a list of saddles that will prevent this type of pressure.
How to Choose a Bike Saddle
If you are trying to avoid perineum pressure, then select a saddle that we have already mentioned at the top of our discussion based on your preferable type of cycling. Try to consider the following topics if you want a saddle that can prevent perineum pressure.
Make sure you are not cycling with the following types of saddles:
Your saddle is heavily padded yet narrow at the same time.
Your saddle has medium padding with a V-shaped groove yet narrow
A wider leather seat but has minimum padding or unpadded.
For women, a wide saddle and has medium padding but there is no nose.
Research shows that in spite of having more padding the first saddle produces more perineal pressure than the second saddle while the second saddle has medium padding. Although the third saddle is unpadded or minimum padding, it produces less perineal pressure than saddle one and two. So having a lot of cushioning might not be so effective for preventing perineal pressure.
Although the pressure does not create solely on the design of the saddle. In 2019 researchers have found some significant factors on a study tested with the help of 2774 male cyclists. The factors they mentioned which are responsible for creating genital numbness are:
The years of cycling. Significantly increasing the number of cycling per year.
The number of frequent weekly cycling.
Padded shorts are not using regularly.
The distance of the rides is comparatively longer.
If the height of the handlebar is lower than the saddle.
Our Top Picks
8 bicycle seats that can protect your perineum
# Road saddles that protect the perineum
1) PRO Stealth Saddle
For both Men & Women
PROS Stealth
Weight(gm): 205
Dimensions: Width 142m, rail diameter 7mm
Color: Black
Cover: PU Material
PROS:
Less friction between your thighs as the cover is made of smooth PU material.
Enjoy a comfortable ride without any pain as the large anatomic recess area is sure to relieve pressure on the perineum.
The lightweight EVA padding will make sure to provide support and comfort.
The clutch at the back is capable of holding any necessary accessories i.e. pro camera mount, bottle cage, etc.
Lightweight Carbon base.
CONS:
Not highly padded. So don't buy if you are looking for a cushy saddle.
You can find other saddles with stainless titanium rails at a cheap price rather than buying this one.
Not a practical saddle for all types of users, especially the design.
A lightweight yet strong saddle design, engineered to win races. It gives you a total performance due to its direct power transfer stimulation. You will enjoy being comfortable all day for reducing friction and absorbing vibration. The saddle is able to pass enough blood flow in your private parts (perineum area) as it technically maps your pressure.
# MTB saddles that are good for perineum
2) Planet Bike A.R.S Seat
For both men & women
Sale
Planet Bike A.R.S
Weight(gm): Womens = 367, Mens = 391
Dimensions: Womens = 220 x 155mm, Mens = 250 x 160mm
Color: Pure Black, Black with White Edges
Cover: Lycra
PROS:
The base is very flexible and enough foam padding for providing support in your soft tissue area around the perineum.
Its 'V' shape cover will easily fit any male, female and senior rider's butt shape.
The combination of gel and foam padding will relieve pressure from your perineum.
The full-length center recess and cut-out is designed for anatomic relief.
Promotes weather-resistant Lycra cover with abrasion-resistant side.
Strong and durable rails made from Steel.
The buying price is fair enough.
CONS:
Although the cover is weather resistant it is not waterproof.
The front nose may sometimes cause chafing.
Might experience pain as the pressure points are not aligned correctly.
The Planet Bike A.R.S is undoubtedly an extraordinary saddle you can buy for the money. It is an economical saddle which is best for MTB or commuting or cruising. Forget about wearing padded cycling shorts as the saddle has ample padding to make you comfortable all day. The rails are quite strong for keeping the saddle stable with the cycle's seat post. So the rails will not easily bend while riding on a bumpy road with lots of jolts.
After testing this saddle, we have noticed the anatomical cut-out very useful for supporting your below parts (perineum area) especially for those who prefer an upright position.
This saddle is built for both men and women. But we want to put the saddle in this section as it is a great MTB saddle under your budget for relieving perineum pressure.
3) Selle ITALIA Diva Gel Flow Saddle
Women's specific
Selle Italia Diva Gel Flow
Weight(gm): 225 (Small) – 285 (Large)
Dimensions: 270×135 mm (Small), 270×152 mm (Large)
Color: Black, White
Cover: Full-grain Leather
PROS:
A women-specific saddle, built for fulfilling the demands of a female rider.
A sufficient amount of gel padding will provide comfort yet will not neglect performance.
Offers Titanium Vanox rails tubular in shape.
Very attractive cover made from full-grain leather.
Protects your anus from bumps and shocks with the help of its built-in shock-absorbing elastomer springs.
Offers 10% Carbon composite shell.
CONS:
Need to be careful as the bulbous shape nose can cause chafing.
For some riders, this saddle may be too flexible and bulky.
Hard to find the "Sweet Spot" (Sit bones right place).
Cheap quality plastic below the saddle.
The Selle Italia Diva is strongly suggested by most of the female audience because it is comfortable, supportive, very well made. Moreover, it is also very attractive. The saddle holds the perfect shape for female anatomy and posture. The saddle is highly comfortable for its unique streamlined shape and yet it opposes to neglect the performance. Supports your women's parts with gentle care.
You will understand the saddle's criteria by this comment made by Selle:
"Selle Italia's DIVA has a shape that is perfect for the female anatomy and posture. With its unique streamlined shape and sporty style, DIVA is the perfect high-performance comfort saddle for women. For women who ride leaving no one behind."
Related: Top Gel Bike Seat Covers Reviews
# Triathlon saddles
4) ISM PN 3.0 Seat
For both men & women
ISM PN 3.0
Weight(gm): 294
Dimensions: 255×120 mm
Color: Black, White, Black with a pink base, Black with a blue base
Cover: High-quality Fabric
PROS:
For reducing chafing and friction, the basic 5 inches from the front of the traditional saddle is taken off.
The soft arm system supports your Pubic Rami Bone removing pressure from your soft tissue on the perineum area.
It helps to maintain a 100% blood flow.
The auto-racing air vent chassis will keep you cool all the time.
A unique design with tapered-edge molds to support your hip.
It offers superb thigh and hamstring clearance by allowing free movement around the seat.
Stainless Steel Alloy rails.
Padded with 30-series foam for maximum comfort.
Offers a 1-year Manufacturer's warranty.
CONS:
Keep that in mind this saddle is specially built for Triathlon cycling. So may not cover the requirements for all types of cycling.
Relatively narrow with a cutting-edge design which is not appealing to some riders.
The rider may need to sit further back which makes it difficult to find the right sitting spot.
You may slip off because the saddle is not densely padded and the cover is not grippy.
The design of the ISM PN 3.0 is the exact emerge for power, comfort, long-endurance, healthier rides, and more fun. The unique design can be easily distinguished by the two split noses. There is enough space for the soft tissue area. For its ergonomic shape, you are allowed to tilt your pelvis in aggressive situations sitting comfortably. For a powerful inclination, your pelvis can create much pressure on the bike, but then again you need to maintain an aerodynamic position. Well, this saddle is perfect for dealing with these types of situations.
"Ideal Saddle Modification"- is the full form of ISM. This saddle can handle possible long-term consequences i.e. circulatory disorders, impotence, and infections. The two split saddle nose reduces perineum pressure ensuring 100% blood flow.
# Leisure/recreational saddles
5) Bikeroo Bike Saddle
For men
Bikeroo-Men's Bike Saddle
Weight: 440 gm
Dimensions: 260×190 mm
Color: Black
Cover: Synthetic Leather
PROS:
Considering men's anatomy it features hollow core design.
The deep center cut-out makes sure that there is no pressure on men's prostate.
One of the most comfortable bike seats in the market because there is plenty of memory foam.
A waterproof seat cover, mounting tools, universal fit adapter, and mounting instructions will be provided with the saddle.
A very cheap saddle compared to other high-quality saddles in the market.
Universal rails system.
Enjoy a bump-free ride as the spring suspensions absorb severe and painful shocks.
CONS:
The suspension springs are surrounded by cheap plastic which can be easily broken.
The cover is not so breathable.
Uncomfortable for bigger riders.
Not so durable as there is a possibility for the rails to pop off.
Bikeroo-Men's Saddle is the best value of your money for its ergonomic shape, soft and sturdy foam padding and deep center cutout. Engineered a perfect design for men's anatomy. You will never stop commuting if you put this saddle on your bike. Your daily commuting will be the most enjoyable parts of your working life. So investing your money into this saddle will be worthy.
6) Bikeroo Bike Saddle
For women
Bikeroo-Women's Bike Saddle
Weight(gm): 698
Dimensions: 260×198 mm
Color: Black, Black & White, Black & Red
Cover: Synthetic Leather
PROS:
A wide and extremely padded saddle to support women's Pubic Arch.
Its deep center cut-out can help to alleviate pain from female private parts.
Provides comfort to women's sit bones on both long and short rides.
Also great for off-road as it offers dual spring suspension.
An ideal choice for medium weighted women with wide hips.
CONS:
May need to watch the video that the seller provides first to install the adapter, it quite bothersome.
Much heavier saddle.
As it is quite heavy, holding a large woman may bend the rails.
Substandard quality and durability.
As women have wide Pubic Arch compared to men, they need wider seats with enough cushioning. Adding to that a center cut-out will complete the requirements. Well, Bikeroo-Women's Bike Saddle has it all. The design of the saddle is perfect for a lady's anatomy and allows you to continue for an extended period of commuting without any pain.
This saddle can be used for both as an indoor saddle or an outdoor saddle. So you can choose the option you like the most. Apart from the cushioning, the deep center cut-out is systematically designed to reduce pressure on the soft tissues around women's private parts where women are most likely to suffer when they bend in a cycling position.
# Sports touring/Long distance riding
7) Brooks B17 Curved Seat
For men
Sale
B17 Carved
Weight(gm): 520
Dimensions: 275x175x65 mm
Color: Black, Brown, Honey
Cover: Vegetable tan Leather
PROS:
A cut-out on top of the original Flagship model (B17), has been ruling the market for over 100 years.
The center cut-out is specially made for airflow so that your private parts remain cool during long tours.
The center indentation also helps to reduce perineal pressure.
Handmade in England with original vegetable tan leather.
After the break-in period, you will only feel tender and soft.
The saddle has Chrome plating Steel rails.
Characteristic includes Steel tubular rivets.
Offers a 2 years guarantee from the date of purchase.
CONS:
You may sometimes slip off the saddle at first because it is slippery as butter, which is quite annoying.
Will face issues with the break-in period.
Have to be careful on rainy or snowy weather as the saddle is not waterproof.
Quite expensive.
'Brooks' the brand is not just any brand, the name has gained its reputation accumulated over the years. The B17 carved is the most reliable saddle for long distance riders who frequently take rides. For any type of rides that usually last for five to eight hours, this saddle is able to keep you comfortable during the whole ride.
Like all the Brooks saddle, this saddle is built with quality construction making it so durable that sometimes it will last for 10-12 years. The wider back of this saddle will help you to prevent back pain. At the same time, it is narrower towards the front so that you can easily pedal your bike.
8) B17 Carved Short Saddle
For women
Sale
B17 Carved Short
Weight(gm): 460
Dimensions: 242x176x58 mm
Color: Black, Brown, Honey
Cover: Vegetable tan Leather
PROS:
Relieves all types of perineal pressure for its central cut-out designed for women.
A wide saddle from Brooks for women's comfort stimulated from the Original model over 100 years ago.
An original vegetable tan leather on top handmade in England.
Like other Brooks saddles, it comes with tubular steel rivets.
Rails are made of Steel reinforced with Chrome plating.
Guaranteed for 2 years and an extended 10-years warranty will be awarded to registered customers.
CONS:
During rainy weather, the seat needs to be covered.
Some riders slip off the seat when pedaling.
The leather continues to rub against your pelvic area before it softens.
Expensive like most of the Brooks saddles.
For a woman long-distance commuting or touring can be quite a challenge. To win the challenge there is nothing but a saddle that can help you. So we present you the "B17 Craved Short" as it is the best option you can find in the market. The wide design with center cut-out ensures your comfortability in a sporty position. So that you can enjoy commuting hour after hour.
If you have gone through the company's 1890 catalog, you will find the following speech at the "registered cutting" section- "a sure preventive to all perineal pressure"
So if you are a woman and still thinking of buying a saddle for long-distance touring, go ahead and buy this saddle. Also, register your product at their official website to get an extended warranty for 10 years.
Perineal Numbness from Cycling
When we usually sit on a traditional saddle, we put a lot of pressure on our perineum. But research has found that it is not proper and the pressure isn't supposed to go there. According to Dr. Schrader's suggestion showed in the New York Times reports– We are putting 25%-40% of our weight on the nerves and blood vessels near the perineum.
Dr. Shrader said that- "Within a few minutes the blood oxygen levels go down by 80 percent".
– When You Realize Perineal Numbness
The time for experiencing perineal numbness basically depends on the type of ride you are taking. Usually short and easy rides will hardly cause this type of situation. In fact, this situation mainly occurs most when you are on a long-distance touring. Sometimes it can happen while mountain cycling where there are frequent jolts on the road and you are cycling aggressively. The time can be also depended on your body structure. If you are thin and lightweight, this thing can take more time to occur than a bigger person whose weight is twice as yours.
– How Perineal Numbness Causes
After spending a prolonged amount of time on your saddle makes your perineum area go numb. You are using your local saddle that comes with the bike and you are cycling for about 6 to 10 hours at a stretch. Then you will definitely experience this situation.
Also, the cause of perineal numbness may differ from a man to a woman. The size of the male pelvis is smaller than a female pelvis. Based on human Pelvic Girdle, this awkward situation can happen. This chart shows a basic difference between a male and a female pelvis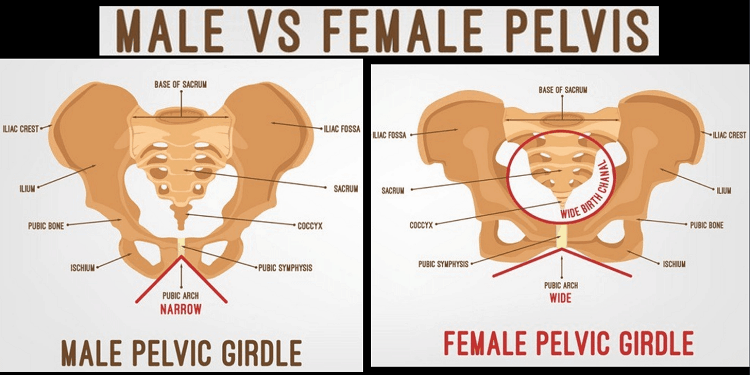 Where Should I Sit on My Bike Saddle
Are you trying to avoid pain and numbness? Then find a neutral position that suits your sit bones and where you should be sitting while riding. A neutral position is a position where you will barely feel any pain or numbness on your perineum.
– What Mistake People Usually Do
People tend to sit back into their trunks and they get quite rounded through their lower belly part which increases to reach the handlebar through the arms and they keep a forward head posture which will create a real hinge point and some compression through this part of the neck. It is common that while cycling people put pressure through the joints in the neck. It will put pressure through the arms and it can have a negative effect on the lower back.
– How Should You Sit
Gently roll your hips and your pelvis a little bit forward. A slight elongation through the upper back would be good. Finally which is really important- keep your elbows nice and soft. This will absorb the shock whenever you hit a hole on the road. The shock will go through the elbows rather than going directly into your neck.
Check out this video to get a better concept.
Bike Saddle Fit Guide
If you do not want to experience perineal pressure, you should adjust your bike saddle first.
No matter how much your saddle can reduce the pressure on your private parts or you may be confident enough that your saddle can handle any kind of pressure, you need to check if it is properly adjusted and match your riding style.
First, try to properly adjust the mounting of the saddle to the seat post. You will find available tools which can be found in a bike tool kit.
Then adjust the seat height according to your bike handlebar and your riding position. For inclined or athletic positions it is better to keep your saddle a little bit below than the bar. But for a relaxed position, you will find good results if the height of your saddle and the handlebar is in the same line.
Tilt the saddle back and forward and give a try each time until you are completely satisfied.
4. Tilt the saddle a little bit forward for a flat saddle and notice the difference. For other types of saddles try tilting back and forward to the right position that suits you best.