Mountain biking is a type of cycling where you take your cycle on a mountain, especially over a rough landscape. The cycles which are used for these types of rides are known as Mountain bikes. Although they have the same features as other types of bicycles, they usually have enhanced durability so that they can provide serious performance over rough terrain.
Here, we have researched and tried out a couple of saddles according to some specific topics. Therefore we have come up with the following comfortable MTB saddles based on some general categories which are related to mountain cycling.
How to choose comfortable mountain bike saddles
If you want to get the best mountain bike saddle for you then the best method will be to try it by yourself. But that is not that simple. As the local shops stock only a few options, so you will not get a sufficient idea about the comfort of the saddle. Again giving trials for each saddle is impossible and giving only one try may not fully express the saddle's true nature.
So you can follow these basic steps before going to purchase a mountain bike saddle. Even if it may not provide the perfect result but it will surely help you to find something close within a short period of time.
Process 01: Know your preferred saddle width and length
Step 1: Know your preferred saddle width
The sit bone width is the main subject to find maximum comfort on your mountain bike saddle. If you are uncertain of your sit bones width please follow these steps:
Spray some water on a paper towel but don't overdo it.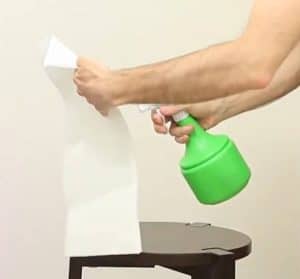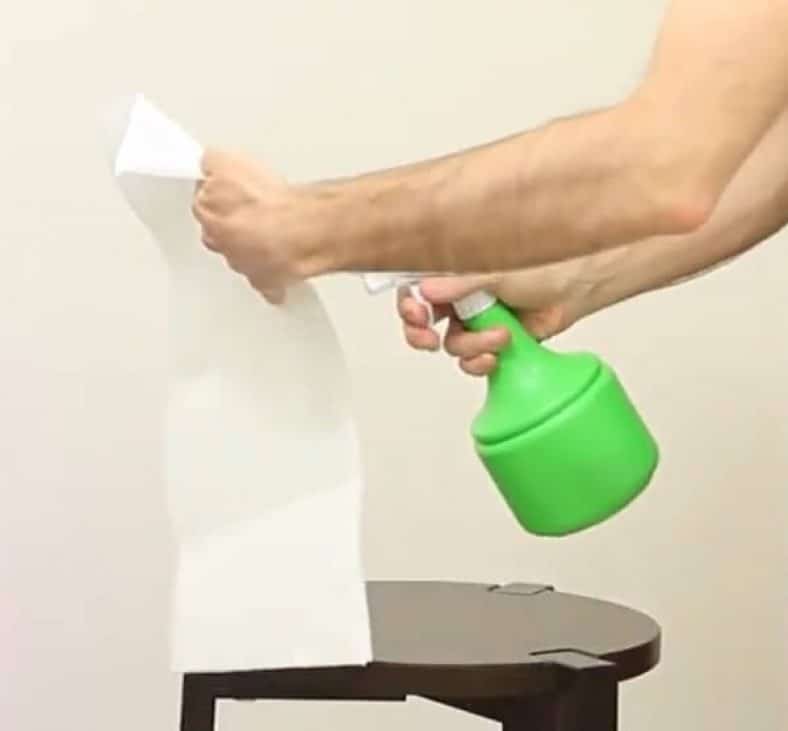 Put that paper towel on a wooden stool and put a white letterhead format paper on top of the towel.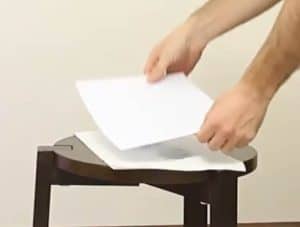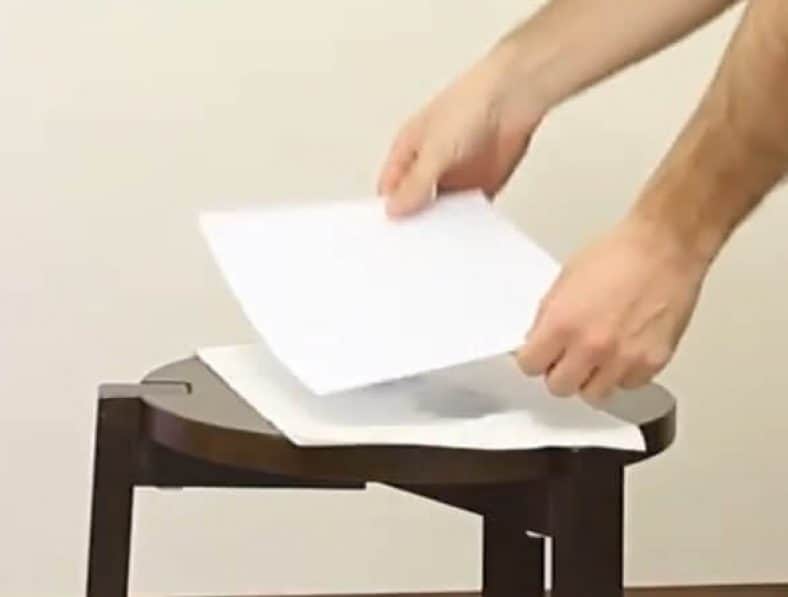 Now sit on the paper wearing something thinner like cycling shorts or underwear.
Try to position your legs about 30° to the ground while sitting.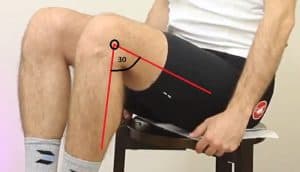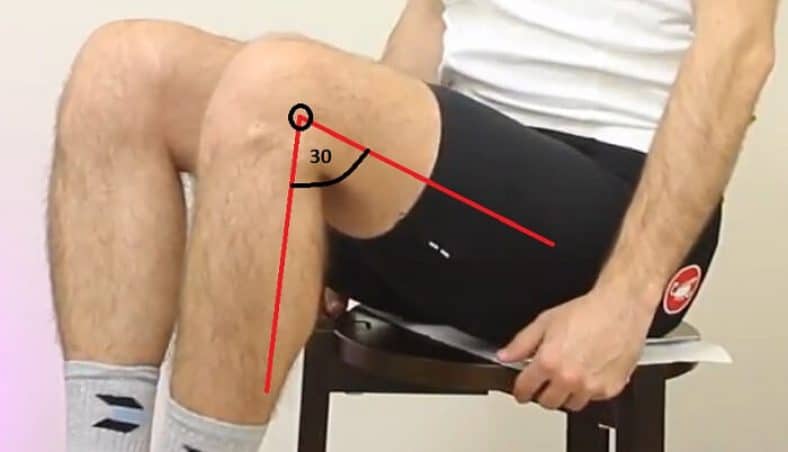 Now stand up and on the paper find your pressure centers.
Mark them with a dot. Try to do it fast because the wet spots can disappear after a short amount of time.
Measure the distance between the dots (Note: For double-check, take measurements multiple times).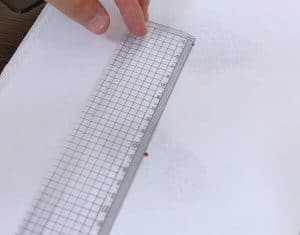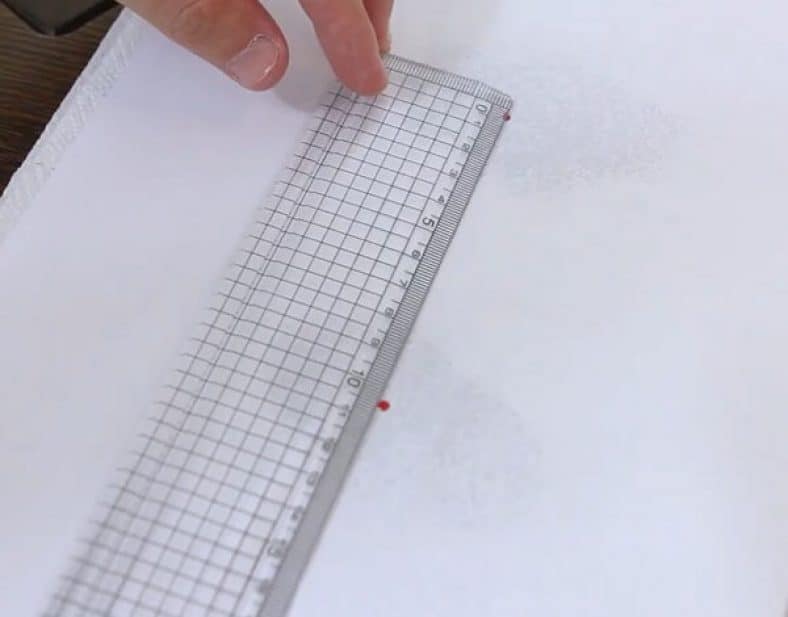 When you find your measurement you need to add 20 mm. For example, if the distance between your sit bones is 100 mm, then you have to add an additional 20 mm. So the final result will be 120 mm. As a result, you should look for a saddle which width is about 120-145 mm. So the equation goes like below:-
Distance between sit bones + 20 mm = Perfect saddle width
Step 2: Find your preferred saddle length
Once you have successfully found your preferred saddle width, you should check for the preferable length of the saddle.
It actually depends mostly on you. If you like to have a shorter nose that will not disturb your perineum parts, then go for a saddle that is short in length, if you like a long nose that can balance your perineum area then you can go for a long saddle.
It is recommended that the average length of a mountain bike saddle for men is 276 mm and for women is 270 mm as they generally require shorter saddles.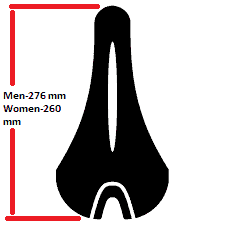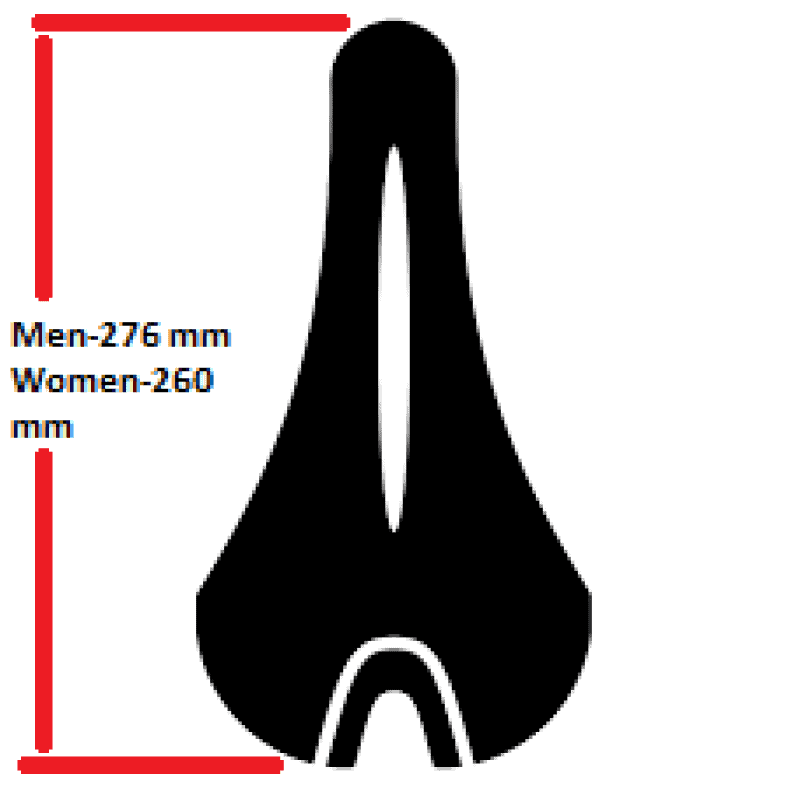 Many manufacturers also offer fitting tools that will measure and register your preferable saddle length. Now, this comes in handy.
Step 3: Adjusting your saddle with fitting tools
There are also bike saddle fit tools. WTB has its own fitting tool that may help you to measure your sit bone width as well as find the right saddle according to your sitting posture and personal preferences. The WTB fitting tool will slip through your saddle and shows your primary contact areas and stores them in your account.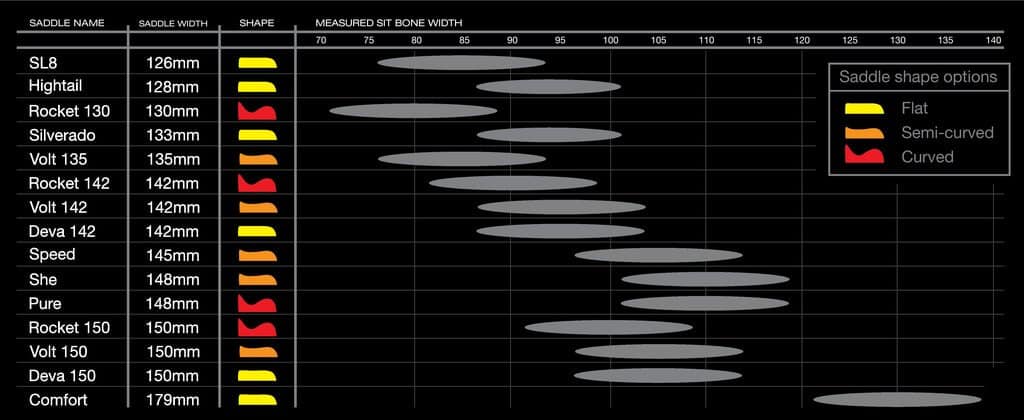 From WTB's saddle range chart- we can see that there is a WTB saddle just for everyone with any sit bones widths.
Fitting tools are good but they are not 100% accurate. Again in some cases, adjustment is not an issue, the design or other things are the issues.
Process 02: Take one of your friend's saddle
Taking one of your friend's or relative's mountain bike saddles and trying it out might be another strategy for finding the correct saddle. There is good news and bad news here.
The good news is- if your friend or relative is professional in mountain cycling, then there is a possibility that the saddle he/she is using most likely suit you very well or at least he/she can suggest you a good mountain bike saddle.
The bad news is- if your friend or relative is not so professional and his/her body shape is completely different than yours, then trying out his/her saddle won't do any great.
Process 03: Go biking shops for demo programs
Sometimes there are demo days on typical bike shops near your living area. Prepare a mental note of the mountain bike saddles that you prefer and then test them out one by one. It is common that you will go through a few misses before you finally hit the jackpot.
Yet some bike shops offer try-before-you-buy programs. Although they will charge you for this benefit if you buy a new saddle from the same shop this price will be deducted from the payment.
Tips for buying a comfortable MTB saddle
Before you buy a new mountain bike saddle always consider the following elements because it is difficult to make a choice as there are innumerable options. The presence of these elements will not just make your cycling comfortable but also will prevent any future injuries which may arise from aggressive mountain cycling.
No two human being is the same: Everyone on earth is different (if not twins). Men's and women's structures are different. So, are their sit bones widths. So, the saddle that fits your buddy there is a huge chance that it will not fit you. Spine and hip flexibility vary from one person to another. Different body weights put different kinds of pressure on the saddles. So, you see why finding the right saddle is so difficult. And one thing to remember is: the above factors may change over time. So, the saddle you're getting perfect today for you may give you saddle discomfort after some months if any of the above factors already has been changed for you.
The Cover Material: Now a day's saddle cover is generally made from synthetic leather. Well, there are two reasons- one is that they are low in price and the second one is they are comparatively durable. If you are low on budget, synthetic covers are the best options for you. Those who are not taking the budget into consideration must go for a leather saddle. The main fact is, your cover should be strong enough to handle your pressure while you are putting on your casual wearing and at the same time your cover should not cause chaffing.
The Rails of the Saddle: The core difference between mountain bike saddles with other types of saddles is the rail. The saddle variants which are usually cheaper use Steel Alloy rails. They are relatively heavy and thick. Again Titanium or Carbon rails are used in the expensive variants. They are lightweight at the same time firm and sturdy. In case the rails have not made with proper alloy materials, there might be a chance that the rails will get rusty.
The Material of the Shell: The base of the saddle which basically takes the pressure of your weight is the shell. Depending on saddles, shells come out of different qualities. Their shapes and sizes may also differ based on saddles. Nylon shell is the common type of shell that is used in most of the saddles. But in some cases, they might have carbon reinforcements depending on the price. Choose carefully as the shell needs to hold your entire weight on uneven mountain roads. So you should not go for cheap plastic shells.
Amount of Padding: The absence of appropriate padding may result in the resignation of your cycling career. It is the most crucial element which varies in terms of comfort and expediency. Again you cannot choose an over padded saddle. That will be unsteady and wobbly for you. Always keep in mind one thing, an intensely padded saddle may be comfortable initially, but they will eventually mold over time bringing heat and trouble. So you better go for a slightly firm saddle.
Our Top Pick
WTB Rocket Saddle
The most comfortable versatile MTB saddle money can buy this year.
Best for: Road to MTB, Endurance Riding, Gravity Riding.
Styles: Styles available both for Men and Women.
Weight (gm): 270
Dimensions (mm): Narrow, Medium, Wide – 130, 142, 150 x 265
Color: Black/Red
Cover: Microfiber
The WTB Rocket Race Saddle is the perfect saddle designed for mountain biking. This particular saddle has proven its qualification as it was the saddle of choice by Santa Cruz Syndicate legend Steve Peat and downhill champion Jay Petervary.
Compare the selected saddles
This chart will give you quick information about the saddles that we have selected:
Saddle
Preview
Cycling type
Weight(gm)
Dimensions(mm)
Cover Material
Rail Material
Cut-Out/Groove
Gender
WTB Rocket Race
Road/ MTB/ Enduro
270
265 x 130/142/150
Microfiber
Cro-Moly
Yes
Men (142), Women (150)
Selle Italia Diva
MTB/ Road/ Offroad
225 (S), 285 (L)
S: 270 x 135
L: 270 x 152
Full-grain Leather
Titanium vanox
Yes
Women
SQlab 610
MTB/ Tour/ Travel
275
275 x 130/140/150/160
C84
CrMO
Yes
Unisex
Brooks B17
Road/ Touring/ Trekking/ Century Rides/ MTB
520
275 x 175 x 65
Vegetable Tan Leather
Steel
No
Men
Ergon SMC4
MTB/ Touring/ Fitness
285
285 x 145
DuraSkin
CroMo
Yes
Men
WTB Volt
XC/ Enduro/ Trail/ Bike packing/ MTB
292/315/320
265 x 135/142/150
Microfiber
Cro-Moly
Yes
Men
Bikeroo Men's Saddle
MTB/ Road Bike/ Indoor / Exercise
440
260 x 190
Synthetic Leather
Steel
Yes
Men
Bikeroo Women's Saddle
MTB/ Road/ Indoor
698
260 x 198
Synthetic Leather
Steel
Yes
Women
8 most comfortable bike seats for your mountain bikes
1. WTB Rocket Race seat
For men (142 mm) & women (150 mm)
WTB Rocket Race
Best For: Road, MTB, Endurance Riding
Weight(gm): 270
Dimensions(mm): Narrow, Medium, Wide – 130, 142, 150 x 265
Color: Black/Red
Cover: Microfiber
PROS:
A very versatile saddle with standard padding and durable microfiber on top.
Has swooped tail which allows to lock rider's position and push you through the mountain roads.
The channel works flawlessly relieving pressure on the sensitive areas.
Features Cro-Moly Rails.
Promotes Flex-tuned shell.
Comes in three different widths according to user comfort.
Very accurate saddle judging by rider's anatomy and also very good looking.
Offers a 2-years manufacturing warranty.
CONS:
Lacks a bit in comfort and material quality, but you are getting the best for the price.
The saddle might crumble on a bouncy road carrying an overweight person.
May be stiff for you when you are looking for something with extra padding.
The WTB Rocket Race Saddle is the perfect saddle designed for mountain biking. This particular saddle has proven its qualification as it was the saddle of choice by Santa Cruz Syndicate legend Steve Peat and downhill champion Jay Petervary.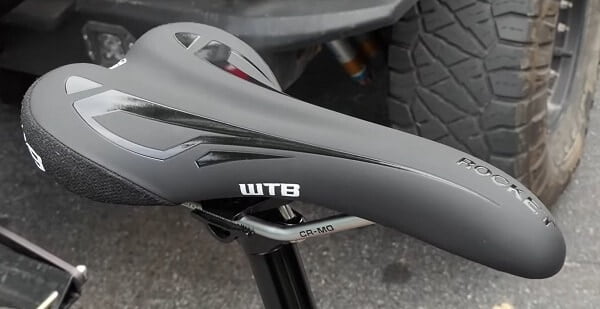 2. Selle Italia Diva saddle
Best women's MTB saddle
Selle Italia Diva
Best For: MTB/Road/Offroad
Weight(gm): 225 (Small) – 285 (Large)
Dimensions(mm): 270 x 135 (Small), 270 x 152 (Large)
Color: Black, White
Cover: Full-grain Leather
PROS:
Very good saddle for women as it was made based on the needs of female audience.
This saddle disagrees to neglect the performance and keeps on comforting you.
Titanium vanox rails are very strong and durable.
Sufficient amount of gel padding so that womanly areas will remain pleasant.
An attractive seat and the full-grain leather made with Fibra-Tek technology makes the top perdurable.
The center cut-out will provide sufficient airflow on the gentle parts of the female body.
The built-in shock-absorbing elastomers will protect your anus from intense shocks.
Shell is made of Carbon composites (10%).
CONS:
The bulbous shaped nose might be responsible for causing chafing.
Too flexible and bulky-that is the case may be for some riders.
It is hard to determine the right sit bone spots.
The Selle Italia Diva is one of the cozy, sympathetic, and very well made. The saddle was designed to adjust the female anatomy and posture. That is why it is recommended by most female cyclists. Its unparalleled design is sure to be liked by most of the female riders, that is exactly how it was designed.
This speech clears the company's motto-
"Selle Italia's DIVA has a shape that is perfect for the female anatomy and posture. With its unique streamlined shape and sporty style, DIVA is the perfect high-performance comfort saddle for women. For women who ride leaving no one behind."
Related: Top Women's Mountain Bike Saddles Reviews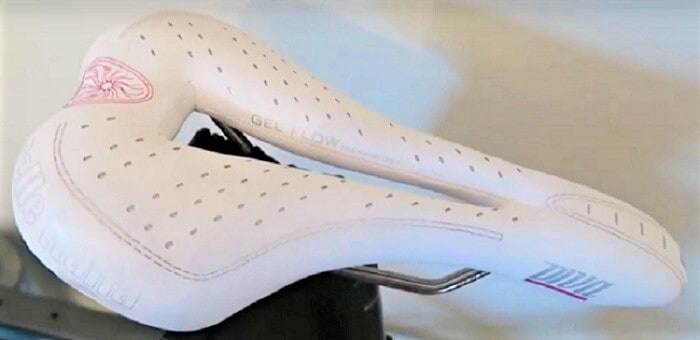 3. SQlab 610 seat
Ergonomically designed
SQlab 610
Best For: MTB/Tour/Travel
Weight(gm): 275
Dimensions(mm): 275 x 130/140/150/160
Color: Dark Black
Cover: C84
PROS:
The most interesting part of this saddle is that, it has 3 different layers of elastomer dampers and this layers can be interchanged.
Features CrMO rails.
Compared to the streamlined EROWAVE narrow-cut version the new ERGOLUX surface is larger and softer.
The ergonomic design helps to increase comfort on sit bones and ischial branches.
For alleviating pain and suffering from your pubic region the nose of the saddle has lowered down a little.
It is suggested that the saddle can handle 100 kg of load.
The stepped rear helps to improve grip and efficient pedaling motion.
The raised back also keeps you balanced which reduces energy loss.
CONS:
Unusual shaped saddle might take some time for you to get habitual.
The 3 different layers of elastomer dampers might be hard for you to adapt to.
This saddle is the core supporter for mountain bikers and trekking cyclists. It was expertly designed for the orientation of comfort and performance. The successful ERGOWAVE saddle shape was developed even more for gaining the title ERGOLUX. In addition to sporty performance, the 610 emphasizes saddle comfort. The active-saddle technology from the SQlab will let the pedaling motion to be followed by the rider.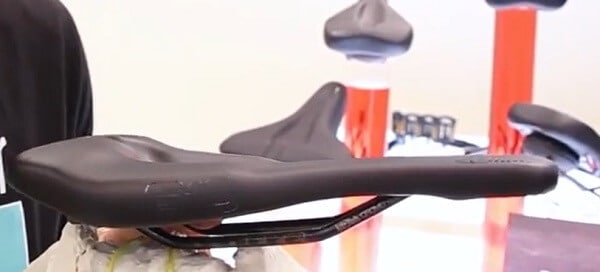 4. Brooks B17 saddle
Our leather choice
Brooks B17
Best For: Road/Touring/Trekking/Century Rides/MTB/Other
Weight(gm): 520
Dimensions(mm): 275 x 175 x 65
Color: Black, Brown, Honey, Red
Cover: Vegetable Tan Leather
PROS:
This saddle is best for almost all types of cycling, has been on production for over 100 years.
The cover is made from original vegetable tan leather made in England.
Rails are made of Steel and there is Chrome plating.
Promotes Steel tubular rivets. You will get a waterproof seat cover and a mounting tool with the saddle.
A 2-years product guarantee from the date of purchase and will you can obtain a 10-years extended warranty if you get your product registered at their website.
CONS:
The most annoying part is the break-in period which can usually take 200-300 miles.
Buy and apply Proofide (Brooks leather conditioner) at least twice a year.
A bit expensive saddle.
Not waterproof.
The B17 model is the core model that is responsible to make the company renowned. It is absolute in quality and has been carrying out very well for generations. You just need to get rid of the break-in period and then you will feel the magic of this saddle. You will scarcely want to switch to any other saddle. The saddle has proved its durability as some people have been using this saddle even for 10 to 12 years. Ladies don't get upset, because it has a ladies variant which is the B17 S model.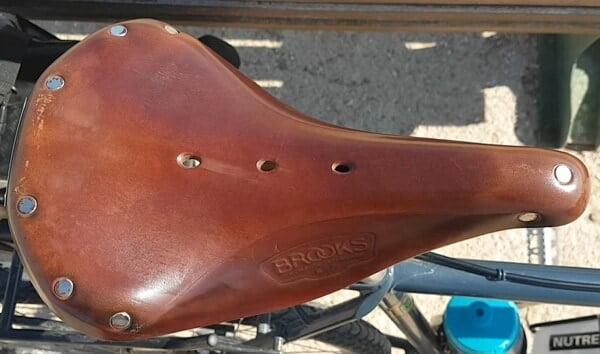 5. Ergon SMC4 Sports Gel Saddle
Gel mountain bike seat
Ergon SMC4
Best For: MTB/Touring/Fitness
Weight(gm): 285
Dimensions(mm): 285 x 145
Color: Black
Cover: DuraSkin
PROS:
The saddle has a unique gel technology which distributes the pressure on the private areas.

Offers ChroMoly standard rails.

No more worries for numbness as the relief channel (9 mm) is great to protect soft tissue areas.

Synthetic DuraSkin cover enables the perfect grip for you.

Smartly designed with a large sitting area padded with orthopedic comfort foam.

The nylon composite Y-Flex shell beneath the saddle makes it very durable. 
CONS:
For some riders, they have to sit back to find comfort after a few hours of cycling.
The SMC4 is the most ergonomic mountain bike seat with a flat seat area and tapered rear. This saddle allows dynamic movement for mountain bikers while the gel maximizes the comfort. Keeps your perineal area always comfortable with the help of a 9 mm deep pronounced relief channel. The saddle has 3 variants- the SMC4, the SMC4 Comp Gel, and the SMC4 Sport Gel. Each model comes in 2 different widths which are cool.
Dr. Kim Tofaute introduces the saddle in this speech:
"The SMC4 is for sporty riders who are looking for maximum comfort."
Related: Top Gel Bike Seat Covers Reviews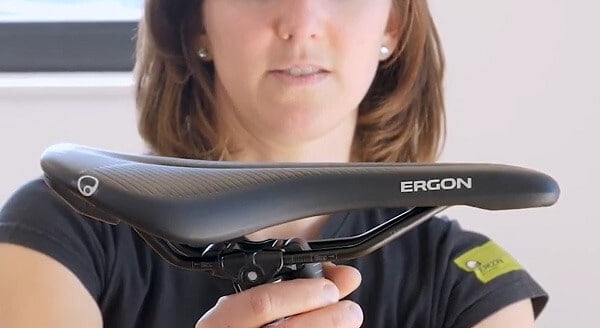 6. WTB Volt saddle
Our budget pick
WTB Volt
Best For: Cross Country/Enduro/Trail/Bikepacking/MTB
Weight(gm): Narrow, Medium, Wide- 292/315/320
Dimensions(mm): Narrow, Medium, Wide – 135, 142, 150 x 265
Color: Pure Black, Black/Red, Black/Green
PROS:
This saddle has a raised 'Whale' tail keeps in place tilting your pelvis at the right direction.
Because of the shape of the rear part, it offers greater efficiency while pedaling.
The central deep channel lets air pass through your perineum area.
Strong and flexible Flex-Tuned shell.
The saddle proffers Cro-Moly rails.
Moderately padded and the gentle drop nose will push you through on climbs.
Provides a 2-year manufacturing warranty.
CONS:
When aggressive cycling you may slide forward.
The Cro-Moly rails may bend for overpressure.
Do not go for this saddle if you want something that is more elastic.
This saddle has been proved to be the most popular mountain bike saddle from WTB. This has been tested over time. This saddle has been successful to prove to its versatility. This is undoubtedly a good call when you are looking for something affordable under your budget and something which can perform. This saddle also comes in three different widths based on riders sitting comfort.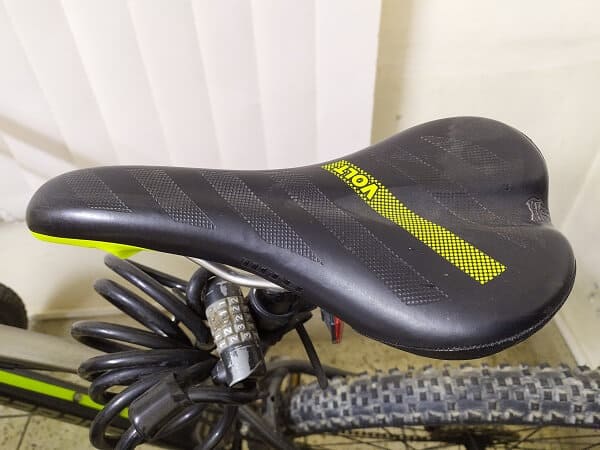 7. Bikeroo Bike Saddle
Beginner's MTB saddle for men. Good for big guy
Sale
Bikeroo Men's Saddle
Best for: MTB/Road Bike/Indoor Bike/Exercise bike
Weight(gm): 440
Dimensions(mm): 260 x 190
Color: Black
Cover: Synthetic Leather
PROS:
The hollow core design of this saddle is best for men's anatomy.
One of the comfortable mountain bike seats for a sufficient amount of memory foam.
The cavernous cut-out ensures there is no pressure on the prostate.
A budget saddle can be used for multipurpose.
Yo will get a waterproof cover, mounting tools, and instructions with the saddle.
The spring suspensions will make sure you enjoy a bump-free ride absorbing unexpected and painful shocks.
Will fit any bike posts because of universal rails system.
CONS:
There is a possibility of popping off the rail because it is surrounded by cheap plastic.
It is not a lifelong product.
For mountain biking, the cover produces a minimum amount of breathability.
You want to start mountain cycling, but are you confused about which saddle would meet your needs? Then don't think. This is the saddle that you are looking for. This saddle has all the basic features and very much comfortable so that you can use it not only as a mountain bike saddle but also for other types of cycling. This can be your day-to-day saddle for cycling as it is specially developed for men's anatomy.
Related: Top Comfortable Bike Seats for Men Reviews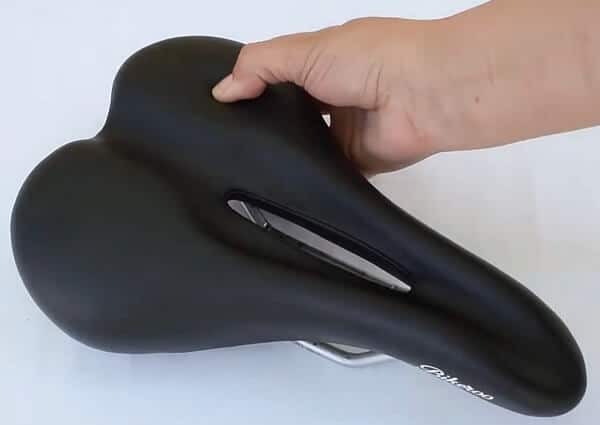 8. Bikeroo Women Saddle
Beginner's MTB saddle for women
Bikeroo Women's Saddle
Best for: MTB/Road Bike/Indoor Bike/
Weight(gm): 698
Dimensions(mm): 260 x 198
Color: Black
Cover: Synthetic Leather
PROS:
The dual suspension springs will help you to avoid jolts on a mountain road.
Brings pleasure to the sit bones of a female rider which helps to enjoy long and short mountain biking.
Considering women's sit bones and hips structure, it is extremely thick padding.
The wider seat will protect and give comfort to the soft tissue areas.
The center cut-out will alleviate all pains from a woman's private parts.
CONS:
The installment of the adapter is complicated, may need to watch the video that the seller provides.
A heavy saddle for mountain cycling.
Because of poor build quality, it may bend holding a heavy rider.
Like the Bikeroo men's saddle, this saddle is the best option for a female cyclist who is willing to start mountain cycling at the same time wants to use the saddle for other purposes. This saddle is wide enough for carrying women's Pubic Arch which is comparatively wider than men's. Enjoy an extended period of mountain cycling as this saddle is perfect for feminine anatomy.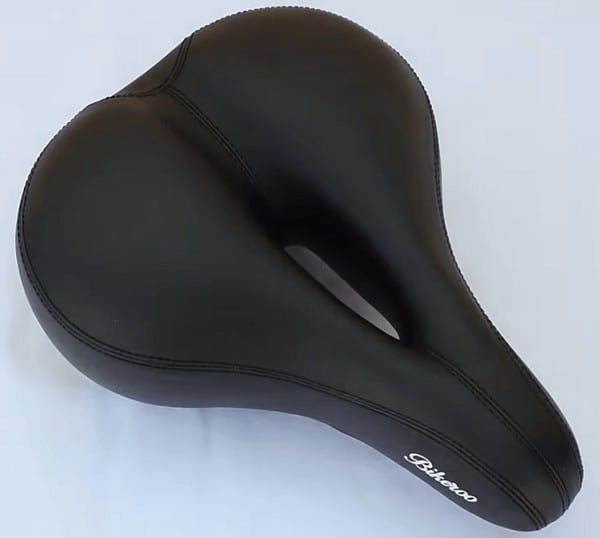 Conclusion
I guess you are already in a position (after reading this article) where you know the factors to consider for choosing the right saddle for you. So, if you are going through some kind of saddle soreness, now it is easy for you to find out where to look for the possible sources of the pains.
Ask questions yourself and get answers. Check every factor that makes a saddle comfortable. Is your saddle wide enough to support your sit bone? You have to know what your sit bone length is. Measure your sit bone if you already did not do it. Now check whether you are riding a right-width saddle.
Check out your sitting posture. Is it leisure and you're using a performance saddle? Change it.  This is actually the way. You already know the right-saddle-choosing factors, you are facing some problem with your saddle, so you are the only person who can find possible solutions.
Even, sometimes, you found the right saddle but due to wrong fitting of the saddle can arise discomfort while you're riding. We have a perfect guide on saddle fitting. Check out this guide, you will be highly benefited.
---
Related Readings