Transporting a bike or several bikes now is more comfortable because of the improved design of bike racks. Bike racks have different categories based on how it is attached to the vehicle. For vehicles like trucks, there are two types of attachment. One is the truck bed and the other is the hitch. The hitch mount racks are more popular because of their carrying capacity, longevity, and durability. Also, they provide certain advantages for racks and bikes.  A truck is a heavyweight towing vehicle and generally, it has a strong hitch that is prepared for towing or carrying a lot of weight.
 In this article, we chose Overdrive Sport Hitch Mounted Rack to be the best bike rack for truck hitches. It has the versatility of supporting different types of heavy bikes,  smart features and it is durable. These all enable the rack to be on top of the top tier list.
A quick view of our selected bike racks best for truck hitches:
6 best bike racks you can buy today for truck hitch
| Racks | Preview | Style | Speciality | Best for | Product Weight (lbs.) | Load capacity (lbs.) | Bike Capacity |
| --- | --- | --- | --- | --- | --- | --- | --- |
| Overdrive Sport | | Platform | Smart Tilting, Fat Tire&E-Bike Carrier | Regular, Fat, & E-Bikes | 48 | 120 | 2 |
| Hollywood Sportrider-2 | | Platform | Recumbent Rack, Foldable | Recumbent Bike Carrying | 41.5 | 140 | 2 |
| Allen Sports Hitch Racks | | Mast/Hanging | Folding Arms, Tilt Feature, Easy Assembly | Value | 23 | 140 | 4 |
| Swagman XC2 | | Platform | Folding Arms, Adjustable Ratchet arms, Addon-Fat Tire Tray | Affordability | 32 | 70 | 2 |
| Thule Helium Aero | | Mast/Hanging | No Sway, Ultra Light, Aerodynamic | Lightweight | 22 | 110 | 2 |
| YAKIMA - Hangover 6 | | Vertical | 6 Bike Capacity | Vertical Rack | 73 | 225 | 6 |
1. Overdrive Sport:
Best rack for the money
The Overdrive sports hitch mounted rack is a heavy-duty rack. It supports e-bike and fat-bike for carriage. It's durable and secure. It has quick-release tilt design features. Sturdily built with great design makes a great position for this bike rack. This rack won't have any shaking effect or swaying while attached with a truck hitch. It provides good value for money. The rack is adjustable which means it also supports regular bikes. One of the fantastic racks in the market.
2. Hollywood Sport Rider Recumbent:
For recumbent and trike riders
Hollywood Sportrider-2 is a recumbent bike rack. But this can be used as a regular bike rack also. And also it carries trikes. So, overall this is a performance rack for trucks. The rack is foldable and can carry up to 4 bikes after an upgrade. Its weight capacity is good too. Well, the price and upgrade cost is a bit high. But considering its capacity for carrying fantastic bikes, it's a good rack for a truck.
 3. Allen Sports Racks:
The hanging style rack
Affordable, good capacity and casual use. These words explain the rack. Allen sports hitch racks are an economical choice for racks. It provides almost all the features a good rack should have. The only question is in long term durability. The rack is good for casual use. The rack itself weighs 24 lbs and carry 140 lbs in full scale. overall it's a good rack.
4. Swagman XC2:
The platform-style rack
This rack is a hitch-mounted platform-style rack. The versatility is a great advantage here. Due to some adjustable components, it supports bike frames up to 59 cm and fits 20″ to 29″ tires. It has some upgrades like a fat bike supporting tray, hitch pin, and security cable. The rack is easy to install and also the bikes are easy to load there. The pricing is very affordable. It doesn't have a great build quality and not bad quality either. For a price like that it has great value for a bike rack.
5. Thule Helium Aero:
Lightweight
We all know about Thule. They are the manufacturer of the world's one of the best racks. This Helium aero rack is one of the most lightweight racks. It is made of aluminum. Several features are included with it like road dampening barrier, built-in lock cable, lightweight design, supporting non-conventional bike e.t.c. It has two models. 2bikes and 3bikes capacity model. It's overall a well-designed bike.
6. YAKIMA: Hangover 6:
Great carrying capacity
Yakima is one of the best rack making company. Hangover 6 is one of their best value rack with great carrying capacity. The Hangovers are vertical type rack. It is available in two models, 4 and 6 bike capacity racks. The rack is built for serious and professionals and focused on carrying mountain bikes. It has a narrow range of application but it does best what it was intended to do. Just get your gang for an MTB ride with this rack.
---
Choosing the hitch size for your bike racks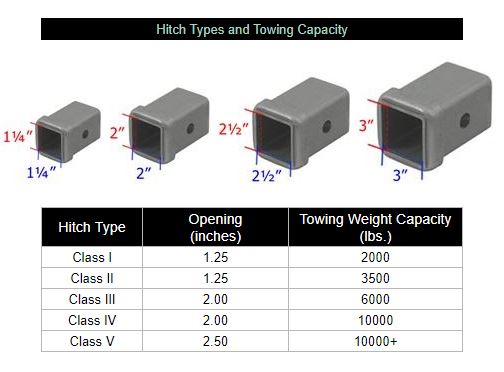 A trailer hitch or hitch is a common component in a car, SUV or truck. Generally, it is used for towing other non-engine vehicles or carrying a cargo rack or racks. The fact is it is the bridge between the main vehicle and other things, the towed vehicles. There is a receiver tube with a hitch. With this, a cargo/bike rack or a towing vehicle connects with the hitch as well as the vehicle.
Now, this is a picture of the receiver hitch tube. It is one of the depending factors for the towing weight capacity of the vehicle. Here,
The Class I and II type hitches are found in personal cars and small SUVs
The Class III and IV types hitches are found in SUVs, Full-sized sedans and pickup trucks
The Class V hitches are strong. These aren't specified for vehicles. They are needed for selective tasks
A truck can carry a bike in two ways.
Truck bed bike racks
Truck hitch mounted racks
In this article, we are going to talk about bike racks for truck hitches. Now, truck or pick-up trucks fall in Class III and IV categories. They have a good use for vehicle towing. And amazingly most of the components need towing or carrying are compatible with that 2″ receiver hitch tube. Besides the highest capability of Class III hitch is 6000 lbs. Whereas, the bike racks we feature here, which has the highest capacity, has a capacity of 225 lbs. So, it can be said that racks with 2″ hitches are perfect or the truck hitches.
What types of hitch racks can you use with your trucks?
There are several types of bike racks in the market. Here we are only going to talking about hitch types. Not just hitch types. Hitch types that go along with the trucks. There are two types of receiver hitch in a vehicle. The front and the rear. Based on that there are two types of hitch-mounted racks.
Front hitch-mount
Rear hitch-mount
Well, pick-up trucks generally compatible with rear hitch mount racks. We will continue with that.
Hitch mount racks are made of durable material with heavy strength. Advantages are-
Easy installation and Easy bike loading
Heavy-duty racks. Depending on the model, the max capacity is 6 bike in a hitch rack
It is the most stable, weight bearable and convenient form of bike racks.
As now features like foldability, tilting is common; these types of racks are good for regular usage
Available for all types of vehicle
Well, It has some cons too.
It has to be durable and sturdily built. So, it is expensive
Due to vibration contact between bikes may happen and those might get damaged
Now, there are actually 3 hitch mounted racks for rear hitches are available. Those are-
# Platform Style Hitch Mounted Bike Rack-
The technique is simple. A tray is attached to the vehicle. through the universal receiver, The bike stays on the platform or the tray. A ratchet arm or straps are used to tie the bikes to secure it.
The anti-sway feature is available. which means less vibration in bikes
Can be carried 4-5 bikes depending on the model
# Hanging/Mast style hitch mounted bike rack-
The bikes hang from the mast with our without the help from an adapter. The mast body is sturdily built.
They offer good ground clearance
Less expensive
Foldability feature is available here
# Vertical style racks-
They are also hitch mounted. These are just a form of storage enhancement. The difference is, here, bikes are positioned vertically. Less space is needed here so, a lot of bikes can be vertically hanged.
Maximum number of bikes can be held in this model; 6 bikes
Bikes must be strapped down. Not easy to load
Factors to consider before buying bike racks for Truck Hitches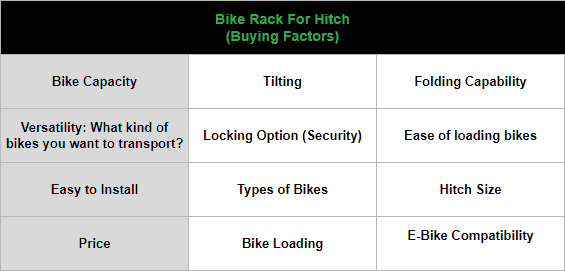 1. Bike Capacity
Generally, trucks have a Class III or IV hitch. Which are enough to carry bikes. Now there are several type hitch racks. Choosing of racks is depending on how many bikes you want to carry.
1-2 bikes- Platform/tray-style and hanging/mast-style racks are suitable for this kind of operation.  2 bikes generally weigh 70-80 lbs. You may buy one of those racks which are suitable for the weight. The mast styles are preferable as they have good ground clearance.
3-4 bikes- Generally, both of the previous styles are suitable. But when bikes are hanged from a mast, after a long time it is more likely to bend. Which is dangerous. In this case, platform styles are preferable
5-6 bikes- Vertical type racks are the best choice for this. Because it is made for carrying a lot of bikes with less spacing.
2. Versatility
Versatility means carrying different types of bikes in a single rack. It is a good feature to have for a rack.
For hitch-mounted racks, if you want versatility in your rack choice then the best option is tray-style racks. Because vertical and mast type racks can carry the same style of bikes because of their design. But not different designs. It won't fit.
Whereas the platform/tray type rack can carry different types of bikes like Fat bike/e-bike/recumbent-bike/regular bike e.t.c. So, if you want to carry different types of bike you should choose Platform or tray-style bikes.
3. Easy Installation
It's a good feature. Time-saving. Generally, this feature is based on the model. If no tool is needed, a hassle-free installation is performed then it will be called an easy installation. Lots of tray and mast style racks have this feature.
4. Price
The pricing of racks depends on several factors. Such as- material, bike capacity, features, design e.t.c. The price varies from $100-$1200.
If the material is good then the rack will be durable.  Stronger the material, the higher the price.
Bike capacity is the most important factor. If your rack can carry 4 or 6 bikes without issues then it will be expensive for sure. People can upgrade bike capacity by buying add-ons.
Features like easy installation, easy loading, anti-sway, strap-include affect the price. Most price affectable feature is the anti-theft feature. As it provides security and safety.
Design is an important factor too. Based on the design the rack can be aerodynamic, lightweight. So, it affects the price too.
5. Locking options
There are a lot of racks with built-in safety features or locking options. Features like
Hitch Lock- This lock provides both road safety and anti-theft protection. It is important for a bike.
Strap- A strap to attach the bike to the rack. Just for road safety and less sway.
Integrated Bike Lock- It's a feature that includes a lock and the straps. First, the straps are tied around the bike and then locked with the tray.
6. Types of Bikes
Theoretically, you can carry your bike the way you want them to carry. But that's not what we ought to do. There's a chance of bikes getting damaged because of the position. Some bike's body is delicate and expensive. We can't afford to have a single scratch on them while transporting. So the rack type is important while transporting different types of bikes.
Platform/Tray style- There is a platform where bikes can be kept and it connects strongly with the hitch. So, no problem with swaying most of the time. That's why you can keep any bike in this type of hitch.
Hanging/Mast style- It is preferable for some type of bikes but not all. Like for expensive road/triathlon bike it can't be used. There is so much trouble. Because sway is common in our bike rack incidents.
Due to this, the bikes may have contact with each other and damage themselves.  But for a single bike, this mast style is cool. Even if the bikes sway there is no chance of getting damaged. Another problem here is, heavy bikes bend the mast arm. So, it's better not to use this as a rack for e-bikes, recumbent bikes, trike bikes, and other heavy stuff.
Vertical style- The vertical style is generally for or carrying a lot of same type bikes. So, in that case, road, mountain bikes, hybrid are normal bike choices for this rack. It's not a casual rack though.
7. Ease of loading bikes
Vertical racks hold the lowest marks for this category. Because it's less easy than the other two styles. Now, bike loading is easy in tray and mast style. Basically, plug and play stuff. But for a detailed comparison, it can be said the mast style racks are better here. It's easier to load bikes in a hanging style rack.
8. Folding capability
It's an important feature. Saves a lot of space. Sometimes the rack is kept unused. In that case, it can be folded. It improves the look and the dexterity of the vehicle.
9. Other features
A rack always comes with some important features. Like-
E-bike/Fat compatibility- Only a tray-style rack has this feature. Because heavyweight bikes aren't suggested to load in the mast or vertical type racks.
Tilt- Tilting feature gives users access to the hatchback. Also, it can be used for easy loading. In trucks, there is no hatchback. But for easy loading tilt feature is better to have than having no feature. It increases flexibility.
10. Truck and truck hitch
If you want to know which type of rack is good for you then you should get interested in your vehicle. Well, there are different types of trucks. And several types of hitches too. But now that we know what kind of hitch is needed for us we can easily choose from those. Carrying some bikes won't be a big deal for a truck as they have a high towing ability.
Can you open your trunk with a bike rack on it?
It depends on a certain feature of the rack model. The ability to tilt. If the rack has tilting ability then you can open your trunk just by tilting the rack down. Different racks have a different tilting mechanism. What common is after tilting it free up enough space for opening the trunk. So, yes, if your rack has a tilting mechanism you can open the trunk.
Conclusion
Trucks are a good choice for transporting a lot of bikes at once. Therefore, it needs a good rack. Among all the racks for trucks, the hitch racks provide the highest carrying capacity, can secure the bikes, and ensure the bike's road safety.
Related Readings
(Visited 1,197 times, 2 visits today)
Last update on 2020-10-25 at 23:40 / Affiliate links / Images from Amazon Product Advertising API
Close