It doesn't matter whether you are a professional cyclist or a casual rider, a pair of good quality cycling pedals may add a little bit of more comfort and ease. And talking about road cycling, a proper pair of pedals can enhance the overall performance to the next level. This type of cycling requires the proper set of parts If anyone can afford to spend that much. The proper set for road cycling also includes the proper pedals. These pedals are essential for a comfortable ride and they need to have some qualities that you just cannot avoid. As for the different variants of such pedals, one can easily get confused about making a particular choice.
After exclusive research for relentless hours, we have made a list of the finest flat pedals for road cycling. Among all the pedals, we do believe that the MZYRH Mountain Bike Pedals take the lead for delivering remarkable qualities at such a reasonable price. So we have entitled these pedals as our "Overall Best Choice".
In the following table, we've listed the best flat/platform pedals that we have selected for your road bikes:
8 best flat pedals you can buy today for your road bikes
As usual, we have made a comparison chart for readers who can't afford much of their time reading the whole article. This comparison chart will help them to get a quick overview of all the pedals from our list. But we highly recommend reading the whole post taking a decent amount of time as we can guarantee you will be benefited by reading this article.
Pedal
Preview
Pedal Type
Spindle Diameter

Body Material
Axle Material
Bearing Type
Platform Dimension
Weight (Pair)
(lbs.)
Included Cleat
Optional Cleat
MZYRH Bike Pedals
Platform / Flat
9/16"
Aluminum Alloy
Steel (Cr-Mo)
Sealed Cartridge
4.1" x 3.8" x 1"
0.71
N/A
N/A
FOOKER Bike Pedals
Platform / Flat
9/16"
Nylon
Steel (Cr-Mo)
Cartridge with DU bushings
4.3" x 9.34" x 0.98"
0.79
N/A
N/A
RaceFace Chester
Platform / Flat
9/16"
Nylon
Steel (Cr-Mo)
Cartridge with DU bushings
9.6" x 5" x 1"
0.79
N/A
N/A
Crankbrothers Stamp 1
Platform / Flat
9/16"
Composite
Steel (Cr-Mo)
Igus LL-glide (inner)/ Enduro (outer)
3.9" x 3.9" x 0.5" (small)
0.659
N/A
N/A
MEETLOCKS Bike Pedals
Platform / Flat
9/16"
Aluminum Alloy
Steel (Cr-Mo)
Sealed Cartridge
4" x 3.7" x 0.7"

0.88
N/A
N/A
Shimano PD-M324 SPD
Multi-Purpose (SPD/Flat)
9/16"
Aluminum Alloy + Steel
Steel (Cr-Mo)
Cup & Cone (Sealed)
3.9" x 2.8" x 1.6"

1.1
SM-SH56
SM-SH51
Shimano PD-A530 SP
Multi-Purpose (SPD/Flat)
9/16"
Aluminum
Steel (Cr-Mo)

Sealed Cartridge
7" x 6" x 2"
1
SM-SH51
SM-SH56
Crankbrothers Doubleshot 1
Multi-Purpose (SPD/Flat)
9/16"
Composite
Steel (Cr-Mo)

Igus LL-glide (inner)/ Enduro (outer)
7" x 5" x 3"
1.04
Easy Cleat
Standard Clea
# Our Flat Pedal Choices
1) MZYRH:
Smooth bearing with Anti-skid pins

|

Overall Best Choice

The MZYRH Mountain Bike Pedals are very popular products as they offer great quality for a reasonable price. I must say, these economical pedals are quite sturdy and versatile. Instead of DU bearings where there is no lubrication, these pedals have 3 sealed bearings with better lubrication. Their surfaces are rugged and made of Aluminum Alloy. Also, the axle has Cr-Mo Steel construction that makes these pedals resistant to shock and corrosion.

You can find these pedals in multiple fancy colors that are very eye-catching. Although it is said there are 6 official colors, it is not certain because these pedals are available in 3 profiles. The names of these two profiles are actually the same, that is the X12S where one is anodized with a glossy finish and another is anodized with a matte finish. The X12 is the third profile which also has a glossy finish.
2) FOOKER:
Nylon fiber surface+high strength Cr-Mo spindle pedals
The FOOKER MTB Pedals can be a decent choice for road cycling when you are looking for something for a limited budget. Like most good quality pedals, they tend to offer anti-skid nails. There are a total of 32 nails for one pair, so each pedal contains 16 nails that provide ample grip while riding. The platforms are also very nice and wide to adjust most shoe-soles.
Despite the unappealing color of your bike, these pedals guarantee to look cool. Because they can be found in multiple colors that are all eye-catching. Black, Green, Yellow, Orange, Pink and Sky Blue are some of the mentionable colors of these pedals. They also look like they were anodized, not cheap looking. Everything about these pedals is modest, except for the overall quality, the company should focus more on it.
3) RaceFace Chester:
8 hex pin system with a lightweight body
The RaceFace Chester is a classic pedal that is designed to take on almost any trail, dirt-jumping, mountain biking, and even road cycling. It is the set of pedals for the riders who are looking for something burly and flat. There are a total of 9 variants of colors of this pedal, they are – black, blue, green, orange, purple, red, turquoise, yellow, forest, mustard and the last but not the least the magenta color that can be an identical and appealing choice for women's bikes.
However, the company should focus more on some of the issues of this pedal. For instance, they should consider installing blunt nails instead of these sharp nails as these nails can chew up your shoe-soles. They enhance the overall durability and the platforms of these pedals may not be large enough to provide the preferred engagement for many riders.
4) Crankbrothers Stamp 1:
Premium Igus and Enduro bearings & 9 hex pattern traction pins 
The Stamp pedals from Crankbrothers offer 5 different variants, they are stamp 1, stamp 2, stamp 3, stamp 7 and stamp 11. Each of these stamps can be found in 2 sizes, which are small and large-size. Different people have different foot sizes. Therefore, they need different shoe-sizes for walking comfortably as well as different pedal-sizes for riding comfortably. The Stamp 1 was made based on this motive.
Although the stamp 1 pedals may not provide satisfying performance and comfort as the stamp 3 or stamp 7, they are decent choices for the price. They are remarkable pedals for the newbies or beginners. That is why we have selected them on our list. In case you want to buy the stamp 3 or stamp 7, then we certainly won't discourage you.
Moreover, you can find these pedals in 7 colors, they are – black, red, blue, turquoise, purple, orange and citron. So, no matter what color your bike is, you can be sure that you will find the color that goes with your bike. And there is also a special version that riders may find very attractive, that is the Danny MacAskill version.
5) MEETLOCKS:
Lighter as well as Stronger
These bike pedals from MEETLOCKS have an extraordinary design and build quality. These are super light yet very strong. They are made of 6061 Aluminum Alloy that is machined with CNC and they offer standard 9/16" axle to accommodate most types of bicycles. These pedals feature wider and concave shaped platforms for effective and labor-saving pedaling that make an effective cycling experience.
Furthermore, they come with a total of 24 anti-skid pins where each pedal includes 12 pins for enhancing the foothold ability and making a skid-resistant ride. Sadly, some have found these pins coming off the surface easily and there are some weak parts that make the pedals fragile. However, you can solve this issue by replacing some new parts that are stronger than the older parts.
# Our Hybrid Bike Pedal Choices
6) SHIMANO PD-M324 SPD Dual Platform:
Perfect for multipurpose use
If you want to accustom a dual-platform pedal for the first time, the Shimano M324 SPD pedals will be a great choice, to begin with. This versatile pair of pedals has a Shimano SPD mechanism on one side and a standard pedal design on the other side. As a result, you can use these pedals either wearing special shoes for clipping into the pedals or wearing normal shoes while using the standard platform side.
Shimano introduces the SPD to an extended border lifestyle called MTB to meet its needs. By this combination, Shimano has boosted the power of these pedals as well as enhanced the control of the rider over an adventurous riding style. Although the package may vary, you will get 2 cleats for sure. These pedals offer outstanding performance for commuting or touring. We found this video very helpful to get an idea of these pedals or to know about their features.
7) Shimano Unisex PD-A530 SPD Dual Platform:
Innovative design with better control & performance
If you use your bike for different purposes, then you need some sort of pedals that can deliver performance for outrageous cycling or racing and then again, can work as a regular platform pedal for day-to-day cycling. Considering this purpose, Shimano has introduced the PD-A530 that can deliver both. This versatile pedal has an attractive look while these pedals can provide ultimate performance for intense cycling. Also, comes in 2 different colors for the user's liking.
The installation of these pedals is also quite easy. In order for a complete installation, you will need a 4mm Allen wrench for installing the cleats, 3mm Allen wrench for adjusting the tension spring and 15mm spanner for installing the pedals. A pair of SM-SH51 cleats will be provided with the pedals and if you want, you can install the optional SM-SH56 cleats that need to be bought separately.
8) Crankbrothers Doubleshot 1: Dual platform pedal with enhanced grip
Undoubtedly 'Crankbrothers' is a world-class bicycle accessory making company and the Doubleshot series pedals are their new hybrid pedals. With these pedals, you enjoy the best of both worlds where you can ride casually for recreational commuting and ride aggressively for time trial or mountain biking. A modern looking pedal gives your bike a sporty look and various fancy colors are available for these for the user's perspectives.
Offers a 10° release angle with the included easy cleats and you can make the release angle to 15° if you purchase the additional standard cleats.
The 'Crankbrothers' started their philosophy back in 1997 in their Laguna Beach garage. Their philosophy was simple, that is – to invent a product that can make the ride better than the last one. This company now makes top-quality pedals, wheels, pumps, tools, dropper posts, and other accessories for bicycles. Today, their company is recognized globally and all of their products were tested and proved to be worthy by world-class athletes.
---
What Should You Consider Before Buying Road Bike Pedals
Before you are going to buy the appropriate set of pedals, first consider what type of cycling you prefer the most. Do you enjoy mountain biking or aggressive types of cycling or do you like recreational type cycling such as commuting or beach commuting? Would you prefer to have power in your pedals for efficient pedaling with greater traction control and stability or would you prefer to have maneuverability so that it becomes easier to pedal? Or perhaps you are looking for both qualities to have in the pedals.
So we are going to discuss the main considerations for choosing a pair of pedals to make you get rid of your confusion.
Consider the type of cycling
Think about one thing first, do you always travel the maximum portion of your destination by cycling? Or do you sometimes get off from your bike and walk? Road cycling pedals that come with three-hole cleats are for those who stay on their bicycles most of the time while they are riding. Again, Flat pedals with no cleats are for those who prefer casual or recreational cycling and get off from their bikes from time to time.
Choose between a clipless or a flat pedal
Are you going to buy pedals for performance or power? Or are you going to buy pedals for entertainment? Clipless or clip-in pedals require special types of shoes where the cleats get connected under the shoe-soles. Therefore, your feet remain always connected with the pedals while you are pulling up or pushing down the pedals. Or if you are looking for something that is more comfortable, then you can go for flat pedals where you can easily and quickly take your feet off the pedals. These types of pedals don't require special types of shoes. Therefore, these pedals are common choices for normal people as they don't have many prerequisites.
Budget
Flat pedals generally cost less than clip-in/clipless pedals. They also have lower maintenance than clipless pedals. Clipless pedals require clips and there can be many types of additional clips that can be found for these pedals that need extra money for purchasing. Flat pedals don't need any cleats, so there is no scope for spending extra money here. Moreover, to adjust the cleats; you will need special types of shoes and these shoes come with a price. Normal shoes for riding such types of pedals are not granted. As a result, you should save up extra money for these shoes when you are going to purchase clip-in or clipless pedals. However, clipless pedals are built mainly based on performance while the manufacturer doesn't have to think much of performance for building flat pedals. Again, the build quality and the workmanship for clipless pedals are always far greater than the flat pedals.
Consider your shoes
The choice of your desired pedal is also dictated by your shoe preference. If you are a commuter who takes off his shoes from the pedals again and again, then flat or platform pedals will work the best for you. Again if you are an avid professional cyclist, who remains always on track riding his bike and who doesn't take off his feet from the pedals much and focuses more on the performance, clipless pedals will be your ideal pedals. However, there are hybrid pedals if you like to have both power and ease while riding your bike.
Common Clipless Bike Pedals for Various Types of Cycling
Clipless bike pedals can be categorized into three types based on performance. All of these pedal-types consist of cleats and there can be various cleats for various clipless pedals depending on the brand and the type. Why do these pedals have cleats? Well, the answer is simple – to provide power and efficiency while pedaling.
We have divided the clipless pedals into three different types and they are – Clipless pedals for road bikes, clipless pedals for mountain bikes and clipless pedals for recreational cycling. We are going to briefly discuss all three types below.
1) Road Cycling Clipless Pedals:
These pedals are for the road cyclists who want their feet always on the pedals. These pedals create a secure connection to the shoe-soles with the help of the cleats. Therefore. They are able to provide superior power and efficiency when you make a stroke. The power they offer is obviously much greater than most regular flat pedals. These road cycling clipless pedals feature 3-hole designed cleats, which are commonly known as 'Look' cleats or the SPD-SL cleats for the Shimano pedals.
3-hole designed cleats are larger than the 2-hole designed cleats. That is the main advantage of these cleats. For having a larger and wider surface these cleats are able to distribute the pedal-force equally to every section of the pedal. Therefore, the pressure doesn't apply only to the connection points. This feature helps the cyclist a lot to overcome the high stress of road cycling.
2) Mountain Biking Clipless Pedals:
The name suggests that these pedals are made for mountain biking. Mountain biking is not like road cycling. Here the rider may want to take their feet off the pedals sometimes. Riders wouldn't worry much if their feet slide off the pedals. Mountain roads are bumpy with a lot of jolts and vibrations. Thinking about these aspects, mountain biking pedals were made. These pedals come with 2-hole designed cleats as these cleats recessed into the shoe-soles for more comfortable walking.
These cleats connect under the soles of the compatible shoes and access the proper angle adjustment by allowing your feet to slide slightly back and forth. Therefore, the engagement and disengagement of your feet to the pedals become much easier. You will get comfort as well as proficiency for their convenient placement on the pedals and under your shoes and this will make your mountain biking experience much better.
3) Recreational Cycling Clipless Pedals:
If you prefer to wear shoes that can make walking comfortable in any type of ground surface, then you need to install flat pedals on your bike as you don't have to wear special-type shoes for riding your bike that will also make walking convenient everywhere. But here we are considering clipless pedals rather than flat pedals. So you can go for the pedals with a 2-hole cleat system.
However, there are hybrid or dual-platform pedals that feature both potentials. One side of these types of pedals offers flexibility as a flat pedal whereas the other side offers the efficiency and power of a clipless system. These can be great options for those who like to start pedaling with clipless pedals while can enjoy the advantage of a flat pedal.
This chart below will give a quick overview of these three pedals –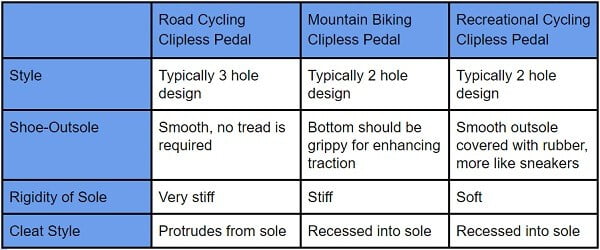 Conclusion
At the end of our discussion, we would like to say that no matter what type of pedals you buy for yourself; you should be able to achieve your purpose with them. Flat pedals are remarkable for almost any type of usage. Common people always install these pedals on their bikes as they have minimum maintenance and prerequisites. However, these pedals may vary for their qualities. Always try to buy a good quality flat pedal otherwise, you will regret it. And if you want to try out clipless pedals, we think the hybrid pedals will be the most perfect choice for you. Take expert advice as much as you can about this concern and go for a pair of pedals from our selection. We can guarantee you that almost all the pedals from our list will be worthy of your every penny. And as usual, we like to thank you for reading this article and hope you have enjoyed it.
Related Bicycle Pedals
(Visited 1,829 times, 2 visits today)
Last update on 2020-11-30 at 04:20 / Affiliate links / Images from Amazon Product Advertising API
Close